Kante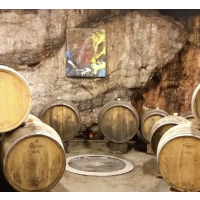 About Kante
Located in the Carso district to the southeast of Friuli, the Kante family founded their sensational winery in a truly unique micro-climate. Sandwiched between the Adriatic Sea to the south, the Alps to the north, the low hills of Collio to the west, and the Balkan peninsula to the east, the multitudinous variety of vines are blessed with cool nights and temperate days almost uniformly throughout the year.
One of the fine wine world's true characters, Edi Kante is affectionately referred to as a mad scientist, having taken over from his father in the 1980s whilst the Kante estate was selling its grapes to other winemakers. Far from a satisfactory state of affairs for a man of Edi's ambition, he began to bottle his own wines by varietal, experimenting with styles, vinification methods and harvesting times until he finally settled on the trajectory we know and love as Kante today.
Viniculture
Fearless in his experimentation, including a period as the world's foremost pioneer of the orange wine movement, Kante has been specialising in incredibly pure, terroir reflective single-varietal cuvées for the past two decades. With a decided passion for whites, Kante's wines are aged for a year in older oak barrels, followed by six months or more in stainless steel with lees, developing that gorgeous character associated with this method. A sight which has to been seen to be fully appreciated, the winery/cellars pictured above are in fact three stories hewn into the prehistoric grey limestone beneath the Kante family homes – a breath-taking feature of architecture. Uncommon amongst Italian wines is the ability of Kante's cuvées to be aged for significant periods of time and develop beautifully.
Prices:
Year
Wine
Region
Format
Qty
Score
Price
Wishlist

Kante Chardonnay 2018 (6x75cl)

Inc. VAT: £211.67

2018
Friuli Venezia Giulia
6x75cl
8
-
Inc. VAT: £211.67

Kante Malvasia 2019 (6x75cl)

Inc. VAT: £192.47

2019
Friuli Venezia Giulia
6x75cl
2
-
Inc. VAT: £192.47
Year
Wine
Region
Format
Qty
Score
Price
Wishlist

Kante Chardonnay 2018 (6x75cl)

In Bond: £163.00

2018
Friuli Venezia Giulia
6x75cl
8
-
In Bond: £163.00

Kante Malvasia 2019 (6x75cl)

In Bond: £147.00

2019
Friuli Venezia Giulia
6x75cl
2
-
In Bond: £147.00