Krug
About Krug
Arguably the region's most prestigious and sought after producer, Krug was founded in 1843 and has been run by the family for generations.
Krug captures the imagination and desire of oenophiles the world over for a variety of reasons - rarity, price, reputation etc. The simple fact of its success, and one which broadly holds true for all of the most in-demand fine wines, is their staggering brilliance. One of the world's leading critical authorities on Champagne, Antonio Galloni (Vinous), has tasted Krug Brut Vintage back to 1942 and never awarded a score lower than 94 points- this was to 1976 tasted in 2015, a bad vintage for the region and deemed to be slightly tired!
Krugs' cuveés
Created, in the words of founder Joseph Krug, "according to the circumstances", Krug Brut Vintage is an expression of time and place second to none in the region. The sole drive of the formidably talented team at the maison is to celebrate the characteristics of the finest years as fully and transparently as possible. In order to achieve this, Krug select the most expressive wines from their considerable Grands Crus holdings, blend them and proceed to hide them in their ancient cellars for a minimum of ten years, often more - sounds simple when put like that!
Krug cellar master Julie Cavil phrases the raison d'être of Krug Brut Vintage (as opposed to their Édition NV or two "Clos") most beautifully:
"A Krug Vintage is an intimate immersion into the world of the Tasting Committee, of what surprised, enchanted or moved us in the tasting room after the harvest. When I decide to craft a Krug Vintage, I always do so to tell the story of these unique circumstances" - Julie Cavil (Krug Cellar Master)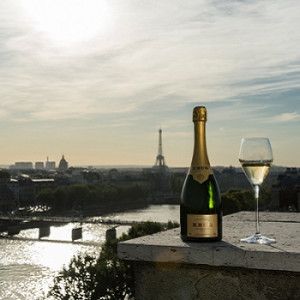 Name
Price Low
Price High
Year (Old)
Year (New)
Prices:
Product Name
Region
Qty
Score
Price

Champagne
1
96.0

Inc. VAT

£1,006.40

Champagne
2
96.0

Inc. VAT

£6,055.24

Champagne
1
98.0

Inc. VAT

£7,036.84

Champagne
1
98 (WS)

Inc. VAT

£1,234.01

Wine Spectator (98)

A very youthful '95. Delicate. Intense aromas of ginger, citrus, candied berry and multigrain bread turn to honey, roasted almonds and graphite on the palate. It's all underscored by a precise structure and creamy texture. Its structure keeps it persistent through the long finish. A picture of precision and intensity. Drink now through 2025. 1,700 cases imported. -BS

More Info

Champagne
1
98 (WS)

Inc. VAT

£894.80

Wine Spectator (98)

A very youthful '95. Delicate. Intense aromas of ginger, citrus, candied berry and multigrain bread turn to honey, roasted almonds and graphite on the palate. It's all underscored by a precise structure and creamy texture. Its structure keeps it persistent through the long finish. A picture of precision and intensity. Drink now through 2025. 1,700 cases imported. -BS

More Info

Champagne
1
98 (WS)

Inc. VAT

£3,847.24

Wine Spectator (98)

A very youthful '95. Delicate. Intense aromas of ginger, citrus, candied berry and multigrain bread turn to honey, roasted almonds and graphite on the palate. It's all underscored by a precise structure and creamy texture. Its structure keeps it persistent through the long finish. A picture of precision and intensity. Drink now through 2025. 1,700 cases imported. -BS

More Info

Champagne
2
98 (WS)

Inc. VAT

£3,495.64

Wine Spectator (98)

A very youthful '95. Delicate. Intense aromas of ginger, citrus, candied berry and multigrain bread turn to honey, roasted almonds and graphite on the palate. It's all underscored by a precise structure and creamy texture. Its structure keeps it persistent through the long finish. A picture of precision and intensity. Drink now through 2025. 1,700 cases imported. -BS

More Info

Champagne
2
99+ (VN)

Inc. VAT

£1,730.81

Vinous (99+)

Light gold. Remarkably perfumed nose projects an exotic bouquet of deep, leesy yellow fruit, minerals, honeycomb, smoked meat and flowers, with Asian spices building expanding in the glass. Almost painfully concentrated, offering a surreal parade of orchard and pit fruits, smoked meat, toasted brioche and marrow braced by intensely salty, stunningly incisive minerality. Imagine a Frankenstein's monster of Chablis Le Clos and Clos Ste. Hune-but one with perfect balance, of course-and you get an idea of what I found in my bottle. The energetic, stony character builds exponentially on the finish, which didn't seem to, well, finish. The best analogy I can come up with for the intensity, focus and clarity of this Champagne is liquefied barbed wire. Utterly hallucinatory and one of the most amazing wines I've ever been fortunate enough to drink. At the risk of sounding completely out of touch with reality, this is a value.

More Info

Champagne
6
99+ (VN)

Inc. VAT

£920.00

Vinous (99+)

Light gold. Remarkably perfumed nose projects an exotic bouquet of deep, leesy yellow fruit, minerals, honeycomb, smoked meat and flowers, with Asian spices building expanding in the glass. Almost painfully concentrated, offering a surreal parade of orchard and pit fruits, smoked meat, toasted brioche and marrow braced by intensely salty, stunningly incisive minerality. Imagine a Frankenstein's monster of Chablis Le Clos and Clos Ste. Hune-but one with perfect balance, of course-and you get an idea of what I found in my bottle. The energetic, stony character builds exponentially on the finish, which didn't seem to, well, finish. The best analogy I can come up with for the intensity, focus and clarity of this Champagne is liquefied barbed wire. Utterly hallucinatory and one of the most amazing wines I've ever been fortunate enough to drink. At the risk of sounding completely out of touch with reality, this is a value.

More Info

Champagne
1
99+ (VN)

Inc. VAT

£3,567.60

Vinous (99+)

Light gold. Remarkably perfumed nose projects an exotic bouquet of deep, leesy yellow fruit, minerals, honeycomb, smoked meat and flowers, with Asian spices building expanding in the glass. Almost painfully concentrated, offering a surreal parade of orchard and pit fruits, smoked meat, toasted brioche and marrow braced by intensely salty, stunningly incisive minerality. Imagine a Frankenstein's monster of Chablis Le Clos and Clos Ste. Hune-but one with perfect balance, of course-and you get an idea of what I found in my bottle. The energetic, stony character builds exponentially on the finish, which didn't seem to, well, finish. The best analogy I can come up with for the intensity, focus and clarity of this Champagne is liquefied barbed wire. Utterly hallucinatory and one of the most amazing wines I've ever been fortunate enough to drink. At the risk of sounding completely out of touch with reality, this is a value.

More Info

Champagne
1
98 (WS)

Inc. VAT

£1,355.21

Wine Spectator (98)

This harmonious Champagne offers luxurious texture and powerful, focused acidity, showing aromatic accents of spring blossom, crushed thyme and chai, with rich notes of lemon meringue, hazelnut, black currant and fresh porcini mushroom. The full package. Impressive. Drink now through 2028.

More Info

Champagne
3
98 (WS)

Inc. VAT

£503.60

Wine Spectator (98)

This harmonious Champagne offers luxurious texture and powerful, focused acidity, showing aromatic accents of spring blossom, crushed thyme and chai, with rich notes of lemon meringue, hazelnut, black currant and fresh porcini mushroom. The full package. Impressive. Drink now through 2028.

More Info

Champagne
3
98 (WS)

Inc. VAT

£3,273.64

Wine Spectator (98)

This harmonious Champagne offers luxurious texture and powerful, focused acidity, showing aromatic accents of spring blossom, crushed thyme and chai, with rich notes of lemon meringue, hazelnut, black currant and fresh porcini mushroom. The full package. Impressive. Drink now through 2028.

More Info

Champagne
1
95 (VN)

Inc. VAT

£3,360.83

Vinous (95)

(LD210008): Bright gold. Pungent aromas of candied orange, buttered toast, pear skin and vanilla, with a smoky nuance that gains power in the glass. Stains the palate with intense pear liqueur, citrus pith and brioche flavors, picking up notes of licorice and candied ginger with air. A bright mineral note adds lift and energy to the finish, which clings with superb tenacity and lingering smokiness. This complex, concentrated Champagne is showing very well right now but has the legs to age for years to come.

More Info

Champagne
1
95 (VN)

Inc. VAT

£464.00

Vinous (95)

(LD210008): Bright gold. Pungent aromas of candied orange, buttered toast, pear skin and vanilla, with a smoky nuance that gains power in the glass. Stains the palate with intense pear liqueur, citrus pith and brioche flavors, picking up notes of licorice and candied ginger with air. A bright mineral note adds lift and energy to the finish, which clings with superb tenacity and lingering smokiness. This complex, concentrated Champagne is showing very well right now but has the legs to age for years to come.

More Info

Champagne
1
95 (VN)

Inc. VAT

£2,124.04

Vinous (95)

(LD210008): Bright gold. Pungent aromas of candied orange, buttered toast, pear skin and vanilla, with a smoky nuance that gains power in the glass. Stains the palate with intense pear liqueur, citrus pith and brioche flavors, picking up notes of licorice and candied ginger with air. A bright mineral note adds lift and energy to the finish, which clings with superb tenacity and lingering smokiness. This complex, concentrated Champagne is showing very well right now but has the legs to age for years to come.

More Info

Champagne
1
100 (JS)

Inc. VAT

£1,320.41

James Suckling (100)

The much-anticipated 2002 has impeccable detail and depth with a lot of chalky, stony and flinty elements on the nose as well as a very fresh edge. The nose is very complex and wound up tight but presents itself as very integrated and compressed. There are aromas of lemon rind, lime juice and a lime custard all at once, complemented in turn by a super-restrained hazelnut-like edge. Undertones of brown mushrooms, chalky minerals and lemon leaf. The palate has a core of sizzlingly intense, concentrated chardonnay framed whitin a powerful phenolic structure that will underpin the future of this Champagne. Flawlessly fresh and as perfect as it gets. Give this time as it needs to settle: best from 2020 and then for another decade beyond.

More Info

Champagne
4
100 (JS)

Inc. VAT

£537.20

James Suckling (100)

The much-anticipated 2002 has impeccable detail and depth with a lot of chalky, stony and flinty elements on the nose as well as a very fresh edge. The nose is very complex and wound up tight but presents itself as very integrated and compressed. There are aromas of lemon rind, lime juice and a lime custard all at once, complemented in turn by a super-restrained hazelnut-like edge. Undertones of brown mushrooms, chalky minerals and lemon leaf. The palate has a core of sizzlingly intense, concentrated chardonnay framed whitin a powerful phenolic structure that will underpin the future of this Champagne. Flawlessly fresh and as perfect as it gets. Give this time as it needs to settle: best from 2020 and then for another decade beyond.

More Info

Champagne
3
100 (JS)

Inc. VAT

£2,731.24

James Suckling (100)

The much-anticipated 2002 has impeccable detail and depth with a lot of chalky, stony and flinty elements on the nose as well as a very fresh edge. The nose is very complex and wound up tight but presents itself as very integrated and compressed. There are aromas of lemon rind, lime juice and a lime custard all at once, complemented in turn by a super-restrained hazelnut-like edge. Undertones of brown mushrooms, chalky minerals and lemon leaf. The palate has a core of sizzlingly intense, concentrated chardonnay framed whitin a powerful phenolic structure that will underpin the future of this Champagne. Flawlessly fresh and as perfect as it gets. Give this time as it needs to settle: best from 2020 and then for another decade beyond.

More Info

Champagne
1
19 (JR)

Inc. VAT

£2,215.24

Jancis Robinson (19)

ID 113015. Disgorged winter 2012-13. 46% Pinot Noir, 29% Chardonnay, 25% Pinot Meunier. Named 'Vivacious Radiance' at Krug. A truly unique year with particularly challenging circumstances. The first harvest was on 23 August, the earliest since 1822. Pale gold. Pungent nose. Very tight. Hint of putty on the nose. Opens out on the palate. Masses to chew on. Real concentration. Perfect for drinking now. Dry but complete. Intellectual and great balance. Very impressive.

More Info

Champagne
1
19 (JR)

Inc. VAT

£2,180.44

Jancis Robinson (19)

ID 113015. Disgorged winter 2012-13. 46% Pinot Noir, 29% Chardonnay, 25% Pinot Meunier. Named 'Vivacious Radiance' at Krug. A truly unique year with particularly challenging circumstances. The first harvest was on 23 August, the earliest since 1822. Pale gold. Pungent nose. Very tight. Hint of putty on the nose. Opens out on the palate. Masses to chew on. Real concentration. Perfect for drinking now. Dry but complete. Intellectual and great balance. Very impressive.

More Info

Champagne
4
97+ (VN)

Inc. VAT

£1,977.64

Vinous (97+)

Krug's 2004 Vintage is absolutely mesmerizing. Layers of bright, chiseled fruit open up effortlessly as the wine fleshes out with time in the glass. Persistent and beautifully focused, with a translucent sense of energy, the 2004 captures all the best qualities of the year. Moreover, the 2004 is clearly superior to the consistently underwhelming 2002 and the best Krug Vintage since 1996. Readers who can find it should not hesitate, as it is a magical bottle.

More Info

Champagne
1
97 (VN)

Inc. VAT

£378.80

Vinous (97)

Krug 2006 Vintage is bright, tense and full of energy. Lemon confit, pastry, chamomile, dried flowers and tangerine oil all race out of the glass. The breadth of the Pinot comes through on the mid-palate and finish, as the 2006 gains power and resonance with a bit of aeration. Light tropical inflections, along with hints of almond and spice, open up later, adding further shades of nuance. Although it has just been released, the 2006 is unusually open and a real pleasure to taste today. In most vintages, Krug demands cellaring, but in the 2006 readers will find a Krug Vintage that is superb, even in the early going.

More Info

Champagne
2
97 (VN)

Inc. VAT

£1,876.84

Vinous (97)

Krug 2006 Vintage is bright, tense and full of energy. Lemon confit, pastry, chamomile, dried flowers and tangerine oil all race out of the glass. The breadth of the Pinot comes through on the mid-palate and finish, as the 2006 gains power and resonance with a bit of aeration. Light tropical inflections, along with hints of almond and spice, open up later, adding further shades of nuance. Although it has just been released, the 2006 is unusually open and a real pleasure to taste today. In most vintages, Krug demands cellaring, but in the 2006 readers will find a Krug Vintage that is superb, even in the early going.

More Info

Champagne
2
100 (JS)

Inc. VAT

£491.60

James Suckling (100)

This is very structured and framed with an almost red sensibility. Very phenolic. Full-bodied in a tightly wound ball with so much going on. Very pinot like. Mineral and stone. Shell and stone. Iodine. Vinous. The bubbles just fade into the finish of the wine, which goes on for minutes. Turns to toffee and salted caramel with time in the glass. One for the cellar. Great length. Blend of 53% pinot noir, 25% pinot meunier, 22% chardonnay. Disgorged in beginning of 2020. Drink or hold.

More Info

Champagne
1
100 (JS)

Inc. VAT

£2,680.84

James Suckling (100)

This is very structured and framed with an almost red sensibility. Very phenolic. Full-bodied in a tightly wound ball with so much going on. Very pinot like. Mineral and stone. Shell and stone. Iodine. Vinous. The bubbles just fade into the finish of the wine, which goes on for minutes. Turns to toffee and salted caramel with time in the glass. One for the cellar. Great length. Blend of 53% pinot noir, 25% pinot meunier, 22% chardonnay. Disgorged in beginning of 2020. Drink or hold.

More Info

Champagne
1
98 (VN)

Inc. VAT

£2,969.60

Vinous (98)

Thrown in as a ringer, the 1995 Clos d'Ambonnay is a real treat to taste next to the 1996. In particular, tasting both vintages together shows that that 1995 is the more complete of these two first releases of Krug's single-vineyard Champagne from Ambonnay. Finely-cut fruit, expressive aromatics and exceptional textural finesse are the signatures. This is another fabulous showing from the 1995 Clos d'Ambonnay.

More Info

Champagne
1
19.5 (JR)

Inc. VAT

£3,198.80

Jancis Robinson (19.5)

This is only the third release of this luxury wine. Really quite a dark coppery gold. Very big and bold on the nose. Heady, mushroomy, almost beery! Lovely fine, tiny bead. Like Clos du Mesnil, this has a bone-dry finish and is very forcibly real wine rather than evanescent champagne. Real vinosity; very different in build from other Krug wines.

More Info

Champagne
1
92+ (VN)

Inc. VAT

£3,152.00

Vinous (92+)

I must admit, Krug's 2000 Clos d'Ambonnay remains a mystery. The first bottle I tasted, in March, at Krug, was utterly spectacular. Rich, creamy and ample on the palate, the 2000 was captivating from start to finish. Two thousand is the first vintage made entirely by current Chef de Caves Eric Lebel. My impression at the time was that Lebel had given his Ambonnay softer, gentler contours than the 1995, 1996 and 1998, all which were much more austere when first released. But then I tasted the 2000 several times in the US, where it has so far been less impressive. I am hoping issues with shipping for a handful of samples will turn out to be the root cause, and that the 'real' Ambonnay will be closer to what I tasted at Krug in March. If that turns out to be the case the 2000 will be due for a major upgrade.

More Info

Champagne
1
100 (DC)

Inc. VAT

£3,196.40

Decanter (100)

The bouquet has a magnificent classicism to it, comprising notes of yellow fruits, spices including white pepper, flowers and a mineral edge. With aeration, scents of menthol emerge from the glass. The palate is upright in character, but elegant and crystalline, with a long, structured finish of chalky density. A Champagne having both thrust, tension and aerial lightness in which finesse and power are allies. A masterpiece. Krug Chef de Cave Julie Cavil said 2002 was 'the last classic year in Champagne, one without extreme elements and with optimal ripeness obtained step by step'.100% Pinot Noir from 0.68ha located in the village of Ambonnay. Dosage: 4g/l.

More Info
Product Name
Region
Qty
Score
Price

Champagne
1
96.0

In Bond

£836.00

Champagne
2
96.0

In Bond

£5,030.00

Champagne
1
98.0

In Bond

£5,848.00

Champagne
1
98 (WS)

In Bond

£1,023.00

Wine Spectator (98)

A very youthful '95. Delicate. Intense aromas of ginger, citrus, candied berry and multigrain bread turn to honey, roasted almonds and graphite on the palate. It's all underscored by a precise structure and creamy texture. Its structure keeps it persistent through the long finish. A picture of precision and intensity. Drink now through 2025. 1,700 cases imported. -BS

More Info

Champagne
1
98 (WS)

In Bond

£743.00

Wine Spectator (98)

A very youthful '95. Delicate. Intense aromas of ginger, citrus, candied berry and multigrain bread turn to honey, roasted almonds and graphite on the palate. It's all underscored by a precise structure and creamy texture. Its structure keeps it persistent through the long finish. A picture of precision and intensity. Drink now through 2025. 1,700 cases imported. -BS

More Info

Champagne
1
98 (WS)

In Bond

£3,190.00

Wine Spectator (98)

A very youthful '95. Delicate. Intense aromas of ginger, citrus, candied berry and multigrain bread turn to honey, roasted almonds and graphite on the palate. It's all underscored by a precise structure and creamy texture. Its structure keeps it persistent through the long finish. A picture of precision and intensity. Drink now through 2025. 1,700 cases imported. -BS

More Info

Champagne
2
98 (WS)

In Bond

£2,897.00

Wine Spectator (98)

A very youthful '95. Delicate. Intense aromas of ginger, citrus, candied berry and multigrain bread turn to honey, roasted almonds and graphite on the palate. It's all underscored by a precise structure and creamy texture. Its structure keeps it persistent through the long finish. A picture of precision and intensity. Drink now through 2025. 1,700 cases imported. -BS

More Info

Champagne
2
99+ (VN)

In Bond

£1,437.00

Vinous (99+)

Light gold. Remarkably perfumed nose projects an exotic bouquet of deep, leesy yellow fruit, minerals, honeycomb, smoked meat and flowers, with Asian spices building expanding in the glass. Almost painfully concentrated, offering a surreal parade of orchard and pit fruits, smoked meat, toasted brioche and marrow braced by intensely salty, stunningly incisive minerality. Imagine a Frankenstein's monster of Chablis Le Clos and Clos Ste. Hune-but one with perfect balance, of course-and you get an idea of what I found in my bottle. The energetic, stony character builds exponentially on the finish, which didn't seem to, well, finish. The best analogy I can come up with for the intensity, focus and clarity of this Champagne is liquefied barbed wire. Utterly hallucinatory and one of the most amazing wines I've ever been fortunate enough to drink. At the risk of sounding completely out of touch with reality, this is a value.

More Info

Champagne
6
99+ (VN)

In Bond

£764.00

Vinous (99+)

Light gold. Remarkably perfumed nose projects an exotic bouquet of deep, leesy yellow fruit, minerals, honeycomb, smoked meat and flowers, with Asian spices building expanding in the glass. Almost painfully concentrated, offering a surreal parade of orchard and pit fruits, smoked meat, toasted brioche and marrow braced by intensely salty, stunningly incisive minerality. Imagine a Frankenstein's monster of Chablis Le Clos and Clos Ste. Hune-but one with perfect balance, of course-and you get an idea of what I found in my bottle. The energetic, stony character builds exponentially on the finish, which didn't seem to, well, finish. The best analogy I can come up with for the intensity, focus and clarity of this Champagne is liquefied barbed wire. Utterly hallucinatory and one of the most amazing wines I've ever been fortunate enough to drink. At the risk of sounding completely out of touch with reality, this is a value.

More Info

Champagne
1
99+ (VN)

Inc. VAT

£3,567.60

Vinous (99+)

Light gold. Remarkably perfumed nose projects an exotic bouquet of deep, leesy yellow fruit, minerals, honeycomb, smoked meat and flowers, with Asian spices building expanding in the glass. Almost painfully concentrated, offering a surreal parade of orchard and pit fruits, smoked meat, toasted brioche and marrow braced by intensely salty, stunningly incisive minerality. Imagine a Frankenstein's monster of Chablis Le Clos and Clos Ste. Hune-but one with perfect balance, of course-and you get an idea of what I found in my bottle. The energetic, stony character builds exponentially on the finish, which didn't seem to, well, finish. The best analogy I can come up with for the intensity, focus and clarity of this Champagne is liquefied barbed wire. Utterly hallucinatory and one of the most amazing wines I've ever been fortunate enough to drink. At the risk of sounding completely out of touch with reality, this is a value.

More Info

Champagne
1
98 (WS)

In Bond

£1,124.00

Wine Spectator (98)

This harmonious Champagne offers luxurious texture and powerful, focused acidity, showing aromatic accents of spring blossom, crushed thyme and chai, with rich notes of lemon meringue, hazelnut, black currant and fresh porcini mushroom. The full package. Impressive. Drink now through 2028.

More Info

Champagne
3
98 (WS)

In Bond

£417.00

Wine Spectator (98)

This harmonious Champagne offers luxurious texture and powerful, focused acidity, showing aromatic accents of spring blossom, crushed thyme and chai, with rich notes of lemon meringue, hazelnut, black currant and fresh porcini mushroom. The full package. Impressive. Drink now through 2028.

More Info

Champagne
3
98 (WS)

In Bond

£2,712.00

Wine Spectator (98)

This harmonious Champagne offers luxurious texture and powerful, focused acidity, showing aromatic accents of spring blossom, crushed thyme and chai, with rich notes of lemon meringue, hazelnut, black currant and fresh porcini mushroom. The full package. Impressive. Drink now through 2028.

More Info

Champagne
1
95 (VN)

In Bond

£2,790.00

Vinous (95)

(LD210008): Bright gold. Pungent aromas of candied orange, buttered toast, pear skin and vanilla, with a smoky nuance that gains power in the glass. Stains the palate with intense pear liqueur, citrus pith and brioche flavors, picking up notes of licorice and candied ginger with air. A bright mineral note adds lift and energy to the finish, which clings with superb tenacity and lingering smokiness. This complex, concentrated Champagne is showing very well right now but has the legs to age for years to come.

More Info

Champagne
1
95 (VN)

In Bond

£384.00

Vinous (95)

(LD210008): Bright gold. Pungent aromas of candied orange, buttered toast, pear skin and vanilla, with a smoky nuance that gains power in the glass. Stains the palate with intense pear liqueur, citrus pith and brioche flavors, picking up notes of licorice and candied ginger with air. A bright mineral note adds lift and energy to the finish, which clings with superb tenacity and lingering smokiness. This complex, concentrated Champagne is showing very well right now but has the legs to age for years to come.

More Info

Champagne
1
95 (VN)

In Bond

£1,754.00

Vinous (95)

(LD210008): Bright gold. Pungent aromas of candied orange, buttered toast, pear skin and vanilla, with a smoky nuance that gains power in the glass. Stains the palate with intense pear liqueur, citrus pith and brioche flavors, picking up notes of licorice and candied ginger with air. A bright mineral note adds lift and energy to the finish, which clings with superb tenacity and lingering smokiness. This complex, concentrated Champagne is showing very well right now but has the legs to age for years to come.

More Info

Champagne
1
100 (JS)

In Bond

£1,095.00

James Suckling (100)

The much-anticipated 2002 has impeccable detail and depth with a lot of chalky, stony and flinty elements on the nose as well as a very fresh edge. The nose is very complex and wound up tight but presents itself as very integrated and compressed. There are aromas of lemon rind, lime juice and a lime custard all at once, complemented in turn by a super-restrained hazelnut-like edge. Undertones of brown mushrooms, chalky minerals and lemon leaf. The palate has a core of sizzlingly intense, concentrated chardonnay framed whitin a powerful phenolic structure that will underpin the future of this Champagne. Flawlessly fresh and as perfect as it gets. Give this time as it needs to settle: best from 2020 and then for another decade beyond.

More Info

Champagne
4
100 (JS)

In Bond

£445.00

James Suckling (100)

The much-anticipated 2002 has impeccable detail and depth with a lot of chalky, stony and flinty elements on the nose as well as a very fresh edge. The nose is very complex and wound up tight but presents itself as very integrated and compressed. There are aromas of lemon rind, lime juice and a lime custard all at once, complemented in turn by a super-restrained hazelnut-like edge. Undertones of brown mushrooms, chalky minerals and lemon leaf. The palate has a core of sizzlingly intense, concentrated chardonnay framed whitin a powerful phenolic structure that will underpin the future of this Champagne. Flawlessly fresh and as perfect as it gets. Give this time as it needs to settle: best from 2020 and then for another decade beyond.

More Info

Champagne
3
100 (JS)

In Bond

£2,260.00

James Suckling (100)

The much-anticipated 2002 has impeccable detail and depth with a lot of chalky, stony and flinty elements on the nose as well as a very fresh edge. The nose is very complex and wound up tight but presents itself as very integrated and compressed. There are aromas of lemon rind, lime juice and a lime custard all at once, complemented in turn by a super-restrained hazelnut-like edge. Undertones of brown mushrooms, chalky minerals and lemon leaf. The palate has a core of sizzlingly intense, concentrated chardonnay framed whitin a powerful phenolic structure that will underpin the future of this Champagne. Flawlessly fresh and as perfect as it gets. Give this time as it needs to settle: best from 2020 and then for another decade beyond.

More Info

Champagne
1
19 (JR)

In Bond

£1,830.00

Jancis Robinson (19)

ID 113015. Disgorged winter 2012-13. 46% Pinot Noir, 29% Chardonnay, 25% Pinot Meunier. Named 'Vivacious Radiance' at Krug. A truly unique year with particularly challenging circumstances. The first harvest was on 23 August, the earliest since 1822. Pale gold. Pungent nose. Very tight. Hint of putty on the nose. Opens out on the palate. Masses to chew on. Real concentration. Perfect for drinking now. Dry but complete. Intellectual and great balance. Very impressive.

More Info

Champagne
1
19 (JR)

In Bond

£1,801.00

Jancis Robinson (19)

ID 113015. Disgorged winter 2012-13. 46% Pinot Noir, 29% Chardonnay, 25% Pinot Meunier. Named 'Vivacious Radiance' at Krug. A truly unique year with particularly challenging circumstances. The first harvest was on 23 August, the earliest since 1822. Pale gold. Pungent nose. Very tight. Hint of putty on the nose. Opens out on the palate. Masses to chew on. Real concentration. Perfect for drinking now. Dry but complete. Intellectual and great balance. Very impressive.

More Info

Champagne
4
97+ (VN)

In Bond

£1,632.00

Vinous (97+)

Krug's 2004 Vintage is absolutely mesmerizing. Layers of bright, chiseled fruit open up effortlessly as the wine fleshes out with time in the glass. Persistent and beautifully focused, with a translucent sense of energy, the 2004 captures all the best qualities of the year. Moreover, the 2004 is clearly superior to the consistently underwhelming 2002 and the best Krug Vintage since 1996. Readers who can find it should not hesitate, as it is a magical bottle.

More Info

Champagne
1
97 (VN)

In Bond

£313.00

Vinous (97)

Krug 2006 Vintage is bright, tense and full of energy. Lemon confit, pastry, chamomile, dried flowers and tangerine oil all race out of the glass. The breadth of the Pinot comes through on the mid-palate and finish, as the 2006 gains power and resonance with a bit of aeration. Light tropical inflections, along with hints of almond and spice, open up later, adding further shades of nuance. Although it has just been released, the 2006 is unusually open and a real pleasure to taste today. In most vintages, Krug demands cellaring, but in the 2006 readers will find a Krug Vintage that is superb, even in the early going.

More Info

Champagne
2
97 (VN)

In Bond

£1,548.00

Vinous (97)

Krug 2006 Vintage is bright, tense and full of energy. Lemon confit, pastry, chamomile, dried flowers and tangerine oil all race out of the glass. The breadth of the Pinot comes through on the mid-palate and finish, as the 2006 gains power and resonance with a bit of aeration. Light tropical inflections, along with hints of almond and spice, open up later, adding further shades of nuance. Although it has just been released, the 2006 is unusually open and a real pleasure to taste today. In most vintages, Krug demands cellaring, but in the 2006 readers will find a Krug Vintage that is superb, even in the early going.

More Info

Champagne
2
100 (JS)

In Bond

£407.00

James Suckling (100)

This is very structured and framed with an almost red sensibility. Very phenolic. Full-bodied in a tightly wound ball with so much going on. Very pinot like. Mineral and stone. Shell and stone. Iodine. Vinous. The bubbles just fade into the finish of the wine, which goes on for minutes. Turns to toffee and salted caramel with time in the glass. One for the cellar. Great length. Blend of 53% pinot noir, 25% pinot meunier, 22% chardonnay. Disgorged in beginning of 2020. Drink or hold.

More Info

Champagne
1
100 (JS)

In Bond

£2,218.00

James Suckling (100)

This is very structured and framed with an almost red sensibility. Very phenolic. Full-bodied in a tightly wound ball with so much going on. Very pinot like. Mineral and stone. Shell and stone. Iodine. Vinous. The bubbles just fade into the finish of the wine, which goes on for minutes. Turns to toffee and salted caramel with time in the glass. One for the cellar. Great length. Blend of 53% pinot noir, 25% pinot meunier, 22% chardonnay. Disgorged in beginning of 2020. Drink or hold.

More Info

Champagne
1
98 (VN)

In Bond

£2,472.00

Vinous (98)

Thrown in as a ringer, the 1995 Clos d'Ambonnay is a real treat to taste next to the 1996. In particular, tasting both vintages together shows that that 1995 is the more complete of these two first releases of Krug's single-vineyard Champagne from Ambonnay. Finely-cut fruit, expressive aromatics and exceptional textural finesse are the signatures. This is another fabulous showing from the 1995 Clos d'Ambonnay.

More Info

Champagne
1
19.5 (JR)

In Bond

£2,663.00

Jancis Robinson (19.5)

This is only the third release of this luxury wine. Really quite a dark coppery gold. Very big and bold on the nose. Heady, mushroomy, almost beery! Lovely fine, tiny bead. Like Clos du Mesnil, this has a bone-dry finish and is very forcibly real wine rather than evanescent champagne. Real vinosity; very different in build from other Krug wines.

More Info

Champagne
1
92+ (VN)

In Bond

£2,624.00

Vinous (92+)

I must admit, Krug's 2000 Clos d'Ambonnay remains a mystery. The first bottle I tasted, in March, at Krug, was utterly spectacular. Rich, creamy and ample on the palate, the 2000 was captivating from start to finish. Two thousand is the first vintage made entirely by current Chef de Caves Eric Lebel. My impression at the time was that Lebel had given his Ambonnay softer, gentler contours than the 1995, 1996 and 1998, all which were much more austere when first released. But then I tasted the 2000 several times in the US, where it has so far been less impressive. I am hoping issues with shipping for a handful of samples will turn out to be the root cause, and that the 'real' Ambonnay will be closer to what I tasted at Krug in March. If that turns out to be the case the 2000 will be due for a major upgrade.

More Info

Champagne
1
100 (DC)

In Bond

£2,661.00

Decanter (100)

The bouquet has a magnificent classicism to it, comprising notes of yellow fruits, spices including white pepper, flowers and a mineral edge. With aeration, scents of menthol emerge from the glass. The palate is upright in character, but elegant and crystalline, with a long, structured finish of chalky density. A Champagne having both thrust, tension and aerial lightness in which finesse and power are allies. A masterpiece. Krug Chef de Cave Julie Cavil said 2002 was 'the last classic year in Champagne, one without extreme elements and with optimal ripeness obtained step by step'.100% Pinot Noir from 0.68ha located in the village of Ambonnay. Dosage: 4g/l.

More Info