Château Lynch-Bages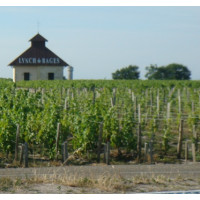 About Château Lynch-Bages
Château Lynch-Bages is one of eighteen Cinquièmes Crus (Fifth Growths) in the famous 1855 Classification. This noble estate in the heart of one of the grandest appellations on Earth has always been, and will always be, an exceptional piece of land for the cultivation of Cabernet Sauvignon in particular. Despite this natural proclivity for excellence, it was around the turn of the millennium that the transcendently nuanced layers of blackberry, tobacco, cedar and minerally slate began to emerge triumphantly from wine-stained glasses with delightful predictability vintage-after-vintage.
Situated on the outskirts of Pauillac, overlooking the Gironde estuary, the Lynch-Bages vineyard (1855 Grand Cru Classé) stretches over a beautiful gravelly hilltop. Formerly owned by the illustrious Lynch family, of Irish descent, the estate was acquired by the Cazes family in 1939.
The 2020 vintage marks a turning point in the history of Château Lynch-Bages : the first to be processed in our new winery, designed by American architect Chien Chung Pei.
Viniculture
A major destination for the considerable investment afforded to the property by the Cazes family over the past 30 years has been detailed soil and topographical analysis. This study found that whilst the majority of the Bages plateau was deep Garonne gravel (classic Pauillac), the vines were also planted variably on clay and limestone subsoil. Advancements in viticulture naturally allowed the family to change tack and adapt where necessary, and Lynch-Bages has produced some of the most gorgeously perfumed and aristocratically structured wine for decades.
A believer in late harvests, he made the wine riper and more powerful. The 90 hectares (220 acres) of Château Lynch-Bages are located just outside the town of Pauillac. The vineyard occupies a gravel ridge looking down over the Gironde estuary. The well-drained soil consists mainly of deep gravel beds over a limestone sub-strata, and it is planted 73% Cabernet Sauvignon, 15% Merlot, 10% Cabernet Franc and 2% Petit Verdot.
Château Lynch-Bages displays textbook Pauillac style with distinctive hedonistic character. It gracefully combines structure, finesse and elegance, coupled with generous aromas in its youth. The wines develop additional layers of complexity with the ageing process.
Echo de Lynch-Bages, the second wine of the estate, displays savoury aromas of fresh red fruits. Round, mellow and seductive in its youth, its ability to age is outstanding.
Blanc de Lynch-Bages was first released in 1990 and is historically one of the first white wines produced by a Grand Cru Classé in the Médoc. Bright and flavorful with citrus aromas in its youth, it develops harmonious floral notes with ageing.
Prices:
Year
Wine
Region
Format
Qty
Score
Price
Wishlist

Blanc de Lynch Bages 2012 (12x75cl)

Inc. VAT: £845.74

2012
Bordeaux
12x75cl
2
92 (JS)

Read Review/Description

Inc. VAT: £845.74

Blanc de Lynch Bages 2017 (6x75cl)

Inc. VAT: £392.87

2017
Bordeaux
6x75cl
10
93 (DC)

Read Review/Description

Inc. VAT: £392.87

Blanc de Lynch Bages 2018 (6x75cl)

Inc. VAT: £392.87

2018
Bordeaux
6x75cl
10
92-93 (JS)

Read Review/Description

Inc. VAT: £392.87

Blanc de Lynch Bages 2019 (6x75cl)

Inc. VAT: £388.07

2019
Bordeaux
6x75cl
4
-
Inc. VAT: £388.07

Blanc de Lynch Bages 2020 (6x75cl)

Inc. VAT: £360.47

2020
Bordeaux
6x75cl
3
95 (JS)

Read Review/Description

Inc. VAT: £360.47

Blanc de Lynch Bages 2021 (6x75cl)

Inc. VAT: £337.07

2021
Bordeaux
6x75cl
3
94-96 (JD)

Read Review/Description

Inc. VAT: £337.07

Echo de Lynch Bages 2010 (12x75cl)

Inc. VAT: £778.54

2010
Bordeaux
12x75cl
7
90-93 (WS)

Read Review/Description

Inc. VAT: £778.54

Echo de Lynch Bages 2014 (12x75cl)

Inc. VAT: £566.14

2014
Bordeaux
12x75cl
1
92 (JS)

Read Review/Description

Inc. VAT: £566.14

Echo de Lynch Bages 2017 (12x75cl)

Inc. VAT: £525.34

2017
Bordeaux
12x75cl
2
92-93 (JS)

Read Review/Description

Inc. VAT: £525.34

Echo de Lynch Bages 2018 (6x75cl)

Inc. VAT: £314.87

2018
Bordeaux
6x75cl
2
93-95 (JD)

Read Review/Description

Inc. VAT: £314.87

Echo de Lynch Bages 2021 (12x37.5cl)

2021
Bordeaux
12x37.5cl
-
93-94 (JS)

Read Review/Description

£170 - £204

Echo de Lynch Bages 2021 (6x75cl)

2021
Bordeaux
6x75cl
-
93-94 (JS)

Read Review/Description

£173 - £207

Lynch Bages 1970 (1x75cl)

Inc. VAT: £355.20

1970
Bordeaux
1x75cl
2
-
Inc. VAT: £355.20

Lynch Bages 1982 (1x300cl)

Inc. VAT: £1,921.12

1982
Bordeaux
1x300cl
1
95 (VT)

Read Review/Description

Inc. VAT: £1,921.12

Lynch Bages 1982 (1x500cl)

Inc. VAT: £3,542.26

1982
Bordeaux
1x500cl
1
95 (VT)

Read Review/Description

Inc. VAT: £3,542.26

Lynch Bages 1982 (1x75cl)

Inc. VAT: £566.40

1982
Bordeaux
1x75cl
7
95 (VT)

Read Review/Description

Inc. VAT: £566.40

Lynch Bages 1985 (1x75cl)

Inc. VAT: £434.40

1985
Bordeaux
1x75cl
3
95 (WA)

Read Review/Description

Inc. VAT: £434.40

Lynch Bages 1989 (12x75cl)

Inc. VAT: £5,090.14

1989
Bordeaux
12x75cl
1
96 (VN (NM))

Read Review/Description

Inc. VAT: £5,090.14

Lynch Bages 1989 (6x75cl)

Inc. VAT: £2,677.67

1989
Bordeaux
6x75cl
1
96 (VN (NM))

Read Review/Description

Inc. VAT: £2,677.67

Lynch Bages 2000 (12x75cl)

Inc. VAT: £3,150.94

2000
Bordeaux
12x75cl
1
97 (WA)

Read Review/Description

Inc. VAT: £3,150.94

Lynch Bages 2000 (1x75cl)

Inc. VAT: £376.80

2000
Bordeaux
1x75cl
1
97 (WA)

Read Review/Description

Inc. VAT: £376.80

Lynch Bages 2003 (12x75cl)

Inc. VAT: £2,114.14

2003
Bordeaux
12x75cl
1
94 (WA)

Read Review/Description

Inc. VAT: £2,114.14

Lynch Bages 2005 (3x150cl)

Inc. VAT: £1,819.07

2005
Bordeaux
3x150cl
1
96 (JS)

Read Review/Description

Inc. VAT: £1,819.07

Lynch Bages 2006 (1x75cl)

Inc. VAT: £216.00

2006
Bordeaux
1x75cl
1
95 (WSM)

Read Review/Description

Inc. VAT: £216.00

Lynch Bages 2007 (12x75cl)

Inc. VAT: £1,320.00

2007
Bordeaux
12x75cl
1
93 (WE)

Read Review/Description

Inc. VAT: £1,320.00

Lynch Bages 2008 (6x75cl)

Inc. VAT: £800.87

2008
Bordeaux
6x75cl
2
94 (WE)

Read Review/Description

Inc. VAT: £800.87

Lynch Bages 2009 (12x75cl)

Inc. VAT: £1,984.54

2009
Bordeaux
12x75cl
2
98-99 (JS)

Read Review/Description

Inc. VAT: £1,984.54

Lynch Bages 2009 (1x600cl)

Inc. VAT: £1,558.62

2009
Bordeaux
1x600cl
1
98-99 (JS)

Read Review/Description

Inc. VAT: £1,558.62

Lynch Bages 2009 (6x75cl)

Inc. VAT: £979.20

2009
Bordeaux
6x75cl
1
98-99 (JS)

Read Review/Description

Inc. VAT: £979.20

Lynch Bages 2010 (12x75cl)

Inc. VAT: £2,188.54

2010
Bordeaux
12x75cl
2
98-99 (JS)

Read Review/Description

Inc. VAT: £2,188.54
Year
Wine
Region
Format
Qty
Score
Price
Wishlist

Blanc de Lynch Bages 2012 (12x75cl)

In Bond: £678.00

2012
Bordeaux
12x75cl
2
92 (JS)

Read Review/Description

In Bond: £678.00

Blanc de Lynch Bages 2017 (6x75cl)

In Bond: £314.00

2017
Bordeaux
6x75cl
10
93 (DC)

Read Review/Description

In Bond: £314.00

Blanc de Lynch Bages 2018 (6x75cl)

In Bond: £314.00

2018
Bordeaux
6x75cl
10
92-93 (JS)

Read Review/Description

In Bond: £314.00

Blanc de Lynch Bages 2019 (6x75cl)

In Bond: £310.00

2019
Bordeaux
6x75cl
4
-
In Bond: £310.00

Blanc de Lynch Bages 2020 (6x75cl)

In Bond: £287.00

2020
Bordeaux
6x75cl
3
95 (JS)

Read Review/Description

In Bond: £287.00

Blanc de Lynch Bages 2021 (6x75cl)

In Bond: £267.50

2021
Bordeaux
6x75cl
3
94-96 (JD)

Read Review/Description

In Bond: £267.50

Echo de Lynch Bages 2010 (12x75cl)

In Bond: £622.00

2010
Bordeaux
12x75cl
7
90-93 (WS)

Read Review/Description

In Bond: £622.00

Echo de Lynch Bages 2014 (12x75cl)

In Bond: £445.00

2014
Bordeaux
12x75cl
1
92 (JS)

Read Review/Description

In Bond: £445.00

Echo de Lynch Bages 2017 (12x75cl)

In Bond: £411.00

2017
Bordeaux
12x75cl
2
92-93 (JS)

Read Review/Description

In Bond: £411.00

Echo de Lynch Bages 2018 (6x75cl)

In Bond: £249.00

2018
Bordeaux
6x75cl
2
93-95 (JD)

Read Review/Description

In Bond: £249.00

Echo de Lynch Bages 2021 (12x37.5cl)

2021
Bordeaux
12x37.5cl
-
93-94 (JS)

Read Review/Description

£170 - £204

Echo de Lynch Bages 2021 (6x75cl)

2021
Bordeaux
6x75cl
-
93-94 (JS)

Read Review/Description

£173 - £207

Lynch Bages 1970 (1x75cl)

Inc. VAT: £355.20

1970
Bordeaux
1x75cl
2
-
Inc. VAT: £355.20

Lynch Bages 1982 (1x300cl)

In Bond: £1,592.00

1982
Bordeaux
1x300cl
1
95 (VT)

Read Review/Description

In Bond: £1,592.00

Lynch Bages 1982 (1x500cl)

In Bond: £2,937.00

1982
Bordeaux
1x500cl
1
95 (VT)

Read Review/Description

In Bond: £2,937.00

Lynch Bages 1982 (1x75cl)

Inc. VAT: £566.40

1982
Bordeaux
1x75cl
7
95 (VT)

Read Review/Description

Inc. VAT: £566.40

Lynch Bages 1985 (1x75cl)

Inc. VAT: £434.40

1985
Bordeaux
1x75cl
3
95 (WA)

Read Review/Description

Inc. VAT: £434.40

Lynch Bages 1989 (12x75cl)

In Bond: £4,215.00

1989
Bordeaux
12x75cl
1
96 (VN (NM))

Read Review/Description

In Bond: £4,215.00

Lynch Bages 1989 (6x75cl)

In Bond: £2,218.00

1989
Bordeaux
6x75cl
1
96 (VN (NM))

Read Review/Description

In Bond: £2,218.00

Lynch Bages 2000 (12x75cl)

In Bond: £2,599.00

2000
Bordeaux
12x75cl
1
97 (WA)

Read Review/Description

In Bond: £2,599.00

Lynch Bages 2000 (1x75cl)

Inc. VAT: £376.80

2000
Bordeaux
1x75cl
1
97 (WA)

Read Review/Description

Inc. VAT: £376.80

Lynch Bages 2003 (12x75cl)

In Bond: £1,735.00

2003
Bordeaux
12x75cl
1
94 (WA)

Read Review/Description

In Bond: £1,735.00

Lynch Bages 2005 (3x150cl)

In Bond: £1,502.50

2005
Bordeaux
3x150cl
1
96 (JS)

Read Review/Description

In Bond: £1,502.50

Lynch Bages 2006 (1x75cl)

Inc. VAT: £216.00

2006
Bordeaux
1x75cl
1
95 (WSM)

Read Review/Description

Inc. VAT: £216.00

Lynch Bages 2007 (12x75cl)

Inc. VAT: £1,320.00

2007
Bordeaux
12x75cl
1
93 (WE)

Read Review/Description

Inc. VAT: £1,320.00

Lynch Bages 2008 (6x75cl)

In Bond: £654.00

2008
Bordeaux
6x75cl
2
94 (WE)

Read Review/Description

In Bond: £654.00

Lynch Bages 2009 (12x75cl)

In Bond: £1,627.00

2009
Bordeaux
12x75cl
2
98-99 (JS)

Read Review/Description

In Bond: £1,627.00

Lynch Bages 2009 (1x600cl)

In Bond: £1,281.00

2009
Bordeaux
1x600cl
1
98-99 (JS)

Read Review/Description

In Bond: £1,281.00

Lynch Bages 2009 (6x75cl)

Inc. VAT: £979.20

2009
Bordeaux
6x75cl
1
98-99 (JS)

Read Review/Description

Inc. VAT: £979.20

Lynch Bages 2010 (12x75cl)

In Bond: £1,797.00

2010
Bordeaux
12x75cl
2
98-99 (JS)

Read Review/Description

In Bond: £1,797.00