Robert Chevillon Nuits-Saint-Georges 1er Cru Les Cailles 2017 (12x75cl)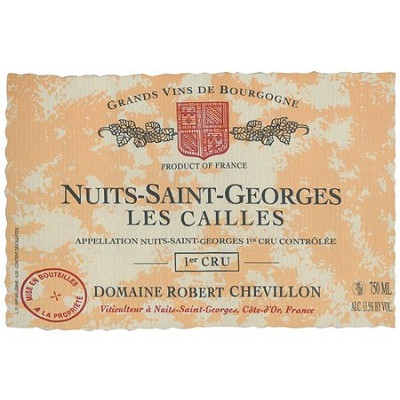 Les Cailles is one of the Chevillon brothers' best parcels, planted in the 1930s on a stony site next to Les St-Georges. It's an impressive red showing stony minerality, some vanilla spice and more underlying tannin than you think at first. The acidity drives the finish of the wine.

Drinking Window: 2024 - 2030
Review Date: 5th November 2019
The 2017 Nuits Saint-Georges Les Cailles 1er Cru has a mixture of red and black fruit on a nose of great clarity and focus; undergrowth scents filter in with aeration. The palate is extremely well balanced, exerting a gentle but insistent grip in the mouth. It feels a little chalky in texture. Shows great body and fine density; hints of orange peel come through toward the finish. Excellent.
Drinking Window: 2022 - 2042
Reviewer Name: Neal Martin
Review Date: 1st January 2019
As is virtually always the case, this is more aromatically elegant and spicier and in 2017 the nose of essence of raspberry, cherry, violet and soft herbal tea notes is also notably spicier. There is excellent richness and a highly beguiling vibrancy to the well-detailed and stony medium-bodied flavors that deliver a lovely combination of punch and finesse on the sneaky long finish. In sum, this beautifully well-balanced effort is Zen-like.
Drinking Window: 2032+
Reviewer Name: Allen Meadows
Review Date: 10th January 2019
Chevillon's low-yielding 80-year-old vines have produced a terrific 2017 Nuits-Saint-Georges 1er Cru Les Cailles that ranks among the range's high points, unfurling in the glass with a classy bouquet of ripe cherries, dried flowers, candied peel and peonies. On the palate, the wine is medium to full-bodied, ample and velvety with a deep, multidimensional core, beautiful purity of fruit and a long, expansive finish. Stylistically, Les Cailles is one of the most elegant wines in the range.
Reviewer Name: William Kelley
Review Date: 31st January 2019
Details

Year

2017

Colour

Red

Country

France

Region

Burgundy

Sub Region

Nuits-Saint-Georges

Designation

Classification

Pack Size

12x75cl

Drinking Window

2032+ - 2042

Drinking Recommendation

Not Ready

LWIN

102516520171200750

Reviews (4)

Les Cailles is one of the Chevillon brothers' best parcels, planted in the 1930s on a stony site next to Les St-Georges. It's an impressive red showing stony minerality, some vanilla spice and more underlying tannin than you think at first. The acidity drives the finish of the wine.


Drinking Window: 2024 - 2030

Review Date: 5th November 2019

The 2017 Nuits Saint-Georges Les Cailles 1er Cru has a mixture of red and black fruit on a nose of great clarity and focus; undergrowth scents filter in with aeration. The palate is extremely well balanced, exerting a gentle but insistent grip in the mouth. It feels a little chalky in texture. Shows great body and fine density; hints of orange peel come through toward the finish. Excellent.

Drinking Window: 2022 - 2042

Reviewer Name: Neal Martin

Review Date: 1st January 2019

As is virtually always the case, this is more aromatically elegant and spicier and in 2017 the nose of essence of raspberry, cherry, violet and soft herbal tea notes is also notably spicier. There is excellent richness and a highly beguiling vibrancy to the well-detailed and stony medium-bodied flavors that deliver a lovely combination of punch and finesse on the sneaky long finish. In sum, this beautifully well-balanced effort is Zen-like.

Drinking Window: 2032+

Reviewer Name: Allen Meadows

Review Date: 10th January 2019

Chevillon's low-yielding 80-year-old vines have produced a terrific 2017 Nuits-Saint-Georges 1er Cru Les Cailles that ranks among the range's high points, unfurling in the glass with a classy bouquet of ripe cherries, dried flowers, candied peel and peonies. On the palate, the wine is medium to full-bodied, ample and velvety with a deep, multidimensional core, beautiful purity of fruit and a long, expansive finish. Stylistically, Les Cailles is one of the most elegant wines in the range.

Reviewer Name: William Kelley

Review Date: 31st January 2019

Producer

Robert Chevillon's collection of Premier Cru and old-vine Nuits-Saint-Georges vineyards make the scenery alone a reason to visit Burgundy. Bertrand and Denis are fifth generation managers and a fantastic team. Their wines in the cellar are celebrated for their impressive track record and consistently excellent.

Value Comparison