Tour Saint Christophe 2020 (6x75cl)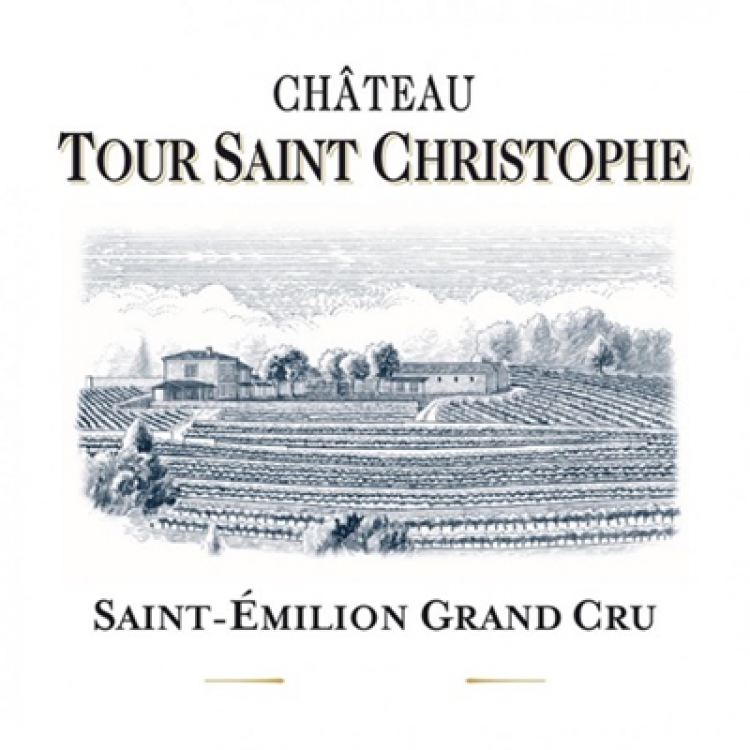 Full-bodied and creamy with lots of spice and walnut character. Lovely softness and purity. Black fruit at the end. Very fine tannins. Well-integrated.
Review Date: 4th May 2021
95-97
The Wine Cellar Insider
Deep, and dark in color, and equally dark and deep in its fruit, the nose pops with perfectly ripe dark red and black fruits, licorice, smoke, cherry blossoms, crushed rocks and stones. The wine has depth, sensuality, luscious textures and layers of ripe,opulent fruits. The finish lingers with layers of black and red fruits with dark chocolate that feel as good as they taste. This could be the finest vintage of Tour Sant Christophe ever produced, and that is really saying something. The wine is made from blending 80% Merlot with 20% Cabernet Franc. You can age for 20-25 years. Or if you like,you can also enjoy this on the young side.
Reviewer Name: Jeff Leve
Review Date: 4th May 2021
A wine I continue to buy in every vintage, the 2020 Château Tour Saint-Christophe looks to be another no-brainer for the Saint-Emilion lovers out there. Coming from a gorgeous, terraced vineyard on the eastern side of the appellation and based on 80% Merlot and 20% Cabernet Franc, it has a perfumed, elegant, pure style in its darker cherry and cassis fruits as well as classic cedarwood, earth, and forest floor aromatics. Medium to full-bodied, balanced, and just beautiful on the palate, with terrifically integrated acidity and tannins, it's going to round into form nicely with just short-term bottle age and have two decades of prime drinking. This wine is still resting in 40% new French oak and has an alcohol of 14.7% with a pH of 3.6.
Reviewer Name: Jeb Dunnuck
Review Date: 23rd May 2021
Deep garnet-purple in color, the 2020 Tour Saint Christophe stampedes out of the glass with powerful scents of baked blackberries, stewed black plums and boysenberries, followed by suggestions of cedar chest, mocha, tar and fertile loam, with lifted wafts of licorice and cardamom. The full-bodied palate is rich and densely packed with juicy black fruits, supported by velvety tannins and fantastic freshness, finishing long and opulent.

In 2012, Hong Kong-based Peter Kwok purchased this vineyard located in Saint-Christophe-des-Bardes. The blend this year is 80% Merlot and 20% Cabernet Franc, aging in French oak barriques, 40% new. It has an alcohol of 14.7% and a pH of 3.6.
Drinking Window: 2024 - 2044
Reviewer Name: Lisa Perrotti-Brown
Review Date: 20th May 2021
Tour Saint Christophe just keeps getting better with each passing vintage. The 2020 is marked by vibrant red/purplish fruit, beams of minerality, sweet floral notes and a touch of savory intensity on the close. What impresses me most about the 2020 is the purity of flavors. The creamy, resonant finish is a thing of beauty.
Drinking Window: 2025 - 2050
Reviewer Name: Antonio Galloni
Review Date: 1st June 2021
The 2020 Tour Saint Christophe was picked September 14–28, fermented without SO2 and matured in 40% new oak. My sample bottle was more reduced compared to its peers and required more aeration. Leaving it aside for 30–40 minutes, it unfolded to reveal a mélange of red and black fruit and hints of wild mint and boysenberry, all nicely focused, with floral top notes. The medium-bodied palate features sappy black fruit intermingling with orange peel and subtle marmalade notes. There is a core of sweet plummy fruit toward the finish, and a hint of brown sugar lingers on the aftertaste. This is a fine Saint-Émilion, but one where I hope to see a little more terroir expression on once in bottle.
Drinking Window: 2027 - 2045
Reviewer Name: Neal Martin
Review Date: 1st May 2021
80% Merlot, 20% Cabernet Franc. Cask sample.
Almost jammy fruit but cool and minerally as well. Stays appetising on the palate backed by finely honed tannins. Saline note on the finish. Oak present but should integrate. (JL) 14.7%
Drinking Window: 2026 - 2035
Reviewer Name: James Lawther MW
Review Date: 26th April 2021
Details

Year

2020

Colour

Red

Country

France

Region

Bordeaux

Sub Region

Saint-Emilion Grand Cru

Designation

Pack Size

6x75cl

ABV

15.00°

Drinking Window

2027 - 2050

Drinking Recommendation

Not Ready

LWIN

138058920200600750

Reviews (7)

Full-bodied and creamy with lots of spice and walnut character. Lovely softness and purity. Black fruit at the end. Very fine tannins. Well-integrated.

Review Date: 4th May 2021

95-97

The Wine Cellar Insider

Deep, and dark in color, and equally dark and deep in its fruit, the nose pops with perfectly ripe dark red and black fruits, licorice, smoke, cherry blossoms, crushed rocks and stones. The wine has depth, sensuality, luscious textures and layers of ripe,opulent fruits. The finish lingers with layers of black and red fruits with dark chocolate that feel as good as they taste. This could be the finest vintage of Tour Sant Christophe ever produced, and that is really saying something. The wine is made from blending 80% Merlot with 20% Cabernet Franc. You can age for 20-25 years. Or if you like,you can also enjoy this on the young side.

Reviewer Name: Jeff Leve

Review Date: 4th May 2021

A wine I continue to buy in every vintage, the 2020 Château Tour Saint-Christophe looks to be another no-brainer for the Saint-Emilion lovers out there. Coming from a gorgeous, terraced vineyard on the eastern side of the appellation and based on 80% Merlot and 20% Cabernet Franc, it has a perfumed, elegant, pure style in its darker cherry and cassis fruits as well as classic cedarwood, earth, and forest floor aromatics. Medium to full-bodied, balanced, and just beautiful on the palate, with terrifically integrated acidity and tannins, it's going to round into form nicely with just short-term bottle age and have two decades of prime drinking. This wine is still resting in 40% new French oak and has an alcohol of 14.7% with a pH of 3.6.

Reviewer Name: Jeb Dunnuck

Review Date: 23rd May 2021

Deep garnet-purple in color, the 2020 Tour Saint Christophe stampedes out of the glass with powerful scents of baked blackberries, stewed black plums and boysenberries, followed by suggestions of cedar chest, mocha, tar and fertile loam, with lifted wafts of licorice and cardamom. The full-bodied palate is rich and densely packed with juicy black fruits, supported by velvety tannins and fantastic freshness, finishing long and opulent.

In 2012, Hong Kong-based Peter Kwok purchased this vineyard located in Saint-Christophe-des-Bardes. The blend this year is 80% Merlot and 20% Cabernet Franc, aging in French oak barriques, 40% new. It has an alcohol of 14.7% and a pH of 3.6.

Drinking Window: 2024 - 2044

Reviewer Name: Lisa Perrotti-Brown

Review Date: 20th May 2021

Tour Saint Christophe just keeps getting better with each passing vintage. The 2020 is marked by vibrant red/purplish fruit, beams of minerality, sweet floral notes and a touch of savory intensity on the close. What impresses me most about the 2020 is the purity of flavors. The creamy, resonant finish is a thing of beauty.

Drinking Window: 2025 - 2050

Reviewer Name: Antonio Galloni

Review Date: 1st June 2021

The 2020 Tour Saint Christophe was picked September 14–28, fermented without SO2 and matured in 40% new oak. My sample bottle was more reduced compared to its peers and required more aeration. Leaving it aside for 30–40 minutes, it unfolded to reveal a mélange of red and black fruit and hints of wild mint and boysenberry, all nicely focused, with floral top notes. The medium-bodied palate features sappy black fruit intermingling with orange peel and subtle marmalade notes. There is a core of sweet plummy fruit toward the finish, and a hint of brown sugar lingers on the aftertaste. This is a fine Saint-Émilion, but one where I hope to see a little more terroir expression on once in bottle.

Drinking Window: 2027 - 2045

Reviewer Name: Neal Martin

Review Date: 1st May 2021

80% Merlot, 20% Cabernet Franc. Cask sample.
Almost jammy fruit but cool and minerally as well. Stays appetising on the palate backed by finely honed tannins. Saline note on the finish. Oak present but should integrate. (JL) 14.7%

Drinking Window: 2026 - 2035

Reviewer Name: James Lawther MW

Review Date: 26th April 2021

Producer

About Château Tour Saint Christophe

A small estate of just 16 hectares planted on clay-limestone soil with 80% Merlot and 20% Cabernet Franc, the vineyard at Tour Saint Christophe cascades dramatically down centuries-old dry-stone terraces, lovingly restored by the ambitious new owner, Peter Kwok.

The property is located metres from the high-flying cult Château Valandraud, often reaching similar ratings while coming in at a fraction of the price. If you're looking for the best value Saint-Emilion, priced like an everyday drinker but behaving like a genuine masterpiece, look no further.

Vintage Comparison

Valuation Tools

Wine Rating is intended to show the quality of the wine from an investment perspective. It takes into account the prices achieved by the producer, the quality of the vintage and the critics' scores for this wine. AAA is the best rating, and B the most speculative.

Please wait a few seconds whilst we process the market data for this wine...

Calculating...

Investment Rating

Wine Rating is intended to show the quality of the wine from an investment perspective. It takes into account the prices achieved by the producer, the quality of the vintage and the critics' scores for this wine. AAA is the best rating, and B the most speculative.

Show Investment Rating Guide

Graph