Veuve Clicquot Extra Brut Extra Old NV (6x75cl)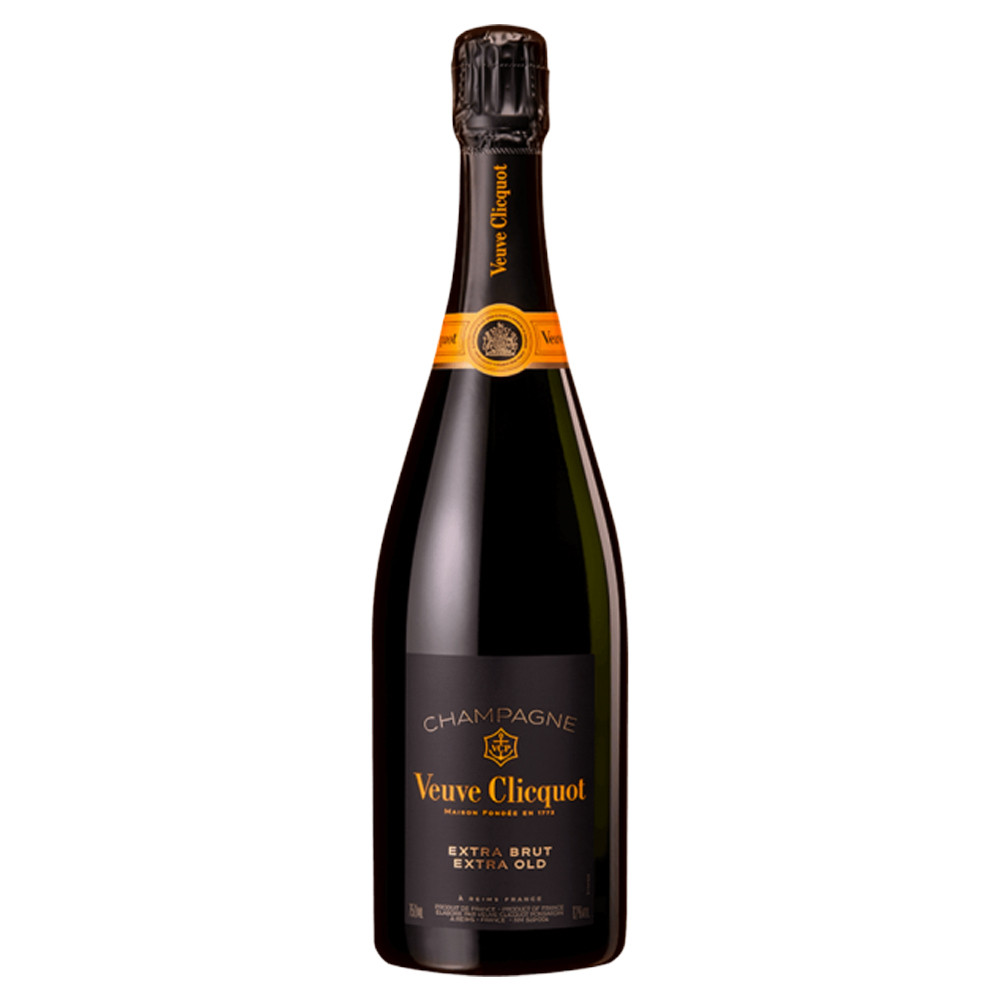 There's lovely precision to this wine. It's bright and citrussy, but there's also some pear and peach richness, a touch of red cherry, a hint of cream and subtle toast. All blends together with lovely finesse. It's tight and fruit focused, but it also has some savoury maturity in the background. I love the contrasts here, with high acidity and linearity, complemented by the notes of maturity. Really gastronomic and structural, this is quite serious and austere and is quite a contrast to the richness regular Veuve NV, although the family resemblance is there from the reserve wines, which feature quite prominently in the NV.

A new cuvée and an assemblage of reserve wines from 1988, 1996, 2006, 2008, 2009 and 2010 laid down in vats for three years, in bottle for another three, followed by a year's rest after disgorging. The freshness belies its age on the nose. This is still bursting with lemon citrus and peach stone fruits, pastry and gently spicy nuances. The palate has a mellow texture (lower pressure bottling at 4.5 atmospheres) and a seamless integration of glossy citrus and stone fruit flavors with biscuity, spicy and nutty complexity. Sweetness of time is all that's required as the dosage is a low 3g/l. Drink now.
Details

Year

NV

Colour

White

Country

France

Region

Champagne

Sub Region

NA

Designation

Classification

Pack Size

6x75cl

LWIN

144527110000600750

Reviews (2)

There's lovely precision to this wine. It's bright and citrussy, but there's also some pear and peach richness, a touch of red cherry, a hint of cream and subtle toast. All blends together with lovely finesse. It's tight and fruit focused, but it also has some savoury maturity in the background. I love the contrasts here, with high acidity and linearity, complemented by the notes of maturity. Really gastronomic and structural, this is quite serious and austere and is quite a contrast to the richness regular Veuve NV, although the family resemblance is there from the reserve wines, which feature quite prominently in the NV.

A new cuvée and an assemblage of reserve wines from 1988, 1996, 2006, 2008, 2009 and 2010 laid down in vats for three years, in bottle for another three, followed by a year's rest after disgorging. The freshness belies its age on the nose. This is still bursting with lemon citrus and peach stone fruits, pastry and gently spicy nuances. The palate has a mellow texture (lower pressure bottling at 4.5 atmospheres) and a seamless integration of glossy citrus and stone fruit flavors with biscuity, spicy and nutty complexity. Sweetness of time is all that's required as the dosage is a low 3g/l. Drink now.

Producer

Veuve Clicquot Ponsardinis a French champagne house of Reims. This premium producer was founded in 1772 by Philippe Clicquot-Muiron and established champagne as the favoured drink of nobility throughout France and Europe. Today, the yellow label is one of the most recognised labels in the world.

Value Comparison