Wine In Stock
At Cru World Wine, we understand that sometimes you need your wine in a hurry. That's why we've created our "Wine In Stock" page - a selection of wines that have been landed in our local warehouse and are ready for rapid delivery.


Our "Wine In Stock" selection includes a variety of wines from around the world, ranging from classic vintages to up-and-coming wineries. And with our local warehouse, you can be sure that your wine will be delivered quickly and efficiently, so you can enjoy it in no time.


Whether you're hosting a dinner party, planning a special occasion, or just want to stock up your cellar, our "Wine In Stock" page has something for everyone. So why wait? Shop our selection today and enjoy the convenience of fast and reliable delivery, straight from our local warehouse to your doorstep.
Wine In Stock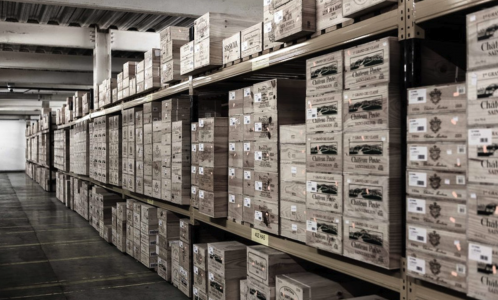 Name
Price Low
Price High
Year (Old)
Year (New)
Product Name
Region
Qty
Score
Price

Coquimbo
1
97 (TA)

Inc. VAT

£324.04

Tim Atkin (97)

Right up there with the best Chardonnays Chile, and South America, has ever produced. This stunning wine comes from five specific blocks within the Quebrada Secain Limarí. Tangy, chiselled and refined, with very stylish oak. It's the kind of thing that could embarrass a range of Puligny-Montrachet Premiers Crus in a blind tasting. Simply stunning

More Info

Coquimbo
3
96 (DC)

Inc. VAT

£282.04

Decanter (96)

Elegant perfume of lavender, wet stones and jasmine haunt the nose of this expressive and vibrant wine. With the chalky minerality and tangy finish that are trademarks of Limarí, this shows great regional typicity and is a mouthwatering wine with subtle oak integration. A complex yet elegant style.

More Info

Coquimbo
2
96 (TA)

Inc. VAT

£290.44

Tim Atkin (96)

Payen is a fantastic, co-fermented blend of Syrah with 7% Cabernet Franc that expresses the quality of one of Chile's genuine Grand Cru sites. Dense, concentrated and full bodied, with blood, damson and blackberry flavours, intense minerality, lots of savoury grip and some sweet spices and toast from 20% new oak. 2023-30

More Info

Coquimbo
1
98 (TA)

Inc. VAT

£238.84

Tim Atkin MW (98)

Overall Red Wine of the Year - Chile 2022 Special Report. Well, well, well. Who would have anticipated this? My best Chilean red wine of the year is a Malbec - and not just any Malbec. Roca Madre is an incredible, world-class red from the volcanic soils of the Río Hurtado vineyard, located at 1,600 metres in the remote Limarí Andes. Racy, tangy, grippy and intensely perfumed, it's an incredible expression of the variety, with violet, plum and black cherry concentration, fine-grained tannins and a pithy, energetic, mineral-etched core.

More Info

Coquimbo
1
95 (TA)

Inc. VAT

£193.24

Tim Atkin (95)

The painterly Talinay vineyard, located just 12 kilometres from the Pacific Ocean on limestone soils, supplies the grapes for this superb, naturally fermented Chardonnay from Felipe Müller. Taut, restrained and wonderfully focused, it has oyster shell and struck match aromas, chalky, citrus and vanilla spice flavours and a saline finish. As close as Chile gets to the flavours of Grand Cru Chablis. 2022-30

More Info
Product Name
Region
Qty
Score
Price

Coquimbo
1
97 (TA)

In Bond

£254.00

Tim Atkin (97)

Right up there with the best Chardonnays Chile, and South America, has ever produced. This stunning wine comes from five specific blocks within the Quebrada Secain Limarí. Tangy, chiselled and refined, with very stylish oak. It's the kind of thing that could embarrass a range of Puligny-Montrachet Premiers Crus in a blind tasting. Simply stunning

More Info

Coquimbo
3
96 (DC)

In Bond

£219.00

Decanter (96)

Elegant perfume of lavender, wet stones and jasmine haunt the nose of this expressive and vibrant wine. With the chalky minerality and tangy finish that are trademarks of Limarí, this shows great regional typicity and is a mouthwatering wine with subtle oak integration. A complex yet elegant style.

More Info

Coquimbo
2
96 (TA)

In Bond

£226.00

Tim Atkin (96)

Payen is a fantastic, co-fermented blend of Syrah with 7% Cabernet Franc that expresses the quality of one of Chile's genuine Grand Cru sites. Dense, concentrated and full bodied, with blood, damson and blackberry flavours, intense minerality, lots of savoury grip and some sweet spices and toast from 20% new oak. 2023-30

More Info

Coquimbo
1
98 (TA)

In Bond

£183.00

Tim Atkin MW (98)

Overall Red Wine of the Year - Chile 2022 Special Report. Well, well, well. Who would have anticipated this? My best Chilean red wine of the year is a Malbec - and not just any Malbec. Roca Madre is an incredible, world-class red from the volcanic soils of the Río Hurtado vineyard, located at 1,600 metres in the remote Limarí Andes. Racy, tangy, grippy and intensely perfumed, it's an incredible expression of the variety, with violet, plum and black cherry concentration, fine-grained tannins and a pithy, energetic, mineral-etched core.

More Info

Coquimbo
1
95 (TA)

In Bond

£145.00

Tim Atkin (95)

The painterly Talinay vineyard, located just 12 kilometres from the Pacific Ocean on limestone soils, supplies the grapes for this superb, naturally fermented Chardonnay from Felipe Müller. Taut, restrained and wonderfully focused, it has oyster shell and struck match aromas, chalky, citrus and vanilla spice flavours and a saline finish. As close as Chile gets to the flavours of Grand Cru Chablis. 2022-30

More Info
Name
Price Low
Price High
Year (Old)
Year (New)