Yalumba The Caley Cabernet Shiraz 2016 (3x75cl)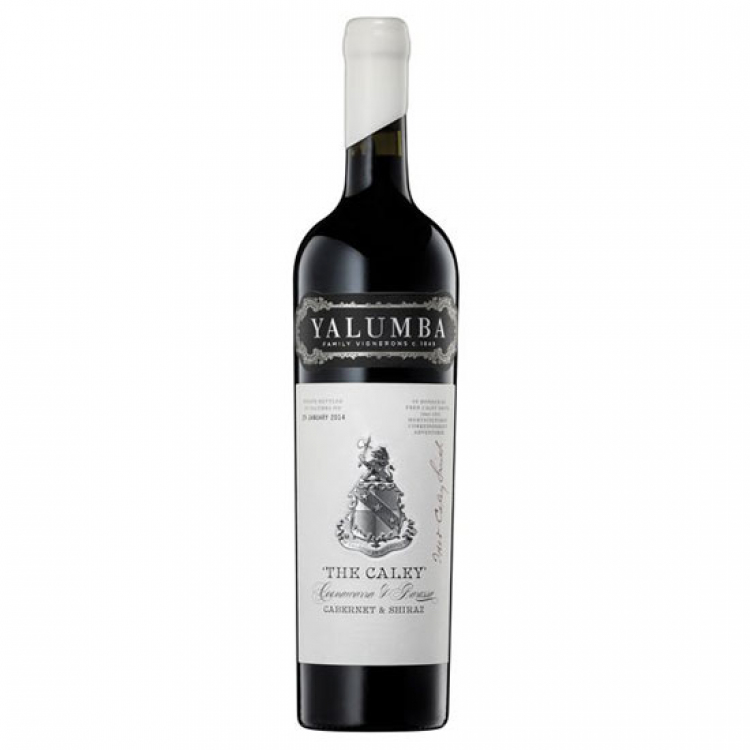 Made from a blend of 71% Coonawarra Cabernet Sauvignon and 29% Barossa Valley Shiraz, the 2016 is a wine with "very impressive sense of composure" (JS). The nose shows lovely harmony, offering notes of red and blue fruits, deep violet and forest wood. With "a strong drive at the finish", this incredible wine clearly has a long future ahead of it. Huon Hooke of the Real Review anticipates this wine to drink well into 2041.
You have seen my MoneyWeek article above and this time that is all you are getting. This wine WILL feature in my 100 Best Australian Wines Report 2021-22, which WILL be released this year. Forgive me for the capitals, but I have had enough of this pandemic and so I am pressing on regardless. You already know my score, but here it is again and it certainly bears repeating. But before I type this perfect number again I would like to inform you that I tasted 450 bottles of 2020 En Primeur Bordeaux this year and I would, of course, love you to download this Report from this website. The reason for mentioning this is that none of them warranted a perfect score, so I hope that this underlines just how remarkable it is that The Caley has done this twice in five years and also, with an average of 19.6/20, this accounts for my lofty headline at the top of this article.
Reviewer Name: Matthew Jukes
Review Date: 25th March 2021
99
Halliday Wine Companion
69% Coonawarra Menzies Ming D Block cabernet sauvignon, 25% Barossa Valley Nuriootpa shiraz planted 1901, 6% Eden Valley shiraz planted 1971. Wild ferment to start. Matured 21 months in 25% new French oak barriques and hogsheads. Yalumba began blending Coonawarra cabernet with Barossa shiraz more than a half century ago. This is one of the greatest expressions of this great Australian blend of recent decades. Perfect, compact, fragrant blackcurrant and blackberry fruit depth pauses time as it hovers motionless for minutes, propelled by the most intricate, chalk mineral framework of perfectly interlocked fruit and French oak tannins. A vintage to hark back to for another half century yet.
Reviewer Name: Tyson Stelzer
Review Date: 12th August 2021
This has a very impressive sense of composure, offering a very attractive, cedary and floral nose with deep violets and a wealth of forest wood, bracken and blueberries, as well as plums. The palate has intensely ripe, assertive fruit flavors with a succulent, dense and rich delivery of black-cherry, cassis and blackberry flavors. Density with focus and a strong drive at the finish. Long and juicy with real freshness. A blend of 71% Coonawarra cabernet sauvignon and 29% Barossa shiraz. Drink or hold.
Reviewer Name: James Suckling
Review Date: 22nd May 2020
Excellent depth and hue of colour. Lovely harmony in its perfumes, but understated, with red and blue fruits showing through; attractive ripeness and all components are in harmony. The cabernet and shiraz are perfectly meshed. The wine is impressively powerful, with terrific intensity, drive and focus. Slightly firm tannin astringency to finish, which time will soften. A superb wine, promising to unfold more in the future. (71% Coonawarra cabernet, 29% Barossa shiraz; aged 21 months in hogsheads, 25% new)
Drinking Window: 2022 - 2041
Reviewer Name: Huon Hooke
Review Date: 18th May 2021
Yalumba's 2016 The Caley Cabernet & Shiraz is a blend of 71% Cabernet (from Coonawarra) and 29% Shiraz (from Barossa—Lightpass and Eden Valley) aged 21 months in French oak barriques and hogsheads (25% new). Marked by hints of menthol and sage, it also offers up deep cassis and blackberry fruit, plus notes of cedar and vanilla. In the mouth, it's medium to full-bodied and amply concentrated but tightly wound, with plush tannins wrapped around a ripe core of fruit—this needs time to relax and unfurl. Hints of licorice appear on the finish, speaking of ripe Syrah and joining persistent notes of dark fruit. Clearly this has a lot going for it, so give it several years in the cellar before trying a bottle.
Drinking Window: 2024 - 2040
Reviewer Name: Joe Czerwinski
Review Date: 31st August 2021
Details

Year

2016

Colour

Red

Country

Australia

Region

South Australia

Sub Region

NA

Designation

Classification

Pack Size

3x75cl

ABV

14.00°

Drinking Window

2024 - 2041

Drinking Recommendation

Not Ready

LWIN

146633720160300750

Reviews (5)

You have seen my MoneyWeek article above and this time that is all you are getting. This wine WILL feature in my 100 Best Australian Wines Report 2021-22, which WILL be released this year. Forgive me for the capitals, but I have had enough of this pandemic and so I am pressing on regardless. You already know my score, but here it is again and it certainly bears repeating. But before I type this perfect number again I would like to inform you that I tasted 450 bottles of 2020 En Primeur Bordeaux this year and I would, of course, love you to download this Report from this website. The reason for mentioning this is that none of them warranted a perfect score, so I hope that this underlines just how remarkable it is that The Caley has done this twice in five years and also, with an average of 19.6/20, this accounts for my lofty headline at the top of this article.

Reviewer Name: Matthew Jukes

Review Date: 25th March 2021

99

Halliday Wine Companion

69% Coonawarra Menzies Ming D Block cabernet sauvignon, 25% Barossa Valley Nuriootpa shiraz planted 1901, 6% Eden Valley shiraz planted 1971. Wild ferment to start. Matured 21 months in 25% new French oak barriques and hogsheads. Yalumba began blending Coonawarra cabernet with Barossa shiraz more than a half century ago. This is one of the greatest expressions of this great Australian blend of recent decades. Perfect, compact, fragrant blackcurrant and blackberry fruit depth pauses time as it hovers motionless for minutes, propelled by the most intricate, chalk mineral framework of perfectly interlocked fruit and French oak tannins. A vintage to hark back to for another half century yet.

Reviewer Name: Tyson Stelzer

Review Date: 12th August 2021

This has a very impressive sense of composure, offering a very attractive, cedary and floral nose with deep violets and a wealth of forest wood, bracken and blueberries, as well as plums. The palate has intensely ripe, assertive fruit flavors with a succulent, dense and rich delivery of black-cherry, cassis and blackberry flavors. Density with focus and a strong drive at the finish. Long and juicy with real freshness. A blend of 71% Coonawarra cabernet sauvignon and 29% Barossa shiraz. Drink or hold.

Reviewer Name: James Suckling

Review Date: 22nd May 2020

Excellent depth and hue of colour. Lovely harmony in its perfumes, but understated, with red and blue fruits showing through; attractive ripeness and all components are in harmony. The cabernet and shiraz are perfectly meshed. The wine is impressively powerful, with terrific intensity, drive and focus. Slightly firm tannin astringency to finish, which time will soften. A superb wine, promising to unfold more in the future. (71% Coonawarra cabernet, 29% Barossa shiraz; aged 21 months in hogsheads, 25% new)

Drinking Window: 2022 - 2041

Reviewer Name: Huon Hooke

Review Date: 18th May 2021

Yalumba's 2016 The Caley Cabernet & Shiraz is a blend of 71% Cabernet (from Coonawarra) and 29% Shiraz (from Barossa—Lightpass and Eden Valley) aged 21 months in French oak barriques and hogsheads (25% new). Marked by hints of menthol and sage, it also offers up deep cassis and blackberry fruit, plus notes of cedar and vanilla. In the mouth, it's medium to full-bodied and amply concentrated but tightly wound, with plush tannins wrapped around a ripe core of fruit—this needs time to relax and unfurl. Hints of licorice appear on the finish, speaking of ripe Syrah and joining persistent notes of dark fruit. Clearly this has a lot going for it, so give it several years in the cellar before trying a bottle.

Drinking Window: 2024 - 2040

Reviewer Name: Joe Czerwinski

Review Date: 31st August 2021

Producer

"Australia's oldest family-owned winery proves that humility and patience can deliver outstanding, age-worthy wines." James Suckling

Established in 1849, Yalumba is the oldest family-owned winery in Australia. Founded by Samuel Smith, in the heart of the Barossa, the Hill-Smith family has continued to run the business for six generations.

As a result of its continuity of family ownership, it has been able to foster long-term relationships with generational growers in the Barossa as well as maintaining estate vineyards in the Barossa and Coonawarra. Yalumba combines a long-standing track record and many of the values of Old World family-owned wineries with innovation and invention. It also proudly maintains its own vine nursery as well as the only operational, on-site winery cooperage in the Southern Hemisphere.

Robert Hill-Smith, fifth-generation, led Yalumba into the modern era and cemented Yalumba's international reputation for quality, authenticity, excitement and integrity. Robert notably pioneered Viognier in Australia, making Yalumba one of the most distinguished Viognier producers in the world, with the flagship The Virgilius often regarded as an Australian benchmark. Yalumba has carved a reputation for the iconic Australian blend of Cabernet Sauvignon & Shiraz revered as "The Great Australian Red". These reds, traditionally known as "Australian Clarets", have been a focus at Yalumba for more than a century. Robert often says: "The beauty of Cabernet Shiraz is that by and large you can't compare it to anything, it is absolutely quintessentially Australian." The Signature has been the flagship Barossa example since 1962 and is one of Australia's most celebrated red wines. More recently, in 2017, Yalumba launched their most prestigious wine The Caley, a Cabernet Sauvignon & Shiraz "Super Claret", and the pinnacle of Yalumba's winemaking journey of excellence.



Vintage Comparison

Valuation Tools

Wine Rating is intended to show the quality of the wine from an investment perspective. It takes into account the prices achieved by the producer, the quality of the vintage and the critics' scores for this wine. AAA is the best rating, and B the most speculative.

Please wait a few seconds whilst we process the market data for this wine...

Calculating...

Investment Rating

Wine Rating is intended to show the quality of the wine from an investment perspective. It takes into account the prices achieved by the producer, the quality of the vintage and the critics' scores for this wine. AAA is the best rating, and B the most speculative.

Show Investment Rating Guide

Graph