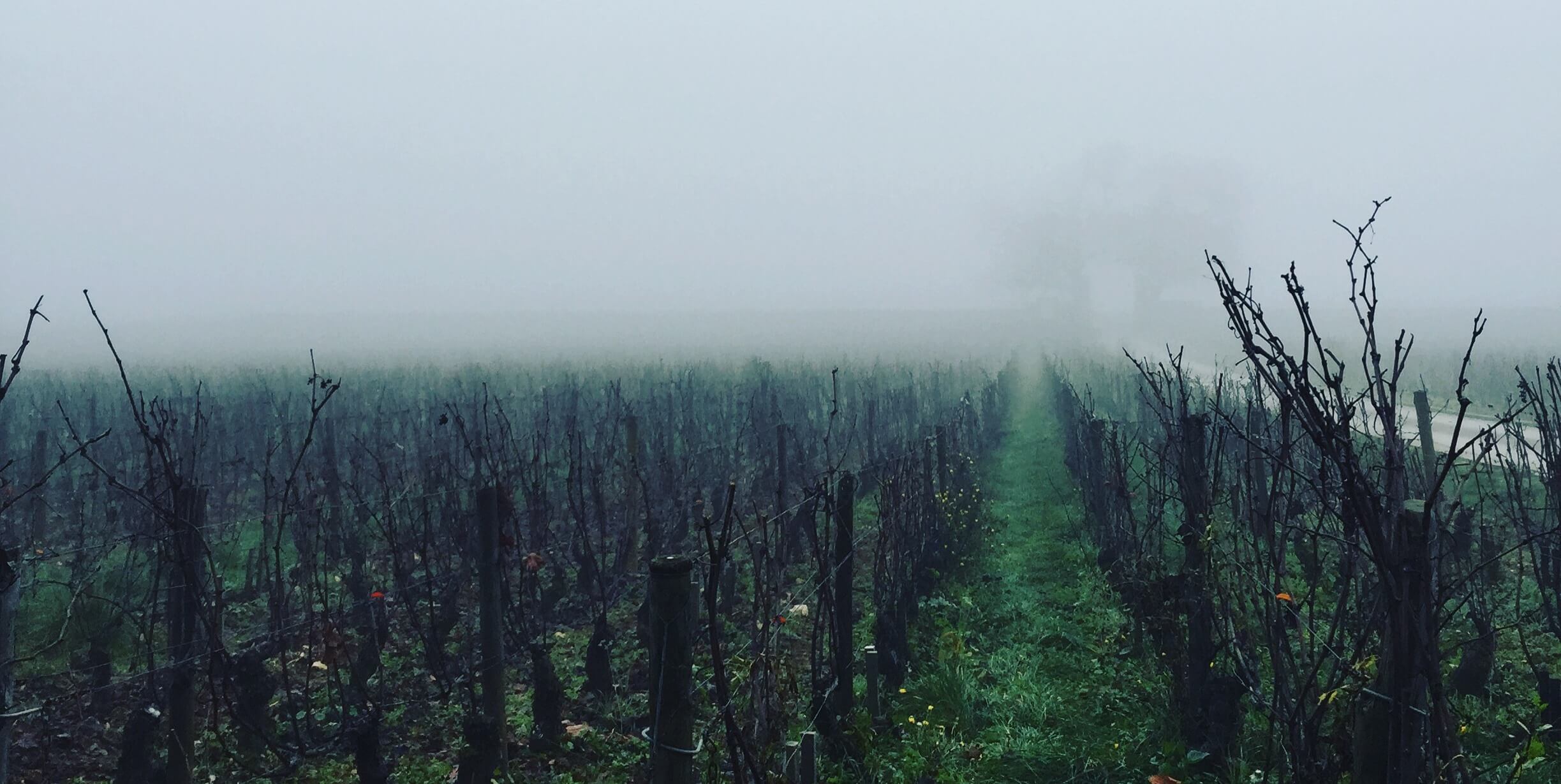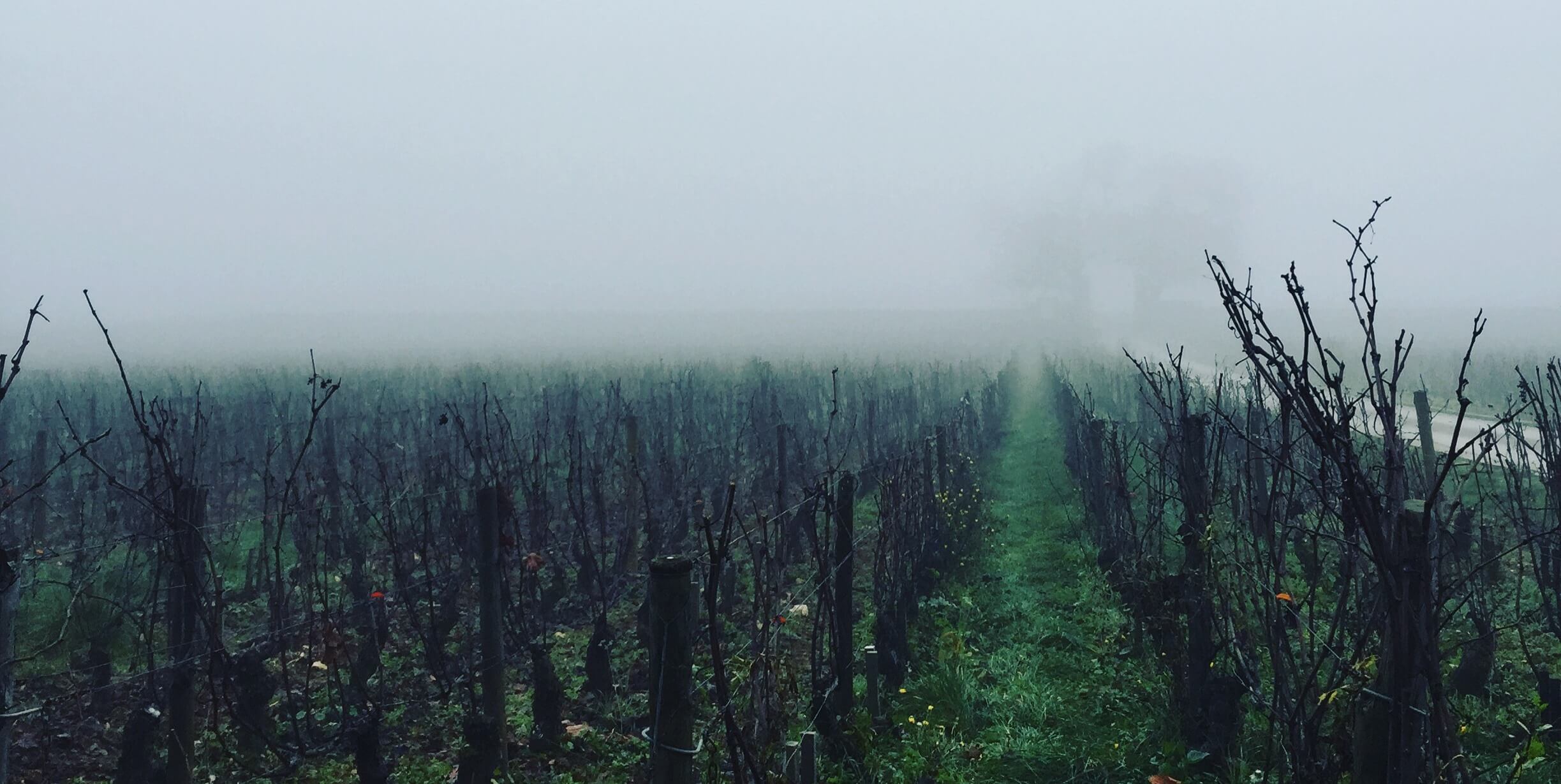 Thursday
By Thursday, the highly atmospheric fog and chill had descended upon the Cote d'Or rendering our sunny al fresco lunch on Monday as just a distant memory…
With a perilously full day of eight visits we made our early start right in Beaune, stopping off at Benjamin Leroux, whose "micro-negoce" wine have already begun to garner high praise from critics as well as a cult following from early devotees. Leroux declared 2014 as his best ever vintage for white wine (his first vintage being 2007), and with the generosity of fruit in the lovely reds they are not far behind. Back to back visits with St. Aubin stalwarts Marc Colin and Jean Claude Bachelet once again confirmed that when these two neighbouring families are not too busy competing against each other in 5-a-side football they are making exquisitely contrasting styles of white wine, with Colin dedicated to elegant precision and Bachelet favouring a rich opulent style.
Zooming up the A31 to Grivot later in the afternoon, we reached what was perhaps the pinnacle of the entire week while in the care of the effortlessly suave Etienne Grivot's flawless line up of energetic and beautifully textured wines. Also present was Etienne's charming daughter Mathilde who has increasingly been taking a larger role in the cellar with great results, thanks to having inherited, "the serenity of her mother and the wisdom of her father" a proud Etienne explained with a twinkle in his eye. Capping off the day, we stopped in on "the queen of Chambolle" Ghislaine Barthod whose charming wines revealed a generous yet elegant density of fruit that seems to be the trademark for 2014.
Friday
After a marathon week of visits, on Friday we made the final sprint up the Cote de Nuits towards our Dijon finish line. Drouhin Laroze's spectacularly grand cru heavy holdings were as stylish and polished as the impeccably dressed "next generation" of the estate, Caroline and Nicolas Drouhin. The final stop of the trip was in Marsannay, an area that is poised for great promise. Originally planted with Gamay vines, Marsannay has seen a recent renaissance of quality pinot noir in the last several decades, with several sites on the cusp of receiving 1er Cru status. Amongst these are the deliciously "gourmand" Langeroies red and white, which we tasted during our visit to Jean Fournier. We highly recommend you scoop these up before they finally receive their official upgrade!
Final Thoughts
Throughout the week, the greatest threat looming over the otherwise absurdly easy to love 2014 vintage is the already much hyped about 2015 vintage. It would not be the first time that a vintage has risked being unfairly overlooked at the time of its release, but to do so with the 2014 vintage would mean missing out on some truly enjoyable wines. They are generous and approachable enough that they won't demand you play the waiting game for too long, and yet are brimming with enough pure fruit with a healthy backbone of acidity to ensure you won't have any regrets about forgetting them in a cellar for the next decade or two. The best descriptor we may have heard for the 2014 vintage is one which (naturally) has no exact translation in English: gourmand. In short, they should be savoured and enjoyed by wine lovers everywhere!
Addendum
It is difficult to reflect upon the past week without giving mention to the immense tragedy that has pervaded the city of Paris over the course of the weekend. Our deepest sympathies go out to anyone who was affected by these heart-breaking events.