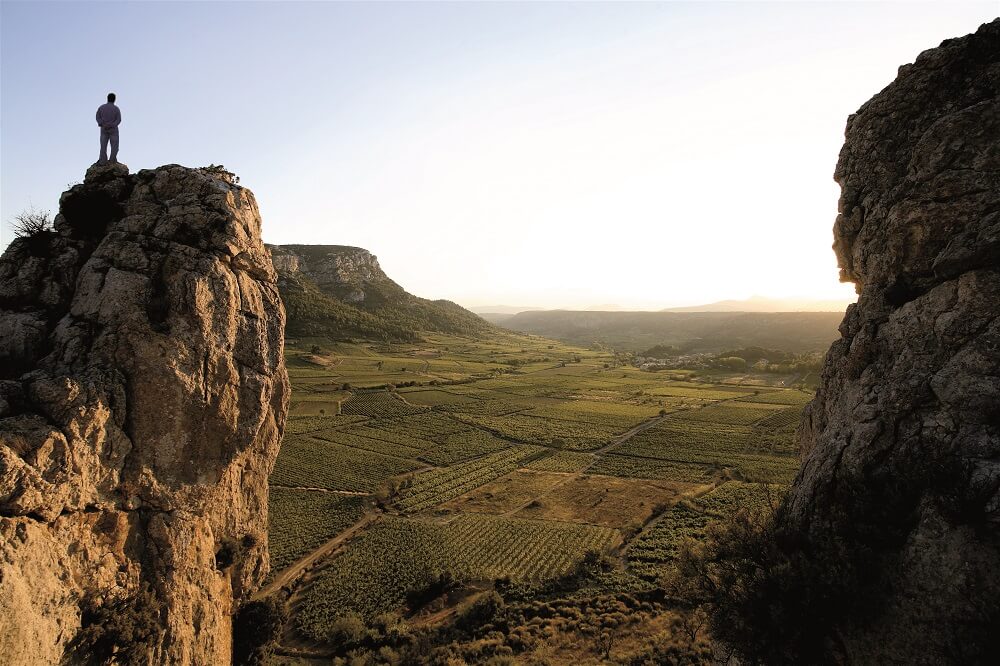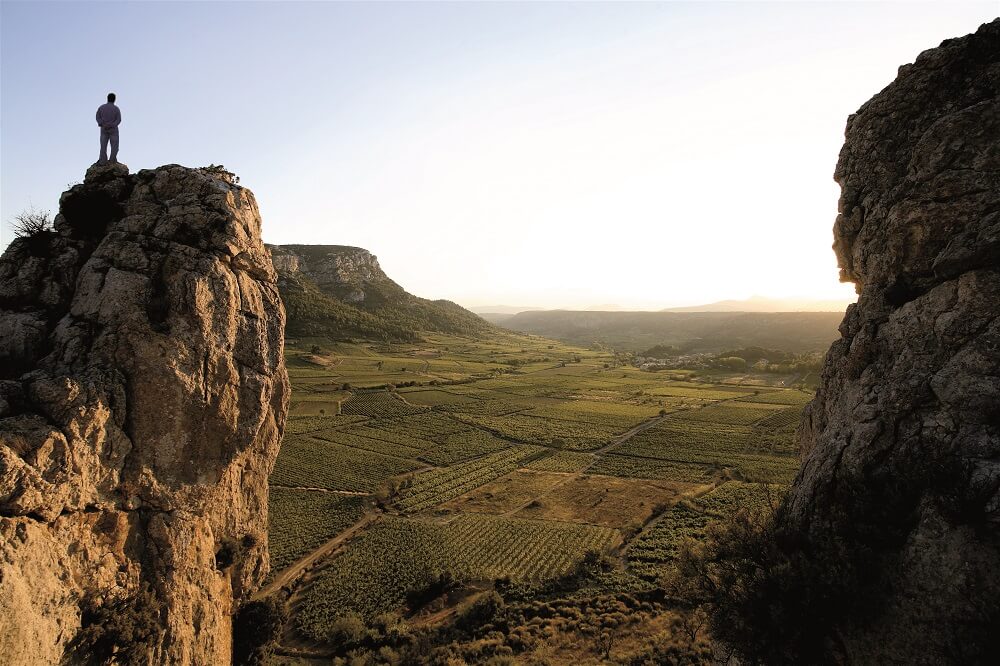 We had heard good things about Clos des Fees. The name Robert Parker, though he himself no longer writes the reviews on his website, has that power – suddenly after years quietly making wine an estate can be catapulted from obscurity to celebrity. We were due to be in the region with a bit of time to spare, and though it was a bank holiday in France, the enigmatic Herve Bizuel agreed to receive us. Time was short, and as we pulled up to the winery near Rivesaltes we felt… apprehensive. A grouping of large, new buildings rose up in front of us, alien and strange in their provincial surroundings. We had visions of endless rows of brand new barrels inside, of showy modern wines, big price tags. We went inside to the reception area, freshly kitted out to receive tourists. It being a bank holiday in France, it was deserted. We gingerly walked around, calling for anyone who might be there. After a not-insignificant amount of time Herve Bizuel walked down the stairs.
First impression – he is larger than life. Confident and direct. Our visions of the wine we were about to taste still hadn't changed. He stood behind the counter where most of his wines could be found in an Enomatic machine and began to pour, starting with the entry level white of the estate. We were instantly charmed, by the wine and by the man. That white, a young-vine blend of Vermentino, Roussanne, and Grenache Blanc called 'Sorcieres', was delicious. Lively, mineral, elegant. The rose, pale and delicate. The Semillon, waxy and complex and fascinating. Wine after wine, story after story, the personality of the estate began to unravel. Here is a man who does nothing by accident. Every tiny detail has been thought through and Herve knows exactly what he wants to achieve from each wine. The simpler entry level wines are not complex but this is his intention – they are drinkable. The top wines have big tannins and plenty of oak but again, this is his intention – they are to mature slowly, let their true character shine through.
As for the big shiny new winery? A necessity. They simply outgrew their facilities in Vingrau. This was until very recently a very garagiste address – they started out in a friend's winery in 1998, having to wait until the main production was finished before they could start on Clos des Fees. Next they moved in their own garage – thankfully they managed to sell some of the second vintage En Primeur to be able to fund proceedings. Herve was variously a sommelier, a restaurateur, a writer, but he could not be satisfied until his winemaking itch was scratched. This land, between sea, mountain and the garrigue of the Languedoc, called out to him and he fell in love. Each year he has bought more land, improved his wine, made more cuvees. In 2005 his efforts were rewarded when the revered Revue de Vin de France named them the Number 1 Estate in the Roussillon. Today they make a wide range of wines, including more experimental like Tempranillo and Cabernet Franc (despite his success he "wants to make sure everyone can still call him crazy"…) but it is the flagship Clos des Fees red and white that are especially captivating and which we have chosen to work with. We hope this will be the start of a beautiful relationship.