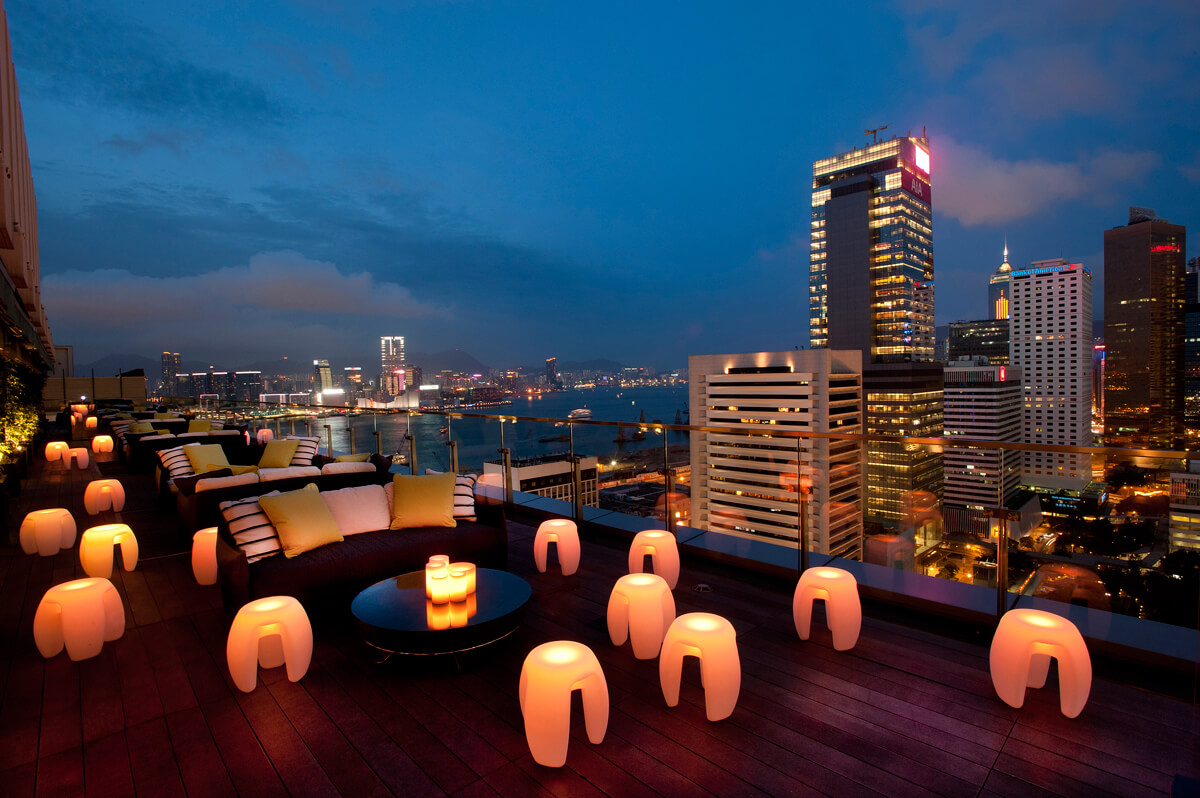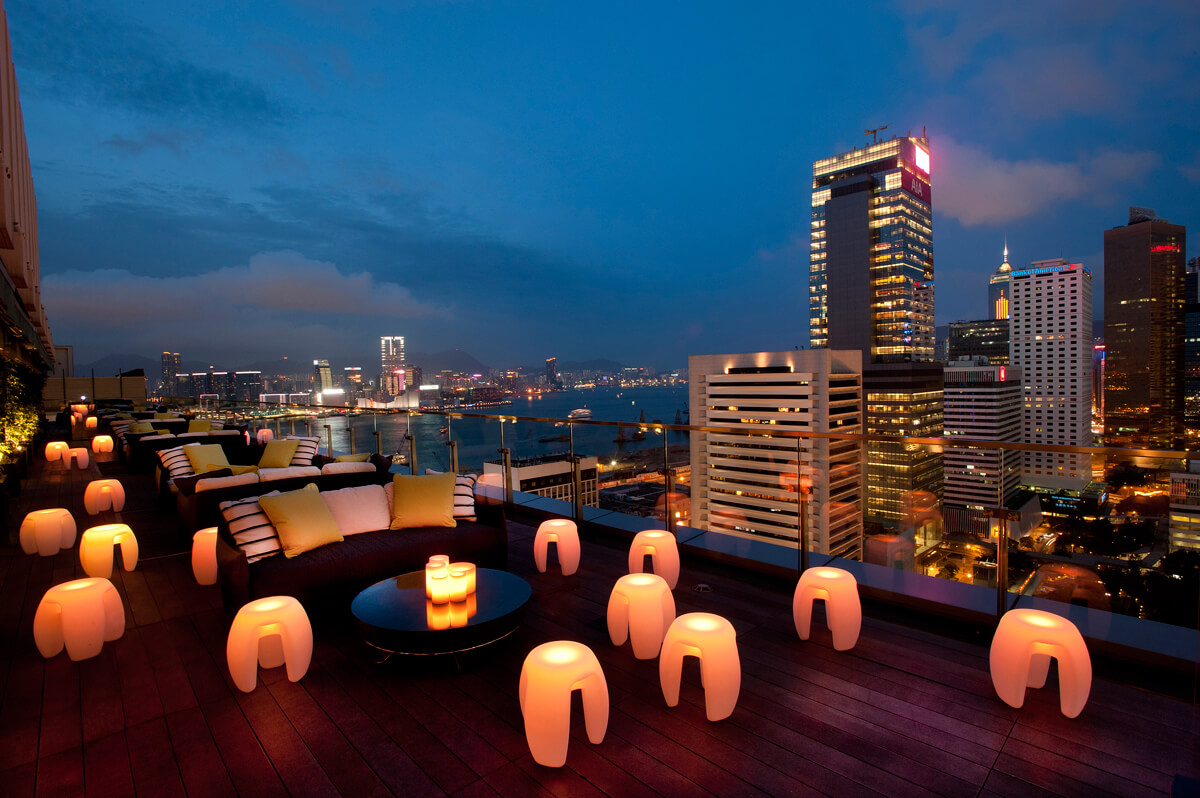 Last week we wrote about the festive atmosphere that descends upon London this time of year and the tradition of going out to the city's more glamourous drinking venues to raise a glass to the season. In Hong Kong this time of year is no less celebratory; add to that the warmer weather and you have the perfect opportunity for enjoying nights out on the town with colleagues and friends. This city is one of the absolute best when it comes to drinking out and is firmly on par with London and New York in terms of the quality available for a night on the town. Roof top bars are a natural choice considering the warm weather in the evenings, while speakeasies (increasingly fashionable in HK) are a solid option on rainy nights.
Captain's Bar
We'll start our journey through Hong Kong's watering holes by having a look at an institution which has been at the top of the city's drinking game for over 50 years. The Captain's Bar at the Mandarin Oriental on Connaught Road may have been a bit dated a few years ago but the genuine, slightly glamourous 60's ambience has easily come full circle back to trendy. Looking for a proper martini or a drinking experience straight out of Mad Men? This is the spot.
Beyond the cocktail menu which is extensive and expertly crafted, this is also a good place to sample Hong Kong's local craft beer by Young Master (served by the silver, that's right silver tankard). In addition to the effortlessly cool ambience and drinks on offer a regular Jazz night completes the 60's feel.
Sevva – Taste Bar
A classic Hong Kong rooftop venue, Taste Bar and in particular it's terrace at Sevva on Charter Road offers some of the best views of downtown Hong Kong and makes for a breath taking night out. The view over the harbour makes for a popular spot to watch fireworks and on warm evenings, this is a hard place to beat for open air cocktails high above the hustle and bustle of the city.
With the surrounding skyscrapers illuminated and towering above in all directions and the Romanesque dome of the former legislative Council Building across Stature Square below, it is a location which in a way is a great introduction to Hong Kong itself. A blend of old and new in the heart of this increasingly fast-paced global city.
Ozu
Putting sake forward as the session-able all-night quaffer at this Hollywood Road venue, Ozu is an exciting concept bar. The world of sake is developing at dizzying speeds with as much variety as craft beer and as a result the worldview of a wine or whisky connoisseur is easily transferrable to this ancient tipple. As a result this is a great place to get excited about something new and even explore the world of Sake cocktails. Sake martinis blended with such inventive twists as smoked lychee and floral infusions are a tempting potation if you're looking for something different.
The décor is simple and urban-inspired making it less formal than the rest of the bars on this list, but that doesn't mean that the quality is anything short of stellar. Definitely a place for a taste of something unique.
001 - Speakeasy
Hidden behind a fresh produce stall in the area of Wellington Street, This classic speakeasy is about as cool as it gets so a friendly reminder for those wanting to get through the door (if you can find it, that is); dress accordingly! Once over the threshold you'll find yourself in an exceptional cocktail bar with one of the best stocked bars in town.
A matchless range of top-shelf bourbon, a finely honed list of well-crafted drinks; this bar is fantastic for those keyed-in enough to find it. While there be sure to give the Earl Gray Martini a try; and according to co-founder Emily Chiang, the Heidi Fleiss is to-die-for. The cocktail itself is married in-house for 30 days in American white oak barrels for a silky texture and perfectly integrated aromatics. It doesn't get better than that!
Stockton
Last but not least on this list is famed whisky bar, Stockton on Wyndham Street. Focussed on rare whiskies from around the world, you'll be hard-pressed to find any bottles behind the bar which wouldn't adorn the top shelf of a lesser establishment. A bit reminiscent of an old school London member's club, the place is a true throwback for anyone visiting from Western Europe or America – a true Cigar Room hidden away in the back means you can puff away happily on a Montecristo alongside your Glenfarclas 25 or Hibiki 17.
If it's a cocktail you're after, much like 001, Stockton barrel-matures its own concoctions resulting in perfectly married flavours and spicy wood-infused aromatics. It's cosy yet cool, think a members club without the stuffiness, membership fees or gender restrictions!
Really, there are too many amazing places in this crazy city for any kind of comprehensive list. However, if there is something on this list you haven't heard of, it will definitely be worth checking out. Gon bui!