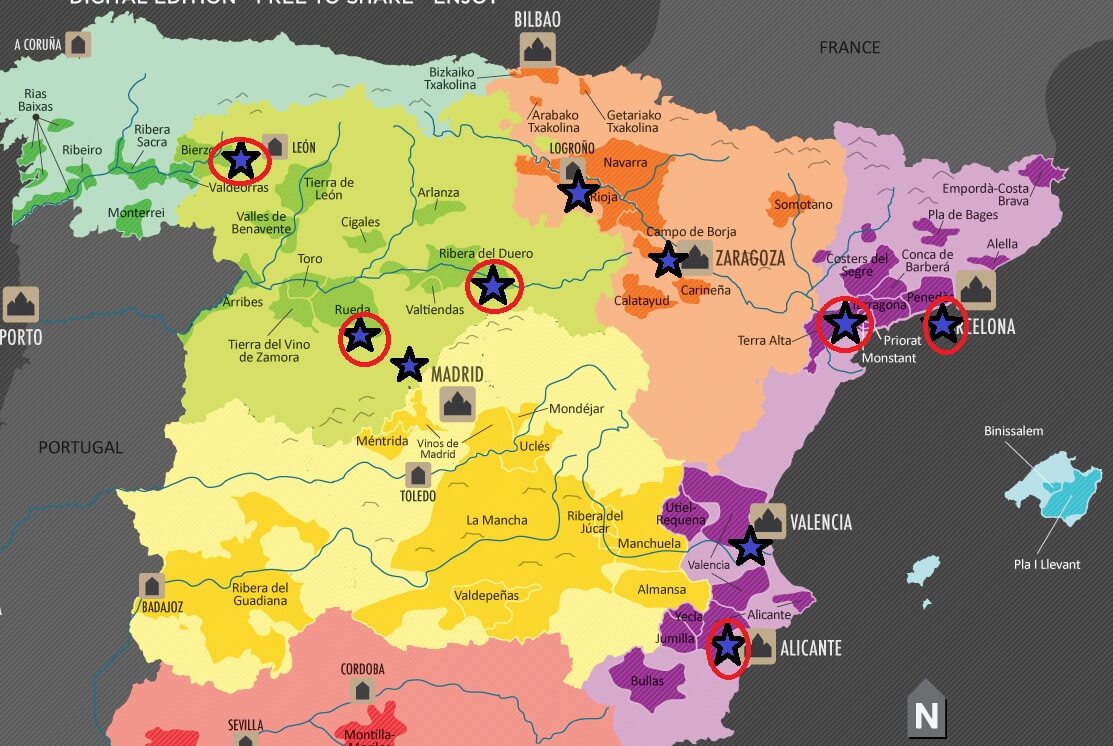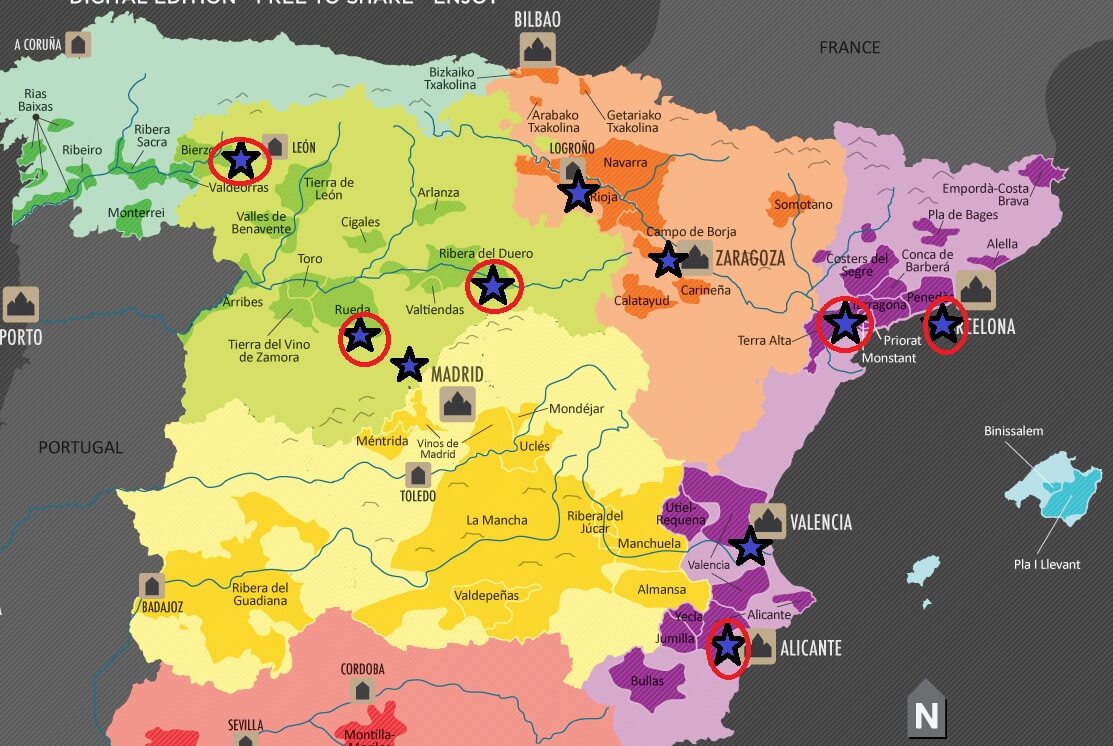 Outside the obvious regions of Spain there are hidden gems to be uncovered, 'The Other Spain.' The regions of Rueda, Bierzo, Ribera del Duero, Penedes, Priorat and Jumilla are well worth a look. Our buyer, Madeline Mehalko, shares these unique regions (each marked by red circles on the map above).
Rueda
DO in Castilla y Leon to the North West of Madrid produces largely white wine from the Verdejo grape in the Duero River Valley, on a plateau of 700-800m, with gravelly soil. Made in a range of styles, from light and crisp (especially where more Sauvignon is used) to richer and fruit-driven, to those made in a Burgundian style with barrel ageing – like our Nisia Old Vines Verdejo.
Bierzo
Descendientes de J Palacios brought the region in to the spotlight when it was founded in 1999; the main red variety Mencia is often compared to Pinot Noir stylistically, but the aromas are often similar to Northern Rhone Syrah. It is an early ripening grape and can be an excellent vehicle for terroir (perhaps the reason for the Pinot Noir comparisons). Vineyards here can be very cold and rainy, with high altitudes, later harvests and a high proportion of schist, highest in the mountains, and those vineyards on slopes are best. Raul Perez is also considered one of the stars of the region, making wines of great purity, his Ultreia de Valtuille Bierzo 2008 has "complex aromatics that leap from the glass; an extraordinary effort" 96 points, Robert Parker.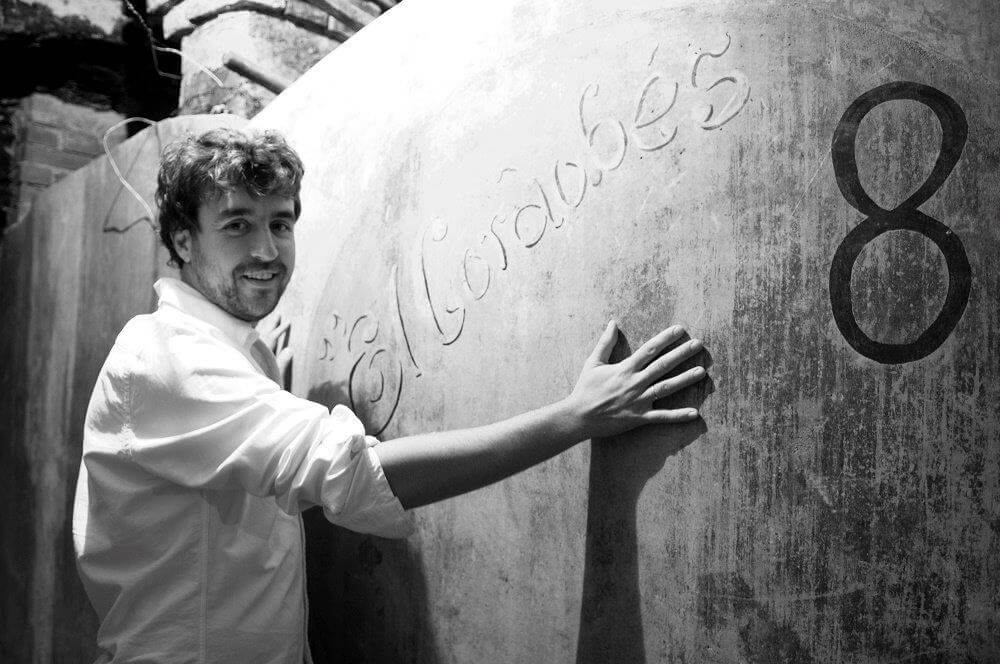 Ribera del Duero
Vega Sicilia has brought this region in to the international spotlight. There is a 'golden mile' where all the best addresses are located – here the altitude, soil, and climate conditions are ideal (plateau of 750-1000m, on stoney chalky clay). Tempranillo is number one – namely clones called Tinto Fino or Tinto del Pais. The conditions are extreme. Summers are long, fiercely hot and dry, and winters can be harsh, with frosts creeping in both at the start and the finish of the growing season. This can be felt in the wines, which are often robust to say the least. Our own Dominio del Aguila have managed to tame the conditions to stunning effect.
Picaro del Aguila Clarete Rose is a wine steeped in tradition in the region, it is the favourite of Jorge's whose father had made it, and his father before. It's a blend of red and white wine, the vines complanted together in the old way. Mostly Tempranillo with Albillo, Grenache and a myriad of others, this is not a rose as we know it. It is vinous, structured, mineral; barrel aged and with a beautiful freshness – malolactic is naturally blocked in the cold cellars. Berries, citrus, herbs, smoke, spice… a revelation.
His Picaro del Aguila Tinto 2013 is hard to believe it is a 'second wine'; it is more serious and complex than many a Grand Vin in the region. So clean and pure, with incredible freshness and finesse; tannins with a reassuringly rustic grip, but the quality of the tannins is impeccable. This is Ribera but not as you know it, robust but refined with wonderful balance. Berry fruit, liquorice, spice and flowers, it is joyful and primary with a long life ahead. As the Clarete, this is a 'field blend' of mostly Tempranillo with Bobal, Albillo, Garnacha and others. Finally the Dominio del Aguila Reserva is profound and polished with dark cherry and cool minerality; spend more time with the glass and there is garrigue, leather, cigar box, salty black olives, lifted violet. There is a definite firm grip and tense acidity, but the fruit is so silky, the tannins so fine. This surely must be one of the most poised and refined wines to come out of the region.
Penedes
Near Barcelona, the oft-maligned Cava is produced. Made in the 'Champagne' method and with interesting local varietals like Xarel-lo, Parellada and Macabeu, these wines are much more interesting than many a Prosecco, and many can rival the best Champagne. Made in a range of styles with longer lees ageing, single vineyard expressions, solera systems, and lower dosage all becoming more common. Xarel-lo is especially interesting, with steely acidity and salty minerality (and very high levels of antioxidants). Raventos I Blanc l'Hereu Cava Brut is a great example of modern Cavas coming out of Catalonia today - clean, fresh and dry, a blend of Maccabeu, Xarel-lo and Parrelada. Well worth a try.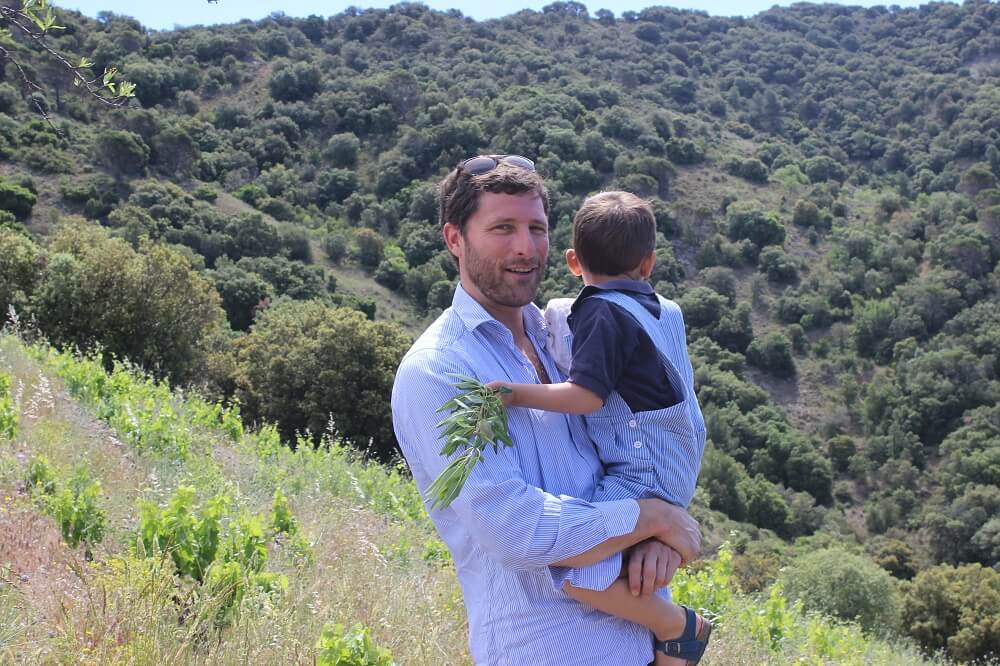 Priorat & Montsant
Two side by side appellations, with Priorat featuring 'licorella' soils (or slate, pictured below). This gives more minerality to Priorat wines while Montsant have more volume and fruit. Grenache was first planted here by French monks in the 12th century, Carignan came along later, but both are still the main grapes in the appellation. The older vines have very deep reaching roots. It is dry here and planting is difficult; summers see hot days and cool nights which mean harvests are quite late. Alcohol levels are high, and overripeness can be a problem, but good acidity levels can be reached. Single vineyard parcels are becoming increasingly common as the terroir is incredibly diverse. The outstanding and highly rated producer Terroir al Limit is making Priorats with old-world soul, Spanish roots, German mind and French soul.
Jumilla
Further South, Monastrell is key (aka Mourvedre), and there are some very old vines and some great value wines to be had. It is a great source of well priced, unoaked, varietal reds. Mediterranean varietals perform best (Mourvedre, Grenache, Syrah). It is hot down here, but there are some surprisingly high altitude plateaus of 700m +, and there are mountains all around. Soils are often rocky/chalky on the slopes, sandy in the valleys (here there are some ungrafted vines). It is possible to have healthy grapes using organic methods thanks to the sun, wind and climate. We found a fantastic producer called Casa Castillo, making profound and beautiful wines in this hot clime.