Latour
About Château Latour
Latour has, in many ways, always been the most forward-thinking and disruptive First Growth, ever since its original rise to prominence under the Ségur family in the 18th century. Its decision not to participate in En Primeur had a rippling effect throughout the fine wine world, and whilst it has not precipitated a broader move away from the system by other estates, the vast majority of Bordelais properties have certainly reduced the amount of their wine offered in this way choosing to hold back stock to be released upon maturity. A sign of Latour's influence upon the entire region.
The Vineyard and the Wine
There is an ancient Médoc saying - to make great wine, you must be able to see the water. No other First Growth is closer to the Gironde's estuary than this imposing estate, contributing to simply extraordinary terroir which means that Latour has an enviable (and uncanny) ability to produce outstanding wine in difficult years. In favourable years, the vineyard soaks up extra heat reflected from the water's surface. In unpleasant years, the property is protected from extremes by the moderating effect of the estuary's regulatory benefits.

This dream terroir allows the winemaking team to focus on a variety of aspects of viticulture safe in the knowledge that nature will see them through the worst - and focus they have! Ever the pioneers, Latour was one of the first châteaux to introduce cutting-edge processes such as satellite imaging of distinct plots, sensors assessing vine vigour and even wind-direction monitoring before the application of fully biodynamic treatments.
Château Latour has a distinctly high proportion of clay in the soil throughout its vineyard. Whilst unusual for Pauillac, it is, in fact, the very same clay upon which the vines of Château Pétrus are planted in Pomerol. Obviously found in far smaller quantities and dominated by glorious Left Bank gravel, the result of this composition is a wine of unfathomable texture, richness, concentration and spine-tingling freshness - for which Latour garnered the epithet "an iron fist in a velvet glove".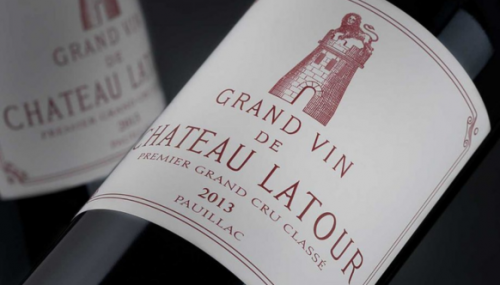 Name
Price Low
Price High
Year (Old)
Year (New)
Prices:
Product Name
Region
Qty
Score
Price

Bordeaux
1
-

Inc. VAT

£10,137.85

Bordeaux
1
-

Inc. VAT

£1,142.65

Bordeaux
1
-

Inc. VAT

£1,002.00

Bordeaux
2
-

Inc. VAT

£1,698.00

Bordeaux
1
-

Inc. VAT

£13,249.49

Bordeaux
1
-

Inc. VAT

£1,040.00

Bordeaux
1
-

Inc. VAT

£927.60

Bordeaux
1
100 (WA)

Inc. VAT

£3,897.60

Wine Advocate (100)

Port-like, with an unctuous texture, and a dark garnet color with considerable amber at the edge, the 1961 Latour possesses a viscosity and thickness. One of the three bottles served at the Chateau's tasting revealed a surprisingly aggressive, minty, herbaceous nose, but the other two bottles were liquid perfection, exhibiting fragrant, cedary, truffle, leather, mineral, and sweet, jammy aromatics, full-bodied, voluptuous textures, exquisite purity and concentration, and a layered, highly-nuanced finish that represents the essence of compellingly great wine. The 1961 has been fully mature for over 15 years, but it seems to get richer, holding onto its succulence and fat, and developing more aromatic nuances without losing any sweetness or concentration. An extraordinary wine, it is unquestionably one of the Bordeaux legends of the century! Anticipated maturity: now-2025

More Info

Bordeaux
1
-

Inc. VAT

£2,162.65

Bordeaux
1
-

Inc. VAT

£611.60

Bordeaux
1
-

Inc. VAT

£1,532.40

Bordeaux
3
-

Inc. VAT

£838.80

Bordeaux
1
94 (WA)

Inc. VAT

£7,674.07

Wine Advocate (94)

Tasted from my personal cellar, the 1971 Latour is undoubtedly the wine of the Medoc, and possibly the wine of the vintage (Petrus and Trotanoy are also splendid efforts). Drinkable young, it has continued to evolve, offering extraordinary aromatic complexity as well as surprisingly deep, concentrated flavors atypical for the vintage.

More Info

Bordeaux
1
94 (WA)

Inc. VAT

£660.80

Wine Advocate (94)

Tasted from my personal cellar, the 1971 Latour is undoubtedly the wine of the Medoc, and possibly the wine of the vintage (Petrus and Trotanoy are also splendid efforts). Drinkable young, it has continued to evolve, offering extraordinary aromatic complexity as well as surprisingly deep, concentrated flavors atypical for the vintage.

More Info

Bordeaux
1
-

Inc. VAT

£537.20

Bordeaux
1
-

Inc. VAT

£2,095.00

Bordeaux
1
93 (WS)

Inc. VAT

£2,580.04

Wine Spectator (93)

Fascinating aromas of plums, minerals and mint, with a hint of peat. Medium- to full-bodied, with firm tannins and a long finish. Plenty of life left in it. This was rather controversial at the NY tasting, but I loved it.--Latour vertical. Drink now through 2015. -JS

More Info

Bordeaux
1
-

Inc. VAT

£512.40

Bordeaux
1
92 (WS)

Inc. VAT

£6,729.67

Wine Spectator (92)

Better than I anticipated. A sleek and racy wine.Ruby-amber color. Aromas of cedar, cigar box,tobacco, mint and mushrooms, with hints of redfruits, follow though to a medium body with finetannins and a long, silky finish. Excellent now,but a little more bottle age would only improveit.--Latour vertical. Best after 2005. -JS

More Info

Bordeaux
1
89.0

Inc. VAT

£577.20

Bordeaux
1
89.0

Inc. VAT

£5,386.80

Bordeaux
1
100 (WA)

Inc. VAT

£2,112.80

Wine Advocate (100)

1982 was a great vintage—relatively warm and prolific, producing wines of richness and depth. The 1982 Latour has a medium garnet-brick color and then pow!—it belts out powerful notes of star anise, dried roses, sandalwood and new leather with a core of kirsch, blackberry tart, dried mulberries and blackcurrant pastilles. Full-bodied, rich and spicy with bags of fruit and tons of savory fireworks, it finishes with epic persistence.

More Info

Bordeaux
1
-

Inc. VAT

£7,766.40

Bordeaux
1
-

Inc. VAT

£710.40

Bordeaux
1
96 (WS)

Inc. VAT

£640.40

Wine Spectator (96)

Seems to be gaining in strength and depth. Incredibly rich, with meat, plum, cassis and tobacco flavors, harmonious, clean and long. Beginning to be approachable.--Latour vertical. Best after 2003.

More Info

Bordeaux
1
-

Inc. VAT

£1,303.22

Bordeaux
1
98 (WS)

Inc. VAT

£5,496.86

Wine Spectator (98)

Shows the ultraripe, exotic notes characteristic of the vintage, with roasted plum, tobacco and spicy flavors. It's beginning to evolve, but needs until 2000 to really come together.--Latour vertical.

More Info

Bordeaux
1
98 (WS)

Inc. VAT

£9,054.07

Wine Spectator (98)

Shows the ultraripe, exotic notes characteristic of the vintage, with roasted plum, tobacco and spicy flavors. It's beginning to evolve, but needs until 2000 to really come together.--Latour vertical.

More Info

Bordeaux
1
98 (WS)

Inc. VAT

£562.40

Wine Spectator (98)

Shows the ultraripe, exotic notes characteristic of the vintage, with roasted plum, tobacco and spicy flavors. It's beginning to evolve, but needs until 2000 to really come together.--Latour vertical.

More Info

Bordeaux
1
100 (WS)

Inc. VAT

£14,004.07

Wine Spectator (100)

Like a Michelangelo; everything is in perfect proportion. Has an amazing amount of violets, new wood and fruit on the nose and palate and a superb concentration of silky tannins. The wine of the vintage, and the best from this estate since the legendary 1961. Best after 2000.

More Info
Product Name
Region
Qty
Score
Price

Bordeaux
1
-

In Bond

£8,445.00

Bordeaux
1
-

In Bond

£949.00

Bordeaux
1
-

Inc. VAT

£1,002.00

Bordeaux
2
-

Inc. VAT

£1,698.00

Bordeaux
1
-

In Bond

£11,022.00

Bordeaux
1
-

In Bond

£864.00

Bordeaux
1
-

Inc. VAT

£927.60

Bordeaux
1
100 (WA)

Inc. VAT

£3,897.60

Wine Advocate (100)

Port-like, with an unctuous texture, and a dark garnet color with considerable amber at the edge, the 1961 Latour possesses a viscosity and thickness. One of the three bottles served at the Chateau's tasting revealed a surprisingly aggressive, minty, herbaceous nose, but the other two bottles were liquid perfection, exhibiting fragrant, cedary, truffle, leather, mineral, and sweet, jammy aromatics, full-bodied, voluptuous textures, exquisite purity and concentration, and a layered, highly-nuanced finish that represents the essence of compellingly great wine. The 1961 has been fully mature for over 15 years, but it seems to get richer, holding onto its succulence and fat, and developing more aromatic nuances without losing any sweetness or concentration. An extraordinary wine, it is unquestionably one of the Bordeaux legends of the century! Anticipated maturity: now-2025

More Info

Bordeaux
1
-

In Bond

£1,799.00

Bordeaux
1
-

In Bond

£507.00

Bordeaux
1
-

Inc. VAT

£1,532.40

Bordeaux
3
-

Inc. VAT

£838.80

Bordeaux
1
94 (WA)

In Bond

£6,363.00

Wine Advocate (94)

Tasted from my personal cellar, the 1971 Latour is undoubtedly the wine of the Medoc, and possibly the wine of the vintage (Petrus and Trotanoy are also splendid efforts). Drinkable young, it has continued to evolve, offering extraordinary aromatic complexity as well as surprisingly deep, concentrated flavors atypical for the vintage.

More Info

Bordeaux
1
94 (WA)

In Bond

£548.00

Wine Advocate (94)

Tasted from my personal cellar, the 1971 Latour is undoubtedly the wine of the Medoc, and possibly the wine of the vintage (Petrus and Trotanoy are also splendid efforts). Drinkable young, it has continued to evolve, offering extraordinary aromatic complexity as well as surprisingly deep, concentrated flavors atypical for the vintage.

More Info

Bordeaux
1
-

In Bond

£445.00

Bordeaux
1
-

In Bond

£1,733.00

Bordeaux
1
93 (WS)

In Bond

£2,134.00

Wine Spectator (93)

Fascinating aromas of plums, minerals and mint, with a hint of peat. Medium- to full-bodied, with firm tannins and a long finish. Plenty of life left in it. This was rather controversial at the NY tasting, but I loved it.--Latour vertical. Drink now through 2015. -JS

More Info

Bordeaux
1
-

Inc. VAT

£512.40

Bordeaux
1
92 (WS)

In Bond

£5,576.00

Wine Spectator (92)

Better than I anticipated. A sleek and racy wine.Ruby-amber color. Aromas of cedar, cigar box,tobacco, mint and mushrooms, with hints of redfruits, follow though to a medium body with finetannins and a long, silky finish. Excellent now,but a little more bottle age would only improveit.--Latour vertical. Best after 2005. -JS

More Info

Bordeaux
1
89.0

Inc. VAT

£577.20

Bordeaux
1
89.0

Inc. VAT

£5,386.80

Bordeaux
1
100 (WA)

In Bond

£1,758.00

Wine Advocate (100)

1982 was a great vintage—relatively warm and prolific, producing wines of richness and depth. The 1982 Latour has a medium garnet-brick color and then pow!—it belts out powerful notes of star anise, dried roses, sandalwood and new leather with a core of kirsch, blackberry tart, dried mulberries and blackcurrant pastilles. Full-bodied, rich and spicy with bags of fruit and tons of savory fireworks, it finishes with epic persistence.

More Info

Bordeaux
1
-

Inc. VAT

£7,766.40

Bordeaux
1
-

Inc. VAT

£710.40

Bordeaux
1
96 (WS)

In Bond

£531.00

Wine Spectator (96)

Seems to be gaining in strength and depth. Incredibly rich, with meat, plum, cassis and tobacco flavors, harmonious, clean and long. Beginning to be approachable.--Latour vertical. Best after 2003.

More Info

Bordeaux
1
-

In Bond

£1,078.00

Bordeaux
1
98 (WS)

In Bond

£4,554.00

Wine Spectator (98)

Shows the ultraripe, exotic notes characteristic of the vintage, with roasted plum, tobacco and spicy flavors. It's beginning to evolve, but needs until 2000 to really come together.--Latour vertical.

More Info

Bordeaux
1
98 (WS)

In Bond

£7,513.00

Wine Spectator (98)

Shows the ultraripe, exotic notes characteristic of the vintage, with roasted plum, tobacco and spicy flavors. It's beginning to evolve, but needs until 2000 to really come together.--Latour vertical.

More Info

Bordeaux
1
98 (WS)

In Bond

£466.00

Wine Spectator (98)

Shows the ultraripe, exotic notes characteristic of the vintage, with roasted plum, tobacco and spicy flavors. It's beginning to evolve, but needs until 2000 to really come together.--Latour vertical.

More Info

Bordeaux
1
100 (WS)

In Bond

£11,638.00

Wine Spectator (100)

Like a Michelangelo; everything is in perfect proportion. Has an amazing amount of violets, new wood and fruit on the nose and palate and a superb concentration of silky tannins. The wine of the vintage, and the best from this estate since the legendary 1961. Best after 2000.

More Info