Important Note: Nothing in this research note constitutes financial advice. The content below is for information and educational purposes only. Always do your own research and consult a licensed financial advisor before making any financial decision.
Fine Whisky Trounces Mainstream Assets
The price performance of Fine Whisky has been nothing short of spectacular over the past decade (2012 to 2022):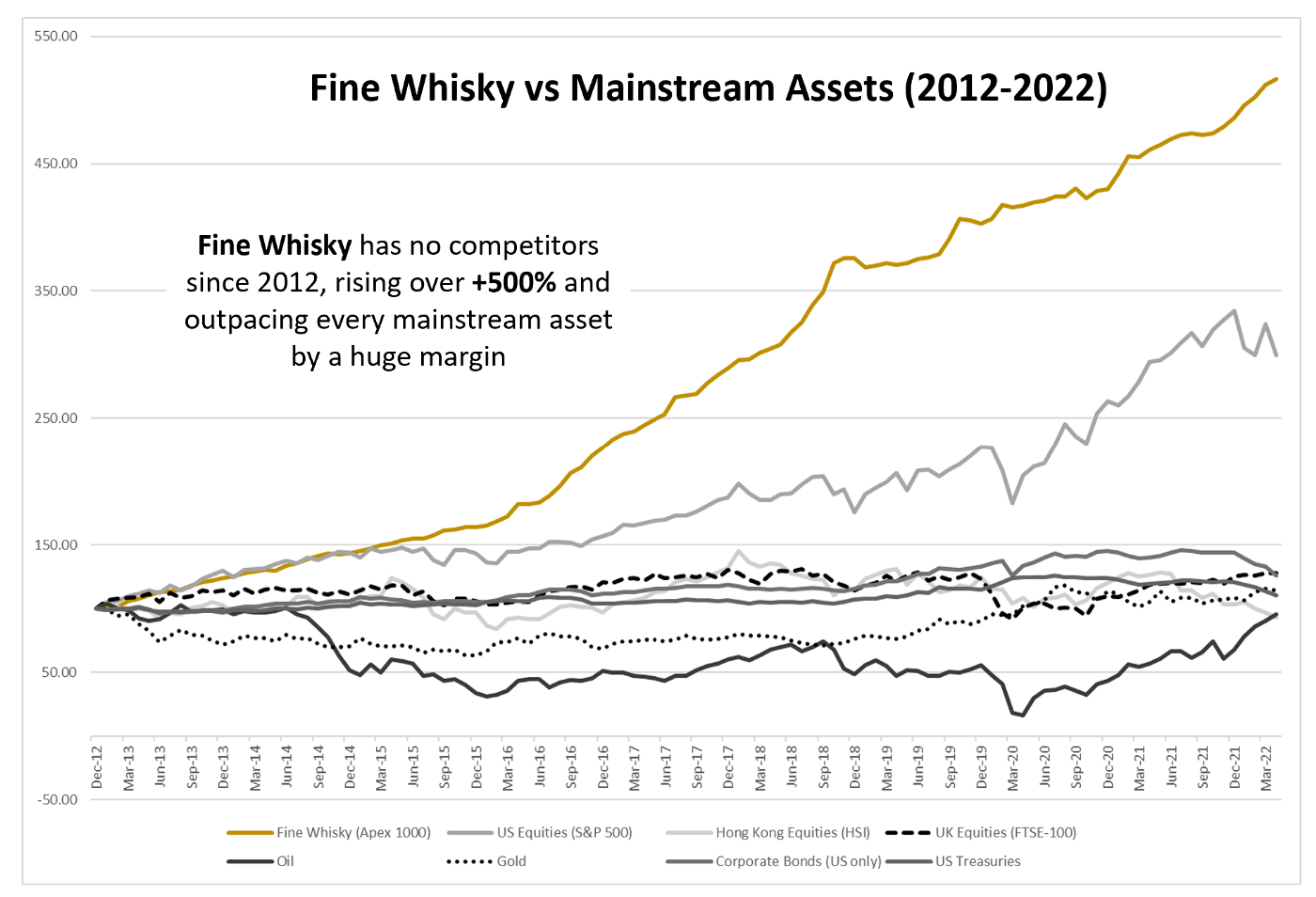 No mainstream asset comes close to Fine Whisky's performance over the past decade
Between 2012 and 2022, Fine Whisky has returned more than double the rise of the next nearest mainstream asset class (US Equities):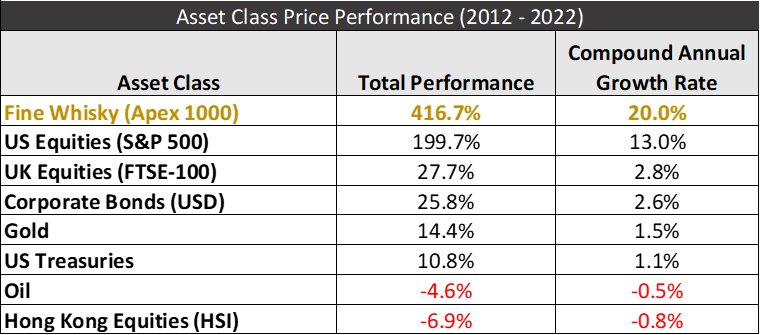 Rare Whisky 101 and Bloomberg
Since 2012, Fine Whisky has returned a compound annual growth rate (CAGR) of +20.0%, a truly remarkable performance over such a long period of time.
A representative portfolio of Fine Whisky purchased on 31st December 2012 for US$100,000 would be worth well over US$500,000 today.
Low Volatility
The exceptional returns of Fine Whisky have been achieved with remarkably low volatility.
This means that the 'risk-adjusted' returns of Fine Whisky (Sharpe Ratio) have been even more impressive: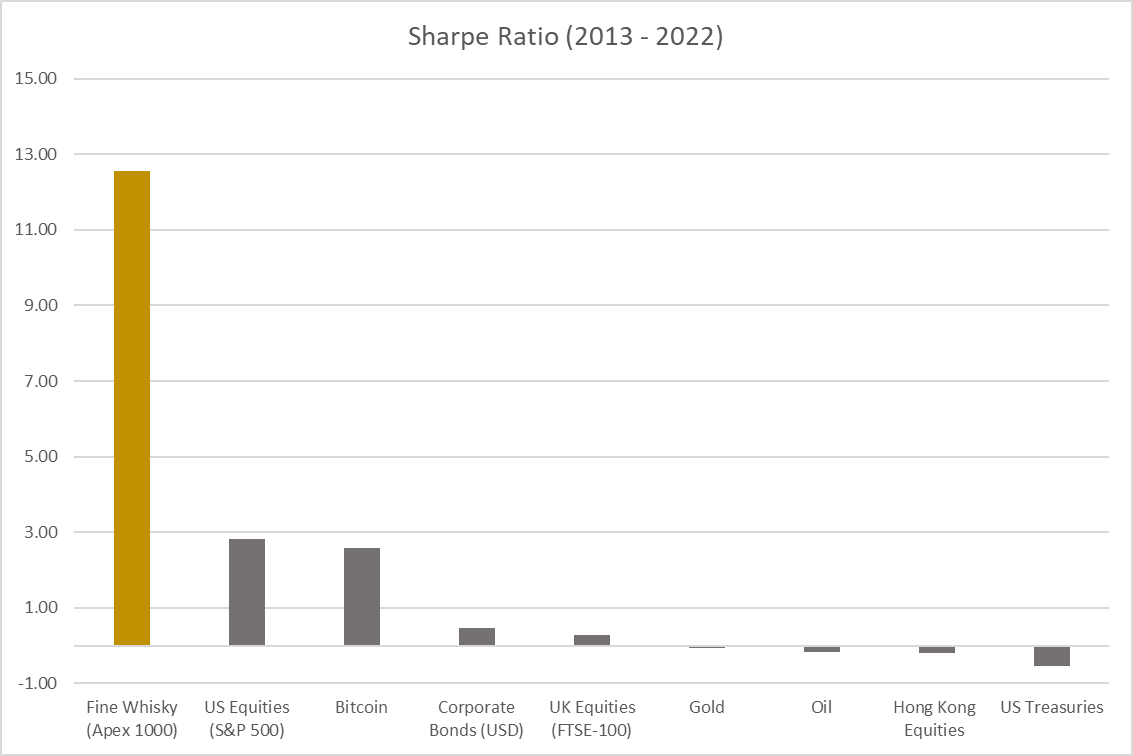 Source: Rare Whisky 101 and Bloomberg
Any Sharpe Ratio above 2 is considered 'very good' (US Equities and Bitcoin achieved this), and anything over 3 is considered 'excellent'. With a Sharpe Ratio of 12.6, Fine Whisky needs a new category all of its own!
It seems surprising that Fine Whisky outperforms Bitcoin on a risk-adjusted basis. Bitcoin has, after all, risen much more in absolute terms (+135.2% CAGR versus +20.0% CAGR). But Bitcoin's stomach-churning volatility and massive drawdowns (annualized volatility of 51.7%) drag down its Sharpe Ratio to less than that of US Equities. Adjusted for risk, Bitcoin is a much inferior investment asset to Fine Whisky.
No Correlation with Mainstream Assets
Successful portfolio construction revolves around the concept of correlation. 'Non-correlated' assets move in the opposite direction to the main portfolio constituents, providing diversification and lowering overall risk.
If you add Asian Equities to a portfolio of US Equities, you achieve little in terms of diversification, given the high correlation between the two. But adding Fine Whisky is a different matter. As the table shows, Fine Whisky is uncorrelated with most mainstream assets, and negatively correlated with some equity classes. This makes Fine Whisky even more useful as an alternative asset class:

Source: Rare Whisky 101 and Bloomberg
Performance Conclusion
No mainstream asset class comes close to matching Fine Whisky's investment performance over the past decade. Fine Whisky has demonstrated:
i) Exceptionally good price appreciation;
ii) Extremely low volatility; and
iii) An almost complete lack of correlation with mainstream assets.
What Drives Fine Whisky Prices Upwards?
We have seen the dramatic performance of Fine Whisky over the past 10 years. But what is causing this relentless upwards pressure on prices? And can it really be sustained?
The Whole World Loves Whisky
There is nothing very mysterious about the price appreciation of Fine Whisky over the long term. The simple fact is that global demand outstrips supply by a (very) wide margin.
As the world gets wealthier, demand for Fine Whisky grows every year — and supply is simply not able to expand to meet it. So the price has to do the heavy lifting of balancing the market. Add in a healthy dose of double figure inflation and you get a heady brew of steeply rising prices.
Demand for Whisky is distributed right across the world: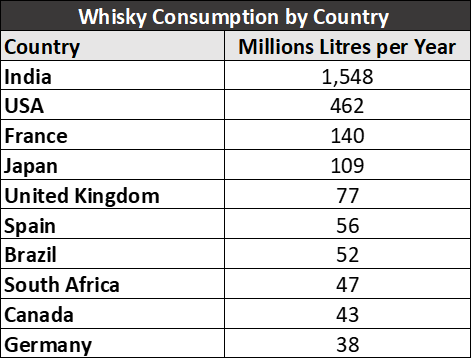 Euromonitor (2014)
India dominates in terms of consumption, but most of the Whisky consumed there is distilled locally. In many of the fastest growing markets (the United Arab Emirates is a good example) Whisky has a much greater brand presence than wine. In all Whisky drinking countries, as consumers turn into collectors and then investors they inevitably want a piece of the 'great' distilleries of Scotland and Japan; and these distilleries just can't produce enough spirit to satisfy demand.
The relative size of the world's Fine Whisky markets (as opposed to retail markets) can be approximated from the destination of Scottish Whisky exports: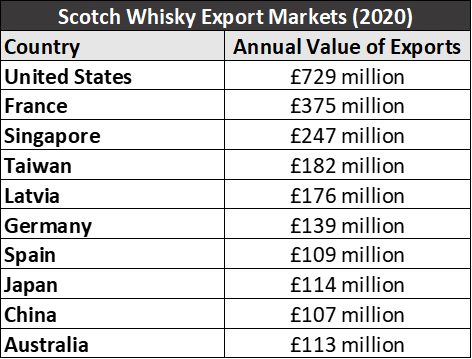 Scotch Whisky Trade Association (Latvia has historically been a gateway into Russia)
Fine Whisky Supply is very Limited
The supply of Fine Whisky is far more restricted than that of wine. Only a handful of countries (Scotland, Japan, Ireland and the United States) are considered to have the natural resources (water quality etc.) and expertise to make genuinely exceptional and age-worthy Whisky.
For more on the world's finest Whisky producers please see our Guide to Whisky Investment.
Age is Everything
Fine Whisky is all about age. Unlike wine, there are no poor vintages in Whisky and the best spirit ages in a fairly predictable manner. Whisky spirit also (theoretically) ages forever too. No need to stress about 'drinking windows'.
This means that 'premium' in Fine Whisky is a product of i) the reputation of the distillery, ii) the type of wood it has aged in and (especially) iii) the age of the spirit.
If we look at prices for Macallan at different age statements, we see a dramatic 'curve' of price increases with the number of years aged: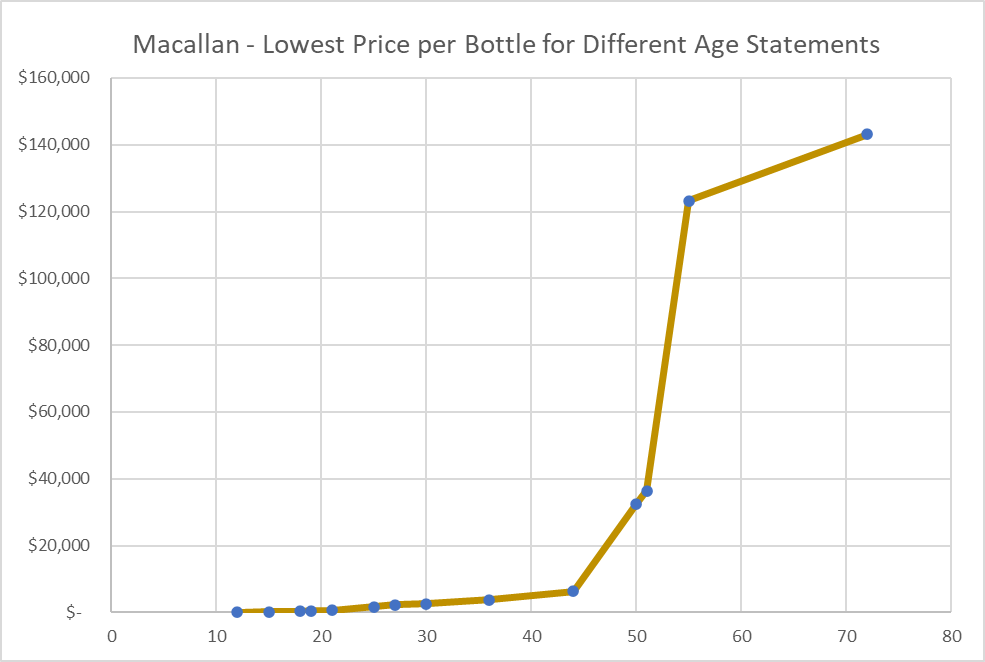 Source: wine-searcher.com
You can buy a bottle of Macallan 12 Year Old for only around US$ 45. And yet the Macallan 72 Year Old costs US$ 143,000 a bottle. The difference between these two prices represents a +14.3% CAGR for 60 years. This return can be captured, theoretically at least, by purchasing young whole casks and holding them for extended periods. This potential return is a pretty remarkable return when you consider that the US Treasury 30 Year Bond yields just 3%.
The steepness of this age statement 'curve' reflects the annual consumption of Macallan and the improbability of its bottles ever making it to such an advanced age.
The annual reduction in the supply of older bottles as they are consumed is a crucial driver of price appreciation.
'Ghost' Distilleries Dominate Investment Performance
For many of the best performing Scottish distilleries, there isn't even a limited new supply of Whisky from the stills. There is literally no new supply because the distillery is closed (often shuttered and even demolished many years ago).
Rare Whisky 101 puts together an annual ranking of the best investment performing Scottish distilleries. Their most recent ranking (2021 was remarkable in that only two of the top ten investment distilleries are actually producing Whisky today! The other eight are all 'silent'.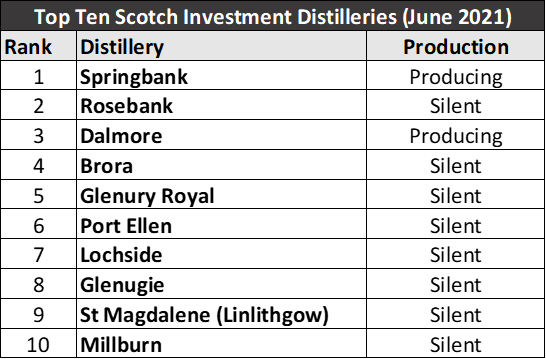 Source: Rare Whisky 101
Given the price action over the last decade, it isn't a surprise that some 'ghost' distilleries are looking at ways of re-opening (Brora, Rosebank and Port Ellen). But a large number of the distilleries will now remain 'ghosts' forever.
As Rare Whisky 101 points out, new releases of historic spirits from distilleries such as Banff, Glenury Royal, Glenugie, Convalmore, Coleburn, Millburn, Glenlochy and even Littlemill are becoming fewer and fewer with each passing year. Soon they will cease altogether. It is tantamount to a famous artist dying and no longer being about to produce new work, except that Whisky bottles are consumed every year until there will be nothing left.
What price will you get for the last ever bottle of (say) Glenury Royal? It is a question for investors to ponder.
Special Bottlings
Fine Whisky distilleries are masters of 'special editions', and these often have a major impact on price. The simplest form of customization is the 're-racking' of the spirit into a different cask type (Sherry, Bourbon, wine barrels etc.) to 'finish' the Whisky with a desired flavour profile prior to bottling. This process goes through various iterations until we reach bottles sold with jewel encrusted decanters and other accoutrements.
The highest priced Fine Whiskies today usually take the form of some special bottling of an already old and rare spirit: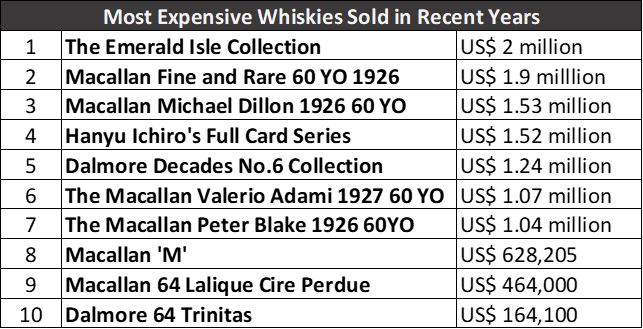 The recent dramatic increase in demand for special bottlings has been underlined by the 1926 releases from Macallan: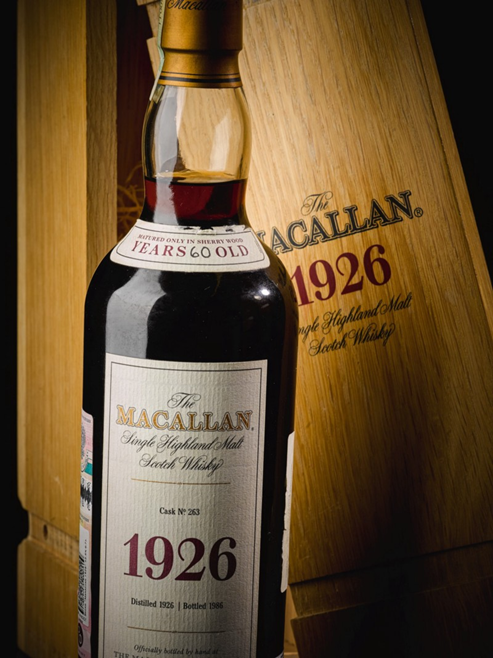 Macallan 'Fine and Rare' 1926 — Only 14 bottles of the 40 drawn from the coveted Cask 263 were given the 'Fine and Rare' labelling. This single bottle sold for US$1.9 million in October 2019.
It's All in the Name
As with any collectable asset class, the Fine Wine market certainly has its favourites. Although there are signs that its dominance might be slipping slightly, Fine Wine continues to be dominated by Speyside's Macallan, unquestionably the most recognizable and highest profile distillery in the world. Macallan sits atop a pyramid which varies from collector to collector. But the team at Rare Whisky 101 put the hierarchy as follows for Scotch: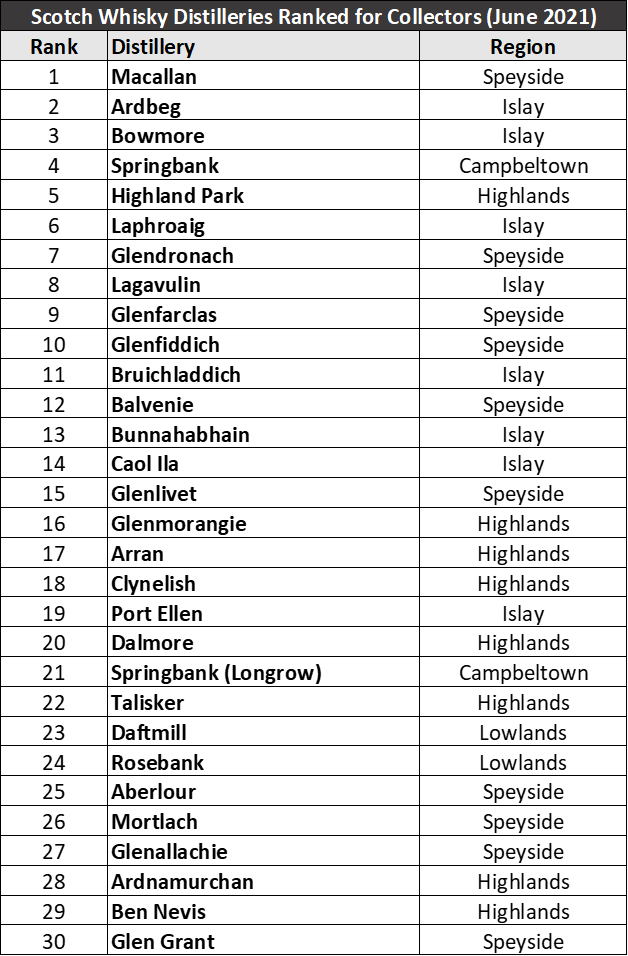 In Japan, the hierarchy is similarly argued over, but most investors would probably agree on some combination of the following (note also the presence of 'ghost' distilleries at the top of the pecking order):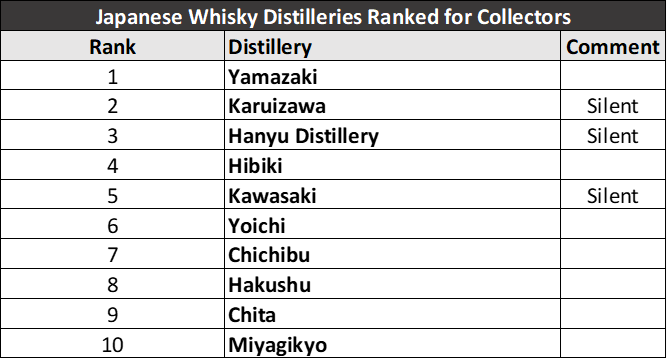 ---
IMPORTANT NOTICE
This report has been issued or approved for issue by an entity forming part of Cru (as defined below) and has been forwarded to you solely for your information and should not be considered as an offer or solicitation of an offer to sell, buy, or subscribe to any securities or any derivative instrument or any other rights pertaining thereto ("financial instruments"). This report is intended for use by professional or business investors only. This report may not be reproduced without the consent of Cru.
The information and opinions expressed in this report have been compiled from sources believed to be reliable, but, neither Cru, nor any of its directors, officers, or employees accepts liability from any loss arising from the use hereof or makes any representations as to its accuracy and completeness. Any opinions, forecasts or estimates herein constitute a judgement as at the date of this report. There can be no assurance that future results or events will be consistent with any such opinions, forecasts, or estimates. Past performance should not be taken as an indication or guarantee of future performance, and no representation or warranty, express or implied is made regarding future performance. This information is subject to change without notice, its accuracy is not guaranteed, it may be incomplete or condensed and it may not contain all material information concerning the product or products mentioned. Cru is not agreeing to, nor is it required to update the opinions, forecasts or estimates contained herein.
The value of any products mentioned in this report can fall as well as rise. Foreign currency denominated products are subject to fluctuations in exchange rates that may have a positive or adverse effect on the value, price or income of such products.
This report does not have regard to the specific instrument objectives, financial situation and the particular needs of any specific person who may receive this report. Investors should seek financial advice regarding the appropriateness of investing in any products or investment strategies discussed in this report.
Cru (or its directors, officers or employees) may, to the extent permitted by law, own or have a position in the products of any company or related company or products referred to herein and may add to or dispose of any such position or may make a market or act as a principal in any transaction in such products. Directors of Cru may also be directors of any of the companies mentioned in this report. Cru (or its directors, officers or employees) may, to the extent permitted by law, act upon or use the information or opinions presented herein, or research or analysis on which they are based prior to the material being published. Cru may have issued other reports that are inconsistent with, and reach different conclusions from, the information presented in this report. Those reports reflect the different assumptions, views and analytical methods of the analysts who prepared them.
For the purposes of this disclaimer, "Cru" shall mean: (i) Cru London Limited; (ii) Cru Asia Limited and (iii) from time to time, in relation to Cru London Limited and/or Cru Asia Limited, the ultimate holding company of that entity, a subsidiary (or a subsidiary of a subsidiary) of that entity, a holding company of that entity or any other subsidiary of that holding company, and any affiliated entity of any such entities.
This publication is confidential for the information of the addressee only and may not be reproduced in whole or in part, copies circulated, or disclosed to another party, without the prior written consent of an entity within Cru. Products referred to in this research report may not be eligible for sale in those jurisdictions where an entity within Cru is not authorized or permitted by local law to do so. In particular, Cru does not allow the redistribution of this report to non-professional investors or persons outside the jurisdictions referred to above and Cru cannot be held responsible in any way for third parties who effect such redistribution or recipients thereof. © 2022.