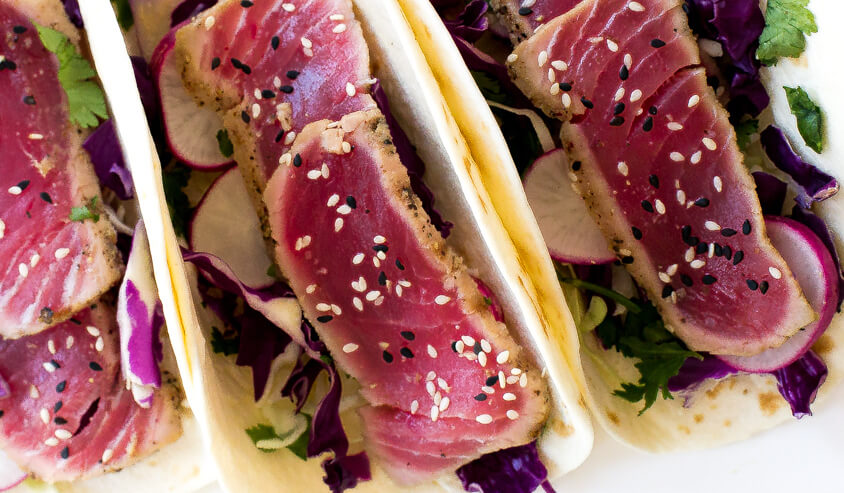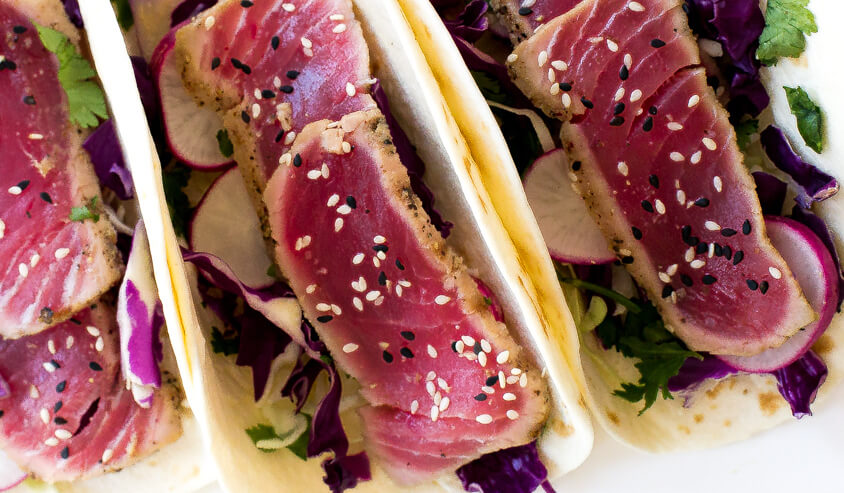 One of the best things about summer time is Summer cooking. The changing ingredients, the switch from rich flavours to fresh ones and the simple enjoyment that comes from eating outside. I made a decision this year to do more more with seafood, especially as the weather got better.
With access to a good fishmonger you can really open a lot of doors for yourself that lead not only to more interesting recipes, but also better wine pairing options.
This seared tuna taco recipe (for four but easily scaled upwards or downwards) is simple but there are a lot of elements that work together for it to have the full effect. The salsa, guacamole, slaw and fish all have to compliment each other. While it may seem daunting at first, all you need is time for everything to come together perfectly.
I like to start with the salsa, as it will only get better with time for the flavours to marry together. Starting with a base of chopped fresh tomatoes (about six) add half of a diced red onion, a handful of coriander and mango. Add the juice of a lime; you may want a bit more if you like it quite zesty. I like to add a finely chopped fresh red bullet chilli just for a hint of piquancy, but it's not essential if you don't like things too spicy!
Moving on to the guacamole, you'll want to make it fairly smooth and creamy so try to get the ripest avocados possible and really mash them up. You'll want a fairly fresh guac for this so as not to class with the fish and salsa, so go easy on the garlic and chilli. For every two avocados use the juice of a whole lime and 10ml of olive or rapeseed oil to get the creamy texture. Add in the other half of the red onion and a generous bit of fresh-ground pepper and sea salt.
Lastly before the fish, chop up some red cabbage to make the slaw. Mix up a dressing with a bit of toasted sesame oil, soy sauce, honey and fresh chilli. Dress the chopped cabbage and sprinkle with some sesame seeds. This is a super easy and delicious addition to just about any meal, so keep this little side dish in mind throughout the summer.
For the fish, three tune steaks between four people will usually be enough. I like to coat them in sesame seeds first and sear for about 40 seconds per side over very high heat to keep a nice rare centre. There is something to be said however for grilling them over coals, but just make sure your grate is whistle clean and well-greased with oil so you don't lose half your fish flipping it over.
When building your tacos, slice the fish across the grain to get long thin strips that hold together. Arrange together on a corn tortilla and add a spoonful of greek yoghurt with chopped chives. There are a lot of steps in this recipe, but it is a lot of fun doing each part.
I find that this pairs best with a bone-dry New World Riesling, Savennieres or lighter style of Chardonnay, but you can certainly get away with a lighter-than-air Provence Rosé or even a bottle of Champagne.