Allegrini
About Allegrini
The Allegrini family estate covers 120 hectares of vineyard in the heart of Valpolicella Classico. One of the most historically significant wineries in northern Italy, they are a key player in the modern development of Veneto's reputation as a heartland of quality red wines.
Although the family estate has been growing grapes here for several centuries, Giovanni Allegrini was the first to start bottling wines from the family's vineyards. When he died in 1983, he passed a passion for. and a commitment to, quality wine onto his three children - Walter, Marilisa and Franco. They have worked together to build on Giovanni's quality ethos until Walter's death in 2003. Franco now looks after the vineyards and the winemaking, while Marilisa takes charge of sales and marketing.
Allegrini's Amarone is the iconic symbol of the Valpolicella region, and they have numerous projects across Italy that continue to turn heads.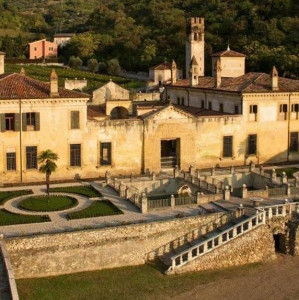 Prices:
Product Name
Region
Qty
Score
Price
Veneto
2
-

Inc. VAT

£412.07
Veneto
1
-

Inc. VAT

£1,962.47
Veneto
5
100 (DC)

Inc. VAT

£590.64

Decanter (100)

One of two Allegrini wines making their debut on the Place de Bordeaux this year. From an 8ha vineyard at 415m. Richly scented on the nose with a beautiful nuance to the dark fruits, floral scents and sweet spices, all melding together. The texture is so appealing, rich yet smooth and silky, dominating the palate with the flavours of stewed blackcurrants, coffee beans, orange rind, slightly bitter medicinal herbs, juicy balsamic peppery fruit and a beguiling saltiness. It's enveloping in the best way, but still juicy and lively, really leaves a lingering impression on the palate, an absolute lifeforce. Tannins are on the chewy and grippy side, coating the mouth and tongue but the presentation of the flavours is so precise and detailed. This is amazingly good with excellent freshness throughout. 5% Oseleta completes the blend. Ageing 48 months in French oak barriques, 6 months in Slavonian oak. First vintage was 2011 with no 2014 made.

More Info

Veneto
1
93 (VN)

Inc. VAT

£350.95

Vinous (93)

A burst of mocha and clove is balanced by dusty black cherries and savory herbs as the 2017 La Poja blossoms in the glass. This is a heady and extroverted expression with a pretty inner sweetness contrasted by tart black fruits and inner herb tones. Dark chocolate, cloves, hints of vanilla and candied lavender can all be found through the incredibly long and palate-staining finale. The 2017 finishes lightly structured. For all of its extroverted character, the La Poja boasts only three grams of residual sugar per liter. This may be a big wine, but the balance is remarkable.

More Info

Veneto
5
93 (VN)

Inc. VAT

£570.47

Vinous (93)

A burst of mocha and clove is balanced by dusty black cherries and savory herbs as the 2017 La Poja blossoms in the glass. This is a heady and extroverted expression with a pretty inner sweetness contrasted by tart black fruits and inner herb tones. Dark chocolate, cloves, hints of vanilla and candied lavender can all be found through the incredibly long and palate-staining finale. The 2017 finishes lightly structured. For all of its extroverted character, the La Poja boasts only three grams of residual sugar per liter. This may be a big wine, but the balance is remarkable.

More Info

Veneto
1
-

Inc. VAT

£422.32
Product Name
Region
Qty
Score
Price
Veneto
2
-

In Bond

£330.00
Veneto
1
-

In Bond

£1,622.00
Veneto
5
100 (DC)

In Bond

£485.50

Decanter (100)

One of two Allegrini wines making their debut on the Place de Bordeaux this year. From an 8ha vineyard at 415m. Richly scented on the nose with a beautiful nuance to the dark fruits, floral scents and sweet spices, all melding together. The texture is so appealing, rich yet smooth and silky, dominating the palate with the flavours of stewed blackcurrants, coffee beans, orange rind, slightly bitter medicinal herbs, juicy balsamic peppery fruit and a beguiling saltiness. It's enveloping in the best way, but still juicy and lively, really leaves a lingering impression on the palate, an absolute lifeforce. Tannins are on the chewy and grippy side, coating the mouth and tongue but the presentation of the flavours is so precise and detailed. This is amazingly good with excellent freshness throughout. 5% Oseleta completes the blend. Ageing 48 months in French oak barriques, 6 months in Slavonian oak. First vintage was 2011 with no 2014 made.

More Info

Veneto
1
93 (VN)

In Bond

£288.00

Vinous (93)

A burst of mocha and clove is balanced by dusty black cherries and savory herbs as the 2017 La Poja blossoms in the glass. This is a heady and extroverted expression with a pretty inner sweetness contrasted by tart black fruits and inner herb tones. Dark chocolate, cloves, hints of vanilla and candied lavender can all be found through the incredibly long and palate-staining finale. The 2017 finishes lightly structured. For all of its extroverted character, the La Poja boasts only three grams of residual sugar per liter. This may be a big wine, but the balance is remarkable.

More Info

Veneto
5
93 (VN)

In Bond

£462.00

Vinous (93)

A burst of mocha and clove is balanced by dusty black cherries and savory herbs as the 2017 La Poja blossoms in the glass. This is a heady and extroverted expression with a pretty inner sweetness contrasted by tart black fruits and inner herb tones. Dark chocolate, cloves, hints of vanilla and candied lavender can all be found through the incredibly long and palate-staining finale. The 2017 finishes lightly structured. For all of its extroverted character, the La Poja boasts only three grams of residual sugar per liter. This may be a big wine, but the balance is remarkable.

More Info

Veneto
1
-

In Bond

£343.00