Anakota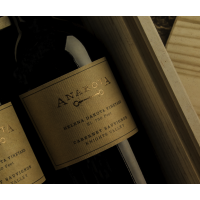 About Anakota
Even those with only a passing interest in the mighty cult wines of Napa Valley will likely be familiar with the legendary Verité. A name famous far and wide as a pioneering estate within North America's most important fine wine region, displaying a kaleidoscopic range of fabulous characteristics coaxed from Cabernet Sauvignon amongst their range of cuvées.
Tucked away as a special project of the very same winemaker, Bordeaux native Pierre Seillan, there is another name which, we suspect, is simply waiting to join its sibling as one of the most renowned estates in Napa.
"Bordelais winemaker Pierre Seillan, who makes these wines for the Kendall-Jackson empire, believes that this micro-terroir has exceptional potential... These are relatively big wines, but every year that I have tasted them, Seillan has fine-tuned the tannins so that they are abundant but sweeter and much better integrated" Robert M. Parker Jr.
Perched as a not inconsiderable 750 meters above sea level, the Helena Dakota vineyard is a sloping 12 acre parcel of what Pierre Seillan believes to be some of the most exciting terroir in Napa at the moment. Giving rise to wines of undeniable power balanced with sophistication, its soft, reddish brown silt and gravel soils benefit from the cooling effects of both their altitude and prevailing winds from the West Coast. Whilst these are, of course, utterly unique wines, the Bordelais in Seillan cannot help but draw comparisons, and he considers Helena Dakota to bear a resemblance to the Cabernet Sauvignon of Pauillac or even St- Estèphe.