About Anne-Françoise Gros
About Anne-Françoise Gros
The estate of Anne-Françoise Gros is a union of its own vineyard holdings with those from Domaine Parent. Anne-Françoise is the daughter of Jean Gros, and is married to Francois Parent, who hails from the Parent family of Pommard. Today, the estate is managed by their children, Caroline and Mathias.
Viniculture
Domaine Anne-Françoise Gros began in 1988 and has grown steadily since, acquiring parcels of vines in some of the best vineyards across the Cote d'Or. Focussing on an elegant approach to Burgundy, the wines are soft yet nobly structured; representing exceptional quality across the board with particular reference to the appellations of Pommard, Vosne-Romaee and Chambolle-Musigny.
Anne-Françoise Gros owns a mere 0.6 ha of vines in Richebourg, located adjacent to one of the Richebourg plots belonging to Domaine de la Romanée-Conti in the north-east corner of the vineyard.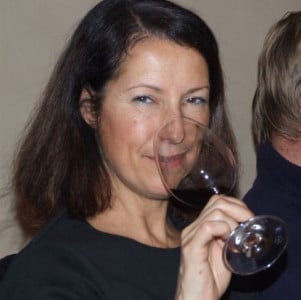 Name
Price Low
Price High
Year (Old)
Year (New)
Prices:
Product Name
Region
Qty
Score
Price

Burgundy
1
-

Inc. VAT

£834.29

Burgundy
7
-

Inc. VAT

£420.29

Burgundy
2
-

Inc. VAT

£511.49

Burgundy
3
-

Inc. VAT

£315.64

Burgundy
1
-

Inc. VAT

£229.49

Burgundy
1
87-89 (VN)

Inc. VAT

£1,143.67

Vinous (87-89)

The 2017 Chambolle-Musigny Village, matured in 40% new oak, has an appealing bouquet of vibrant red fruit, revealing just a touch of meat jus in the background. The palate is smooth on the entry with supple tannin and fine acidity; brown spices surface toward the second half. There is good depth here, although a touch of heat on the back palate mars the finish. I will be cautious for now.

More Info

Burgundy
1
-

Inc. VAT

£810.04

Burgundy
2
89-91 (WA)

Inc. VAT

£3,612.07

Wine Advocate (89-91)

The 2015 Echézeaux Grand Cru was buttoned down when I tasted it, the 100% new oak keeping a lid on the red berry fruit behind this wall. The palate is grippy on the entry with chunky red berry fruit (cranberry, wild strawberry and pomegranate) mixed with white pepper and sage notes towards the stocky finish. Like other 2015s from the domaine, I would like more terroir expression, more personality to be expressed.

More Info

Burgundy
1
92-94 (VN)

Inc. VAT

£2,388.04

Vinous (92-94)

The 2017 Echézeaux Grand Cru comes from vines over 90 years old and is matured entirely in new oak. It has a very pure, seductive bouquet of black cherry and raspberry fruit infused with pressed iris and hints of India ink. The palate is medium-bodied with sappy red fruit and gentle grip, stiffening a little toward the finish, which just needs a little more flesh to come through. Afford this five years in bottle if possible, because it shows fine balance.

More Info

Burgundy
1
91-93 (VN)

Inc. VAT

£418.40

Vinous (91-93)

The 2018 Echézeaux Grand Cru has a broody bouquet with dark berry fruit laced with black tea and touches of leather. The palate is medium-bodied with firm, almost "chunky" tannins. This is not a graceful Echézeaux but there is plenty of substance with a judicious touch of spice on the finish. Fine, but give it time.

More Info

Burgundy
1
91-93 (VN)

Inc. VAT

£2,545.24

Vinous (91-93)

The 2018 Echézeaux Grand Cru has a broody bouquet with dark berry fruit laced with black tea and touches of leather. The palate is medium-bodied with firm, almost "chunky" tannins. This is not a graceful Echézeaux but there is plenty of substance with a judicious touch of spice on the finish. Fine, but give it time.

More Info

Burgundy
1
-

Inc. VAT

£1,618.34

Burgundy
2
89-91 (VN)

Inc. VAT

£502.84

Vinous (89-91)

The 2018 Pommard Les Chanlins 1er Cru offers brambly black fruit on the nose, a little more tertiary in style compared to Gros's other cuvées. The palate is medium-bodied with slightly chewy tannins on the entry. Good grip here, quite sappy in style even if it just misses some finesse and detail on the finish. Not bad, but I would give this 3-4 years in bottle.

More Info

Burgundy
10
-

Inc. VAT

£739.24

Burgundy
2
92 (VN)

Inc. VAT

£531.64

Vinous (92)

The 2017 Pommard Les Pézérolles 1er Cru has a refined, intense bouquet of brambly red berry fruit, sous-bois and light rose petal scents that emerge with time. The palate is medium-bodied with sappy red berry fruit, quite tangy and peppery, delivering gentle grip and a more chalky-textured finish. Quintessentially Pommard, this should give 12–18 years of drinking pleasure. Tasted blind at the Burgfest 2017 tasting.

More Info

Burgundy
1
90-92 (VN)

Inc. VAT

£728.69

Vinous (90-92)

The 2021 Pommard Les Pezerolles 1er Cru contains 50% whole bunches this year. Dark berry fruit, briary and light sous-bois scents unfold on the nose - quintessentially Pommard. The palate is medium-bodied with crunchy dark berry fruit, orange rind, bitter cherry and a touch of pain d'épices towards the finish. Lots of energy here - this Pommard looks destined to give 10-15 years of drinking pleasure. Very fine.

More Info

Burgundy
1
97 (WA)

Inc. VAT

£5,989.24

Wine Advocate (97)

Tasted blind at the annual Burgfest tasting in Beaune. The 2012 Richebourg Grand Cru from A.F. Gros has a very fine bouquet, very expressive with vibrant, shimmering red berry fruit, cherry liqueur, boysenberries and marmalade. This is both complex and involving. The palate is medium-bodied with fine tannin, beautifully poised and supple, elegant and utterly harmonious on the finish. The terroir and winemaking here exude Grand Cru quality. It's probably the best wine I have ever tasted from the estate and in a different league to some older vintages that I tasted from the domaine just a few days later.

More Info

Burgundy
1
95 (VN)

Inc. VAT

£2,384.42

Vinous (95)

The 2013 Richebourg Grand Cru is a wonderful wine. Here it has a superb, quite aristocratic bouquet with wild strawberry, crushed stone, clove and just a subtle marine tincture. It just seems to grow in stature. The palate is extremely well balanced with firm backbone, great density with a muscular, quite grippy finish. It just gives you everything you want from a Richebourg. Tasted at Goedhuis & Co.'s annual Burgundy tasting in London.

More Info

Burgundy
1
96 (VN)

Inc. VAT

£2,181.62

Vinous (96)

The 2017 Richebourg Grand Cru has a supremely well-defined bouquet of vibrant red cherries, crushed strawberry, orange zest and crushed stone, developing more floral scents with time and conveying wonderful breeding and real panache. The extremely well balanced palate reveals layers of red berry fruit, lightly spiced, with just a subtle tang of marmalade toward the finish. Impressive in terms of weight and body, this deserves several years in bottle. Tasted blind at the Burgfest 2017 tasting.

More Info

Burgundy
1
96 (VN)

Inc. VAT

£4,108.24

Vinous (96)

The 2017 Richebourg Grand Cru has a supremely well-defined bouquet of vibrant red cherries, crushed strawberry, orange zest and crushed stone, developing more floral scents with time and conveying wonderful breeding and real panache. The extremely well balanced palate reveals layers of red berry fruit, lightly spiced, with just a subtle tang of marmalade toward the finish. Impressive in terms of weight and body, this deserves several years in bottle. Tasted blind at the Burgfest 2017 tasting.

More Info

Burgundy
2
18++ (JR)

Inc. VAT

£886.40

Jancis Robinson (18++)

More muscular and meaty than the Échezeaux. Darker fruits, sweet cherry depth. Redolent and yet controlled in fruit. Fleshy cherries and plums, a slight hint of integrated toast and nutmeg from oak. Despite the power the sensation is ethereal and lifted. Very fine.

More Info

Burgundy
1
18++ (JR)

Inc. VAT

£3,328.82

Jancis Robinson (18++)

More muscular and meaty than the Échezeaux. Darker fruits, sweet cherry depth. Redolent and yet controlled in fruit. Fleshy cherries and plums, a slight hint of integrated toast and nutmeg from oak. Despite the power the sensation is ethereal and lifted. Very fine.

More Info

Burgundy
1
-

Inc. VAT

£5,350.84

Burgundy
1
-

Inc. VAT

£2,658.02

Burgundy
2
94-96 (VN)

Inc. VAT

£3,130.82

Vinous (94-96)

The 2021 Richebourg Grand Cru is aged with 50% whole bunches in 80% new oak. There is a touch of reduction on the nose, though despite that this seems impressively defined and focused. The palate is medium-bodied, more expressive with fine-boned tannins, taut and fresh, quite intense (as you would expect from a Richebourg). I appreciate the manner in which it builds and exerts insistent grip and structure on the finish. Serious.

More Info

Burgundy
4
94-96 (VN)

Inc. VAT

£5,170.84

Vinous (94-96)

The 2021 Richebourg Grand Cru is aged with 50% whole bunches in 80% new oak. There is a touch of reduction on the nose, though despite that this seems impressively defined and focused. The palate is medium-bodied, more expressive with fine-boned tannins, taut and fresh, quite intense (as you would expect from a Richebourg). I appreciate the manner in which it builds and exerts insistent grip and structure on the finish. Serious.

More Info

Burgundy
1
90-92 (WA)

Inc. VAT

£2,185.78

Wine Advocate (90-92)

The 2015 Vosne-Romanée Les Mazières will be the last release since the 45-year-old vines were pulled up following the harvest, since they were too degenerated. Matured in 50% new oak, it offers crisp red cherry and cranberry scents on the nose, neatly defined and focused with a hint of wet limestone in the background. The palate is medium-bodied with sappy red fruit on the entry, a pleasing saline note running from start to finish with a gentle grip. This is a very commendable valedictory wine

More Info
Product Name
Region
Qty
Score
Price

Burgundy
1
-

In Bond

£676.00

Burgundy
7
-

In Bond

£331.00

Burgundy
2
-

In Bond

£407.00

Burgundy
3
-

In Bond

£247.00

Burgundy
1
-

In Bond

£172.00

Burgundy
1
87-89 (VN)

In Bond

£921.00

Vinous (87-89)

The 2017 Chambolle-Musigny Village, matured in 40% new oak, has an appealing bouquet of vibrant red fruit, revealing just a touch of meat jus in the background. The palate is smooth on the entry with supple tannin and fine acidity; brown spices surface toward the second half. There is good depth here, although a touch of heat on the back palate mars the finish. I will be cautious for now.

More Info

Burgundy
1
-

In Bond

£659.00

Burgundy
2
89-91 (WA)

In Bond

£2,978.00

Wine Advocate (89-91)

The 2015 Echézeaux Grand Cru was buttoned down when I tasted it, the 100% new oak keeping a lid on the red berry fruit behind this wall. The palate is grippy on the entry with chunky red berry fruit (cranberry, wild strawberry and pomegranate) mixed with white pepper and sage notes towards the stocky finish. Like other 2015s from the domaine, I would like more terroir expression, more personality to be expressed.

More Info

Burgundy
1
92-94 (VN)

In Bond

£1,974.00

Vinous (92-94)

The 2017 Echézeaux Grand Cru comes from vines over 90 years old and is matured entirely in new oak. It has a very pure, seductive bouquet of black cherry and raspberry fruit infused with pressed iris and hints of India ink. The palate is medium-bodied with sappy red fruit and gentle grip, stiffening a little toward the finish, which just needs a little more flesh to come through. Afford this five years in bottle if possible, because it shows fine balance.

More Info

Burgundy
1
91-93 (VN)

In Bond

£346.00

Vinous (91-93)

The 2018 Echézeaux Grand Cru has a broody bouquet with dark berry fruit laced with black tea and touches of leather. The palate is medium-bodied with firm, almost "chunky" tannins. This is not a graceful Echézeaux but there is plenty of substance with a judicious touch of spice on the finish. Fine, but give it time.

More Info

Burgundy
1
91-93 (VN)

In Bond

£2,105.00

Vinous (91-93)

The 2018 Echézeaux Grand Cru has a broody bouquet with dark berry fruit laced with black tea and touches of leather. The palate is medium-bodied with firm, almost "chunky" tannins. This is not a graceful Echézeaux but there is plenty of substance with a judicious touch of spice on the finish. Fine, but give it time.

More Info

Burgundy
1
-

In Bond

£1,339.00

Burgundy
2
89-91 (VN)

In Bond

£403.00

Vinous (89-91)

The 2018 Pommard Les Chanlins 1er Cru offers brambly black fruit on the nose, a little more tertiary in style compared to Gros's other cuvées. The palate is medium-bodied with slightly chewy tannins on the entry. Good grip here, quite sappy in style even if it just misses some finesse and detail on the finish. Not bad, but I would give this 3-4 years in bottle.

More Info

Burgundy
10
-

In Bond

£600.00

Burgundy
2
92 (VN)

In Bond

£427.00

Vinous (92)

The 2017 Pommard Les Pézérolles 1er Cru has a refined, intense bouquet of brambly red berry fruit, sous-bois and light rose petal scents that emerge with time. The palate is medium-bodied with sappy red berry fruit, quite tangy and peppery, delivering gentle grip and a more chalky-textured finish. Quintessentially Pommard, this should give 12–18 years of drinking pleasure. Tasted blind at the Burgfest 2017 tasting.

More Info

Burgundy
1
90-92 (VN)

In Bond

£588.00

Vinous (90-92)

The 2021 Pommard Les Pezerolles 1er Cru contains 50% whole bunches this year. Dark berry fruit, briary and light sous-bois scents unfold on the nose - quintessentially Pommard. The palate is medium-bodied with crunchy dark berry fruit, orange rind, bitter cherry and a touch of pain d'épices towards the finish. Lots of energy here - this Pommard looks destined to give 10-15 years of drinking pleasure. Very fine.

More Info

Burgundy
1
97 (WA)

In Bond

£4,975.00

Wine Advocate (97)

Tasted blind at the annual Burgfest tasting in Beaune. The 2012 Richebourg Grand Cru from A.F. Gros has a very fine bouquet, very expressive with vibrant, shimmering red berry fruit, cherry liqueur, boysenberries and marmalade. This is both complex and involving. The palate is medium-bodied with fine tannin, beautifully poised and supple, elegant and utterly harmonious on the finish. The terroir and winemaking here exude Grand Cru quality. It's probably the best wine I have ever tasted from the estate and in a different league to some older vintages that I tasted from the domaine just a few days later.

More Info

Burgundy
1
95 (VN)

In Bond

£1,979.00

Vinous (95)

The 2013 Richebourg Grand Cru is a wonderful wine. Here it has a superb, quite aristocratic bouquet with wild strawberry, crushed stone, clove and just a subtle marine tincture. It just seems to grow in stature. The palate is extremely well balanced with firm backbone, great density with a muscular, quite grippy finish. It just gives you everything you want from a Richebourg. Tasted at Goedhuis & Co.'s annual Burgundy tasting in London.

More Info

Burgundy
1
96 (VN)

In Bond

£1,810.00

Vinous (96)

The 2017 Richebourg Grand Cru has a supremely well-defined bouquet of vibrant red cherries, crushed strawberry, orange zest and crushed stone, developing more floral scents with time and conveying wonderful breeding and real panache. The extremely well balanced palate reveals layers of red berry fruit, lightly spiced, with just a subtle tang of marmalade toward the finish. Impressive in terms of weight and body, this deserves several years in bottle. Tasted blind at the Burgfest 2017 tasting.

More Info

Burgundy
1
96 (VN)

In Bond

£3,407.50

Vinous (96)

The 2017 Richebourg Grand Cru has a supremely well-defined bouquet of vibrant red cherries, crushed strawberry, orange zest and crushed stone, developing more floral scents with time and conveying wonderful breeding and real panache. The extremely well balanced palate reveals layers of red berry fruit, lightly spiced, with just a subtle tang of marmalade toward the finish. Impressive in terms of weight and body, this deserves several years in bottle. Tasted blind at the Burgfest 2017 tasting.

More Info

Burgundy
2
18++ (JR)

In Bond

£736.00

Jancis Robinson (18++)

More muscular and meaty than the Échezeaux. Darker fruits, sweet cherry depth. Redolent and yet controlled in fruit. Fleshy cherries and plums, a slight hint of integrated toast and nutmeg from oak. Despite the power the sensation is ethereal and lifted. Very fine.

More Info

Burgundy
1
18++ (JR)

In Bond

£2,766.00

Jancis Robinson (18++)

More muscular and meaty than the Échezeaux. Darker fruits, sweet cherry depth. Redolent and yet controlled in fruit. Fleshy cherries and plums, a slight hint of integrated toast and nutmeg from oak. Despite the power the sensation is ethereal and lifted. Very fine.

More Info

Burgundy
1
-

In Bond

£4,443.00

Burgundy
1
-

In Bond

£2,207.00

Burgundy
2
94-96 (VN)

In Bond

£2,601.00

Vinous (94-96)

The 2021 Richebourg Grand Cru is aged with 50% whole bunches in 80% new oak. There is a touch of reduction on the nose, though despite that this seems impressively defined and focused. The palate is medium-bodied, more expressive with fine-boned tannins, taut and fresh, quite intense (as you would expect from a Richebourg). I appreciate the manner in which it builds and exerts insistent grip and structure on the finish. Serious.

More Info

Burgundy
4
94-96 (VN)

In Bond

£4,293.00

Vinous (94-96)

The 2021 Richebourg Grand Cru is aged with 50% whole bunches in 80% new oak. There is a touch of reduction on the nose, though despite that this seems impressively defined and focused. The palate is medium-bodied, more expressive with fine-boned tannins, taut and fresh, quite intense (as you would expect from a Richebourg). I appreciate the manner in which it builds and exerts insistent grip and structure on the finish. Serious.

More Info

Burgundy
1
90-92 (WA)

In Bond

£1,783.00

Wine Advocate (90-92)

The 2015 Vosne-Romanée Les Mazières will be the last release since the 45-year-old vines were pulled up following the harvest, since they were too degenerated. Matured in 50% new oak, it offers crisp red cherry and cranberry scents on the nose, neatly defined and focused with a hint of wet limestone in the background. The palate is medium-bodied with sappy red fruit on the entry, a pleasing saline note running from start to finish with a gentle grip. This is a very commendable valedictory wine

More Info
Name
Price Low
Price High
Year (Old)
Year (New)