Armand de Brignac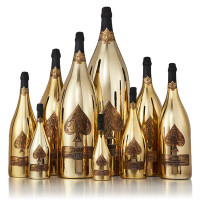 About Armand de Brignac
The story of Armand de Brignac's most famous association is now all but universally known, with rapper Jay-Z announcing himself first as an ardent fan and then, in 2014, as the owner of what is in fact a Champagne with an incredibly long history prior to these events.
The Cattier family can trace their vinous roots in the region back to 1763, establishing themselves as growers in the Montagne de Reims area for 13 generations before, at the turn of the millennium, announcing that they were to put aside parcels of reserve wines to release as prestige multi-vintage blends, the first of which was released in the iconic gold bottling in 2006.
Followed shortly afterwards, in 2008, by the striking platinum Blanc de Blancs which sources its fruit predominantly from the Côte des Blancs, Armand de Brignac is showing no signs of slowing down as a dominant force in the luxury celebration market.
One of the newest outings for the Cattier/Carter/LVMH venture, it has been announced recently that Jay-Z (Shawn Carter) had sold half of his stake in Armand de Brignac to the iconic French company, is the dazzlingly coloured Demi-Sec.