Bodegas Artuke
About Bodegas Artuke
A leading member of Spain's truly exciting and dynamic "New Wave" movement, Artuke is a contraction of the names Arturo and Kike, the brothers who now run the Bodegas, Roberto de Miguel founded this Rioja superstar in 1991 having become disillusioned by his time amongst Spain's bulk producers.
Artuke is an artisanal biodynamic winery found on the upper terrace of the river Ebro in La Rioja Alta. The estate's namesakes are now firmly at the helm of this member of the delightfully named "Rioja'n'Roll" movement, comprising some of the most terroir-driven and quality-focused young winemakers in the country. Their current range is comprised of some of the most detailed and elegant Riojas in the region – simply sublime expressions of this most famous of vinous regions.
Viniculture
Inspired, as are so many producers with a devotion to their native terroir, by the great wines of Burgundy, the brothers are staunch advocates of a new labelling system in Rioja which would see wines bottled along with a village, region and single-vineyard delineation rather than the traditional Reserva system. No doubt some way off region-wide implementation, Artuke's advocacy of the change certainly alludes to their priorities with regards to terroir and quality.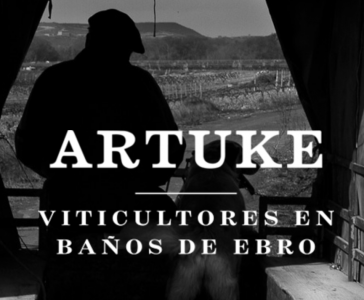 Name
Price Low
Price High
Year (Old)
Year (New)
Prices:
Product Name
Region
Qty
Score
Price

Rioja
1
94 (TA)

Inc. VAT

£205.24

Tim Atkin MW (94)

A vineyard doesn't have to be old to make great wines, as this 3.9-hectare parcel, planted at 720 metres in Samaniego as recently as 2013 demonstrates. Balanced, chalky, racy and refreshing, with chiselled acidity, understated oak influence, bramble, blackberry and cranberry fruit and a long, tapering finish. 2024-32

More Info

Rioja
2
91 (TA)

Inc. VAT

£127.24

Tim Atkin MW (91)

I like new wood less and less," says Arturo de Miguel, who uses none whatsoever on this cuvée of Tempranillo with 13% Graciano from the villages of Ábalos, Samaniego, San Vicente and Villabuena. Sappy, crunchy and refreshing, with lots of bramble and red cherry fruit and a hint of stony reduction. 2024-27

More Info
Product Name
Region
Qty
Score
Price

Rioja
1
94 (TA)

In Bond

£155.00

Tim Atkin MW (94)

A vineyard doesn't have to be old to make great wines, as this 3.9-hectare parcel, planted at 720 metres in Samaniego as recently as 2013 demonstrates. Balanced, chalky, racy and refreshing, with chiselled acidity, understated oak influence, bramble, blackberry and cranberry fruit and a long, tapering finish. 2024-32

More Info

Rioja
2
91 (TA)

In Bond

£90.00

Tim Atkin MW (91)

I like new wood less and less," says Arturo de Miguel, who uses none whatsoever on this cuvée of Tempranillo with 13% Graciano from the villages of Ábalos, Samaniego, San Vicente and Villabuena. Sappy, crunchy and refreshing, with lots of bramble and red cherry fruit and a hint of stony reduction. 2024-27

More Info
Name
Price Low
Price High
Year (Old)
Year (New)