Clos Mogador
About Clos Mogador
Found in the village of Gratallops, deep in the heart of the Priorat hills, Clos Mogador was established in the 1970s by the pioneering René Barbier. Its steeply terraced vineyards are perched at a lofty 750 meter altitude, planted with extremely low-yielding vines up to 100 years old. A vast natural amphitheatre of crumbling slate soils, the result of this incredible and rugged terroir is wines which combine power, elegance, complexity and harmonious flavour profiles.
Viniculture
The approach to the land here is a very natural one – mostly organic methods are used - although the estate is not formally certified as such. Interestingly, Barbier uses an olive press instead of a normal wine press to extract the juice - if it works, it works! This gentle but firm extraction results in an even more intense wine from what are already highly concentrated grapes from such low yields.
Clos Mogador is blend of 45% Garnacha, 29% Carinyena, 16% Syrah and 10% Cabernet Sauvignon. A careful approach to oak maturation is taken towards Clos Mogador, with 70% in 2,000 litre oak vats and 30% in 300 litre oak barriques for a period of 18 months. In 2018, a mere 4,500 cases were produced for the entire world.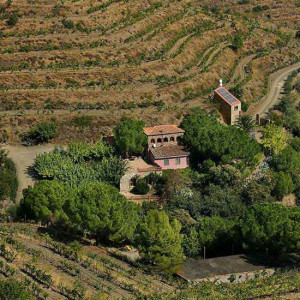 Name
Price Low
Price High
Year (Old)
Year (New)
Prices:
Product Name
Region
Qty
Score
Price

Catalunya
1
-

Inc. VAT

£498.04

Catalunya
2
-

Inc. VAT

£370.84

Catalunya
10
-

Inc. VAT

£260.44

Catalunya
10
-

Inc. VAT

£259.49

Catalunya
1
-

Inc. VAT

£417.64

Catalunya
1
93 (VN)

Inc. VAT

£836.69

Vinous (93)

(100% garnacha, from vines reportedly over a century old): Inky ruby. An explosively perfumed bouquet evokes black raspberry, cherry-cola, sandalwood and Asian spices, plus a smoky overtone. Intense, mineral-accented red and dark berry flavors stain the palate, showing sexy floral pastille and spicecake elements. Sweet and deep in flavor but impressively lithe, finishing with strong thrust and noteworthy clarity.

More Info

Catalunya
2
96 (WA)

Inc. VAT

£1,049.71

Wine Advocate (96)

The 2015 Espectacle del Montsant is a ripe and classic vintage for this exceptional wine produced from a single vineyard in Montsant. This has a forward personality—open, expressive and showy in the nose—from a typically warm and ripe year that resulted in a voluptuous and hedonistic Espectacle that's easy to like. It's rounder and lusher than the 2014 I had next to it, and the two vintages showed very different. The palate is also gentler, with integrated acidity and a soft mouthfeel. Some 6,000 bottles were filled in May 2017.

More Info

Catalunya
2
-

Inc. VAT

£1,092.91

Catalunya
1
93 (VN)

Inc. VAT

£664.66

Vinous (93)

(a blend of garnacha, carinena, cabernet sauvignon and syrah): Opaque ruby. Captivating aromas of black and blue fruits, smoky minerals, incense and sexy oak spice. Impressively sweet and seamless, offering an array of berry fruit and floral pastille flavors underscored by juicy acidity. Finishes with smooth, palate-dusting tannins that fade quickly into the wine's plush, mineral-accented fruit. This wine continues to show more finesse and freshness of fruit that I recall from a decade past, with no loss of flavor intensity.

More Info

Catalunya
1
95 (VN)

Inc. VAT

£720.00

Vinous (95)

Glass-staining violet color. Explosive spice- and mineral-accented aromas of ripe black and blue fruits, incense, pipe tobacco and woodsmoke, joined by a sexy floral nuance. The fleshy, sweet, expansive palate offers concentrated blueberry and cherry compote flavors, along with suggestions of licorice and vanilla. Velvety tannins and superb clarity shape the seamless and lush but lively finish. This wine is now among the best in Priorat and has been moving in this direction steadily in recent years.

More Info

Catalunya
1
98 (WA)

Inc. VAT

£712.84

Wine Advocate (98)

The flagship 2018 Clos Mogador is a blend of 45% Garnacha, 29% Cariñena, 16% Syrah and 10% Cabernet Sauvignon that fermented with natural yeasts and showcases their philosophy—slow fermentations with long maceration and long aging. It matured for 18 months in 2,000-liter oak vats and 30% in 300-liter oak barrels. There was a lot of rain in 2018, and the vineyards were extremely happy and everything seemed very easy; in fact, René Barbier told me it was perhaps too easy... It's an atypical year: It has a gentle profile, and the wines are not as concentrated as those from 2013 (the last rainy year before 2018)—they are more elegant and nuanced. This should develop beautifully in bottle. 27,000 bottles produced. It was bottled in July 2020.

More Info
Product Name
Region
Qty
Score
Price

Catalunya
1
-

In Bond

£399.00

Catalunya
2
-

In Bond

£293.00

Catalunya
10
-

In Bond

£201.00

Catalunya
10
-

In Bond

£197.00

Catalunya
1
-

In Bond

£332.00

Catalunya
1
93 (VN)

In Bond

£678.00

Vinous (93)

(100% garnacha, from vines reportedly over a century old): Inky ruby. An explosively perfumed bouquet evokes black raspberry, cherry-cola, sandalwood and Asian spices, plus a smoky overtone. Intense, mineral-accented red and dark berry flavors stain the palate, showing sexy floral pastille and spicecake elements. Sweet and deep in flavor but impressively lithe, finishing with strong thrust and noteworthy clarity.

More Info

Catalunya
2
96 (WA)

In Bond

£835.00

Wine Advocate (96)

The 2015 Espectacle del Montsant is a ripe and classic vintage for this exceptional wine produced from a single vineyard in Montsant. This has a forward personality—open, expressive and showy in the nose—from a typically warm and ripe year that resulted in a voluptuous and hedonistic Espectacle that's easy to like. It's rounder and lusher than the 2014 I had next to it, and the two vintages showed very different. The palate is also gentler, with integrated acidity and a soft mouthfeel. Some 6,000 bottles were filled in May 2017.

More Info

Catalunya
2
-

In Bond

£871.00

Catalunya
1
93 (VN)

In Bond

£534.00

Vinous (93)

(a blend of garnacha, carinena, cabernet sauvignon and syrah): Opaque ruby. Captivating aromas of black and blue fruits, smoky minerals, incense and sexy oak spice. Impressively sweet and seamless, offering an array of berry fruit and floral pastille flavors underscored by juicy acidity. Finishes with smooth, palate-dusting tannins that fade quickly into the wine's plush, mineral-accented fruit. This wine continues to show more finesse and freshness of fruit that I recall from a decade past, with no loss of flavor intensity.

More Info

Catalunya
1
95 (VN)

Inc. VAT

£720.00

Vinous (95)

Glass-staining violet color. Explosive spice- and mineral-accented aromas of ripe black and blue fruits, incense, pipe tobacco and woodsmoke, joined by a sexy floral nuance. The fleshy, sweet, expansive palate offers concentrated blueberry and cherry compote flavors, along with suggestions of licorice and vanilla. Velvety tannins and superb clarity shape the seamless and lush but lively finish. This wine is now among the best in Priorat and has been moving in this direction steadily in recent years.

More Info

Catalunya
1
98 (WA)

In Bond

£578.00

Wine Advocate (98)

The flagship 2018 Clos Mogador is a blend of 45% Garnacha, 29% Cariñena, 16% Syrah and 10% Cabernet Sauvignon that fermented with natural yeasts and showcases their philosophy—slow fermentations with long maceration and long aging. It matured for 18 months in 2,000-liter oak vats and 30% in 300-liter oak barrels. There was a lot of rain in 2018, and the vineyards were extremely happy and everything seemed very easy; in fact, René Barbier told me it was perhaps too easy... It's an atypical year: It has a gentle profile, and the wines are not as concentrated as those from 2013 (the last rainy year before 2018)—they are more elegant and nuanced. This should develop beautifully in bottle. 27,000 bottles produced. It was bottled in July 2020.

More Info
Name
Price Low
Price High
Year (Old)
Year (New)