Beau-Séjour Bécot
About Château Beau-Séjour Bécot
Resting almost entirely on the grand limestone plateau of Saint-Émilion, few properties within the ancient appellation have advanced the movement of modern Right Bank Bordeaux as stridently and impressively as Beau-Séjour Bécot.

Centuries ago, under the watchful eyes of the monks of St. Martin, the vineyards of modern-day "BSB" were tended together with those of legendary neighbour Château Canon. Gérard Bécot took over the property, as we might recognise it, in 1970 and took the disastrous decision to merge all the family holding in St-Émilion into the Château. This decision saw it stripped of its classification in 1986.

The road to redemption followed swiftly afterwards, with long-term family friend and iconic consultant Michel Rolland lobbying on their behalf. At the following classification, Beau-Séjour Bécot was promoted again in 1996.

Juliette Bécot and Julien Barthe took the helm in 2014 and have pressed every advantage available to them from the exceptional terroir and string of strong vintages which followed. Currently, Château Beau-Séjour Bécot is a strong contender for best-value wine in St-Émilion.
Viniculture
The 20-hectare vineyard is roughly 73% Merlot, 21% Cabernet Franc and 6% Cabernet Sauvignon. The vines average 45 years of age, but with some parcels over 70 years old. The estate is located on the limestone plateau of Saint-Émilion with a terroir of clay with deep, limestone soils. Below the surface, there is an endless array of limestone tunnels and quarries, which contributes to making the wine so special.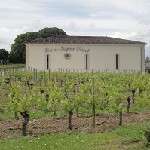 Name
Price Low
Price High
Year (Old)
Year (New)
Prices:
Product Name
Region
Qty
Score
Price

Bordeaux
1
89 (VN (NM))

Inc. VAT

£1,258.18

Vinous - Neal Martin (89)

The 1996 Beau-Séjour Bécot was picked between 30 September and 8 October. Now this is much more enticing on the nose compared to the 1995 because it is unequivocally more vibrant and energetic with perfumed red berry fruit laced with crushed violets, cola and just a hint of sage. The palate is medium-bodied with quite sturdy tannin, more body than the 1995 but now just showing a touch of dryness towards the finish. I suspect that this was better a few years ago, but I appreciate the spicy aftertaste here. Tasted at the château.

More Info

Bordeaux
1
94 (WE)

Inc. VAT

£1,000.18

Wine Enthusiast (94)

92-95 A big wine, with bitter chocolate flavors, and packed ripe fruit. It is intense and very dark, a great success.

More Info

Bordeaux
10
94+ (WA)

Inc. VAT

£1,641.67

Wine Advocate (94+)

A beautiful wine from Beau-Séjour Bécot, the color of the 2005 is an opaque purple and the wine is loaded with notes of cedar wood, Asian spice, blackberry and cassis fruit. Full-bodied and tannic, but broad, huge, and massive, this wine is still an infant and needs another 7-10 years of cellaring. This is a 40- to 50-year wine from the Bécot family.

More Info

Bordeaux
4
94 (VN (NM))

Inc. VAT

£866.44

Vinous - Neal Martin (94)

The 2010 Beauséjour Becot has a fleshy, meaty bouquet that feels more open and mature than its peers in this flight, touches of oxtail and iron filings emerging with time. The palate is medium-bodied with lithe tannins, well judged acidity, quite cohesive with an attractive, iron-tinged silky finish that feels long and delineated. This is another very promising Right Bank wine. Tasted blind at Farr Vintners 10-Year On Bordeaux horizontal.

More Info

Bordeaux
1
94 (VN (NM))

Inc. VAT

£883.27

Vinous - Neal Martin (94)

The 2014 Beau-Séjour Bécot was picked between 8 and 20 October at 35hl/ha. It has a very well defined aroma with superb mineralité, a very classy and sophisticated bouquet that aspires to something more intellectual than the previous three vintages. The palate is medium-bodied with supple tannin; very cohesive and sensual with a fine bead of acidity. The precision here is greater than previous vintages and the mineralité really comes through on the aftertaste so that you can feel that limestone, maybe for the first time defining this wine and its personality. Tasted at the château.

More Info

Bordeaux
1
96 (WCI)

Inc. VAT

£576.04

The Wine Cellar Insider (96)

Clearly the best ever produced at Beau-Sejour Becot. You know it from the moment you place your nose in the wealth of flowers, licorice, smoke, black and red plums, dark cherry, espresso, and forest aromatics. Once the wine hits your palate, the wine really takes off with its sensuous textures, silky tannins and long, concentrated layer of perfectly ripe, sweet, fresh fruits. As the wine remains on your palate, the flavors expand and the sensation of crushed stone makes its presence known as well.

More Info

Bordeaux
6
96 (WCI)

Inc. VAT

£263.21

The Wine Cellar Insider (96)

Clearly the best ever produced at Beau-Sejour Becot. You know it from the moment you place your nose in the wealth of flowers, licorice, smoke, black and red plums, dark cherry, espresso, and forest aromatics. Once the wine hits your palate, the wine really takes off with its sensuous textures, silky tannins and long, concentrated layer of perfectly ripe, sweet, fresh fruits. As the wine remains on your palate, the flavors expand and the sensation of crushed stone makes its presence known as well.

More Info

Bordeaux
1
96 (WCI)

Inc. VAT

£565.24

The Wine Cellar Insider (96)

Clearly the best ever produced at Beau-Sejour Becot. You know it from the moment you place your nose in the wealth of flowers, licorice, smoke, black and red plums, dark cherry, espresso, and forest aromatics. Once the wine hits your palate, the wine really takes off with its sensuous textures, silky tannins and long, concentrated layer of perfectly ripe, sweet, fresh fruits. As the wine remains on your palate, the flavors expand and the sensation of crushed stone makes its presence known as well.

More Info

Bordeaux
3
96 (WCI)

Inc. VAT

£950.47

The Wine Cellar Insider (96)

Fleshy, sensuous, polished and packed with all the ripe black fruits, licorice, smoke, crushed rock and truffle you could ask for. Full-bodied, silky and rich, with a long, fruit-intensive finish, hold your bottles for a decade and this is going to be star!

More Info

Bordeaux
45
96 (WCI)

Inc. VAT

£210.41

The Wine Cellar Insider (96)

Fleshy, sensuous, polished and packed with all the ripe black fruits, licorice, smoke, crushed rock and truffle you could ask for. Full-bodied, silky and rich, with a long, fruit-intensive finish, hold your bottles for a decade and this is going to be star!

More Info

Bordeaux
1
96 (WCI)

Inc. VAT

£422.03

The Wine Cellar Insider (96)

Fleshy, sensuous, polished and packed with all the ripe black fruits, licorice, smoke, crushed rock and truffle you could ask for. Full-bodied, silky and rich, with a long, fruit-intensive finish, hold your bottles for a decade and this is going to be star!

More Info

Bordeaux
50
96 (WCI)

Inc. VAT

£500.44

The Wine Cellar Insider (96)

Fleshy, sensuous, polished and packed with all the ripe black fruits, licorice, smoke, crushed rock and truffle you could ask for. Full-bodied, silky and rich, with a long, fruit-intensive finish, hold your bottles for a decade and this is going to be star!

More Info

Bordeaux
6
96+ (WA)

Inc. VAT

£752.47

Wine Advocate (96+)

Medium to deep garnet-purple colored, the 2017 Beau-Sejour Becot sails out of the glass with pronounced black cherries, kirsch, baked plums and boysenberries scents plus nuances of bay leaves, star anise and pencil shavings with a waft of roses. Medium to full-bodied, the palate delivers bags of juicy black fruits with a firm backbone of rounded tannins and bold freshness, finishing with great length and purity.

More Info

Bordeaux
1
96+ (WA)

Inc. VAT

£403.84

Wine Advocate (96+)

Medium to deep garnet-purple colored, the 2017 Beau-Sejour Becot sails out of the glass with pronounced black cherries, kirsch, baked plums and boysenberries scents plus nuances of bay leaves, star anise and pencil shavings with a waft of roses. Medium to full-bodied, the palate delivers bags of juicy black fruits with a firm backbone of rounded tannins and bold freshness, finishing with great length and purity.

More Info

Bordeaux
1
96-99 (WS)

Inc. VAT

£673.27

Wine Spectator (96-99)

Juicy and forward in feel, with fresh plum, blackberry and anise notes. Dense, but still silky and refined in feel, revealing a long mineral echo through the finish. This is so pure, it seems almost too easy to drink already, just as you realize how ridiculously long it is.

More Info

Bordeaux
3
96-99 (WS)

Inc. VAT

£196.01

Wine Spectator (96-99)

Juicy and forward in feel, with fresh plum, blackberry and anise notes. Dense, but still silky and refined in feel, revealing a long mineral echo through the finish. This is so pure, it seems almost too easy to drink already, just as you realize how ridiculously long it is.

More Info

Bordeaux
1
96-99 (WS)

Inc. VAT

£309.23

Wine Spectator (96-99)

Juicy and forward in feel, with fresh plum, blackberry and anise notes. Dense, but still silky and refined in feel, revealing a long mineral echo through the finish. This is so pure, it seems almost too easy to drink already, just as you realize how ridiculously long it is.

More Info

Bordeaux
3
96-99 (WS)

Inc. VAT

£417.64

Wine Spectator (96-99)

Juicy and forward in feel, with fresh plum, blackberry and anise notes. Dense, but still silky and refined in feel, revealing a long mineral echo through the finish. This is so pure, it seems almost too easy to drink already, just as you realize how ridiculously long it is.

More Info

Bordeaux
1
96-99 (WS)

Inc. VAT

£389.44

Wine Spectator (96-99)

Juicy and forward in feel, with fresh plum, blackberry and anise notes. Dense, but still silky and refined in feel, revealing a long mineral echo through the finish. This is so pure, it seems almost too easy to drink already, just as you realize how ridiculously long it is.

More Info

Bordeaux
1
96 (VN (AG))

Inc. VAT

£489.64

Vinous - Antonio Galloni (96)

The 2019 Beau-Séjour-Bécot is a powerful, explosive wine. Dark fruit, chocolate, cured meats and earthy notes lend quite a bit of depth. Compared with its neighbors, Beau-Séjour-Bécot is dark, broad and broodingly tannic, sometimes more power than finesse. There is plenty of character, though. That much is evident. Beau-Séjour-Bécot speaks with authority as it commands attention.

More Info

Bordeaux
1
96 (VN (AG))

Inc. VAT

£805.87

Vinous - Antonio Galloni (96)

The 2019 Beau-Séjour-Bécot is a powerful, explosive wine. Dark fruit, chocolate, cured meats and earthy notes lend quite a bit of depth. Compared with its neighbors, Beau-Séjour-Bécot is dark, broad and broodingly tannic, sometimes more power than finesse. There is plenty of character, though. That much is evident. Beau-Séjour-Bécot speaks with authority as it commands attention.

More Info

Bordeaux
1
96 (VN (AG))

Inc. VAT

£331.24

Vinous - Antonio Galloni (96)

The 2019 Beau-Séjour-Bécot is a powerful, explosive wine. Dark fruit, chocolate, cured meats and earthy notes lend quite a bit of depth. Compared with its neighbors, Beau-Séjour-Bécot is dark, broad and broodingly tannic, sometimes more power than finesse. There is plenty of character, though. That much is evident. Beau-Séjour-Bécot speaks with authority as it commands attention.

More Info

Bordeaux
1
97 (VN (AG))

Inc. VAT

£361.24

Vinous - Antonio Galloni (97)

The 2020 Beau-Sejour Becot is a dense, powerful wine. A rush of black cherry, plum, chocolate, new leather, licorice, spice and sweet oak builds as this towering, vertically explosive Saint-Émilion opens in the glass. This is an especially broad, expansive Saint-Émilion, much of that attributable to the clay in these soils. The 2020 is magnificent in its intensity and overall volume. Superb.

More Info

Bordeaux
1
98-100 (VN (AG))

Inc. VAT

£512.09

Vinous - Antonio Galloni (98-100)

The 2022 Beau-Séjour Bécot has a bit more Cabernet Franc than most years, which comes through immediately in the wine's aromatic profile. Dark, rich and expressive., the 2022 is seriously impressive. Crushed flowers, herbs, mint, blood orange and red-toned fruit all build into a sumptuous, majestic finish that just explodes on the back end. The 2022 is one of the very finest editions of Beau-Séjour Bécot I can remember tasting. It is a great, great wine.

More Info
Product Name
Region
Qty
Score
Price

Bordeaux
1
89 (VN (NM))

In Bond

£1,010.00

Vinous - Neal Martin (89)

The 1996 Beau-Séjour Bécot was picked between 30 September and 8 October. Now this is much more enticing on the nose compared to the 1995 because it is unequivocally more vibrant and energetic with perfumed red berry fruit laced with crushed violets, cola and just a hint of sage. The palate is medium-bodied with quite sturdy tannin, more body than the 1995 but now just showing a touch of dryness towards the finish. I suspect that this was better a few years ago, but I appreciate the spicy aftertaste here. Tasted at the château.

More Info

Bordeaux
1
94 (WE)

In Bond

£795.00

Wine Enthusiast (94)

92-95 A big wine, with bitter chocolate flavors, and packed ripe fruit. It is intense and very dark, a great success.

More Info

Bordeaux
10
94+ (WA)

In Bond

£1,336.00

Wine Advocate (94+)

A beautiful wine from Beau-Séjour Bécot, the color of the 2005 is an opaque purple and the wine is loaded with notes of cedar wood, Asian spice, blackberry and cassis fruit. Full-bodied and tannic, but broad, huge, and massive, this wine is still an infant and needs another 7-10 years of cellaring. This is a 40- to 50-year wine from the Bécot family.

More Info

Bordeaux
4
94 (VN (NM))

In Bond

£706.00

Vinous - Neal Martin (94)

The 2010 Beauséjour Becot has a fleshy, meaty bouquet that feels more open and mature than its peers in this flight, touches of oxtail and iron filings emerging with time. The palate is medium-bodied with lithe tannins, well judged acidity, quite cohesive with an attractive, iron-tinged silky finish that feels long and delineated. This is another very promising Right Bank wine. Tasted blind at Farr Vintners 10-Year On Bordeaux horizontal.

More Info

Bordeaux
1
94 (VN (NM))

In Bond

£704.00

Vinous - Neal Martin (94)

The 2014 Beau-Séjour Bécot was picked between 8 and 20 October at 35hl/ha. It has a very well defined aroma with superb mineralité, a very classy and sophisticated bouquet that aspires to something more intellectual than the previous three vintages. The palate is medium-bodied with supple tannin; very cohesive and sensual with a fine bead of acidity. The precision here is greater than previous vintages and the mineralité really comes through on the aftertaste so that you can feel that limestone, maybe for the first time defining this wine and its personality. Tasted at the château.

More Info

Bordeaux
1
96 (WCI)

In Bond

£464.00

The Wine Cellar Insider (96)

Clearly the best ever produced at Beau-Sejour Becot. You know it from the moment you place your nose in the wealth of flowers, licorice, smoke, black and red plums, dark cherry, espresso, and forest aromatics. Once the wine hits your palate, the wine really takes off with its sensuous textures, silky tannins and long, concentrated layer of perfectly ripe, sweet, fresh fruits. As the wine remains on your palate, the flavors expand and the sensation of crushed stone makes its presence known as well.

More Info

Bordeaux
6
96 (WCI)

In Bond

£214.00

The Wine Cellar Insider (96)

Clearly the best ever produced at Beau-Sejour Becot. You know it from the moment you place your nose in the wealth of flowers, licorice, smoke, black and red plums, dark cherry, espresso, and forest aromatics. Once the wine hits your palate, the wine really takes off with its sensuous textures, silky tannins and long, concentrated layer of perfectly ripe, sweet, fresh fruits. As the wine remains on your palate, the flavors expand and the sensation of crushed stone makes its presence known as well.

More Info

Bordeaux
1
96 (WCI)

In Bond

£455.00

The Wine Cellar Insider (96)

Clearly the best ever produced at Beau-Sejour Becot. You know it from the moment you place your nose in the wealth of flowers, licorice, smoke, black and red plums, dark cherry, espresso, and forest aromatics. Once the wine hits your palate, the wine really takes off with its sensuous textures, silky tannins and long, concentrated layer of perfectly ripe, sweet, fresh fruits. As the wine remains on your palate, the flavors expand and the sensation of crushed stone makes its presence known as well.

More Info

Bordeaux
3
96 (WCI)

In Bond

£760.00

The Wine Cellar Insider (96)

Fleshy, sensuous, polished and packed with all the ripe black fruits, licorice, smoke, crushed rock and truffle you could ask for. Full-bodied, silky and rich, with a long, fruit-intensive finish, hold your bottles for a decade and this is going to be star!

More Info

Bordeaux
45
96 (WCI)

In Bond

£170.00

The Wine Cellar Insider (96)

Fleshy, sensuous, polished and packed with all the ripe black fruits, licorice, smoke, crushed rock and truffle you could ask for. Full-bodied, silky and rich, with a long, fruit-intensive finish, hold your bottles for a decade and this is going to be star!

More Info

Bordeaux
1
96 (WCI)

In Bond

£341.00

The Wine Cellar Insider (96)

Fleshy, sensuous, polished and packed with all the ripe black fruits, licorice, smoke, crushed rock and truffle you could ask for. Full-bodied, silky and rich, with a long, fruit-intensive finish, hold your bottles for a decade and this is going to be star!

More Info

Bordeaux
50
96 (WCI)

In Bond

£401.00

The Wine Cellar Insider (96)

Fleshy, sensuous, polished and packed with all the ripe black fruits, licorice, smoke, crushed rock and truffle you could ask for. Full-bodied, silky and rich, with a long, fruit-intensive finish, hold your bottles for a decade and this is going to be star!

More Info

Bordeaux
6
96+ (WA)

In Bond

£595.00

Wine Advocate (96+)

Medium to deep garnet-purple colored, the 2017 Beau-Sejour Becot sails out of the glass with pronounced black cherries, kirsch, baked plums and boysenberries scents plus nuances of bay leaves, star anise and pencil shavings with a waft of roses. Medium to full-bodied, the palate delivers bags of juicy black fruits with a firm backbone of rounded tannins and bold freshness, finishing with great length and purity.

More Info

Bordeaux
1
96+ (WA)

In Bond

£320.50

Wine Advocate (96+)

Medium to deep garnet-purple colored, the 2017 Beau-Sejour Becot sails out of the glass with pronounced black cherries, kirsch, baked plums and boysenberries scents plus nuances of bay leaves, star anise and pencil shavings with a waft of roses. Medium to full-bodied, the palate delivers bags of juicy black fruits with a firm backbone of rounded tannins and bold freshness, finishing with great length and purity.

More Info

Bordeaux
1
96-99 (WS)

In Bond

£529.00

Wine Spectator (96-99)

Juicy and forward in feel, with fresh plum, blackberry and anise notes. Dense, but still silky and refined in feel, revealing a long mineral echo through the finish. This is so pure, it seems almost too easy to drink already, just as you realize how ridiculously long it is.

More Info

Bordeaux
3
96-99 (WS)

In Bond

£158.00

Wine Spectator (96-99)

Juicy and forward in feel, with fresh plum, blackberry and anise notes. Dense, but still silky and refined in feel, revealing a long mineral echo through the finish. This is so pure, it seems almost too easy to drink already, just as you realize how ridiculously long it is.

More Info

Bordeaux
1
96-99 (WS)

In Bond

£247.00

Wine Spectator (96-99)

Juicy and forward in feel, with fresh plum, blackberry and anise notes. Dense, but still silky and refined in feel, revealing a long mineral echo through the finish. This is so pure, it seems almost too easy to drink already, just as you realize how ridiculously long it is.

More Info

Bordeaux
3
96-99 (WS)

In Bond

£332.00

Wine Spectator (96-99)

Juicy and forward in feel, with fresh plum, blackberry and anise notes. Dense, but still silky and refined in feel, revealing a long mineral echo through the finish. This is so pure, it seems almost too easy to drink already, just as you realize how ridiculously long it is.

More Info

Bordeaux
1
96-99 (WS)

In Bond

£308.50

Wine Spectator (96-99)

Juicy and forward in feel, with fresh plum, blackberry and anise notes. Dense, but still silky and refined in feel, revealing a long mineral echo through the finish. This is so pure, it seems almost too easy to drink already, just as you realize how ridiculously long it is.

More Info

Bordeaux
1
96 (VN (AG))

In Bond

£392.00

Vinous - Antonio Galloni (96)

The 2019 Beau-Séjour-Bécot is a powerful, explosive wine. Dark fruit, chocolate, cured meats and earthy notes lend quite a bit of depth. Compared with its neighbors, Beau-Séjour-Bécot is dark, broad and broodingly tannic, sometimes more power than finesse. There is plenty of character, though. That much is evident. Beau-Séjour-Bécot speaks with authority as it commands attention.

More Info

Bordeaux
1
96 (VN (AG))

In Bond

£639.50

Vinous - Antonio Galloni (96)

The 2019 Beau-Séjour-Bécot is a powerful, explosive wine. Dark fruit, chocolate, cured meats and earthy notes lend quite a bit of depth. Compared with its neighbors, Beau-Séjour-Bécot is dark, broad and broodingly tannic, sometimes more power than finesse. There is plenty of character, though. That much is evident. Beau-Séjour-Bécot speaks with authority as it commands attention.

More Info

Bordeaux
1
96 (VN (AG))

In Bond

£260.00

Vinous - Antonio Galloni (96)

The 2019 Beau-Séjour-Bécot is a powerful, explosive wine. Dark fruit, chocolate, cured meats and earthy notes lend quite a bit of depth. Compared with its neighbors, Beau-Séjour-Bécot is dark, broad and broodingly tannic, sometimes more power than finesse. There is plenty of character, though. That much is evident. Beau-Séjour-Bécot speaks with authority as it commands attention.

More Info

Bordeaux
1
97 (VN (AG))

In Bond

£285.00

Vinous - Antonio Galloni (97)

The 2020 Beau-Sejour Becot is a dense, powerful wine. A rush of black cherry, plum, chocolate, new leather, licorice, spice and sweet oak builds as this towering, vertically explosive Saint-Émilion opens in the glass. This is an especially broad, expansive Saint-Émilion, much of that attributable to the clay in these soils. The 2020 is magnificent in its intensity and overall volume. Superb.

More Info

Bordeaux
1
98-100 (VN (AG))

In Bond

£407.50

Vinous - Antonio Galloni (98-100)

The 2022 Beau-Séjour Bécot has a bit more Cabernet Franc than most years, which comes through immediately in the wine's aromatic profile. Dark, rich and expressive., the 2022 is seriously impressive. Crushed flowers, herbs, mint, blood orange and red-toned fruit all build into a sumptuous, majestic finish that just explodes on the back end. The 2022 is one of the very finest editions of Beau-Séjour Bécot I can remember tasting. It is a great, great wine.

More Info
Name
Price Low
Price High
Year (Old)
Year (New)