Bevan Cellars
About Bevan Cellars
Founded in 2005 by Russell Bevan and his long-term companion and business partner Victoria De Crescenzo, the success of Bevan Cellars is all the more remarkable for the fact that Russell is a self-taught winemaker.
They use a wealth of amazing vineyards that are mostly in eastern Oakville, arguably one of the valley's sweetest spots for the region's most sought-after reds. A blend of most of their vineyard sites, but mostly from some of the rockiest blocks in the Tench Vineyard (which borders Screaming Eagle) and also Sugarloaf and Wildfoote.
An estate that has received seven 100 point scores from the Wine Advocate and four 100 point scores from Jeb Dunnuck, Oakville's Bevan Cellars has risen into the highest echelons of Napa Valley at an astonishing rate. Their wines have now become fiercely in demand as USA wine lovers clamber to secure an allocation of their stunning Bordeaux blends.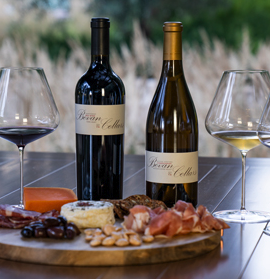 Name
Price Low
Price High
Year (Old)
Year (New)
Prices:
Product Name
Region
Qty
Score
Price

California
1
98-100 (JD)

Inc. VAT

£2,671.49

Jeb Dunnuck (98-100)

The first release from this site, the 2018 Cabernet Sauvignon Beckstoffer Dr. Crane Vineyard boasts a saturated purple color as well as a heavenly bouquet of blackcurrants, tobacco leaf, ground herbs, and gravelly minerality. It's one of those powerful yet ethereal, weightless wines that carries full-bodied richness, seamless tannins, and just a heavenly finish.

More Info

California
1
97-99 (JD)

Inc. VAT

£1,465.49

Jeb Dunnuck (97-99)

The 2018 Cabernet Sauvignon Sage Ridge Vineyard has a classic gamey black and blue fruit character as well as notes of black olive, leafy herbs, and dark chocolate. It's rich, powerful, and full-bodied, with remarkable purity and a great finish.

More Info

California
5
-

Inc. VAT

£552.25

California
1
99 (JD)

Inc. VAT

£647.38

Jeb Dunnuck (99)

While this cuvée is one of the least expensive in the lineup, it's often one of my favorites. The 2018 Ontogeny is no exception and should be snatched up by readers. A classic 2018 nose of ripe, pure blue fruits, cassis, violets, and smoked earth gives way to a full-bodied, dense, concentrated Cabernet with beautiful tannins and length. It's going to evolve for 20 years or more.

More Info

California
1
98 (JD)

Inc. VAT

£730.93

Jeb Dunnuck (98)

A blend put together by Bevan from the single vineyards, the Ontogeny cuvée is year-in, year-out one of the greatest values in Cabernet Sauvignon. His 2019 Ontogeny is no exception, revealing a dense purple hue as well as rock star notes of crème de cassis, violets, tobacco leaf, and chocolate. It's a big, classic Bevan wine and has remarkable purity, silky, polished tannins, and not a hard edge to be found. Don't miss it!

More Info

California
1
97-100 (JD)

Inc. VAT

£1,363.49

Jeb Dunnuck (97-100)

Checking in as a blend of Cabernet Franc and Merlot, the 2019 Proprietary Red Sugarloaf Mountain Vineyard is one of the top wines in 2019 (at least at this stage). Offering an incredible nose of black raspberries, cassis, wildflowers, violets, and wood smoke, it hits the palate with full-bodied richness, a layered, ultra-fine, seamless texture, great tannins, and a great, great finish. The purity is just about off the charts.

More Info

California
1
97-99+ (WA)

Inc. VAT

£1,517.09

Wine Advocate (97-99+)

A barrel sample, the 2019 Cabernet Sauvignon Tench Vineyard is deep garnet-purple colored and skips out of the glass with bright, cheery blackberries, crushed blackcurrants and plum preserves scents with hints of menthol, bay leaves and candied violets. Full-bodied, the palate is bombastic and juicy with plush tannins and lively acid, finishing long.

More Info

California
3
95 (VN)

Inc. VAT

£449.05

Vinous (95)

The 2015 Red Wine EE Tench Vineyard is rich, explosive and powerful in the glass. Cabernet Franc aromatics give the wine an attractive upper register to play off the dark, unctuous fruit. Dark cherry, blackberry, chocolate and espresso all rush forward. The EE has terrific tension for such a big, plush wine. Lifted Franc notes reappear on the super-expressive finish.

More Info

California
1
98-100 (JD)

Inc. VAT

£2,193.86

Jeb Dunnuck (98-100)

The same 60/40 split of Cabernet Sauvignon and Cabernet Franc, brought up in new oak, the 2018 Tench Vineyard EE Red Wine is another incredibly pure, complex, yet powerful 2018. Rocking levels of crème de cassis, spring flowers, chocolate, and graphite give way to a full-bodied, pure, and seamless wine that has incredible potential.

More Info

California
1
98-100 (JD)

Inc. VAT

£1,222.92

Jeb Dunnuck (98-100)

The same 60/40 split of Cabernet Sauvignon and Cabernet Franc, brought up in new oak, the 2018 Tench Vineyard EE Red Wine is another incredibly pure, complex, yet powerful 2018. Rocking levels of crème de cassis, spring flowers, chocolate, and graphite give way to a full-bodied, pure, and seamless wine that has incredible potential.

More Info

California
1
97-99 (WA)

Inc. VAT

£1,363.49

Wine Advocate (97-99)

Made from a blend of Cabernet Sauvignon, Merlot, Cabernet Franc and Petit Verdot, the 2019 Proprietary Red EE Tench Vineyard is a barrel sample with a deep garnet-purple color. It leaps out of the glass with crème de cassis, blueberry pie and black cherry cordial with nuances of potpourri, kirsch and tobacco leaf. Full-bodied, the palate is bright and refreshing with bags of juicy fruit and a soft texture, finishing with a floral lift.

More Info

California
1
97 (VN)

Inc. VAT

£1,691.09

Vinous (97)

The 2018 Cabernet Sauvignon Wildfoote Vineyard Vixen Block is one of the most complex wines in the entire range. Red fruit, iron, mint, rose petal, spice and blood orange give the 2018 a real feeling of exotic beauty. Each taste reveals a new facet. Time in the glass brings out the wine's striking aromatic presence and overall intensity.

More Info
Product Name
Region
Qty
Score
Price

California
1
98-100 (JD)

In Bond

£2,207.00

Jeb Dunnuck (98-100)

The first release from this site, the 2018 Cabernet Sauvignon Beckstoffer Dr. Crane Vineyard boasts a saturated purple color as well as a heavenly bouquet of blackcurrants, tobacco leaf, ground herbs, and gravelly minerality. It's one of those powerful yet ethereal, weightless wines that carries full-bodied richness, seamless tannins, and just a heavenly finish.

More Info

California
1
97-99 (JD)

In Bond

£1,202.00

Jeb Dunnuck (97-99)

The 2018 Cabernet Sauvignon Sage Ridge Vineyard has a classic gamey black and blue fruit character as well as notes of black olive, leafy herbs, and dark chocolate. It's rich, powerful, and full-bodied, with remarkable purity and a great finish.

More Info

California
5
-

In Bond

£457.00

California
1
99 (JD)

In Bond

£519.99

Jeb Dunnuck (99)

While this cuvée is one of the least expensive in the lineup, it's often one of my favorites. The 2018 Ontogeny is no exception and should be snatched up by readers. A classic 2018 nose of ripe, pure blue fruits, cassis, violets, and smoked earth gives way to a full-bodied, dense, concentrated Cabernet with beautiful tannins and length. It's going to evolve for 20 years or more.

More Info

California
1
98 (JD)

In Bond

£590.00

Jeb Dunnuck (98)

A blend put together by Bevan from the single vineyards, the Ontogeny cuvée is year-in, year-out one of the greatest values in Cabernet Sauvignon. His 2019 Ontogeny is no exception, revealing a dense purple hue as well as rock star notes of crème de cassis, violets, tobacco leaf, and chocolate. It's a big, classic Bevan wine and has remarkable purity, silky, polished tannins, and not a hard edge to be found. Don't miss it!

More Info

California
1
97-100 (JD)

In Bond

£1,117.00

Jeb Dunnuck (97-100)

Checking in as a blend of Cabernet Franc and Merlot, the 2019 Proprietary Red Sugarloaf Mountain Vineyard is one of the top wines in 2019 (at least at this stage). Offering an incredible nose of black raspberries, cassis, wildflowers, violets, and wood smoke, it hits the palate with full-bodied richness, a layered, ultra-fine, seamless texture, great tannins, and a great, great finish. The purity is just about off the charts.

More Info

California
1
97-99+ (WA)

In Bond

£1,245.00

Wine Advocate (97-99+)

A barrel sample, the 2019 Cabernet Sauvignon Tench Vineyard is deep garnet-purple colored and skips out of the glass with bright, cheery blackberries, crushed blackcurrants and plum preserves scents with hints of menthol, bay leaves and candied violets. Full-bodied, the palate is bombastic and juicy with plush tannins and lively acid, finishing long.

More Info

California
3
95 (VN)

In Bond

£371.00

Vinous (95)

The 2015 Red Wine EE Tench Vineyard is rich, explosive and powerful in the glass. Cabernet Franc aromatics give the wine an attractive upper register to play off the dark, unctuous fruit. Dark cherry, blackberry, chocolate and espresso all rush forward. The EE has terrific tension for such a big, plush wine. Lifted Franc notes reappear on the super-expressive finish.

More Info

California
1
98-100 (JD)

In Bond

£1,790.00

Jeb Dunnuck (98-100)

The same 60/40 split of Cabernet Sauvignon and Cabernet Franc, brought up in new oak, the 2018 Tench Vineyard EE Red Wine is another incredibly pure, complex, yet powerful 2018. Rocking levels of crème de cassis, spring flowers, chocolate, and graphite give way to a full-bodied, pure, and seamless wine that has incredible potential.

More Info

California
1
98-100 (JD)

In Bond

£999.99

Jeb Dunnuck (98-100)

The same 60/40 split of Cabernet Sauvignon and Cabernet Franc, brought up in new oak, the 2018 Tench Vineyard EE Red Wine is another incredibly pure, complex, yet powerful 2018. Rocking levels of crème de cassis, spring flowers, chocolate, and graphite give way to a full-bodied, pure, and seamless wine that has incredible potential.

More Info

California
1
97-99 (WA)

In Bond

£1,117.00

Wine Advocate (97-99)

Made from a blend of Cabernet Sauvignon, Merlot, Cabernet Franc and Petit Verdot, the 2019 Proprietary Red EE Tench Vineyard is a barrel sample with a deep garnet-purple color. It leaps out of the glass with crème de cassis, blueberry pie and black cherry cordial with nuances of potpourri, kirsch and tobacco leaf. Full-bodied, the palate is bright and refreshing with bags of juicy fruit and a soft texture, finishing with a floral lift.

More Info

California
1
97 (VN)

In Bond

£1,390.00

Vinous (97)

The 2018 Cabernet Sauvignon Wildfoote Vineyard Vixen Block is one of the most complex wines in the entire range. Red fruit, iron, mint, rose petal, spice and blood orange give the 2018 a real feeling of exotic beauty. Each taste reveals a new facet. Time in the glass brings out the wine's striking aromatic presence and overall intensity.

More Info
Name
Price Low
Price High
Year (Old)
Year (New)