Bibi Graetz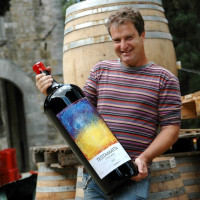 About Bibi Graetz
Born into a family of prodigious artists in the gorgeous region of Tuscany in central Italy, Bibi Graetz experienced a phenomenon well-traversed by a number of the world's greatest vignerons – he fell in love with the terroir and vines of his homeland.
Having grown up on the hill of Fiesole, overlooking Florence, Graetz felt the irresistible pull to found his eponymous winery in 2000 in this very area. Not content with such a commitment to Tuscany, the artist even built and moved his family to the new winery, called Aurora, situated in the main square of Fiesole.
Viniculture
Graetz found himself particularly fascinated by old vines – and as such has assembled one of the largest holdings of old vineyard plots in the entire region. An impressive feat in a mere 20 years given the head start rival Super Tuscans have. The focus on ancient aspects of Italian winemaking has led the rebellious winemaker to shun both traditionalist Chianti constraints, as well as the established Super Tuscan behemoths stridently pursuing Bordeaux blends.
Bibi Graetz masterfully combines aspects of both schools of thought – proudly championing the traditional varietals of Sangiovese, Canaiolo and Colorino, whilst utilising artisanal techniques such as spontaneous fermentation, manual punching-down and open-top barriques.
A maverick figure on the Super Tuscan scene, Colore is the flagship wine of this enigmatic winery. Colore is a pure expression of Tuscany, with traditional varieties blended in glorious harmony. Sangiovese provides structure and breath-taking power, Colorino carries pure fruits and fine tannins whilst Canaiolo is the mineral backbone. Sourced from three vineyards in Lamole, Siena and Vincigliata, a handful of the finest barrels representing a fraction of the entire harvest are selected to become Colore. This is unbelievably rare, with only 225 cases produced.