Château Cantenac-Brown
About Château Cantenac-Brown
Château Cantenac Brown is an 1855 classified third growth, located in Cantenac within the most prestigious Médoc appellation, Margaux. The vineyard lies across the Margaux and Cantenac plateaus: 39.5 hectares of gravelly soil and clay-limestone soils, as well as 16 hectares of small gravel plots and 5 hectares of clay-limestone plots. This diversity of terroirs offers a great richness to the blending process and ensures constant quality over several vintages.
The vineyard was founded in 1806 by a Scotsman, John Lewis Brown. His hard work and high standards were rewarded in 1855 when the Bordeaux Classification ranked Cantenac Brown among the most esteemed vineyards.
A spectacular testimony to its Scottish ancestry: the estate's emblematic Tudor-style château makes it the most remarkable property in the Médoc region. The Château is surrounded by an immense garden featuring the arboretum initially planted by John Lewis Brown.
Today the Château is managed by the French family Le Lous. Tristan Le Lous, an agronomist with a passion for oenology, is very involved in managing the estate, together with José Sanfins, who is inextricably linked with the estate's modern history. The meeting of this twosome was a pivotal milestone.
In 2020, aware of the importance of preserving the estate's land and exceptional environment, Tristan Le Lous and José Sanfins launched the construction of a new wine cellar built entirely of raw earth in which environmental quality standards are set at today's highest possible level, while guaranteeing thermal inertia and the perfect humidity for ageing thanks to the power of the earth.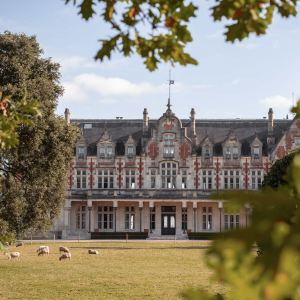 Name
Price Low
Price High
Year (Old)
Year (New)
Prices:
Product Name
Region
Qty
Score
Price

Bordeaux
1
97 (JA)

Inc. VAT

£328.24

Jane Anson Inside Bordeaux (97)

This is a white wine that I am always recommending to friends, because it stands out among the whites of the 1855 Médoc estates for its sharp, sleek and precise flavours, delivering just the right amount of flesh and juice. From a 1.8ha of vines, 10% new oak, harvest 12 to 13 September.

More Info

Bordeaux
1
88 (VN (ST))

Inc. VAT

£889.78

Vinous - Stephen Tanzer (88)

Currant, game, cedar, smoke and nutty oak on the nose. Structured and tightly wrapped, but intensely flavored and shapely, with a subtle sweetness. Finishes with firm tannins and noteworthy persistence.

More Info

Bordeaux
1
92 (VN (NM))

Inc. VAT

£918.07

Vinous - Neal Martin (92)

The 2005 Cantenac Brown is another vintage that I have not tasted for a number of years. It is very pure on the nose with copious blackberry and raspberry scents, sous-bois and just a hint of cough candy. This is evolving nicely. The palate is well balanced with mellowing tannins that frame the minty black fruit, spicebox and (again) just that hint of menthol that enlivens the finish. This is an excellent Margaux, drinking perfectly now, but it has the substance to last 20 years, possibly more. Excellent. Tasted at the Cantenac Brown vertical at the château.

More Info

Bordeaux
1
93-96 (WS)

Inc. VAT

£760.87

Wine Spectator (93-96)

Fresh berry and currant, with mint and spices. Full-bodied, with supervelvety tannins and a long, flavorful finish. Toasted oak, ripe fruit, everything. A beauty. Best ever. Score range: 93-96 -JS

More Info

Bordeaux
1
92 (VN (NM))

Inc. VAT

£633.60

Vinous - Neal Martin (92)

The 2014 Cantenac Brown has a well-defined bouquet with blackberry, cedar, crushed violet and cold stone aromas. I love the detail and focus here. The palate is medium-bodied with fine grain tannin, supple and almost velvety in texture, the acidity well judged with a rounded, lightly spiced finish that feels so tender, yet does not shortchange you on persistence. This is one of the best Cantenac-Brown wines that I have encountered in recent years. Tasted blind at the annual Southwold tasting.

More Info

Bordeaux
2
92 (VN (NM))

Inc. VAT

£379.24

Vinous - Neal Martin (92)

The 2014 Cantenac Brown has a well-defined bouquet with blackberry, cedar, crushed violet and cold stone aromas. I love the detail and focus here. The palate is medium-bodied with fine grain tannin, supple and almost velvety in texture, the acidity well judged with a rounded, lightly spiced finish that feels so tender, yet does not shortchange you on persistence. This is one of the best Cantenac-Brown wines that I have encountered in recent years. Tasted blind at the annual Southwold tasting.

More Info

Bordeaux
11
95 (VN (AG))

Inc. VAT

£668.47

Vinous - Antonio Galloni (95)

A rich, exotic wine, the 2015 Cantenac Brown is simply stunning. Dark cherry, plum, mocha, espresso, licorice and leather all flesh out in this ample, voluptuous Margaux. A rush of super-ripe dark cherry, plum, violet, lavender and sweet French oak builds as this plush, explosive wine shows off its bold personality. The 2015 is quite concentrated and extracted in style, and yet all the elements are wonderfully fused together. I would give the 2015 at least a few years to assimilate some of its new oak.

More Info

Bordeaux
1
95 (VN (NM))

Inc. VAT

£460.24

Vinous - Neal Martin (95)

The 2016 Cantenac Brown seems to have grown aromatically since I last tasted it a few months ago. More complex than I remember, this offers a cornucopia of scents: blackberry, briary, cedar and a lovely mintiness that recalls Palmer. The palate is silky smooth with great depth and delineation, satin-like, multi-layered, precocious black fruit laced with black pepper, tea leaves and cloves, all fanning out gloriously towards the finish. Bon vin! Tasted at the Cantenac Brown vertical at the château.

More Info

Bordeaux
36
94 (VN (AG))

Inc. VAT

£356.44

Vinous - Antonio Galloni (94)

The 2017 Cantenac Brown has really come together nicely. The typically overt Cantenac Brown style is present in a round, supple Margaux that exudes textural richness and raciness. Dark cherry, spice, chocolate and licorice all flesh out in this wonderfully inviting, supple Margaux, with pretty savory notes that add freshness and energy. This understated wine is all class.

More Info

Bordeaux
2
95-97 (WE)

Inc. VAT

£734.47

Wine Enthusiast (95-97)

This is a rich wine, full of generous black fruits and ripe tannins that give it both a powerful yet stylish nature. Its weight comes from the fine black fruit flavor, with fine acidity to the cut fruitiness.

More Info

Bordeaux
2
95-97 (WE)

Inc. VAT

£416.44

Wine Enthusiast (95-97)

This is a rich wine, full of generous black fruits and ripe tannins that give it both a powerful yet stylish nature. Its weight comes from the fine black fruit flavor, with fine acidity to the cut fruitiness.

More Info

Bordeaux
10
95 (VN (NM))

Inc. VAT

£615.67

Vinous - Neal Martin (95)

José Sanfins has overseen a 2019 Cantenac Brown that will give immense pleasure in coming years. The bouquet has tightened up since I tasted the barrel sample (also at the château, in summer 2021): blackberry, raspberry and cedar are now accompanied by just a touch of peppermint. The palate is medium-bodied, taut and fresh, with sappy red fruit, fine acidity and a vibrant, harmonious finish. This Margaux brims with confidence and should give 30 to 40 years of drinking pleasure. The insiders' Margaux of choice.

More Info

Bordeaux
1
95 (VN (NM))

Inc. VAT

£434.86

Vinous - Neal Martin (95)

José Sanfins has overseen a 2019 Cantenac Brown that will give immense pleasure in coming years. The bouquet has tightened up since I tasted the barrel sample (also at the château, in summer 2021): blackberry, raspberry and cedar are now accompanied by just a touch of peppermint. The palate is medium-bodied, taut and fresh, with sappy red fruit, fine acidity and a vibrant, harmonious finish. This Margaux brims with confidence and should give 30 to 40 years of drinking pleasure. The insiders' Margaux of choice.

More Info

Bordeaux
1
95 (VN (NM))

Inc. VAT

£317.44

Vinous - Neal Martin (95)

José Sanfins has overseen a 2019 Cantenac Brown that will give immense pleasure in coming years. The bouquet has tightened up since I tasted the barrel sample (also at the château, in summer 2021): blackberry, raspberry and cedar are now accompanied by just a touch of peppermint. The palate is medium-bodied, taut and fresh, with sappy red fruit, fine acidity and a vibrant, harmonious finish. This Margaux brims with confidence and should give 30 to 40 years of drinking pleasure. The insiders' Margaux of choice.

More Info

Bordeaux
30
96-97 (JS)

Inc. VAT

£594.07

James Suckling (96-97)

Fantastic depth of fruit with layers of firm, chewy tannins that are medium-grained and long in the mouth. Full and dynamic. One of the best ever.

More Info

Bordeaux
1
96-97 (JS)

Inc. VAT

£298.24

James Suckling (96-97)

Fantastic depth of fruit with layers of firm, chewy tannins that are medium-grained and long in the mouth. Full and dynamic. One of the best ever.

More Info

Bordeaux
1
96 (DC)

Inc. VAT

£480.29

Decanter (96)

Juicy and lively, cool and crisp with concentrated but cool tannins that give the structure and density. It's massy, full, upfront, but retains a charm in that nothing is harsh or austere or too spiced. It's full but there's something very captivating about this, has excitement and vibrancy and will be totally delicious and moreish when the time is right. Lovely acidity, beautiful red fruits, crisp and tense yet layered and ripe, mineral too. Gives you the emotion! Harvest 7-27 September. Ageing in French oak, 60% new, 40% one year old.

More Info
Product Name
Region
Qty
Score
Price

Bordeaux
1
97 (JA)

In Bond

£257.50

Jane Anson Inside Bordeaux (97)

This is a white wine that I am always recommending to friends, because it stands out among the whites of the 1855 Médoc estates for its sharp, sleek and precise flavours, delivering just the right amount of flesh and juice. From a 1.8ha of vines, 10% new oak, harvest 12 to 13 September.

More Info

Bordeaux
1
88 (VN (ST))

In Bond

£703.00

Vinous - Stephen Tanzer (88)

Currant, game, cedar, smoke and nutty oak on the nose. Structured and tightly wrapped, but intensely flavored and shapely, with a subtle sweetness. Finishes with firm tannins and noteworthy persistence.

More Info

Bordeaux
1
92 (VN (NM))

In Bond

£733.00

Vinous - Neal Martin (92)

The 2005 Cantenac Brown is another vintage that I have not tasted for a number of years. It is very pure on the nose with copious blackberry and raspberry scents, sous-bois and just a hint of cough candy. This is evolving nicely. The palate is well balanced with mellowing tannins that frame the minty black fruit, spicebox and (again) just that hint of menthol that enlivens the finish. This is an excellent Margaux, drinking perfectly now, but it has the substance to last 20 years, possibly more. Excellent. Tasted at the Cantenac Brown vertical at the château.

More Info

Bordeaux
1
93-96 (WS)

In Bond

£602.00

Wine Spectator (93-96)

Fresh berry and currant, with mint and spices. Full-bodied, with supervelvety tannins and a long, flavorful finish. Toasted oak, ripe fruit, everything. A beauty. Best ever. Score range: 93-96 -JS

More Info

Bordeaux
1
92 (VN (NM))

Inc. VAT

£633.60

Vinous - Neal Martin (92)

The 2014 Cantenac Brown has a well-defined bouquet with blackberry, cedar, crushed violet and cold stone aromas. I love the detail and focus here. The palate is medium-bodied with fine grain tannin, supple and almost velvety in texture, the acidity well judged with a rounded, lightly spiced finish that feels so tender, yet does not shortchange you on persistence. This is one of the best Cantenac-Brown wines that I have encountered in recent years. Tasted blind at the annual Southwold tasting.

More Info

Bordeaux
2
92 (VN (NM))

In Bond

£300.00

Vinous - Neal Martin (92)

The 2014 Cantenac Brown has a well-defined bouquet with blackberry, cedar, crushed violet and cold stone aromas. I love the detail and focus here. The palate is medium-bodied with fine grain tannin, supple and almost velvety in texture, the acidity well judged with a rounded, lightly spiced finish that feels so tender, yet does not shortchange you on persistence. This is one of the best Cantenac-Brown wines that I have encountered in recent years. Tasted blind at the annual Southwold tasting.

More Info

Bordeaux
11
95 (VN (AG))

In Bond

£525.00

Vinous - Antonio Galloni (95)

A rich, exotic wine, the 2015 Cantenac Brown is simply stunning. Dark cherry, plum, mocha, espresso, licorice and leather all flesh out in this ample, voluptuous Margaux. A rush of super-ripe dark cherry, plum, violet, lavender and sweet French oak builds as this plush, explosive wine shows off its bold personality. The 2015 is quite concentrated and extracted in style, and yet all the elements are wonderfully fused together. I would give the 2015 at least a few years to assimilate some of its new oak.

More Info

Bordeaux
1
95 (VN (NM))

In Bond

£367.50

Vinous - Neal Martin (95)

The 2016 Cantenac Brown seems to have grown aromatically since I last tasted it a few months ago. More complex than I remember, this offers a cornucopia of scents: blackberry, briary, cedar and a lovely mintiness that recalls Palmer. The palate is silky smooth with great depth and delineation, satin-like, multi-layered, precocious black fruit laced with black pepper, tea leaves and cloves, all fanning out gloriously towards the finish. Bon vin! Tasted at the Cantenac Brown vertical at the château.

More Info

Bordeaux
36
94 (VN (AG))

In Bond

£281.00

Vinous - Antonio Galloni (94)

The 2017 Cantenac Brown has really come together nicely. The typically overt Cantenac Brown style is present in a round, supple Margaux that exudes textural richness and raciness. Dark cherry, spice, chocolate and licorice all flesh out in this wonderfully inviting, supple Margaux, with pretty savory notes that add freshness and energy. This understated wine is all class.

More Info

Bordeaux
2
95-97 (WE)

In Bond

£580.00

Wine Enthusiast (95-97)

This is a rich wine, full of generous black fruits and ripe tannins that give it both a powerful yet stylish nature. Its weight comes from the fine black fruit flavor, with fine acidity to the cut fruitiness.

More Info

Bordeaux
2
95-97 (WE)

In Bond

£331.00

Wine Enthusiast (95-97)

This is a rich wine, full of generous black fruits and ripe tannins that give it both a powerful yet stylish nature. Its weight comes from the fine black fruit flavor, with fine acidity to the cut fruitiness.

More Info

Bordeaux
10
95 (VN (NM))

In Bond

£481.00

Vinous - Neal Martin (95)

José Sanfins has overseen a 2019 Cantenac Brown that will give immense pleasure in coming years. The bouquet has tightened up since I tasted the barrel sample (also at the château, in summer 2021): blackberry, raspberry and cedar are now accompanied by just a touch of peppermint. The palate is medium-bodied, taut and fresh, with sappy red fruit, fine acidity and a vibrant, harmonious finish. This Margaux brims with confidence and should give 30 to 40 years of drinking pleasure. The insiders' Margaux of choice.

More Info

Bordeaux
1
95 (VN (NM))

In Bond

£341.00

Vinous - Neal Martin (95)

José Sanfins has overseen a 2019 Cantenac Brown that will give immense pleasure in coming years. The bouquet has tightened up since I tasted the barrel sample (also at the château, in summer 2021): blackberry, raspberry and cedar are now accompanied by just a touch of peppermint. The palate is medium-bodied, taut and fresh, with sappy red fruit, fine acidity and a vibrant, harmonious finish. This Margaux brims with confidence and should give 30 to 40 years of drinking pleasure. The insiders' Margaux of choice.

More Info

Bordeaux
1
95 (VN (NM))

In Bond

£248.50

Vinous - Neal Martin (95)

José Sanfins has overseen a 2019 Cantenac Brown that will give immense pleasure in coming years. The bouquet has tightened up since I tasted the barrel sample (also at the château, in summer 2021): blackberry, raspberry and cedar are now accompanied by just a touch of peppermint. The palate is medium-bodied, taut and fresh, with sappy red fruit, fine acidity and a vibrant, harmonious finish. This Margaux brims with confidence and should give 30 to 40 years of drinking pleasure. The insiders' Margaux of choice.

More Info

Bordeaux
30
96-97 (JS)

In Bond

£463.00

James Suckling (96-97)

Fantastic depth of fruit with layers of firm, chewy tannins that are medium-grained and long in the mouth. Full and dynamic. One of the best ever.

More Info

Bordeaux
1
96-97 (JS)

In Bond

£232.50

James Suckling (96-97)

Fantastic depth of fruit with layers of firm, chewy tannins that are medium-grained and long in the mouth. Full and dynamic. One of the best ever.

More Info

Bordeaux
1
96 (DC)

In Bond

£381.00

Decanter (96)

Juicy and lively, cool and crisp with concentrated but cool tannins that give the structure and density. It's massy, full, upfront, but retains a charm in that nothing is harsh or austere or too spiced. It's full but there's something very captivating about this, has excitement and vibrancy and will be totally delicious and moreish when the time is right. Lovely acidity, beautiful red fruits, crisp and tense yet layered and ripe, mineral too. Gives you the emotion! Harvest 7-27 September. Ageing in French oak, 60% new, 40% one year old.

More Info
Name
Price Low
Price High
Year (Old)
Year (New)