d'Yquem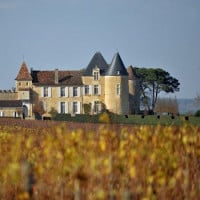 Château d'Yquem
Château d'Yquem displays its name, Sauternes and the vintage. Make no mistake, the King of Sauternes could display its classification on the label, especially given its ranking as the single Premier Cru Supérieur in the entire region. Whilst the flurry of excitement surrounding the 1855 classification of the Médoc's great red wines was ongoing, the numerous brokers of the region set about forging their own system for the sweet wines further south.
Chateau d'Yquem was owned by the King of England. It is now no less regal; widely considered the best Sauternes and arguably the world's best sweet wine. LVMH bought half its shares in 1996 and the rest in 2004, naming Pierre Lurton as manager. Nine First Growths were created, but only one "Superior First Growth" was anointed - Château d'Yquem. Clearly, the powers that be at this mythical estate decided long ago that displaying their unchallenged superiority for all the world to see was beneath them.
As much passion and commitment the great red wine producers of Bordeaux pour into their craft, none will ever match the sacrifice and unrelenting dedication required to produce this most famous of sweet white wines. Located in the heart of Sauternes, perched atop the highest hill in the area, the team at Yquem have a Herculean task every year. Of the 189 hectares of land which comprise the estate, 64 are fallow at all times. Of the 125 deemed worthy of vines, only 100 are used for the Grand Vin – only half of Yquem is actually used to produce its Sauternes, even before the stringent selection process. In fact, so stringent is this selection process, and so aggressively are the vines pruned, that whereas a red wine producer will make around a bottle per vine, Yquem makes a single glass!