Clemens Busch
About Clemens Busch
A dynamic duo that have revolutionised their Punderich vineyards in the Mosel Valley, Rita and Clemens Busch have established their 'organic domain among the finest Riesling producers in all of Germany' in the opinion of the Wine Advocate's Stephan Reinhardt.
Now considered a biodynamic winemaking pioneer in Germany, when starting out in the 1970s Clemens Busch was already questioning the use of herbicides and reducing the sulphur levels in his wines.
When Clemens inherited his parents' winery and vineyards in 1984, he and Rita had the chance to put these ideas into practice and have never looked back. Charming and self-effacing, Clemens' winemaking is honest and refined, producing wines that are pure expressions of their terroir.
Having gained a cult-like following from the world over, they have been recognized as a member of the prestigious VDP organisation of the top producers in Germany since 2007. Perhaps the essence of Clemens Busch is best summed up in Falstaff's commendation in awarding Clemens Busch the Collection of the Year award (2020):
"Busch's ability to produce seven plot-specific GGs from a single vineyard is unparalleled in German viticulture, and every single one of these wines is a special wine in its own right, and is brought to its optimum expression with great attention to detail, with viticultural precision and a sense of style." Ulrich Sautter, Editor-In-Chief, Falstaff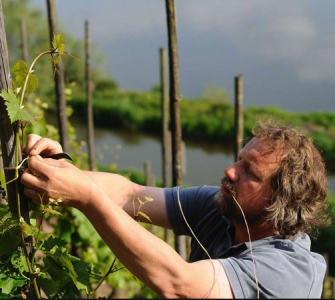 Prices:
Product Name
Region
Qty
Score
Price
Mosel
1
98 (JS)

Inc. VAT

£318.47

James Suckling (98)

Here comes the boss! The dense grapefruit, rosemary and thyme nose pulls you inexorably into the orbit of this rich and concentrated dry riesling that has enveloping,salty minerality. And, in spite of all this, it is laser-beam bright and has white-flower delicacy at the very deep finish. From 110-year-old vines. From biodynamically grown grapes with Respekt certification. Drinkable now, but best from 2023.

More Info

Mosel
1
98 (JS)

Inc. VAT

£374.87

James Suckling (98)

If you thought you knew what peaches smell and taste like, then think again. At first there's a touch of bready character form long sur-lie maturation, but then the most ravishing peach aroma develops, plus notes of wild rose, orange and jasmine. Super-elegant on the ripe yet extremely precise palate. The peachy beauty only expands and expands at the breathtaking finish. From biodynamically grown grapes with Respekt certification. Drink or hold.

More Info

Mosel
1
99 (WA)

Inc. VAT

£533.27

Wine Advocate (99)

The 2020 Marienburg Felsterrasse offers perfectly ripe and concentrated yet refined, finely slatey and perfectly ripe fruit aromas with delicate lemon juice and herbal aromas. A stunning beauty! Silky, crystalline, lush and intense yet highly finessed and elegant on the palate, this is a full-bodied, rich and very intense yet playful, saline and finessed Riesling with power and concentration and a very long, hedonistic yet always elegant and balanced finish. 13% stated alcohol. Natural cork. Tasted at the domaine in July 2022.

More Info

Mosel
1
99 (JS)

Inc. VAT

£688.07

James Suckling (99)

Essence of Mosel wine here, which immediately conjures up an image of tiny riesling grapes that have turned a perfect golden color in the autumn sun. Then, on the extremely rich and refined palate, comes a gigantic wave of minerality that sweeps you away. Enormously long finish of almost overwhelming beauty. Just doesn't want to stop. From biodynamically grown grapes with Respekt certification. Drink or hold.

More Info

Mosel
1
94 (WA)

Inc. VAT

£181.67

Wine Advocate (94)

Bottled in mid-August, the 2019 Marienburg GG is very concentrated and rich on the elegant, aromatic, almost oily and very dense (mirabelle) nose. Pure and enormously salty on the palate, this is full-bodied, rich, elegant and silky-textured Marienburg with well-dosed poser on the lean, crystalline, persistently salty and sustainable finish. From vines that are 30+ years old on gray slate. Tasted at the domain in September 2020.

More Info

Mosel
1
19 (JR)

Inc. VAT

£308.87

Jancis Robinson (19)

Aromas of green and yellow fruit mix it with flinty minerality. The palate shows a little more fruit than the straight Marienburg, grapefruit with peel and pith, but without any tropical aspirations. Nuances of salt and quinine give an almost medicinal tang, but a generous texture makes the medicine go down without any resistance. Very cool, the essence of mineral Riesling.

More Info
Product Name
Region
Qty
Score
Price
Mosel
1
98 (JS)

In Bond

£252.00

James Suckling (98)

Here comes the boss! The dense grapefruit, rosemary and thyme nose pulls you inexorably into the orbit of this rich and concentrated dry riesling that has enveloping,salty minerality. And, in spite of all this, it is laser-beam bright and has white-flower delicacy at the very deep finish. From 110-year-old vines. From biodynamically grown grapes with Respekt certification. Drinkable now, but best from 2023.

More Info

Mosel
1
98 (JS)

In Bond

£299.00

James Suckling (98)

If you thought you knew what peaches smell and taste like, then think again. At first there's a touch of bready character form long sur-lie maturation, but then the most ravishing peach aroma develops, plus notes of wild rose, orange and jasmine. Super-elegant on the ripe yet extremely precise palate. The peachy beauty only expands and expands at the breathtaking finish. From biodynamically grown grapes with Respekt certification. Drink or hold.

More Info

Mosel
1
99 (WA)

In Bond

£431.00

Wine Advocate (99)

The 2020 Marienburg Felsterrasse offers perfectly ripe and concentrated yet refined, finely slatey and perfectly ripe fruit aromas with delicate lemon juice and herbal aromas. A stunning beauty! Silky, crystalline, lush and intense yet highly finessed and elegant on the palate, this is a full-bodied, rich and very intense yet playful, saline and finessed Riesling with power and concentration and a very long, hedonistic yet always elegant and balanced finish. 13% stated alcohol. Natural cork. Tasted at the domaine in July 2022.

More Info

Mosel
1
99 (JS)

In Bond

£560.00

James Suckling (99)

Essence of Mosel wine here, which immediately conjures up an image of tiny riesling grapes that have turned a perfect golden color in the autumn sun. Then, on the extremely rich and refined palate, comes a gigantic wave of minerality that sweeps you away. Enormously long finish of almost overwhelming beauty. Just doesn't want to stop. From biodynamically grown grapes with Respekt certification. Drink or hold.

More Info

Mosel
1
94 (WA)

In Bond

£138.00

Wine Advocate (94)

Bottled in mid-August, the 2019 Marienburg GG is very concentrated and rich on the elegant, aromatic, almost oily and very dense (mirabelle) nose. Pure and enormously salty on the palate, this is full-bodied, rich, elegant and silky-textured Marienburg with well-dosed poser on the lean, crystalline, persistently salty and sustainable finish. From vines that are 30+ years old on gray slate. Tasted at the domain in September 2020.

More Info

Mosel
1
19 (JR)

In Bond

£244.00

Jancis Robinson (19)

Aromas of green and yellow fruit mix it with flinty minerality. The palate shows a little more fruit than the straight Marienburg, grapefruit with peel and pith, but without any tropical aspirations. Nuances of salt and quinine give an almost medicinal tang, but a generous texture makes the medicine go down without any resistance. Very cool, the essence of mineral Riesling.

More Info