Romano Dal Forno
About Romano Dal Forno
Romano Dal Forno may well be the single hardest-working vigneron in Italy. It is certainly an accolade bestowed upon him by fellow winemakers in the fabulous region of Veneto, from which the imperious Dal Forno produces a range of simply transcendent expressions of the Corvina and Rondinella varietals. A peer in the region once said of Dal Forno; "the rest of us take vacations...but not Dal Forno. He works every day. He not only knows every bunch in his vineyard...he knows every grape!" - a remarkable testament to the man's dedication to his terroir and sensational wines, which sees him produce wines worthy of a place in the very finest cellars of the most discerning collectors.
Establishing his eponymous estate as (relatively) recently as the 1980s, Romano Dal Forno rapidly elevated his small eight-hectare holding to the very forefront of the revitalised wave of exciting winemaking in Veneto. Found in Illasi, technically outside the so-called "Zona Classico" of Valpolicella, this avant-garde producer has established a zealous following amongst the Italian cognoscere for, in particular, his breath-taking Amarone.
Viniculture
The speciality of Dal Forno, Amarone is the stuff of dreams for those who love powerful and structured wines of staggering concentration. An extreme labour of love, Dal Forno strictly selects only the very best Corvina grapes to be air-dried on racks for at least three months, and water content is drastically reduced before vinification thus concentrating sugars, tannins and intensity of flavour. This process of drying is within Dal Forno's control and produces a red wine of unrivalled richness, not sweetness. Upon completion of the air-drying, the wine undergoes initial fermentation in stainless steel followed by secondary, slower fermentation in an oak barrel which may last up to 18 months before bottling. Time-consuming and painfully expensive to vinify, one can begin to see why such monumental wine requires Dal Forno's Spartan work-ethic.
A step below the full Amarone is the unique Valpolicella. Naturally, every Amarone producer also crafts a Valpolicella – Dal Forno is not every Amarone producer. This style of wine from the leading estate is air-dried for some 45 days. The same liquid in any other Veneto bottle would be labelled Amarone, but not here...Romano Dal Forno demands the best for every single cuvée that bears his family name.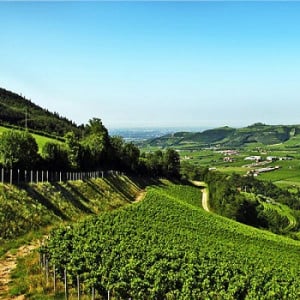 Name
Price Low
Price High
Year (Old)
Year (New)
Prices:
Product Name
Region
Qty
Score
Price

Veneto
1
98 (VN)

Inc. VAT

£2,017.81

Vinous (98)

The 2008 Amarone della Valpolicella is compelling. With a little air, the tannins begin to soften, releasing a myriad of intense dark aromas and flavors. Bittersweet chocolate, cloves, violets, plums and blackberry jam cover every inch of the palate in a stunning, headspinning Amarone that captures all of the best qualities of the year. When Romano Dal Forno's wines are on, there is nothing quite like them, and that is certainly the case here. If opened young, the 2008 needs a little air. Actually, a lot of air.

More Info

Veneto
9
99 (WA)

Inc. VAT

£1,014.70

Wine Advocate (99)

The Dal Forno family considered the idea of releasing their Amarone ten years after the harvest. If that plan had been implemented, this would be the vintage on the market now. The 2009 Amarone della Valpolicella Monte Lodoletta is a full and generous expression that delivers thick lines and robust flavors of dried blackberry, camphor ash, exotic cedar wood, licorice and tarry road pavement. This vintage saw average temperatures throughout the growing season with a few hailstorms along the way. Very dry weather led to some mild drought in July and August, with ensuing ripening and concentration of the clusters. I found this monumental wine to be irresistible when I first tasted it five years ago, and I consider it to have improved since then. This is one of the most complete and comprehensive vintages produced at Dal Forno, and it gives us an ample 360-degree view onto the might, brawn and potential of this icon wine from the Veneto. Its evolutionary track shows no sign of slowing down.

More Info

Veneto
1
98 (WA)

Inc. VAT

£1,774.56

Wine Advocate (98)

This is a deeply communicative and articulate wine that boasts immense power and persistence. The 2010 Amarone della Valpolicella Monte Lodoletta is a creation of enormous beauty and unflinching intensity. The wine speaks at loud volumes with black cherry, spice, tarry smoke, barbecue marinade and grilled rosemary. Those balsam notes add length and continuity to the bouquet. In the mouth, the wine is complete and penetrating. It wraps thickly over the palate to soothe and entice your taste buds. Yet there is enough crispness to keep it from feeling cloying or too heavy. There is a point of tannic astringency on the finish that will accompany this wine over the next decade of its aging evolution. For that reason, it's best to wait before popping the cork on this memorable vinous experience.

More Info

Veneto
2
99 (DC)

Inc. VAT

£851.12

Decanter (99)

The blend for this wine, whose fruit is dried for three months, is 55 per cent Corvina, 15 per cent Rondinella, 20 per cent Croatina and 10 per cent Oseleta; all the vines are at least 10 years old. A black wine, and a velvet nosebox: pressed black fruits, seeping with fruit essences; smoke and cinders; herbal complexities; teasing floral notes, too, to lighten the tone a little. The alcohol level on the label might lead you to expect a gobstopper – so you'll be taken aback by the fine-milled elegance of this wine, by its disposition and organization, by its fleet-footed elegance and freshness, even though its concentration, power and textural presence make it a wine of absolute authority. There isn't a trace of superfluous fat in the mid-palate – though it's tongue-coating, head-turning, inspiring: a gathering of sumptuous fruited energies. "It's very difficult to for my father to feel happy about any of his wines; he's very critical," said Michele. "But with this vintage, he didn't have anything to say."

More Info

Veneto
1
99 (DC)

Inc. VAT

£1,426.56

Decanter (99)

The blend for this wine, whose fruit is dried for three months, is 55 per cent Corvina, 15 per cent Rondinella, 20 per cent Croatina and 10 per cent Oseleta; all the vines are at least 10 years old. A black wine, and a velvet nosebox: pressed black fruits, seeping with fruit essences; smoke and cinders; herbal complexities; teasing floral notes, too, to lighten the tone a little. The alcohol level on the label might lead you to expect a gobstopper – so you'll be taken aback by the fine-milled elegance of this wine, by its disposition and organization, by its fleet-footed elegance and freshness, even though its concentration, power and textural presence make it a wine of absolute authority. There isn't a trace of superfluous fat in the mid-palate – though it's tongue-coating, head-turning, inspiring: a gathering of sumptuous fruited energies. "It's very difficult to for my father to feel happy about any of his wines; he's very critical," said Michele. "But with this vintage, he didn't have anything to say."

More Info

Veneto
6
97 (JS)

Inc. VAT

£1,517.76

James Suckling (97)

A decadent nose of treacle tart, chocolate, tar, tons of black fruit such as blackberries and mulberries and even ash and licorice. A dense, layered mouthfeel makes for a full-bodied palate that's explosive yet somehow so refined and pretty all at the same time. The finish goes on and on. Incredible now, but better to wait for this giant to settle well into 2020.

More Info

Veneto
17
98 (WA)

Inc. VAT

£1,386.19

Wine Advocate (98)

The 2013 Amarone della Valpolicella Monte Lodoletta is my favorite wine in the retrospective, along with the amazing 2011, 2009 and 1996 vintages. This wine was released at the beginning of this year, and because Dal Forno skipped over the 2014 vintage, this is the only Amarone we will see for a while (until the highly anticipated 2015 is released). The 2013 vintage is characterized by a slightly more streamlined mouthfeel (which isn't saying much given the baseline enormity of these wines) with carefully etched aromas of black cherry, rum cake, dark chocolate and toasted espresso. The 2013 vintage was balanced overall without the sudden heat waves we saw in the summers of 2011 and 2012. The grapes finished a slow and steady ripening process over an extended growing season. The effect is graceful and focused. Put this bottle aside in your cellar for the decades to come.

More Info

Veneto
1
100 (JS)

Inc. VAT

£1,149.48

James Suckling (100)

This is black as pitch in the glass and, yes, there's a light, tarry edge to the super-concentrated prune, date and currant fruit. But even more interesting are the complex notes of bitter-orange liqueur, aged balsamic, fresh roasting herbs, cinnamon, roasted chestnuts, black tea and licorice. The more you decant in advance, the more nuances will emerge. It's full-boded with huge concentration and lots of chewy tannin that is managing to hold the fruit back for now. This needs plenty of time to develop in the bottle. Just superb. One of the greatest Dal Forno's ever.

More Info

Veneto
1
100 (JS)

Inc. VAT

£1,826.16

James Suckling (100)

This is black as pitch in the glass and, yes, there's a light, tarry edge to the super-concentrated prune, date and currant fruit. But even more interesting are the complex notes of bitter-orange liqueur, aged balsamic, fresh roasting herbs, cinnamon, roasted chestnuts, black tea and licorice. The more you decant in advance, the more nuances will emerge. It's full-boded with huge concentration and lots of chewy tannin that is managing to hold the fruit back for now. This needs plenty of time to develop in the bottle. Just superb. One of the greatest Dal Forno's ever.

More Info

Veneto
1
97 (VN)

Inc. VAT

£895.51

Vinous (97)

With the 2016 still being held for release down the road as it slowly comes into focus, today it's the 2017 Amarone della Valpolicella Monte Lodoletta that is being released into the market. This is dark, sultry and almost animalistic in nature, as crushed fall leaves and earth tones open the experience, giving way to masses of macerated black cherries, cedar shavings, spiced cookies and a lifting hint of camphor. It floods the palate with velvety textures while maintaining fantastic energy, as stimulating acidity adds unexpected vibrancy, and tart wild berries slowly saturate. While structured, the tannins are sweet, and the wine remains remarkably fresh, almost crunchy, as an air of inner rose and balsam herbs slowly fades. Frankly, I can't believe the 2017 finished at 16% abv, because it is simply so palatable and charming.

More Info

Veneto
1
-

Inc. VAT

£927.10

Each case contains:

2 bottles of 1x75cl Romano Dal Forno Amarone della Valpolicella 2008 - 98 points | Eric Guido (Vinous)

1 bottle of 1x75cl Romano Dal Forno Amarone della Valpolicella 2009 - 99 points | Monica Larner (Wine Advocate)

More Info

Veneto
1
-

Inc. VAT

£1,367.09

Veneto
3
-

Inc. VAT

£549.89

Veneto
1
94 (VN)

Inc. VAT

£746.44

Vinous (94)

A dark, super-ripe wine, the 2008 Valpolicella Superiore is fabulous in this vintage. Smoke, tar, incense, licorice and blackberry jam hit the palate in a massive, intense Valpolicella loaded with class and personality. Even with all of the concentration, the 2008 is quite a bit less tannic than some recent vintages have been, which makes it accessible even today, especially if given a little air. There is a lot to admire in this drop-dead gorgeous Valpolicella from Romano Dal Forno.

More Info

Veneto
1
94 (JS)

Inc. VAT

£515.09

James Suckling (94)

A powerful and dense red with so much concentration of fruit and chocolate undertones. Hints of toasted oak. Full body and a velvety texture. Fantastic and dense red as usual. Drink now.

More Info

Veneto
11
97 (DC)

Inc. VAT

£559.24

Decanter (97)

From one of the most iconic wineries in the Orientale, this is aged for two years in oak and a further three in bottle. A proper meditation wine, great with game, strong cheeses or a cigar. It has a huge nose of stewed red fruits, ethereal bramble forest fruits and blackberry jam. Generous, with spicy, bitter cherry-stone freshness. Full-bodied with a rich, intense, spicy undertone.

More Info

Veneto
1
94 (VN)

Inc. VAT

£604.84

Vinous (94)

The 2014 is a unique rendition of Dal Forno's Valpolicella Superiore Monte Lodoletta. It's a remarkably pretty wine, displaying crushed ripe strawberries and plums with cinnamon, clove, vanilla bean and a cooling hint of mint. The textures are velvety, coating all that they touch in glycerol fruit concentration, yet somehow coming across as zesty and spry, contrasting weight with saturating notes of tart blackberry and savory spice. There's a bit of a lull in the midpalate, yet it hardly takes away from the experience. At times, the Monte Lodoletta can seem almost salty, especially through its long, mouthwatering finish, where hints of cherry pits and herbs linger. This atypical yet truly enjoyable expression is the result of the extremely difficult 2014 vintage, when hail damaged and reduced the crop in the lower-elevation vineyards, followed by rain from August through September. As a result, Dal Forno decided not to produce their Amarone, and to instead focus all of their attention on the Valpolicella. The result is a wine that no Dal Forno fan should miss, but be aware that production was down 30% from an average year.

More Info

Veneto
2
96 (JS)

Inc. VAT

£594.29

James Suckling (96)

Such a profound nose of fresh and dried fruit with blackcurrants, dates and prunes, together with lighter notes of mild spice and pomegranate seeds. The fresher elements provide the drive on the full palate and, together with very fine, bright, fine-grained tannins, give a long, chewy yet fresh and pruney finish. Hugely concentrated, but the balance and poise is impeccable. There's no denying the classic quality of this. Delicious to taste now, but this needs a few years to integrate. Try from 2025.

More Info

Veneto
4
95 (JS)

Inc. VAT

£668.69

James Suckling (95)

Pungent nose of violets, amarena cherries, dried figs and lightly charred oak. Some toffee notes emerge with air, together with more pressed flowers. Not so much full-bodied as full-flavored, with silky, fine and polished tannins. Very young and driven at the moment. Lacks the depth and complexity of more fortunate vintages, but still shows exceptional quality. Try from 2024.

More Info

Veneto
4
99 (WA)

Inc. VAT

£397.21

Wine Advocate (99)

The 2004 Passito Rosso Vino Dolce Vigna Seré (500-mililiter) is a masterpiece that is impossible to repeat. In fact, the wine has not been produced since 2004. Even if a vintage as good as this did come along, we'd need to wait another 13 years before we could enjoy this level of maturity and evolution. Formally a Recioto della Valpolicella, this sweet red wine is made with air-dried fruit as local tradition dictates. Luckily no botrytis set in that year, because that would have eroded the wine's deep and luscious color saturation. The bouquet delivers a generous flow of dark spice, bitter chocolate, espresso, raisin, plum, barbecue spice and teriyaki smoke. The concentration and layering of the wine are both rare and distinctive. The mouthfeel sees sweet flavors with a syrupy mouthfeel. The finish offers hints of caramelized brown sugar and savory hickory. The aging window is impossible to predict, but the wine is surely built to last. I can think of no other wine that comes close to matching this unique style.

More Info

Veneto
6
99 (WA)

Inc. VAT

£598.82

Wine Advocate (99)

The 2004 Passito Rosso Vino Dolce Vigna Seré (500-mililiter) is a masterpiece that is impossible to repeat. In fact, the wine has not been produced since 2004. Even if a vintage as good as this did come along, we'd need to wait another 13 years before we could enjoy this level of maturity and evolution. Formally a Recioto della Valpolicella, this sweet red wine is made with air-dried fruit as local tradition dictates. Luckily no botrytis set in that year, because that would have eroded the wine's deep and luscious color saturation. The bouquet delivers a generous flow of dark spice, bitter chocolate, espresso, raisin, plum, barbecue spice and teriyaki smoke. The concentration and layering of the wine are both rare and distinctive. The mouthfeel sees sweet flavors with a syrupy mouthfeel. The finish offers hints of caramelized brown sugar and savory hickory. The aging window is impossible to predict, but the wine is surely built to last. I can think of no other wine that comes close to matching this unique style.

More Info
Product Name
Region
Qty
Score
Price

Veneto
1
98 (VN)

In Bond

£1,658.00

Vinous (98)

The 2008 Amarone della Valpolicella is compelling. With a little air, the tannins begin to soften, releasing a myriad of intense dark aromas and flavors. Bittersweet chocolate, cloves, violets, plums and blackberry jam cover every inch of the palate in a stunning, headspinning Amarone that captures all of the best qualities of the year. When Romano Dal Forno's wines are on, there is nothing quite like them, and that is certainly the case here. If opened young, the 2008 needs a little air. Actually, a lot of air.

More Info

Veneto
9
99 (WA)

In Bond

£835.00

Wine Advocate (99)

The Dal Forno family considered the idea of releasing their Amarone ten years after the harvest. If that plan had been implemented, this would be the vintage on the market now. The 2009 Amarone della Valpolicella Monte Lodoletta is a full and generous expression that delivers thick lines and robust flavors of dried blackberry, camphor ash, exotic cedar wood, licorice and tarry road pavement. This vintage saw average temperatures throughout the growing season with a few hailstorms along the way. Very dry weather led to some mild drought in July and August, with ensuing ripening and concentration of the clusters. I found this monumental wine to be irresistible when I first tasted it five years ago, and I consider it to have improved since then. This is one of the most complete and comprehensive vintages produced at Dal Forno, and it gives us an ample 360-degree view onto the might, brawn and potential of this icon wine from the Veneto. Its evolutionary track shows no sign of slowing down.

More Info

Veneto
1
98 (WA)

In Bond

£1,457.00

Wine Advocate (98)

This is a deeply communicative and articulate wine that boasts immense power and persistence. The 2010 Amarone della Valpolicella Monte Lodoletta is a creation of enormous beauty and unflinching intensity. The wine speaks at loud volumes with black cherry, spice, tarry smoke, barbecue marinade and grilled rosemary. Those balsam notes add length and continuity to the bouquet. In the mouth, the wine is complete and penetrating. It wraps thickly over the palate to soothe and entice your taste buds. Yet there is enough crispness to keep it from feeling cloying or too heavy. There is a point of tannic astringency on the finish that will accompany this wine over the next decade of its aging evolution. For that reason, it's best to wait before popping the cork on this memorable vinous experience.

More Info

Veneto
2
99 (DC)

In Bond

£702.00

Decanter (99)

The blend for this wine, whose fruit is dried for three months, is 55 per cent Corvina, 15 per cent Rondinella, 20 per cent Croatina and 10 per cent Oseleta; all the vines are at least 10 years old. A black wine, and a velvet nosebox: pressed black fruits, seeping with fruit essences; smoke and cinders; herbal complexities; teasing floral notes, too, to lighten the tone a little. The alcohol level on the label might lead you to expect a gobstopper – so you'll be taken aback by the fine-milled elegance of this wine, by its disposition and organization, by its fleet-footed elegance and freshness, even though its concentration, power and textural presence make it a wine of absolute authority. There isn't a trace of superfluous fat in the mid-palate – though it's tongue-coating, head-turning, inspiring: a gathering of sumptuous fruited energies. "It's very difficult to for my father to feel happy about any of his wines; he's very critical," said Michele. "But with this vintage, he didn't have anything to say."

More Info

Veneto
1
99 (DC)

In Bond

£1,167.00

Decanter (99)

The blend for this wine, whose fruit is dried for three months, is 55 per cent Corvina, 15 per cent Rondinella, 20 per cent Croatina and 10 per cent Oseleta; all the vines are at least 10 years old. A black wine, and a velvet nosebox: pressed black fruits, seeping with fruit essences; smoke and cinders; herbal complexities; teasing floral notes, too, to lighten the tone a little. The alcohol level on the label might lead you to expect a gobstopper – so you'll be taken aback by the fine-milled elegance of this wine, by its disposition and organization, by its fleet-footed elegance and freshness, even though its concentration, power and textural presence make it a wine of absolute authority. There isn't a trace of superfluous fat in the mid-palate – though it's tongue-coating, head-turning, inspiring: a gathering of sumptuous fruited energies. "It's very difficult to for my father to feel happy about any of his wines; he's very critical," said Michele. "But with this vintage, he didn't have anything to say."

More Info

Veneto
6
97 (JS)

In Bond

£1,243.00

James Suckling (97)

A decadent nose of treacle tart, chocolate, tar, tons of black fruit such as blackberries and mulberries and even ash and licorice. A dense, layered mouthfeel makes for a full-bodied palate that's explosive yet somehow so refined and pretty all at the same time. The finish goes on and on. Incredible now, but better to wait for this giant to settle well into 2020.

More Info

Veneto
17
98 (WA)

In Bond

£1,134.00

Wine Advocate (98)

The 2013 Amarone della Valpolicella Monte Lodoletta is my favorite wine in the retrospective, along with the amazing 2011, 2009 and 1996 vintages. This wine was released at the beginning of this year, and because Dal Forno skipped over the 2014 vintage, this is the only Amarone we will see for a while (until the highly anticipated 2015 is released). The 2013 vintage is characterized by a slightly more streamlined mouthfeel (which isn't saying much given the baseline enormity of these wines) with carefully etched aromas of black cherry, rum cake, dark chocolate and toasted espresso. The 2013 vintage was balanced overall without the sudden heat waves we saw in the summers of 2011 and 2012. The grapes finished a slow and steady ripening process over an extended growing season. The effect is graceful and focused. Put this bottle aside in your cellar for the decades to come.

More Info

Veneto
1
100 (JS)

In Bond

£947.00

James Suckling (100)

This is black as pitch in the glass and, yes, there's a light, tarry edge to the super-concentrated prune, date and currant fruit. But even more interesting are the complex notes of bitter-orange liqueur, aged balsamic, fresh roasting herbs, cinnamon, roasted chestnuts, black tea and licorice. The more you decant in advance, the more nuances will emerge. It's full-boded with huge concentration and lots of chewy tannin that is managing to hold the fruit back for now. This needs plenty of time to develop in the bottle. Just superb. One of the greatest Dal Forno's ever.

More Info

Veneto
1
100 (JS)

In Bond

£1,500.00

James Suckling (100)

This is black as pitch in the glass and, yes, there's a light, tarry edge to the super-concentrated prune, date and currant fruit. But even more interesting are the complex notes of bitter-orange liqueur, aged balsamic, fresh roasting herbs, cinnamon, roasted chestnuts, black tea and licorice. The more you decant in advance, the more nuances will emerge. It's full-boded with huge concentration and lots of chewy tannin that is managing to hold the fruit back for now. This needs plenty of time to develop in the bottle. Just superb. One of the greatest Dal Forno's ever.

More Info

Veneto
1
97 (VN)

In Bond

£736.00

Vinous (97)

With the 2016 still being held for release down the road as it slowly comes into focus, today it's the 2017 Amarone della Valpolicella Monte Lodoletta that is being released into the market. This is dark, sultry and almost animalistic in nature, as crushed fall leaves and earth tones open the experience, giving way to masses of macerated black cherries, cedar shavings, spiced cookies and a lifting hint of camphor. It floods the palate with velvety textures while maintaining fantastic energy, as stimulating acidity adds unexpected vibrancy, and tart wild berries slowly saturate. While structured, the tannins are sweet, and the wine remains remarkably fresh, almost crunchy, as an air of inner rose and balsam herbs slowly fades. Frankly, I can't believe the 2017 finished at 16% abv, because it is simply so palatable and charming.

More Info

Veneto
1
-

In Bond

£762.00

Each case contains:

2 bottles of 1x75cl Romano Dal Forno Amarone della Valpolicella 2008 - 98 points | Eric Guido (Vinous)

1 bottle of 1x75cl Romano Dal Forno Amarone della Valpolicella 2009 - 99 points | Monica Larner (Wine Advocate)

More Info

Veneto
1
-

In Bond

£1,120.00

Veneto
3
-

In Bond

£439.00

Veneto
1
94 (VN)

In Bond

£606.00

Vinous (94)

A dark, super-ripe wine, the 2008 Valpolicella Superiore is fabulous in this vintage. Smoke, tar, incense, licorice and blackberry jam hit the palate in a massive, intense Valpolicella loaded with class and personality. Even with all of the concentration, the 2008 is quite a bit less tannic than some recent vintages have been, which makes it accessible even today, especially if given a little air. There is a lot to admire in this drop-dead gorgeous Valpolicella from Romano Dal Forno.

More Info

Veneto
1
94 (JS)

In Bond

£410.00

James Suckling (94)

A powerful and dense red with so much concentration of fruit and chocolate undertones. Hints of toasted oak. Full body and a velvety texture. Fantastic and dense red as usual. Drink now.

More Info

Veneto
11
97 (DC)

In Bond

£450.00

Decanter (97)

From one of the most iconic wineries in the Orientale, this is aged for two years in oak and a further three in bottle. A proper meditation wine, great with game, strong cheeses or a cigar. It has a huge nose of stewed red fruits, ethereal bramble forest fruits and blackberry jam. Generous, with spicy, bitter cherry-stone freshness. Full-bodied with a rich, intense, spicy undertone.

More Info

Veneto
1
94 (VN)

In Bond

£488.00

Vinous (94)

The 2014 is a unique rendition of Dal Forno's Valpolicella Superiore Monte Lodoletta. It's a remarkably pretty wine, displaying crushed ripe strawberries and plums with cinnamon, clove, vanilla bean and a cooling hint of mint. The textures are velvety, coating all that they touch in glycerol fruit concentration, yet somehow coming across as zesty and spry, contrasting weight with saturating notes of tart blackberry and savory spice. There's a bit of a lull in the midpalate, yet it hardly takes away from the experience. At times, the Monte Lodoletta can seem almost salty, especially through its long, mouthwatering finish, where hints of cherry pits and herbs linger. This atypical yet truly enjoyable expression is the result of the extremely difficult 2014 vintage, when hail damaged and reduced the crop in the lower-elevation vineyards, followed by rain from August through September. As a result, Dal Forno decided not to produce their Amarone, and to instead focus all of their attention on the Valpolicella. The result is a wine that no Dal Forno fan should miss, but be aware that production was down 30% from an average year.

More Info

Veneto
2
96 (JS)

In Bond

£476.00

James Suckling (96)

Such a profound nose of fresh and dried fruit with blackcurrants, dates and prunes, together with lighter notes of mild spice and pomegranate seeds. The fresher elements provide the drive on the full palate and, together with very fine, bright, fine-grained tannins, give a long, chewy yet fresh and pruney finish. Hugely concentrated, but the balance and poise is impeccable. There's no denying the classic quality of this. Delicious to taste now, but this needs a few years to integrate. Try from 2025.

More Info

Veneto
4
95 (JS)

In Bond

£538.00

James Suckling (95)

Pungent nose of violets, amarena cherries, dried figs and lightly charred oak. Some toffee notes emerge with air, together with more pressed flowers. Not so much full-bodied as full-flavored, with silky, fine and polished tannins. Very young and driven at the moment. Lacks the depth and complexity of more fortunate vintages, but still shows exceptional quality. Try from 2024.

More Info

Veneto
4
99 (WA)

In Bond

£327.00

Wine Advocate (99)

The 2004 Passito Rosso Vino Dolce Vigna Seré (500-mililiter) is a masterpiece that is impossible to repeat. In fact, the wine has not been produced since 2004. Even if a vintage as good as this did come along, we'd need to wait another 13 years before we could enjoy this level of maturity and evolution. Formally a Recioto della Valpolicella, this sweet red wine is made with air-dried fruit as local tradition dictates. Luckily no botrytis set in that year, because that would have eroded the wine's deep and luscious color saturation. The bouquet delivers a generous flow of dark spice, bitter chocolate, espresso, raisin, plum, barbecue spice and teriyaki smoke. The concentration and layering of the wine are both rare and distinctive. The mouthfeel sees sweet flavors with a syrupy mouthfeel. The finish offers hints of caramelized brown sugar and savory hickory. The aging window is impossible to predict, but the wine is surely built to last. I can think of no other wine that comes close to matching this unique style.

More Info

Veneto
6
99 (WA)

In Bond

£491.00

Wine Advocate (99)

The 2004 Passito Rosso Vino Dolce Vigna Seré (500-mililiter) is a masterpiece that is impossible to repeat. In fact, the wine has not been produced since 2004. Even if a vintage as good as this did come along, we'd need to wait another 13 years before we could enjoy this level of maturity and evolution. Formally a Recioto della Valpolicella, this sweet red wine is made with air-dried fruit as local tradition dictates. Luckily no botrytis set in that year, because that would have eroded the wine's deep and luscious color saturation. The bouquet delivers a generous flow of dark spice, bitter chocolate, espresso, raisin, plum, barbecue spice and teriyaki smoke. The concentration and layering of the wine are both rare and distinctive. The mouthfeel sees sweet flavors with a syrupy mouthfeel. The finish offers hints of caramelized brown sugar and savory hickory. The aging window is impossible to predict, but the wine is surely built to last. I can think of no other wine that comes close to matching this unique style.

More Info
Name
Price Low
Price High
Year (Old)
Year (New)