Domaine Belle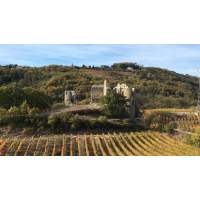 About Domaine Belle
Nestled in the Larange commune of Crozes-Hermitage, the land upon which Domaine Belle currently sits was originally owned by the Lord of Larange some 500 years ago. Gifting small plots of vines to villagers with the intention of enabling them to produce their own wine, there has been a strong tradition of vinous pursuits in the area for a very long time indeed.
More recently (in the grand scheme of things!), Louis Belle purchased the estate as we know it in the 1930s. An exceedingly keen and talented horticulturalists, Louis had little interest in winemaking itself, preferring instead to pour his efforts into nurturing incredible grapes to be sent to the famous Tain l'Hermitage cooperative, of which he was the founder. Whilst his son Albert, taking over the estate in the 1970s, was more enthused by the prospect of turning the fruits of their labour into gorgeous expressions of the Northern Rhône, it was not until 1990 when third-generation Philippe Belle returned from university with an oenology degree that Domaine Belle was actually formed.
A young Domaine in the context of the mighty and ancient producers of the Rhône, Domaine Belle hasn't wasted a single one of its 31 years of existence in catching up to the very grandest of its rivals. Drawing more than a few admiring glances from those with their fingers on the pulse of the Northern Rhône, this is a young label making waves in its appellation. From their winery in Crozes-Hermitage, Philippe Belle has now been joined by son Guillaume – the third and fourth generations of Domaine Belle have guided their estate to an ascension which sees it sit amongst the very best of the Northern Rhône.