Dominus
About Dominus
The far-sighted Christian Moueix (owner of Pétrus and Trotanoy) started acquiring the Dominus estate in 1982. The son of a wine merchant, Charles Moueix first fell in love with the Napa Valley in the late 1960s, finally reaching full ownership of the 124-acre Napanook vineyard in 1995.
Dominus is based around the famous Napanook vineyard on the edge of the Mayacamas Mountains. George C. Yount, the founder of Yountville, planted the first vines here in 1836 on the location of the current Inglenook vineyard. Dominus Estate's flagship red is predominantly Cabernet Sauvignon with some Petit Verdot and Cabernet Franc.
During the period of Moueix ownership, Dominus has emerged as one of the very top Napa Valley reds. Scoring four 100-point scores from Wine Advocate since 1983. These wines always have exceptional ageing potential.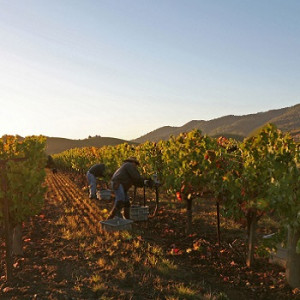 Name
Price Low
Price High
Year (Old)
Year (New)
Prices:
Product Name
Region
Qty
Score
Price

California
1
99 (WA)

Inc. VAT

£3,727.66

Wine Advocate (99)

Christian Moueix and his talented winemaking team continue to rewrite the definition of a Napa Valley reference point wine. I have had a difficult time keeping the corks in my bottles of 1994 Dominus. Eight-thousand cases were produced from a blend of 70% Cabernet Sauvignon, 14% Cabernet Franc, 12% Merlot, and 4% Petit Verdot. In this vintage, 174 days passed between bud break and the harvest, a remarkable period of time for any wine region in the world. The 1994 is a strikingly thick, compellingly rich wine with the texture of a great Pomerol, despite being made primarily from Cabernet Sauvignon. The wine exhibits a dense purple color, and an incredibly fragrant nose of jammy black fruits, spice, smoke, and loamy, truffle-like scents. In the mouth, it is full-bodied, with thrilling levels of extract and richness, but no sense of heaviness or harshness. This seamless Dominus possesses no hard edges, as its acidity, tannin, and alcohol are beautifully meshed with copious quantities of ripe fruit. This wine offers early drinking, yet has the potential to last for 30+ years.

More Info

California
1
95 (VN)

Inc. VAT

£1,632.04

Vinous (95)

Saturated ruby-red. Multidimensional nose offers a panoply of scents: black plum, currant, leather, smoked meat, cigar ash, lead pencil, sandalwood, dark chocolate, licorice, brown sugar. Very bright and sharply defined; flavors of plum, leather, hot stones and lead pencil. An impeccably balanced wine of compelling sweetness, but rather dominated today by its structure. Strong, thoroughly ripe tannins spread out to coat the entire palate. Very long and subtle. This was bottled last June, a couple months later than the Napanook wine.

More Info

California
1
91 (WS)

Inc. VAT

£342.25

Wine Spectator (91)

Earthy, elegant and refined Cabernet blend, delivering layers of currant, tar, black cherry, cedar, coffee and anise, all sharply focused and framed by just the right amount of tannin. Drink now through 2009. 6,000 cases made. -JL

More Info

California
1
91 (WS)

Inc. VAT

£1,703.09

Wine Spectator (91)

Earthy, elegant and refined Cabernet blend, delivering layers of currant, tar, black cherry, cedar, coffee and anise, all sharply focused and framed by just the right amount of tannin. Drink now through 2009. 6,000 cases made. -JL

More Info

California
1
95 (WS)

Inc. VAT

£2,461.49

Wine Spectator (95)

A wine of great intensity, depth and complexity. Beautifully crafted, ripe, rich and creamy, showing off pretty vanilla and mocha-scented oak before a deep core of currant, blackberry, black cherry and minerally flavors fold in. Firm tannins add structure on the finish. Cabernet Sauvignon, Cabernet Franc, Merlot and Petit Verdot. Best from 2004 through 2014. 7,000 cases made.

More Info

California
2
98 (WA)

Inc. VAT

£2,212.84

Wine Advocate (98)

A brilliant showing for Christian Moueix's well-known Napanook Vineyard, the 2001 Dominus is a blend of 81% Cabernet Sauvignon, 5% Merlot, 4% Cabernet Franc and 10% Petit Verdot. A classic in the making, this is a flawless, seamless example of elegant, complex Napa Cabernet Sauvignon that possesses a Bordeaux-like personality. This gorgeous, sexy, opulent, dense ruby/purple-colored wine reveals sweet caramel, mocha, creme de cassis and kirsch notes intermixed with a hint of espresso roast as well as underbrush. Ripe, long and full-bodied with well-integrated tannin, acidity, alcohol and wood, this prodigious 2001 is drinkable now and over the next 25+ years given this estate's longevity track record. A virtually perfect wine, it is one of the most complex 2001s at present.

More Info

California
1
99 (WA)

Inc. VAT

£2,386.84

Wine Advocate (99)

This 2002 was virtually perfect when I tasted it in early May. Even better than I predicted seven years ago, this 4,500-case blend of 85% Cabernet Sauvignon, 8% Cabernet Franc and the rest Petit Verdot and Merlot has blossomed beautifully, revealing even greater intensity and potential than I predicted. A flawless, seamless integration of tannin, wood, alcohol and acidity is found in this dense, plum/purple-colored Dominus, along with copious notes of sweet black currants interwoven with kirsch, forest floor, unsmoked cigar tobacco, new saddle leather and forest floor. Full-bodied with velvety tannins, stunning elegance and a 45-second finish, this sensational 2002 rivals two of the all-time great wines made at Dominus, 1991 and 1994. It is hard to believe that proprietor Christian Moueix's Dominus Estate has already celebrated its 25th anniversary and is moving toward 30 years with the 2012-2013 vintages. The 2002 will drink well for another 20 years.

More Info

California
3
95 (WA)

Inc. VAT

£1,348.84

Wine Advocate (95)

The 2003 Dominus is a blend of 88% Cabernet Sauvignon, 7% Cabernet Franc and 5% Petit Verdot (14.1% alcohol). Remarkably, it is the 20th vintage for Christian Moueix. Always a Bordeaux-inspired wine with restraint yet substance as well as a textured richness, the 2003 exhibits a deep plum/ruby/purple color, a creamy, opulent texture, no hard edges, and a wonderful sweetness of foresty, black currant and cherry fruit mixed with underbrush and hints of Chinese black tea. Well-proportioned and full-bodied, yet never over-stated or out of balance, this is another beauty from Moueix. Drink it over the next 15+ years.

More Info

California
2
97 (WA)

Inc. VAT

£1,731.64

Wine Advocate (97)

Like so many 2004s, the 2004 Dominus is a full-bodied wine showing brilliantly at age ten, with loads of complex cedar, kirsch, Christmas fruitcake, black currants and spice box. It has a creamy, opulent texture, but remains light on its feet. This sexy wine is showing exceptionally well and is best drunk over the next 10-15 years. Not one of the longest-lived wines from Dominus, but it is certainly at a wonderful point in its evolution right now.

More Info

California
1
98 (WA)

Inc. VAT

£1,600.84

Wine Advocate (98)

This blend of 92% Cabernet Sauvignon, 5% Cabernet Franc and 3% Petit Verdot (note that rarely is any Merlot utilized at the historic Napanook Estate in Yountville). The alcohol, by California standards, is a relatively modest 14.1%. Blending the best of French savoir faire with the brilliant fruit purity and ripeness of Napa Valley, Moueix has turned in another tour de force that seems far superior today than it did when it was first released. This is one of the vintage's greatest wines. Dense purple and youthful, with a glorious nose of earth, blackcurrants, sweet black cherries and incense, the oak is pushed way in the background, as it is in all of the Moueix wines, and the result is a wine of terroir, of great originality and authenticity. This full-bodied classic from Dominus can be drunk now, but really won't hit its prime for another 4-5 years and last at least another two decades or more.

More Info

California
1
96 (JS)

Inc. VAT

£1,348.84

James Suckling (96)

Starting to take on the tertiary character of ripe fruit and savory components with dusty tannins. Full and round with a lovely texture and a light salty, meaty and tobacco character. Forest floor. Sweet and sour. Just opening.

More Info

California
1
100 (WI)

Inc. VAT

£1,665.64

The Wine Independent (100)

A blend of 94% Cabernet Sauvignon, 3% Cabernet Franc, and 3% Petit Verdot, the 2007 Dominus has a deep garnet color. After a swirl or two, it explodes from the glass with notes of crème de cassis, blueberry preserves, stewed plums, and rose oil, followed by touches of Sichuan pepper, cinnamon toast, and forest floor, with a hint of crushed rocks. The full-bodied palate reveals an incredibly firm, yet approachable, structure of ripe, grainy tannins and bold freshness to support the dense, multilayered, slowly evolving black and blue fruits, finishing with a whole firework display of spices, floral notes, and minerals.

More Info

California
1
100 (WA)

Inc. VAT

£2,029.49

Wine Advocate (100)

Composed of 95% Cabernet Sauvignon and 5% Petit Verdot, the stunning, full-bodied 2010 Dominus boasts an exceptional perfume of hoisin sauce, licorice, underbrush, forest floor, plums, black currants and jammy cherries intertwined with hints of cedar, baking spices and oak. Full-bodied and voluptuously textured, the 2010 is on a slightly faster evolutionary track than the 2009 (somewhat of an anomaly for these two vintages). This exquisite as well as prodigious 2010 can be drunk young, but it should age effortlessly for 20-25 years. Bravo!

More Info

California
1
94 (VN)

Inc. VAT

£1,297.24

Vinous (94)

The 2011 Dominus is a bold, powerful wine. It opens with a huge bouquet redolent of dried herbs, licorice, spice, tobacco and espresso. Relative to most vintages of Dominus, the 2011 is a bit light, but compared to most wines of the year, it is pretty big! The cool, savory notes that are typical of the year are present, but not dominant, while the 2011 is marked by a distinctly red fruit profile.

More Info

California
24
99+ (JD)

Inc. VAT

£1,404.04

Jeb Dunnuck (99+)

Checking in as a blend of 93% Cabernet Sauvignon and the rest Petit Verdot and Cabernet Franc that hit 14.3% alcohol, the 2012 Dominus is a sensational wine that certainly ranks with the all-time greats of this cuvée and is reminiscent of the 1991. Ripe, flamboyant, and incredibly sexy, it nevertheless shows the classic style of this estate, has nothing out of place and just glides across the palate. Blackcurrants, tobacco leaf, cedar box, new leather, and an almost garrigue-like character all emerge from this full-bodied, silky, seamless effort that has fine tannin, perfectly integrated acidity, tannins, alcohol, and a great, great finish. Drink it any time over the coming 2-3 decades. It's a tour de force in Napa Valley Cabernet Sauvignon and one of the greats.

More Info

California
3
100 (WA)

Inc. VAT

£641.05

Wine Advocate (100)

The 2013 Dominus is, to my way of thinking, one of the most profound wines Christian Moueix has yet made in his rather brilliant winemaking history, both in France and in Napa Valley. This wine, with very low yields of only 3,500 cases and a final blend of 89% Cabernet Sauvignon, 7% Petit Verdot and 4% Cabernet Franc, offers up notes of cedar wood, forest floor, loamy soil and oodles of blackberry and blackcurrant fruit. Very opaque purple in color, super-pure and intense, this wine has low acidity, but ripe, noticeable tannins. This is a 30- to 40-year wine and a profound effort from this famous vineyard in Yountville. Drink it over the next 40+ years.

More Info

California
30
97 (WA)

Inc. VAT

£1,246.84

Wine Advocate (97)

The 2014s, where the production of Napanook was only 2,200 cases and Dominus slightly more than the 2015 at 4,000 cases, was another early harvest, although somewhat later than 2015. The 2014 Dominus, which is 86% Cabernet Sauvignon, 7% Cabernet Franc and 7% Petit Verdot really struts its stuff. Moueix's belief in dry farming seems to be paying off with stronger and stronger vintages, each successive year, and the 2014 is a sexy, opulent, layered, multidimensional wine with notes of red and blackcurrant, cedar wood, tobacco leaf , spice box and licorice. The color is a dense plum/ruby/purple, much like the Napanook. This is a beauty that is already drinking gorgeously – as most 2014s are – and will continue to evolve for 25 or so years.

More Info

California
1
100 (JD)

Inc. VAT

£1,729.24

Jeb Dunnuck (100)

The 2015 Dominus is a flawless, perfect wine as well as a legend in the making. A blend of 86% Cabernet Sauvignon, 9% Petit Verdot and the rest Cabernet Franc, from dry-farmed vines and brought up in just 40% new French oak, its ruby/purple color is followed by an extraordinary bouquet of blackcurrants, crème de cassis, damp earth, smoke tobacco, and spring flowers. Reminding me of the 2015 Château Margaux with its incredible mix of elegance and power, this beauty hits the palate with full-bodied richness, stunning purity of fruit, building tannins, and awesome length. This sensational textured and voluptuous Dominus drink well today yet will evolve for 25-30 years or more.

More Info

California
1
100 (WA)

Inc. VAT

£1,718.44

Wine Advocate (100)

A blend of 84% Cabernet Sauvignon, 8% Petit Verdot and 8% Cabernet Franc aged in 40% new oak, the 2016 Proprietary Red Wine is deep purple-black in color and quite reticent at this youthful stage to begin, offering up subtle notions of potpourri, Indian spices, cigar box and iron ore over a core of crushed blackberries and black cherries with intermittent wafts of black and red currants, new leather and smoked meats. The palate is medium to full-bodied with a densely packed mid-palate and oodles of freshness framed by very ripe, finely grained tannins and laced with compelling earthy accents. It offers incredible vibrancy with tons of black and red fruit sparkle in the mid-palate leading to a provocative mineral element on the very long finish. If I could give more than 100 for this one, I would. To be released in May 2019.

More Info

California
1
98+ (VN)

Inc. VAT

£1,094.20

Vinous (98+)

The 2017 Dominus is one of the truly epic, grand wines of the vintage. Rich, dense and explosive, with tremendous concentration and sheer power, the 2017 Dominus captures all the personality of this site along with the natural opulence of the year. Inky dark fruit, lavender, menthol, licorice, plum, gravel and a host of dark spice notes infuse the 2017 with seemingly endless layers of nuance. Over the last two years I have tasted several hundred Napa Valley Cabernets, both from barrel and bottle. There is no question that Dominus belongs among the elite in 2017; it is simply a breathtaking wine. Certainly readers looking for a Napa Valley Cabernet to cellar should put Dominus at the top of their lists.

More Info

California
2
98+ (VN)

Inc. VAT

£1,394.69

Vinous (98+)

The 2017 Dominus is one of the truly epic, grand wines of the vintage. Rich, dense and explosive, with tremendous concentration and sheer power, the 2017 Dominus captures all the personality of this site along with the natural opulence of the year. Inky dark fruit, lavender, menthol, licorice, plum, gravel and a host of dark spice notes infuse the 2017 with seemingly endless layers of nuance. Over the last two years I have tasted several hundred Napa Valley Cabernets, both from barrel and bottle. There is no question that Dominus belongs among the elite in 2017; it is simply a breathtaking wine. Certainly readers looking for a Napa Valley Cabernet to cellar should put Dominus at the top of their lists.

More Info

California
3
98+ (VN)

Inc. VAT

£1,203.89

Vinous (98+)

The 2017 Dominus is one of the truly epic, grand wines of the vintage. Rich, dense and explosive, with tremendous concentration and sheer power, the 2017 Dominus captures all the personality of this site along with the natural opulence of the year. Inky dark fruit, lavender, menthol, licorice, plum, gravel and a host of dark spice notes infuse the 2017 with seemingly endless layers of nuance. Over the last two years I have tasted several hundred Napa Valley Cabernets, both from barrel and bottle. There is no question that Dominus belongs among the elite in 2017; it is simply a breathtaking wine. Certainly readers looking for a Napa Valley Cabernet to cellar should put Dominus at the top of their lists.

More Info

California
4
100 (JS)

Inc. VAT

£617.60

James Suckling (100)

This is incredible on the nose, offering hot stones, blackcurrants, iodine and wet earth. Full-bodied with a tight center palate, then it opens with a tannin structure that is weightless and spreads across the palate. Totally integrated on the palate. This is a magic-carpet wine. Really incredible. One of the reference points for the vintage. Drinkable now and please try a bottle, but it's one for the cellar.

More Info

California
1
100 (JS)

Inc. VAT

£1,993.24

James Suckling (100)

This is incredible on the nose, offering hot stones, blackcurrants, iodine and wet earth. Full-bodied with a tight center palate, then it opens with a tannin structure that is weightless and spreads across the palate. Totally integrated on the palate. This is a magic-carpet wine. Really incredible. One of the reference points for the vintage. Drinkable now and please try a bottle, but it's one for the cellar.

More Info

California
1
100 (JS)

Inc. VAT

£1,600.84

James Suckling (100)

This is incredible on the nose, offering hot stones, blackcurrants, iodine and wet earth. Full-bodied with a tight center palate, then it opens with a tannin structure that is weightless and spreads across the palate. Totally integrated on the palate. This is a magic-carpet wine. Really incredible. One of the reference points for the vintage. Drinkable now and please try a bottle, but it's one for the cellar.

More Info

California
1
100 (WI)

Inc. VAT

£471.20

The Wine Independent (100)

Composed of 90% Cabernet Sauvignon, 4% Cabernet Franc, and 6% Petit Verdot, the 2019 Dominus was harvested from September 29 to October 10. It was aged in 40% new oak. Deep garnet-purple colored, the nose slowly unfurls to unveil beguiling floral notes of candied violets and rose oil over a core of crème de cassis, blackberry pie, and plum preserves, giving way to notions of licorice, Indian spices, iron ore, and crushed rocks. Full-bodied, the palate is jam-packed with taut, muscular black fruit layers, intertwined with gorgeous floral and exotic spice accents, and framed by firm, finely grained tannins with seamless freshness, finishing long and mineral-laced. Tightly coiled with so much latent energy waiting to explode, this is a spectacular expression of the vintage and Napanook vineyard. Still tightly coiled, give it a good 6-7 years in the cellar before broaching, and allow it a few hours in a decanter if consumed before 2032. 3500 cases were made, to be released in May 2022.

More Info

California
2
100 (WI)

Inc. VAT

£1,928.44

The Wine Independent (100)

Composed of 90% Cabernet Sauvignon, 4% Cabernet Franc, and 6% Petit Verdot, the 2019 Dominus was harvested from September 29 to October 10. It was aged in 40% new oak. Deep garnet-purple colored, the nose slowly unfurls to unveil beguiling floral notes of candied violets and rose oil over a core of crème de cassis, blackberry pie, and plum preserves, giving way to notions of licorice, Indian spices, iron ore, and crushed rocks. Full-bodied, the palate is jam-packed with taut, muscular black fruit layers, intertwined with gorgeous floral and exotic spice accents, and framed by firm, finely grained tannins with seamless freshness, finishing long and mineral-laced. Tightly coiled with so much latent energy waiting to explode, this is a spectacular expression of the vintage and Napanook vineyard. Still tightly coiled, give it a good 6-7 years in the cellar before broaching, and allow it a few hours in a decanter if consumed before 2032. 3500 cases were made, to be released in May 2022.

More Info

California
5
100 (WI)

Inc. VAT

£1,819.24 £1,579.24

The Wine Independent (100)

Composed of 90% Cabernet Sauvignon, 4% Cabernet Franc, and 6% Petit Verdot, the 2019 Dominus was harvested from September 29 to October 10. It was aged in 40% new oak. Deep garnet-purple colored, the nose slowly unfurls to unveil beguiling floral notes of candied violets and rose oil over a core of crème de cassis, blackberry pie, and plum preserves, giving way to notions of licorice, Indian spices, iron ore, and crushed rocks. Full-bodied, the palate is jam-packed with taut, muscular black fruit layers, intertwined with gorgeous floral and exotic spice accents, and framed by firm, finely grained tannins with seamless freshness, finishing long and mineral-laced. Tightly coiled with so much latent energy waiting to explode, this is a spectacular expression of the vintage and Napanook vineyard. Still tightly coiled, give it a good 6-7 years in the cellar before broaching, and allow it a few hours in a decanter if consumed before 2032. 3500 cases were made, to be released in May 2022.

More Info

California
1
-

Inc. VAT

£590.98

California
1
-

Inc. VAT

£758.47
Product Name
Region
Qty
Score
Price

California
1
99 (WA)

In Bond

£3,085.00

Wine Advocate (99)

Christian Moueix and his talented winemaking team continue to rewrite the definition of a Napa Valley reference point wine. I have had a difficult time keeping the corks in my bottles of 1994 Dominus. Eight-thousand cases were produced from a blend of 70% Cabernet Sauvignon, 14% Cabernet Franc, 12% Merlot, and 4% Petit Verdot. In this vintage, 174 days passed between bud break and the harvest, a remarkable period of time for any wine region in the world. The 1994 is a strikingly thick, compellingly rich wine with the texture of a great Pomerol, despite being made primarily from Cabernet Sauvignon. The wine exhibits a dense purple color, and an incredibly fragrant nose of jammy black fruits, spice, smoke, and loamy, truffle-like scents. In the mouth, it is full-bodied, with thrilling levels of extract and richness, but no sense of heaviness or harshness. This seamless Dominus possesses no hard edges, as its acidity, tannin, and alcohol are beautifully meshed with copious quantities of ripe fruit. This wine offers early drinking, yet has the potential to last for 30+ years.

More Info

California
1
95 (VN)

In Bond

£1,344.00

Vinous (95)

Saturated ruby-red. Multidimensional nose offers a panoply of scents: black plum, currant, leather, smoked meat, cigar ash, lead pencil, sandalwood, dark chocolate, licorice, brown sugar. Very bright and sharply defined; flavors of plum, leather, hot stones and lead pencil. An impeccably balanced wine of compelling sweetness, but rather dominated today by its structure. Strong, thoroughly ripe tannins spread out to coat the entire palate. Very long and subtle. This was bottled last June, a couple months later than the Napanook wine.

More Info

California
1
91 (WS)

In Bond

£282.00

Wine Spectator (91)

Earthy, elegant and refined Cabernet blend, delivering layers of currant, tar, black cherry, cedar, coffee and anise, all sharply focused and framed by just the right amount of tannin. Drink now through 2009. 6,000 cases made. -JL

More Info

California
1
91 (WS)

In Bond

£1,400.00

Wine Spectator (91)

Earthy, elegant and refined Cabernet blend, delivering layers of currant, tar, black cherry, cedar, coffee and anise, all sharply focused and framed by just the right amount of tannin. Drink now through 2009. 6,000 cases made. -JL

More Info

California
1
95 (WS)

In Bond

£2,032.00

Wine Spectator (95)

A wine of great intensity, depth and complexity. Beautifully crafted, ripe, rich and creamy, showing off pretty vanilla and mocha-scented oak before a deep core of currant, blackberry, black cherry and minerally flavors fold in. Firm tannins add structure on the finish. Cabernet Sauvignon, Cabernet Franc, Merlot and Petit Verdot. Best from 2004 through 2014. 7,000 cases made.

More Info

California
2
98 (WA)

In Bond

£1,828.00

Wine Advocate (98)

A brilliant showing for Christian Moueix's well-known Napanook Vineyard, the 2001 Dominus is a blend of 81% Cabernet Sauvignon, 5% Merlot, 4% Cabernet Franc and 10% Petit Verdot. A classic in the making, this is a flawless, seamless example of elegant, complex Napa Cabernet Sauvignon that possesses a Bordeaux-like personality. This gorgeous, sexy, opulent, dense ruby/purple-colored wine reveals sweet caramel, mocha, creme de cassis and kirsch notes intermixed with a hint of espresso roast as well as underbrush. Ripe, long and full-bodied with well-integrated tannin, acidity, alcohol and wood, this prodigious 2001 is drinkable now and over the next 25+ years given this estate's longevity track record. A virtually perfect wine, it is one of the most complex 2001s at present.

More Info

California
1
99 (WA)

In Bond

£1,973.00

Wine Advocate (99)

This 2002 was virtually perfect when I tasted it in early May. Even better than I predicted seven years ago, this 4,500-case blend of 85% Cabernet Sauvignon, 8% Cabernet Franc and the rest Petit Verdot and Merlot has blossomed beautifully, revealing even greater intensity and potential than I predicted. A flawless, seamless integration of tannin, wood, alcohol and acidity is found in this dense, plum/purple-colored Dominus, along with copious notes of sweet black currants interwoven with kirsch, forest floor, unsmoked cigar tobacco, new saddle leather and forest floor. Full-bodied with velvety tannins, stunning elegance and a 45-second finish, this sensational 2002 rivals two of the all-time great wines made at Dominus, 1991 and 1994. It is hard to believe that proprietor Christian Moueix's Dominus Estate has already celebrated its 25th anniversary and is moving toward 30 years with the 2012-2013 vintages. The 2002 will drink well for another 20 years.

More Info

California
3
95 (WA)

In Bond

£1,108.00

Wine Advocate (95)

The 2003 Dominus is a blend of 88% Cabernet Sauvignon, 7% Cabernet Franc and 5% Petit Verdot (14.1% alcohol). Remarkably, it is the 20th vintage for Christian Moueix. Always a Bordeaux-inspired wine with restraint yet substance as well as a textured richness, the 2003 exhibits a deep plum/ruby/purple color, a creamy, opulent texture, no hard edges, and a wonderful sweetness of foresty, black currant and cherry fruit mixed with underbrush and hints of Chinese black tea. Well-proportioned and full-bodied, yet never over-stated or out of balance, this is another beauty from Moueix. Drink it over the next 15+ years.

More Info

California
2
97 (WA)

In Bond

£1,427.00

Wine Advocate (97)

Like so many 2004s, the 2004 Dominus is a full-bodied wine showing brilliantly at age ten, with loads of complex cedar, kirsch, Christmas fruitcake, black currants and spice box. It has a creamy, opulent texture, but remains light on its feet. This sexy wine is showing exceptionally well and is best drunk over the next 10-15 years. Not one of the longest-lived wines from Dominus, but it is certainly at a wonderful point in its evolution right now.

More Info

California
1
98 (WA)

In Bond

£1,318.00

Wine Advocate (98)

This blend of 92% Cabernet Sauvignon, 5% Cabernet Franc and 3% Petit Verdot (note that rarely is any Merlot utilized at the historic Napanook Estate in Yountville). The alcohol, by California standards, is a relatively modest 14.1%. Blending the best of French savoir faire with the brilliant fruit purity and ripeness of Napa Valley, Moueix has turned in another tour de force that seems far superior today than it did when it was first released. This is one of the vintage's greatest wines. Dense purple and youthful, with a glorious nose of earth, blackcurrants, sweet black cherries and incense, the oak is pushed way in the background, as it is in all of the Moueix wines, and the result is a wine of terroir, of great originality and authenticity. This full-bodied classic from Dominus can be drunk now, but really won't hit its prime for another 4-5 years and last at least another two decades or more.

More Info

California
1
96 (JS)

In Bond

£1,108.00

James Suckling (96)

Starting to take on the tertiary character of ripe fruit and savory components with dusty tannins. Full and round with a lovely texture and a light salty, meaty and tobacco character. Forest floor. Sweet and sour. Just opening.

More Info

California
1
100 (WI)

In Bond

£1,372.00

The Wine Independent (100)

A blend of 94% Cabernet Sauvignon, 3% Cabernet Franc, and 3% Petit Verdot, the 2007 Dominus has a deep garnet color. After a swirl or two, it explodes from the glass with notes of crème de cassis, blueberry preserves, stewed plums, and rose oil, followed by touches of Sichuan pepper, cinnamon toast, and forest floor, with a hint of crushed rocks. The full-bodied palate reveals an incredibly firm, yet approachable, structure of ripe, grainy tannins and bold freshness to support the dense, multilayered, slowly evolving black and blue fruits, finishing with a whole firework display of spices, floral notes, and minerals.

More Info

California
1
100 (WA)

In Bond

£1,672.00

Wine Advocate (100)

Composed of 95% Cabernet Sauvignon and 5% Petit Verdot, the stunning, full-bodied 2010 Dominus boasts an exceptional perfume of hoisin sauce, licorice, underbrush, forest floor, plums, black currants and jammy cherries intertwined with hints of cedar, baking spices and oak. Full-bodied and voluptuously textured, the 2010 is on a slightly faster evolutionary track than the 2009 (somewhat of an anomaly for these two vintages). This exquisite as well as prodigious 2010 can be drunk young, but it should age effortlessly for 20-25 years. Bravo!

More Info

California
1
94 (VN)

In Bond

£1,065.00

Vinous (94)

The 2011 Dominus is a bold, powerful wine. It opens with a huge bouquet redolent of dried herbs, licorice, spice, tobacco and espresso. Relative to most vintages of Dominus, the 2011 is a bit light, but compared to most wines of the year, it is pretty big! The cool, savory notes that are typical of the year are present, but not dominant, while the 2011 is marked by a distinctly red fruit profile.

More Info

California
24
99+ (JD)

In Bond

£1,154.00

Jeb Dunnuck (99+)

Checking in as a blend of 93% Cabernet Sauvignon and the rest Petit Verdot and Cabernet Franc that hit 14.3% alcohol, the 2012 Dominus is a sensational wine that certainly ranks with the all-time greats of this cuvée and is reminiscent of the 1991. Ripe, flamboyant, and incredibly sexy, it nevertheless shows the classic style of this estate, has nothing out of place and just glides across the palate. Blackcurrants, tobacco leaf, cedar box, new leather, and an almost garrigue-like character all emerge from this full-bodied, silky, seamless effort that has fine tannin, perfectly integrated acidity, tannins, alcohol, and a great, great finish. Drink it any time over the coming 2-3 decades. It's a tour de force in Napa Valley Cabernet Sauvignon and one of the greats.

More Info

California
3
100 (WA)

In Bond

£531.00

Wine Advocate (100)

The 2013 Dominus is, to my way of thinking, one of the most profound wines Christian Moueix has yet made in his rather brilliant winemaking history, both in France and in Napa Valley. This wine, with very low yields of only 3,500 cases and a final blend of 89% Cabernet Sauvignon, 7% Petit Verdot and 4% Cabernet Franc, offers up notes of cedar wood, forest floor, loamy soil and oodles of blackberry and blackcurrant fruit. Very opaque purple in color, super-pure and intense, this wine has low acidity, but ripe, noticeable tannins. This is a 30- to 40-year wine and a profound effort from this famous vineyard in Yountville. Drink it over the next 40+ years.

More Info

California
30
97 (WA)

In Bond

£1,023.00

Wine Advocate (97)

The 2014s, where the production of Napanook was only 2,200 cases and Dominus slightly more than the 2015 at 4,000 cases, was another early harvest, although somewhat later than 2015. The 2014 Dominus, which is 86% Cabernet Sauvignon, 7% Cabernet Franc and 7% Petit Verdot really struts its stuff. Moueix's belief in dry farming seems to be paying off with stronger and stronger vintages, each successive year, and the 2014 is a sexy, opulent, layered, multidimensional wine with notes of red and blackcurrant, cedar wood, tobacco leaf , spice box and licorice. The color is a dense plum/ruby/purple, much like the Napanook. This is a beauty that is already drinking gorgeously – as most 2014s are – and will continue to evolve for 25 or so years.

More Info

California
1
100 (JD)

In Bond

£1,425.00

Jeb Dunnuck (100)

The 2015 Dominus is a flawless, perfect wine as well as a legend in the making. A blend of 86% Cabernet Sauvignon, 9% Petit Verdot and the rest Cabernet Franc, from dry-farmed vines and brought up in just 40% new French oak, its ruby/purple color is followed by an extraordinary bouquet of blackcurrants, crème de cassis, damp earth, smoke tobacco, and spring flowers. Reminding me of the 2015 Château Margaux with its incredible mix of elegance and power, this beauty hits the palate with full-bodied richness, stunning purity of fruit, building tannins, and awesome length. This sensational textured and voluptuous Dominus drink well today yet will evolve for 25-30 years or more.

More Info

California
1
100 (WA)

In Bond

£1,416.00

Wine Advocate (100)

A blend of 84% Cabernet Sauvignon, 8% Petit Verdot and 8% Cabernet Franc aged in 40% new oak, the 2016 Proprietary Red Wine is deep purple-black in color and quite reticent at this youthful stage to begin, offering up subtle notions of potpourri, Indian spices, cigar box and iron ore over a core of crushed blackberries and black cherries with intermittent wafts of black and red currants, new leather and smoked meats. The palate is medium to full-bodied with a densely packed mid-palate and oodles of freshness framed by very ripe, finely grained tannins and laced with compelling earthy accents. It offers incredible vibrancy with tons of black and red fruit sparkle in the mid-palate leading to a provocative mineral element on the very long finish. If I could give more than 100 for this one, I would. To be released in May 2019.

More Info

California
1
98+ (VN)

In Bond

£899.00

Vinous (98+)

The 2017 Dominus is one of the truly epic, grand wines of the vintage. Rich, dense and explosive, with tremendous concentration and sheer power, the 2017 Dominus captures all the personality of this site along with the natural opulence of the year. Inky dark fruit, lavender, menthol, licorice, plum, gravel and a host of dark spice notes infuse the 2017 with seemingly endless layers of nuance. Over the last two years I have tasted several hundred Napa Valley Cabernets, both from barrel and bottle. There is no question that Dominus belongs among the elite in 2017; it is simply a breathtaking wine. Certainly readers looking for a Napa Valley Cabernet to cellar should put Dominus at the top of their lists.

More Info

California
2
98+ (VN)

In Bond

£1,143.00

Vinous (98+)

The 2017 Dominus is one of the truly epic, grand wines of the vintage. Rich, dense and explosive, with tremendous concentration and sheer power, the 2017 Dominus captures all the personality of this site along with the natural opulence of the year. Inky dark fruit, lavender, menthol, licorice, plum, gravel and a host of dark spice notes infuse the 2017 with seemingly endless layers of nuance. Over the last two years I have tasted several hundred Napa Valley Cabernets, both from barrel and bottle. There is no question that Dominus belongs among the elite in 2017; it is simply a breathtaking wine. Certainly readers looking for a Napa Valley Cabernet to cellar should put Dominus at the top of their lists.

More Info

California
3
98+ (VN)

In Bond

£984.00

Vinous (98+)

The 2017 Dominus is one of the truly epic, grand wines of the vintage. Rich, dense and explosive, with tremendous concentration and sheer power, the 2017 Dominus captures all the personality of this site along with the natural opulence of the year. Inky dark fruit, lavender, menthol, licorice, plum, gravel and a host of dark spice notes infuse the 2017 with seemingly endless layers of nuance. Over the last two years I have tasted several hundred Napa Valley Cabernets, both from barrel and bottle. There is no question that Dominus belongs among the elite in 2017; it is simply a breathtaking wine. Certainly readers looking for a Napa Valley Cabernet to cellar should put Dominus at the top of their lists.

More Info

California
4
100 (JS)

In Bond

£512.00

James Suckling (100)

This is incredible on the nose, offering hot stones, blackcurrants, iodine and wet earth. Full-bodied with a tight center palate, then it opens with a tannin structure that is weightless and spreads across the palate. Totally integrated on the palate. This is a magic-carpet wine. Really incredible. One of the reference points for the vintage. Drinkable now and please try a bottle, but it's one for the cellar.

More Info

California
1
100 (JS)

In Bond

£1,645.00

James Suckling (100)

This is incredible on the nose, offering hot stones, blackcurrants, iodine and wet earth. Full-bodied with a tight center palate, then it opens with a tannin structure that is weightless and spreads across the palate. Totally integrated on the palate. This is a magic-carpet wine. Really incredible. One of the reference points for the vintage. Drinkable now and please try a bottle, but it's one for the cellar.

More Info

California
1
100 (JS)

In Bond

£1,318.00

James Suckling (100)

This is incredible on the nose, offering hot stones, blackcurrants, iodine and wet earth. Full-bodied with a tight center palate, then it opens with a tannin structure that is weightless and spreads across the palate. Totally integrated on the palate. This is a magic-carpet wine. Really incredible. One of the reference points for the vintage. Drinkable now and please try a bottle, but it's one for the cellar.

More Info

California
1
100 (WI)

In Bond

£390.00

The Wine Independent (100)

Composed of 90% Cabernet Sauvignon, 4% Cabernet Franc, and 6% Petit Verdot, the 2019 Dominus was harvested from September 29 to October 10. It was aged in 40% new oak. Deep garnet-purple colored, the nose slowly unfurls to unveil beguiling floral notes of candied violets and rose oil over a core of crème de cassis, blackberry pie, and plum preserves, giving way to notions of licorice, Indian spices, iron ore, and crushed rocks. Full-bodied, the palate is jam-packed with taut, muscular black fruit layers, intertwined with gorgeous floral and exotic spice accents, and framed by firm, finely grained tannins with seamless freshness, finishing long and mineral-laced. Tightly coiled with so much latent energy waiting to explode, this is a spectacular expression of the vintage and Napanook vineyard. Still tightly coiled, give it a good 6-7 years in the cellar before broaching, and allow it a few hours in a decanter if consumed before 2032. 3500 cases were made, to be released in May 2022.

More Info

California
2
100 (WI)

In Bond

£1,591.00

The Wine Independent (100)

Composed of 90% Cabernet Sauvignon, 4% Cabernet Franc, and 6% Petit Verdot, the 2019 Dominus was harvested from September 29 to October 10. It was aged in 40% new oak. Deep garnet-purple colored, the nose slowly unfurls to unveil beguiling floral notes of candied violets and rose oil over a core of crème de cassis, blackberry pie, and plum preserves, giving way to notions of licorice, Indian spices, iron ore, and crushed rocks. Full-bodied, the palate is jam-packed with taut, muscular black fruit layers, intertwined with gorgeous floral and exotic spice accents, and framed by firm, finely grained tannins with seamless freshness, finishing long and mineral-laced. Tightly coiled with so much latent energy waiting to explode, this is a spectacular expression of the vintage and Napanook vineyard. Still tightly coiled, give it a good 6-7 years in the cellar before broaching, and allow it a few hours in a decanter if consumed before 2032. 3500 cases were made, to be released in May 2022.

More Info

California
5
100 (WI)

In Bond

£1,500.00 £1,300.00

The Wine Independent (100)

Composed of 90% Cabernet Sauvignon, 4% Cabernet Franc, and 6% Petit Verdot, the 2019 Dominus was harvested from September 29 to October 10. It was aged in 40% new oak. Deep garnet-purple colored, the nose slowly unfurls to unveil beguiling floral notes of candied violets and rose oil over a core of crème de cassis, blackberry pie, and plum preserves, giving way to notions of licorice, Indian spices, iron ore, and crushed rocks. Full-bodied, the palate is jam-packed with taut, muscular black fruit layers, intertwined with gorgeous floral and exotic spice accents, and framed by firm, finely grained tannins with seamless freshness, finishing long and mineral-laced. Tightly coiled with so much latent energy waiting to explode, this is a spectacular expression of the vintage and Napanook vineyard. Still tightly coiled, give it a good 6-7 years in the cellar before broaching, and allow it a few hours in a decanter if consumed before 2032. 3500 cases were made, to be released in May 2022.

More Info

California
1
-

In Bond

£454.00

California
1
-

In Bond

£600.00