El Enemigo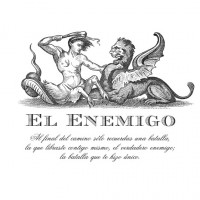 About El Enemigo
One of Argentina's most acclaimed wineries, El Enemigo has rocketed to superstardom in just a few short vintages. El Enemigo is a joint venture of two big names in Argentine wine - Catena's winemaker Alejandro Vigil and Dr Catena's younger daughter, Adrianna. These two were drawn together by a passion for creating more approachable and mineral-driven wines that are expressive of the nuances of Mendoza's special terroirs.
Setting out to achieve what the pioneers of Napa Valley did in the 1970s and 1980s, and creating new wines in tiny quantities with the highest possible quality and critical acclaim, they are one now among the leading wine names in the whole of Argentina. The scores they are producing for their wines have already created a cult-like following amongst knowledgeable collectors.
The Wines
Catapulted to superstardom after achieving a perfect 100 points from The Wine Advocate with the Gran Enemigo Gualtallary 2013, the Gran Enemigo range leads the way for their exceptional portfolio. Consisting of four stunning Cabernet Franc-based wines, these wines strive to express the high-altitude Mendoza terroirs of Agrelo, Chacayes, El Cepillo and Gualtallary. Every cuvée represents a genuinely rare Andean gem, with no more than 900 cases of each produced.
Alongside the focus on Cabernet Franc wines, the duo also endeavour to rejuvenate the workhorse Argentinian varietal, Bonarda, and produce a range of exquisite single-vineyard wines.