Emmanuel Darnaud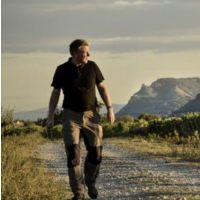 About Domaine Emmanuel Darnaud
Domaine Emmanuel Darnaud is one of the most engaging and enthusiastic winemakers in St-Joseph. Producing wines of incredible generosity and polish, these are must-haves for all lovers of this stunning French region.
From his winery on La Roche de Glun, a small peninsular island standing proudly in the middle of the mighty Rhône River, Emmanuel is the very first Darnaud to actually make wines under his name despite coming from a very long line of growers and merchants.
Bursting onto the fine wine scene as recently as 2001 with a mere 1.5 hectares of rented land, Emmanuel has grown his extraordinary estate to 14 hectares, including parcels inherited from his father-in-law, the legendary Bernard Faurie, in St-Joseph.
A determined focus on conveying each individual terroir available to him has been a wonderous feature of Darnaud's work over the past two decades. The work in the vineyard is of paramount importance, with each and every parcel picked and vinified separately before being placed in wooden casks or vats to continue their élevage.