Fairest Creature
About Fairest Creature
The brainchild of California-raised Jayson Hu, subsequently one of Asia's foremost advocates of and authorities on Napa Valley, the concept behind this label is simple in theory yet exceptionally ambitious in execution.
"[Jayson] wanted to create the best Cabernet Sauvignon ever. Not just from the Napa Valley or a certain vintage, not from one single winemaker, but the best Cabernet ever conceived"
To attempt such a feat required planning, contacts, a "spare no expense" mentality and, most importantly, the participation of four of the greatest winemakers in the world.
The Bottlings under Fairest Creature
Thomas Rivers Brown - Fairest Creature Perihelios
Arguably the most successful American winemaker since the turn of the millennium, Thomas Rivers Brown arrived in Napa from his native Virgina in 1996. Cementing his reputation across the Golden State as a supreme talent, he has been responsible for an outrageous 25 perfectly-rated 100 point wines. Collectors may know his work as the winemaker for Schraeder Cellars or his own label, the highly sought-after Rivers Marie. Rivers Brown is the winemaker behind Perihelios, a cuvée represented by the mythical K'un, a vast sea creature from the writings of Taoist philosopher Zhuang.
Philippe Melka - Fairest Creature Polyspline 2018
Born in the spiritual home of classical Cabernet Sauvignon, Bordeaux, a meeting with the then technical director of iconic Petrus saw a young Melka land himself a job at Napa stalwart Dominus before some time with a hero of the 1976 Judgement of Paris tasting, Paul Draper of Ridge Vineyards. As technically gifted and knowledgeable a winemaker as it is possible to be, Melka is one of North America's most in-demand consultants counting the likes of Hundred Acre, Clos du Val and Beaulieu Vineyards as his clients. His own label, DANA, received its first perfect 100 points in 2007. His cuvée is Polyspline, the epitome of grace and elegance in Cabernet Sauvignon, as depicted by the nine-tailed fox spirit Jiuweihu.
Benoit Touquette - Fairest Creature Sine Fine 2018
Another French winemaker who has found his calling across the Atlantic, Touquette is the youngest member of this ensemble and poured every ounce of his passion and talent into Sine Fine. Having already worked as a consultant for Ovid, Arietta and the legendary Screaming Eagle itself, this Lyon-native possesses an enviable combination of rock-solid foundational experience with unbridled ambition and freedom. The two soaring birds adorning Sine Fine are taken from Tang Dynasty poet Po Chü-I, conveying balance and harmony.
Michel Rolland - Fairest Creature Triniceros 2018
Little can be said of the single most influential blender in history that his endless resume and string of perfect wines has not already stated. Having worked alongside winemakers and ancestorial dynasties at over 80 of the greatest châteaux in Bordeaux across more than four decades, Rolland's talents brought him over to Napa to work for iconic estates such as Harlan and Staglin Family Vineyard. As the master blender, Rolland was given free rein to select his favourite barrels of each of the three cuvées crafted by the winemakers and create Triniceros, the flagship release of Fairest Creature and its first attempt at fulfilling the quest in search of the perfect Cabernet Sauvignon. It takes as its motive a three-horned version of Qilin, a mythical beast with the head of a dragon and the body of a tiger, representing the three winemakers at the heart of its blend.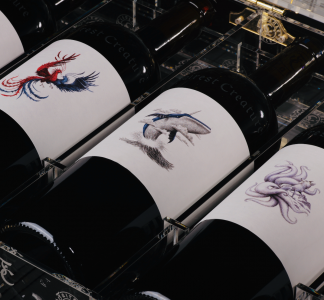 Name
Price Low
Price High
Year (Old)
Year (New)
Prices:
Product Name
Region
Qty
Score
Price

California
1
-

Inc. VAT

£5,543.09

It contains two bottles of each:

2x75cl Perihelios - 100 points | Jeb Dunnuck

2x75cl Polysipine - 98+ points - Jeb Dunnuck

2x75cl Sine Fine - 98 points | Jeb Dunnuck

100 points | Jeb Dunnuck (Perihelios)

One of two perfect wines in the lineup of 2018s, the 2018 Cabernet Sauvignon Perihelios comes from Thomas Rivers Brown and is another seamless, elegant, yet powerful wine that's just a joy to taste. Cassis, blackberries, tobacco, graphite, licorice, and a kiss of iron define this incredible beauty, and it's full-bodied, with a multi-dimensional, layered mouthfeel, ultra-fine tannins, and an incredible finish. Coming mostly from the Upper Range Vineyard and brought up in new barrels, it has ample up-front appeal given its balance, purity, and texture, yet there's no shortage of tannins, and it's going to evolve gracefully for 20-25 years or more.

98+ points | Jeb Dunnuck (Polysipine)

Made by Philippe Melka and a blend of sites, the 2018 Cabernet Sauvignon Polyspline is all Cabernet Sauvignon that saw a small amount of barrel fermentation and aging in 88% new French oak. It's the most structured, backward, and in need of bottle age of the trio and has a dense purple hue to go with powerful notes of blackcurrants, tobacco, licorice, spicy oak, and graphite. Full-bodied on the palate, it's a powerhouse of a wine that has a great mid-palate, building, substantial tannins, and a great, great finish. It needs to be forgotten for at least 4-5 years but will have decades of longevity.

98 points | Jeb Dunnuck (Sine Fine)

Coming from the talented Benoit Touquette, the 2018 Cabernet Sauvignon Sine Fine offers more blue fruits as well as lots of floral, violet, iron, spicy wood, and lead pencil-like aromatics. Another exuberant, incredibly sexy wine under the Fairest Creature label, it's full-bodied and has just about perfect tannins, remarkable purity of fruit, and a gorgeous finish. It's already impossible to resist, yet I've no doubt this will evolve for 20-25 years or more. The purity of fruit as well as the tannins in this wine are exceptional.

More Info

California
1
100 (JD)

Inc. VAT

£7,436.21

Jeb Dunnuck (100)

Lastly, there are a tiny 532 magnums of the 2018 Cabernet Sauvignon Triniceros, a blend put together by famed consultant Michel Rolland. It's possibly closest in style to the Plyspline release and has incredible dark fruits (cassis, currants) as well as notes of graphite, toasted spice, chocolate, white flowers, and lead pencil shavings. A wine that builds incrementally on the palate, it has ripe, velvety tannins, an expansive texture, fabulous mid-palate depth, and the balance and class to drink well today yet also evolve for 20-30 years.

More Info
Product Name
Region
Qty
Score
Price

California
1
-

In Bond

£4,600.00

It contains two bottles of each:

2x75cl Perihelios - 100 points | Jeb Dunnuck

2x75cl Polysipine - 98+ points - Jeb Dunnuck

2x75cl Sine Fine - 98 points | Jeb Dunnuck

100 points | Jeb Dunnuck (Perihelios)

One of two perfect wines in the lineup of 2018s, the 2018 Cabernet Sauvignon Perihelios comes from Thomas Rivers Brown and is another seamless, elegant, yet powerful wine that's just a joy to taste. Cassis, blackberries, tobacco, graphite, licorice, and a kiss of iron define this incredible beauty, and it's full-bodied, with a multi-dimensional, layered mouthfeel, ultra-fine tannins, and an incredible finish. Coming mostly from the Upper Range Vineyard and brought up in new barrels, it has ample up-front appeal given its balance, purity, and texture, yet there's no shortage of tannins, and it's going to evolve gracefully for 20-25 years or more.

98+ points | Jeb Dunnuck (Polysipine)

Made by Philippe Melka and a blend of sites, the 2018 Cabernet Sauvignon Polyspline is all Cabernet Sauvignon that saw a small amount of barrel fermentation and aging in 88% new French oak. It's the most structured, backward, and in need of bottle age of the trio and has a dense purple hue to go with powerful notes of blackcurrants, tobacco, licorice, spicy oak, and graphite. Full-bodied on the palate, it's a powerhouse of a wine that has a great mid-palate, building, substantial tannins, and a great, great finish. It needs to be forgotten for at least 4-5 years but will have decades of longevity.

98 points | Jeb Dunnuck (Sine Fine)

Coming from the talented Benoit Touquette, the 2018 Cabernet Sauvignon Sine Fine offers more blue fruits as well as lots of floral, violet, iron, spicy wood, and lead pencil-like aromatics. Another exuberant, incredibly sexy wine under the Fairest Creature label, it's full-bodied and has just about perfect tannins, remarkable purity of fruit, and a gorgeous finish. It's already impossible to resist, yet I've no doubt this will evolve for 20-25 years or more. The purity of fruit as well as the tannins in this wine are exceptional.

More Info

California
1
100 (JD)

In Bond

£6,190.00

Jeb Dunnuck (100)

Lastly, there are a tiny 532 magnums of the 2018 Cabernet Sauvignon Triniceros, a blend put together by famed consultant Michel Rolland. It's possibly closest in style to the Plyspline release and has incredible dark fruits (cassis, currants) as well as notes of graphite, toasted spice, chocolate, white flowers, and lead pencil shavings. A wine that builds incrementally on the palate, it has ripe, velvety tannins, an expansive texture, fabulous mid-palate depth, and the balance and class to drink well today yet also evolve for 20-30 years.

More Info
Name
Price Low
Price High
Year (Old)
Year (New)