Favia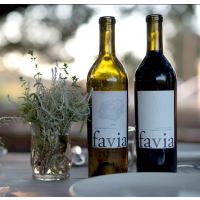 About Favia
Despite being founded back in 2001 by married couple Annie Favia (Viticultrualist) & Andy Erickson (Winemaker), Favia Winery's real history started when they purchased what was once the Antonio Carbone estate, one of Napa's historic plots that was first planted in 1872. Already with mightily impressive careers in wine with Annie being involved in the development of Colgin, Screaming Eagle, and St. Eden, the Favia wines at the hands of this team have been excellent since their inception.
'Talk about an impressive resume, Annie Favia is married to superstar winemaking consultant Andy Erickson, but she easily stands on her own merits having trained under John Kongsgaard at Newton, worked in David Abreu's management company for eleven years' – Robert Parker, Wine Advocate
The Favia philosophy is simple: create soulful wines that express the true nature of the vineyards from which they come. The wines focus on two varietals that of course thrive in the Napa Valley; Cabernet Sauvignon and Cabernet Franc.
'Andy Erickson and Annie Favia recently acquired a historic property in Coombsville that was first planted in 1872 by the Carbone family. Erickson and Favia painstakingly refurbished the old, historic cellar, which is now home to the Favia wines. The property itself harkens back a time in Napa Valley's history when grapes were farmed alongside other crops. As for the wines, they are superb. Favia sources from top sites in Coombsville and Oakville for these sumptuous, impeccably balanced wines.' – Antonio Galloni, Vinous