Fratelli Alessandria
About Fratelli Alessandria
Fratelli Alessandria counts almost all their vines, with the exception of their Gramolere, within the gorgeous commune of Verduno. Something of an unknown quantity when compared to the more familiar and renowned communes of La Morra, Barolo, Serralunga and Castiglione Falletto, the village sits on the north-eastern border of the region. Almost an extension of neighbouring Roero, its soils are sandier and subject to a welcome moderating influence from the Tanaro river.
The result of this unique terroir is a lighter, more delicate and perfumed style of Barolo – of which Fratelli Alessandria are brilliant exponents. The estate is old in Barolo terms, having started in the mid-19th century - the fine 18th-century house and cellars on the edge of the tiny village remain the estate's centre. Today, Vittore Alessandria runs the immaculate traditional cellar, while his brother Ale tends the 14 hectares of vineyards.
In the modern age, Fratelli Alessandria's wines are seriously sought-after by Barolo lovers as they clamber for an allocation whilst the releases remain incredibly modestly priced.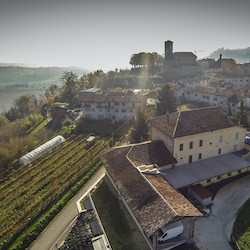 Name
Price Low
Price High
Year (Old)
Year (New)
Prices:
Product Name
Region
Qty
Score
Price

Piedmont
10
-

Inc. VAT

£233.38

Piedmont
17
89 (VN)

Inc. VAT

£233.38

Vinous (89)

The 2019 Barbera d'Alba is a fabulous every-day wine. Floral aromatics and red berry fruit grace this airy yet flavorful Barbera from Fratelli Alessandria. The 2019 is not a powerhouse, but it is supremely delicious and very easy to like.

More Info

Piedmont
1
93 (WA)

Inc. VAT

£190.09

Wine Advocate (93)

I just love the 2013 Barolo by Fratelli Alessandria. The wine is tame and subtle yet powerful at the same time. It starts off with classic aromas of wild berry, smoke, tar and licorice. Those tones build in momentum to show more intensity and volume as the minutes pass. This Barolo wraps thickly over the palate, imparting structure, firmness and density.

More Info

Piedmont
6
93 (WA)

Inc. VAT

£247.24

Wine Advocate (93)

I just love the 2013 Barolo by Fratelli Alessandria. The wine is tame and subtle yet powerful at the same time. It starts off with classic aromas of wild berry, smoke, tar and licorice. Those tones build in momentum to show more intensity and volume as the minutes pass. This Barolo wraps thickly over the palate, imparting structure, firmness and density.

More Info

Piedmont
1
91+ (VN)

Inc. VAT

£199.24

Vinous (91+)

Now with a few months in bottle, Alessandria's 2014 Barolo is a real powerhouse. Smoke, scorched earth, tobacco, menthol, licorice and wild cherry all convey an impression of gravitas, as this potent, muscular Barolo shows off its personality. The 2014 has quite a bit of density and richness at this level. I won't be surprised if it turns out even better than this note suggests. There is so much going on here.

More Info

Piedmont
1
94 (WA)

Inc. VAT

£206.81

Wine Advocate (94)

From one of the stars of Verduno, Fratelli Alessandria, the 2015 Barolo is a beautifully elegant and compact wine at first. Give it a few moments in the glass, and the wine opens beautifully to reveal polished and detailed tones of wild berry, cassis, licorice and tar. All of this is followed by a delicate floral signature of violets and roses that accompany the wine from start to finish. This vintage is elegant yet voluptuous at the same time.

More Info

Piedmont
2
94 (WA)

Inc. VAT

£321.64

Wine Advocate (94)

From one of the stars of Verduno, Fratelli Alessandria, the 2015 Barolo is a beautifully elegant and compact wine at first. Give it a few moments in the glass, and the wine opens beautifully to reveal polished and detailed tones of wild berry, cassis, licorice and tar. All of this is followed by a delicate floral signature of violets and roses that accompany the wine from start to finish. This vintage is elegant yet voluptuous at the same time.

More Info

Piedmont
31
94 (WA)

Inc. VAT

£256.84

Wine Advocate (94)

From one of the stars of Verduno, Fratelli Alessandria, the 2015 Barolo is a beautifully elegant and compact wine at first. Give it a few moments in the glass, and the wine opens beautifully to reveal polished and detailed tones of wild berry, cassis, licorice and tar. All of this is followed by a delicate floral signature of violets and roses that accompany the wine from start to finish. This vintage is elegant yet voluptuous at the same time.

More Info

Piedmont
1
96 (WA)

Inc. VAT

£202.43

Wine Advocate (96)

This is the classic Barolo from Fratelli Alessandria, made with a blend of fruit from various sites in Verduno. (From the 2017 vintage forward, the new name "del Comune di Verduno" will reflect its origins.) The 2016 Barolo opens to tight elegance and a nervous quality that pits red fruit energy over lean fruit weight. The results are graceful, lithe, fragile and lasting. The wine's aromas unfolded slowly and seductively, revealing wild berry, cassis, bitter cherry, toasted almond and blue flower. This is a dreamy wine that promises more beauty as it continues its bottle evolution. An ample 20,000 bottles were produced. This is one of the very best values found anywhere in Barolo.

More Info

Piedmont
18
96 (WA)

Inc. VAT

£277.24

Wine Advocate (96)

This is the classic Barolo from Fratelli Alessandria, made with a blend of fruit from various sites in Verduno. (From the 2017 vintage forward, the new name "del Comune di Verduno" will reflect its origins.) The 2016 Barolo opens to tight elegance and a nervous quality that pits red fruit energy over lean fruit weight. The results are graceful, lithe, fragile and lasting. The wine's aromas unfolded slowly and seductively, revealing wild berry, cassis, bitter cherry, toasted almond and blue flower. This is a dreamy wine that promises more beauty as it continues its bottle evolution. An ample 20,000 bottles were produced. This is one of the very best values found anywhere in Barolo.

More Info

Piedmont
2
90-92 (VN)

Inc. VAT

£330.29

Vinous (90-92)

The 2019 Barolo del Comune di Verduno is a dark, brooding wine. Dark-toned fruit, spice, menthol and licorice lend tons of intensity to this decidedly potent Verduno Barolo. There's real density and mid-palate richness. This is far from an entry-level bottling, that is for sure. Patience is essential.

More Info

Piedmont
5
-

Inc. VAT

£343.49

Piedmont
39
-

Inc. VAT

£319.49

Piedmont
5
-

Inc. VAT

£324.04

Piedmont
6
-

Inc. VAT

£303.64

Piedmont
1
95 (KO)

Inc. VAT

£210.49

Kerin O'Keefe (95)

Fragrant and refined, Fratelli Alessandria's 2019 Barolo del Comune di Verduno opens with enticing scents recalling dog rose, perfumed forest berry, cedar and eucalyptus. Lithe and elegantly structured, the savory palate reveals juicy red cherry, spiced cranberry and star anise accompanied by taut, fine-grained tannins. It's well balanced, with fresh acidity.

More Info

Piedmont
2
95 (KO)

Inc. VAT

£356.69

Kerin O'Keefe (95)

Fragrant and refined, Fratelli Alessandria's 2019 Barolo del Comune di Verduno opens with enticing scents recalling dog rose, perfumed forest berry, cedar and eucalyptus. Lithe and elegantly structured, the savory palate reveals juicy red cherry, spiced cranberry and star anise accompanied by taut, fine-grained tannins. It's well balanced, with fresh acidity.

More Info

Piedmont
36
96 (WE)

Inc. VAT

£242.44

Wine Enthusiast (96)

Rose, woodland berry, pine forest and culinary spice are just some of the aromas you'll find on this fragrant, fantastic red. Smooth, full-bodied and polished, the savory palate delivers ripe red cherry, crushed raspberry, star anise and white pepper alongside velvety tannins. Fresh acidity keeps bright.

More Info

Piedmont
1
94 (WE)

Inc. VAT

£227.09

Wine Enthusiast (94)

Wild red berry, camphor, truffle and dark spice aromas form the inviting nose. Elegantly structured, the savory palate also has youthful tension, delivering ripe Morello cherry, raspberry compote, star anise and tobacco blend set against taut, fine-grained tannins. Give it a few more years to fully develop. Drink 2024–2031.

More Info

Piedmont
2
95+ (VN)

Inc. VAT

£499.24

Vinous (95+)

The 2011 Barolo Gramolere, Alessandria's one Barolo from Monforte, is a great example of this site. Sweet, balsamic-inflected aromas open up first, followed by sinewy, energetic tannins that give the wine its sense of energy. Here the flavors are darker than in Alessandria's Verduno Barolos, while the tannin and acid profile are very typical of Monforte. This is another 2011 from Alessandria that screams of terroir, something that isn't always found 2011. In a word: brilliant!

More Info

Piedmont
1
94 (VN)

Inc. VAT

£283.24

Vinous (94)

The 2012 Barolo Gramolere is the most complete and convincing of the three single vineyard Barolos. It is also the wine with most intense expression of site. Blood orange, mint, rose petal, pine, kirsch and anise give the 2012 its characteristic high-toned aromatic profile, while intensely saline, Gramolere tannins add backbone. Deeply colored yet translucent, with notable freshness, the Gramolere is the star this year. Specifically, the 2012 is remarkably vivid, with all the nuance and complexity that only Nebbiolo can deliver.

More Info

Piedmont
1
94 (WA)

Inc. VAT

£307.24

Wine Advocate (94)

This is a wine of beauty and intensity. The Gramolere cru in Monforte d'Alba is distinguished by the focused and sharp nature of its aromas. The 2013 Barolo Gramolere is a textbook expression of the cru, with deeply delineated aromas of wild berry, rose hip, rosemary sprig and licorice. The mouthfeel is silky and smooth with good structure and firmness to add to that sense of purity and sharpness. The wine's profound depth is what stands out most.

More Info

Piedmont
2
94 (VN)

Inc. VAT

£397.24

Vinous (94)

Alessandria's 2014 Barolo Gramolere is just as impressive from bottle as it was from barrel, and every bit as potent, too. Huge swaths of tannin give the 2014 its shape and overall structure, with the deeply spiced, mentholated, balsamic notes that are so typical of this site. Readers will have to be patient, but the 2014 is a jewel of a wine.

More Info

Piedmont
5
94 (VN)

Inc. VAT

£289.24

Vinous (94)

Alessandria's 2014 Barolo Gramolere is just as impressive from bottle as it was from barrel, and every bit as potent, too. Huge swaths of tannin give the 2014 its shape and overall structure, with the deeply spiced, mentholated, balsamic notes that are so typical of this site. Readers will have to be patient, but the 2014 is a jewel of a wine.

More Info

Piedmont
4
95+ (WA)

Inc. VAT

£420.04

Wine Advocate (95+)

The 2015 Barolo Gramolere (with fruit from Monforte d'Alba) opens to a medium-dark ruby color. When you put the wine to your lips, you immediately feel the power, structure and inner fiber of Nebbiolo as interpreted in this two-hectare parcel with its 30-year-old vines. In fact, this wine is defined by that immediate firmness. The aromas, however, are softer and more yielding with forest fruit, wild berry, crushed slate and blue flower. I would suggest putting this wine aside for five more years at least.

More Info

Piedmont
4
95+ (WA)

Inc. VAT

£324.04

Wine Advocate (95+)

The 2015 Barolo Gramolere (with fruit from Monforte d'Alba) opens to a medium-dark ruby color. When you put the wine to your lips, you immediately feel the power, structure and inner fiber of Nebbiolo as interpreted in this two-hectare parcel with its 30-year-old vines. In fact, this wine is defined by that immediate firmness. The aromas, however, are softer and more yielding with forest fruit, wild berry, crushed slate and blue flower. I would suggest putting this wine aside for five more years at least.

More Info

Piedmont
4
97 (WA)

Inc. VAT

£427.24

Wine Advocate (97)

If you consider the Barolo playbook at Fratelli Alessandria, the 2016 Barolo Gramolere takes the intensity and power up one more notch. You get black fruit and blackberry, but there is enough vibrant red fruit to keep this wine aligned with the more elegant and traditional side of Barolo. The wine shows compelling infinities with both the powerful and the elegant side of Nebbiolo. There are noticeable mineral notes and even a spot of savory salinity. However, Gramolere definitely has the power and inner grit to withstand long cellar aging. Only 7,000 bottles were made.

More Info

Piedmont
11
97 (WA)

Inc. VAT

£466.84

Wine Advocate (97)

If you consider the Barolo playbook at Fratelli Alessandria, the 2016 Barolo Gramolere takes the intensity and power up one more notch. You get black fruit and blackberry, but there is enough vibrant red fruit to keep this wine aligned with the more elegant and traditional side of Barolo. The wine shows compelling infinities with both the powerful and the elegant side of Nebbiolo. There are noticeable mineral notes and even a spot of savory salinity. However, Gramolere definitely has the power and inner grit to withstand long cellar aging. Only 7,000 bottles were made.

More Info

Piedmont
6
94 (VN)

Inc. VAT

£373.24

Vinous (94)

The 2017 Barolo Gramolere is a powerful, tightly wound wine full of Monforte tension. Readers will have to be patient. Dark-fleshed fruit, spice, menthol, licorice and sage add layers of aromatic intrigue to this firm, hulky Barolo. The 2017 takes all the Gramolere signatures and turns up the volume.

More Info

Piedmont
2
17++ (JR)

Inc. VAT

£230.81

Jancis Robinson (17++)

Monforte d'Alba. Mid ruby with orange tinges. Deep, brooding and meaty on the nose. Deep cherry palate that is still taut and framed by sweet clayey tannins. Very long, mouth-filling and finely balanced while maintaining elegance.

More Info
Product Name
Region
Qty
Score
Price

Piedmont
10
-

In Bond

£156.00

Piedmont
17
89 (VN)

In Bond

£156.00

Vinous (89)

The 2019 Barbera d'Alba is a fabulous every-day wine. Floral aromatics and red berry fruit grace this airy yet flavorful Barbera from Fratelli Alessandria. The 2019 is not a powerhouse, but it is supremely delicious and very easy to like.

More Info

Piedmont
1
93 (WA)

In Bond

£152.00

Wine Advocate (93)

I just love the 2013 Barolo by Fratelli Alessandria. The wine is tame and subtle yet powerful at the same time. It starts off with classic aromas of wild berry, smoke, tar and licorice. Those tones build in momentum to show more intensity and volume as the minutes pass. This Barolo wraps thickly over the palate, imparting structure, firmness and density.

More Info

Piedmont
6
93 (WA)

In Bond

£190.00

Wine Advocate (93)

I just love the 2013 Barolo by Fratelli Alessandria. The wine is tame and subtle yet powerful at the same time. It starts off with classic aromas of wild berry, smoke, tar and licorice. Those tones build in momentum to show more intensity and volume as the minutes pass. This Barolo wraps thickly over the palate, imparting structure, firmness and density.

More Info

Piedmont
1
91+ (VN)

In Bond

£150.00

Vinous (91+)

Now with a few months in bottle, Alessandria's 2014 Barolo is a real powerhouse. Smoke, scorched earth, tobacco, menthol, licorice and wild cherry all convey an impression of gravitas, as this potent, muscular Barolo shows off its personality. The 2014 has quite a bit of density and richness at this level. I won't be surprised if it turns out even better than this note suggests. There is so much going on here.

More Info

Piedmont
1
94 (WA)

In Bond

£167.00

Wine Advocate (94)

From one of the stars of Verduno, Fratelli Alessandria, the 2015 Barolo is a beautifully elegant and compact wine at first. Give it a few moments in the glass, and the wine opens beautifully to reveal polished and detailed tones of wild berry, cassis, licorice and tar. All of this is followed by a delicate floral signature of violets and roses that accompany the wine from start to finish. This vintage is elegant yet voluptuous at the same time.

More Info

Piedmont
2
94 (WA)

In Bond

£252.00

Wine Advocate (94)

From one of the stars of Verduno, Fratelli Alessandria, the 2015 Barolo is a beautifully elegant and compact wine at first. Give it a few moments in the glass, and the wine opens beautifully to reveal polished and detailed tones of wild berry, cassis, licorice and tar. All of this is followed by a delicate floral signature of violets and roses that accompany the wine from start to finish. This vintage is elegant yet voluptuous at the same time.

More Info

Piedmont
31
94 (WA)

In Bond

£198.00

Wine Advocate (94)

From one of the stars of Verduno, Fratelli Alessandria, the 2015 Barolo is a beautifully elegant and compact wine at first. Give it a few moments in the glass, and the wine opens beautifully to reveal polished and detailed tones of wild berry, cassis, licorice and tar. All of this is followed by a delicate floral signature of violets and roses that accompany the wine from start to finish. This vintage is elegant yet voluptuous at the same time.

More Info

Piedmont
1
96 (WA)

In Bond

£158.00

Wine Advocate (96)

This is the classic Barolo from Fratelli Alessandria, made with a blend of fruit from various sites in Verduno. (From the 2017 vintage forward, the new name "del Comune di Verduno" will reflect its origins.) The 2016 Barolo opens to tight elegance and a nervous quality that pits red fruit energy over lean fruit weight. The results are graceful, lithe, fragile and lasting. The wine's aromas unfolded slowly and seductively, revealing wild berry, cassis, bitter cherry, toasted almond and blue flower. This is a dreamy wine that promises more beauty as it continues its bottle evolution. An ample 20,000 bottles were produced. This is one of the very best values found anywhere in Barolo.

More Info

Piedmont
18
96 (WA)

In Bond

£215.00

Wine Advocate (96)

This is the classic Barolo from Fratelli Alessandria, made with a blend of fruit from various sites in Verduno. (From the 2017 vintage forward, the new name "del Comune di Verduno" will reflect its origins.) The 2016 Barolo opens to tight elegance and a nervous quality that pits red fruit energy over lean fruit weight. The results are graceful, lithe, fragile and lasting. The wine's aromas unfolded slowly and seductively, revealing wild berry, cassis, bitter cherry, toasted almond and blue flower. This is a dreamy wine that promises more beauty as it continues its bottle evolution. An ample 20,000 bottles were produced. This is one of the very best values found anywhere in Barolo.

More Info

Piedmont
2
90-92 (VN)

In Bond

£256.00

Vinous (90-92)

The 2019 Barolo del Comune di Verduno is a dark, brooding wine. Dark-toned fruit, spice, menthol and licorice lend tons of intensity to this decidedly potent Verduno Barolo. There's real density and mid-palate richness. This is far from an entry-level bottling, that is for sure. Patience is essential.

More Info

Piedmont
5
-

In Bond

£267.00

Piedmont
39
-

In Bond

£247.00

Piedmont
5
-

In Bond

£254.00

Piedmont
6
-

In Bond

£237.00

Piedmont
1
95 (KO)

In Bond

£169.00

Kerin O'Keefe (95)

Fragrant and refined, Fratelli Alessandria's 2019 Barolo del Comune di Verduno opens with enticing scents recalling dog rose, perfumed forest berry, cedar and eucalyptus. Lithe and elegantly structured, the savory palate reveals juicy red cherry, spiced cranberry and star anise accompanied by taut, fine-grained tannins. It's well balanced, with fresh acidity.

More Info

Piedmont
2
95 (KO)

In Bond

£278.00

Kerin O'Keefe (95)

Fragrant and refined, Fratelli Alessandria's 2019 Barolo del Comune di Verduno opens with enticing scents recalling dog rose, perfumed forest berry, cedar and eucalyptus. Lithe and elegantly structured, the savory palate reveals juicy red cherry, spiced cranberry and star anise accompanied by taut, fine-grained tannins. It's well balanced, with fresh acidity.

More Info

Piedmont
36
96 (WE)

In Bond

£186.00

Wine Enthusiast (96)

Rose, woodland berry, pine forest and culinary spice are just some of the aromas you'll find on this fragrant, fantastic red. Smooth, full-bodied and polished, the savory palate delivers ripe red cherry, crushed raspberry, star anise and white pepper alongside velvety tannins. Fresh acidity keeps bright.

More Info

Piedmont
1
94 (WE)

In Bond

£170.00

Wine Enthusiast (94)

Wild red berry, camphor, truffle and dark spice aromas form the inviting nose. Elegantly structured, the savory palate also has youthful tension, delivering ripe Morello cherry, raspberry compote, star anise and tobacco blend set against taut, fine-grained tannins. Give it a few more years to fully develop. Drink 2024–2031.

More Info

Piedmont
2
95+ (VN)

In Bond

£400.00

Vinous (95+)

The 2011 Barolo Gramolere, Alessandria's one Barolo from Monforte, is a great example of this site. Sweet, balsamic-inflected aromas open up first, followed by sinewy, energetic tannins that give the wine its sense of energy. Here the flavors are darker than in Alessandria's Verduno Barolos, while the tannin and acid profile are very typical of Monforte. This is another 2011 from Alessandria that screams of terroir, something that isn't always found 2011. In a word: brilliant!

More Info

Piedmont
1
94 (VN)

In Bond

£220.00

Vinous (94)

The 2012 Barolo Gramolere is the most complete and convincing of the three single vineyard Barolos. It is also the wine with most intense expression of site. Blood orange, mint, rose petal, pine, kirsch and anise give the 2012 its characteristic high-toned aromatic profile, while intensely saline, Gramolere tannins add backbone. Deeply colored yet translucent, with notable freshness, the Gramolere is the star this year. Specifically, the 2012 is remarkably vivid, with all the nuance and complexity that only Nebbiolo can deliver.

More Info

Piedmont
1
94 (WA)

In Bond

£240.00

Wine Advocate (94)

This is a wine of beauty and intensity. The Gramolere cru in Monforte d'Alba is distinguished by the focused and sharp nature of its aromas. The 2013 Barolo Gramolere is a textbook expression of the cru, with deeply delineated aromas of wild berry, rose hip, rosemary sprig and licorice. The mouthfeel is silky and smooth with good structure and firmness to add to that sense of purity and sharpness. The wine's profound depth is what stands out most.

More Info

Piedmont
2
94 (VN)

In Bond

£315.00

Vinous (94)

Alessandria's 2014 Barolo Gramolere is just as impressive from bottle as it was from barrel, and every bit as potent, too. Huge swaths of tannin give the 2014 its shape and overall structure, with the deeply spiced, mentholated, balsamic notes that are so typical of this site. Readers will have to be patient, but the 2014 is a jewel of a wine.

More Info

Piedmont
5
94 (VN)

In Bond

£225.00

Vinous (94)

Alessandria's 2014 Barolo Gramolere is just as impressive from bottle as it was from barrel, and every bit as potent, too. Huge swaths of tannin give the 2014 its shape and overall structure, with the deeply spiced, mentholated, balsamic notes that are so typical of this site. Readers will have to be patient, but the 2014 is a jewel of a wine.

More Info

Piedmont
4
95+ (WA)

In Bond

£334.00

Wine Advocate (95+)

The 2015 Barolo Gramolere (with fruit from Monforte d'Alba) opens to a medium-dark ruby color. When you put the wine to your lips, you immediately feel the power, structure and inner fiber of Nebbiolo as interpreted in this two-hectare parcel with its 30-year-old vines. In fact, this wine is defined by that immediate firmness. The aromas, however, are softer and more yielding with forest fruit, wild berry, crushed slate and blue flower. I would suggest putting this wine aside for five more years at least.

More Info

Piedmont
4
95+ (WA)

In Bond

£254.00

Wine Advocate (95+)

The 2015 Barolo Gramolere (with fruit from Monforte d'Alba) opens to a medium-dark ruby color. When you put the wine to your lips, you immediately feel the power, structure and inner fiber of Nebbiolo as interpreted in this two-hectare parcel with its 30-year-old vines. In fact, this wine is defined by that immediate firmness. The aromas, however, are softer and more yielding with forest fruit, wild berry, crushed slate and blue flower. I would suggest putting this wine aside for five more years at least.

More Info

Piedmont
4
97 (WA)

In Bond

£340.00

Wine Advocate (97)

If you consider the Barolo playbook at Fratelli Alessandria, the 2016 Barolo Gramolere takes the intensity and power up one more notch. You get black fruit and blackberry, but there is enough vibrant red fruit to keep this wine aligned with the more elegant and traditional side of Barolo. The wine shows compelling infinities with both the powerful and the elegant side of Nebbiolo. There are noticeable mineral notes and even a spot of savory salinity. However, Gramolere definitely has the power and inner grit to withstand long cellar aging. Only 7,000 bottles were made.

More Info

Piedmont
11
97 (WA)

In Bond

£373.00

Wine Advocate (97)

If you consider the Barolo playbook at Fratelli Alessandria, the 2016 Barolo Gramolere takes the intensity and power up one more notch. You get black fruit and blackberry, but there is enough vibrant red fruit to keep this wine aligned with the more elegant and traditional side of Barolo. The wine shows compelling infinities with both the powerful and the elegant side of Nebbiolo. There are noticeable mineral notes and even a spot of savory salinity. However, Gramolere definitely has the power and inner grit to withstand long cellar aging. Only 7,000 bottles were made.

More Info

Piedmont
6
94 (VN)

In Bond

£295.00

Vinous (94)

The 2017 Barolo Gramolere is a powerful, tightly wound wine full of Monforte tension. Readers will have to be patient. Dark-fleshed fruit, spice, menthol, licorice and sage add layers of aromatic intrigue to this firm, hulky Barolo. The 2017 takes all the Gramolere signatures and turns up the volume.

More Info

Piedmont
2
17++ (JR)

In Bond

£187.00

Jancis Robinson (17++)

Monforte d'Alba. Mid ruby with orange tinges. Deep, brooding and meaty on the nose. Deep cherry palate that is still taut and framed by sweet clayey tannins. Very long, mouth-filling and finely balanced while maintaining elegance.

More Info