Garage Wine Co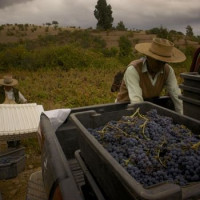 About Garage Wine Co.
Garage Wine Co. is a small Chilean winery founded in 2001 by Derek Mossman Knapp, his wife Pilar Miranda and Dr. Alvaro Pena. Declared by the Wine Advocate's Luis Gutiérrez as "one of my favourite producers in Chile", this dynamic producer started, as the name suggests, from a tiny garage. A duo who have both incredible vision and intuition in vine growing and winemaking, they produce wines with "strong personalities" that sit "among the best produced in Chile" according to Luis Gutiérrez (Wine Advocate).
They set out to make wine with an identity, earning them a cult status. Making wines from a series of individual dry-farmed parcels planted to old vines, GWCo produces wines as naturally and traditionally as possible. The grapes are sourced from small local growers in Maule and Maipo. They played an important role in rehabilitating the area after the deadly 2010 earthquake. They use natural and traditional production processes, including recycled bottles.