Glaetzer
About Glaetzer
The Glaezter family emigrated from Germany in 1888 and became some of the first viticulturists on record to settle in the Barossa Valley. Colin Glaetzer established Glaezter Wines about a century later focusing on producing premium wines and his son, Ben, runs the winery today.
Barossa is famed for its old vines, and Ben sources fruit from vines so old that they are non-irrigated, reaching their roots down tens (sometimes even hundreds!) of metres to seek out groundwater far below the surface. These vines are naturally very low yielding produce fruit of great concentration. The vines are located in Ebenezer, a sub-region of Northern Barossa within a stone's throw away from other Barossa heavyweights such as Torbreck and Standish. In fact, Henschke's famed Hill of Grace vineyard is located just over 12 km away!
Glaetzer Wines
The symbol on the label represents the all-seeing eye of Horus and comprises of 6 parts that represent the 6 senses (touch, taste, hearing, sight, smell and thought), which Ben seeks to engage through the Amon Ra. He certainly succeeded with James Halliday, who found this vintage "full-bodied to the point where it's difficult to give any guidance for cellaring time". Equally enthralled, Morgon Dunn of Winepilot noted that "the room fills with the kinetic aromas of dark chocolate, ground coffee, mint and crushed blue flowers – this is before you've poured a glass".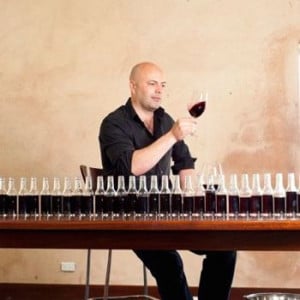 Name
Price Low
Price High
Year (Old)
Year (New)
Prices:
Product Name
Region
Qty
Score
Price

South Australia
1
93 (VN)

Inc. VAT

£664.66

Vinous (93)

(from vines reportedly between 85 and 115 years of age) Inky ruby. Spicy blackberry, cherry and dark chocolate on the nose, with complicating notes of espresso and dried violet. Cool and restrained, with a suave, silky tone to the dark fruit flavors and gentle acids bringing freshness and energy. Nothing overdone here. There's impressive clarity and length to the blackberry and blackcurrant flavors. Really gorgeous.

More Info

South Australia
1
98 (WA)

Inc. VAT

£749.86

Wine Advocate (98)

Still looking fresh and complete, Glaetzer's 2004 Amon Ra Shiraz is full-bodied, rich and dark-fruited, with black cherry and plum fruit forming the base, while grace notes of baking spices, mocha and cedar play about the edges. Creamy and velvety in texture, with a long finish, it remains at its peak and should continue to drink well for another decade or more.

More Info

South Australia
1
97 (WA)

Inc. VAT

£500.84

Wine Advocate (97)

Deep purple-black in color, the 2010 Amon-Ra is very closed on the nose showing pure black fruits, chocolate and licorice with just a touch of loam. Full-bodied and densely packed, the voluptuous palate is framed by firm, fine tannins and a crisp acid line. It has a long, well-balanced finish. Drink it from 2014-2026+.

More Info

South Australia
1
97+ (WA)

Inc. VAT

£458.69

Wine Advocate (97+)

Very deep purple-black in color, the 2012 Amon Ra reveals intense notes of blackcurrant cordial, blackberry compote and licorice with nuances of cloves, allspice, chocolate box and salami as well as a whiff of espresso. The 100% Shiraz palate offers a beast of a wine that is densely packed with black fruit and baking spice flavors and is supported with firm, grainy tannins and crisp acid through to a finish with excellent persistence. Drink it 2015 to 2025+.

More Info

South Australia
1
96 (WA)

Inc. VAT

£425.86

Wine Advocate (96)

Dramatic, intense and powerful, the 2016 Amon Ra Shiraz recalls the 2004 in its youth, crammed with layers of fruit, complex, savory elements and rich, velvety tannins. It's full-bodied, characterized by notes of grilled meat, espresso, black olive, cassis, vanilla, baking spices and an undercurrent of loamy earth. Yes, it's unapologetically big and bold, the product of a warm, sunny climate and ripe grapes, but it does show a sense of decorum, restraint and elegance on the long finish.

More Info

South Australia
1
98 (WA)

Inc. VAT

£459.89

Wine Advocate (98)

Certainly one of the best vintages of young Amon Ra I've ever tasted, the 2018 Amon Ra Shiraz is a stupendous effort. From old vines in the Ebenezer section of the northern Barossa, it starts off with a whirlwind of mocha, blackberry and dried spices, then actually gets more red-fruited as it sits in the glass. Full-bodied, rich and concentrated without being jammy or overdone, the wine finishes long and savory, framed by dusty tannins and mouthwatering black olives. Winemaker Ben Glaetzer compares 2018 to 2004 (which continues to drink well). Expect the 2018 to drink well young, but easily age through 2035, perhaps longer.

More Info

South Australia
2
96+ (WA)

Inc. VAT

£407.86

Wine Advocate (96+)

The 2019 Amon Ra Shiraz is 100% Shiraz and 100% from the 2019 vintage, as Ben Glaetzer felt it—unlike many previous vintages—didn't need to be freshened with a small proportion of younger wine. From old vines in the Ebenezer district of the northern Barossa Valley, it offers classic notes of blackberries and spice, framed by hints of cedar and vanilla (it's aged in 100% new oak hogsheads, mostly French). It's full-bodied yet crisp, supple but tight and really long. Offering lovely dark fruit, hints of espresso and black olive, it finishes mouthwatering and firm. Give it some time in the cellar and drink it from 2025 – 2040.

More Info

South Australia
1
97 (WA)

Inc. VAT

£343.24

Wine Advocate (97)

I've looked at this wine many times over the years, almost exclusively as an older/cellared wine. The impact it has made is strong, and so it is through this lens that I now view this 2020 Amon Ra Shiraz. This year's Amon-Ra is concentrated, dense and absolutely, utterly saturated with flavor. The fruit that spirals within the bounds of the firm tannins is fleshy and pure, and with the knowledge that the wine sails through the decade with noiseless grace, it is all the more impressive in its infancy now. A brilliant wine—all ductile and proud. Yes.

More Info

South Australia
4
94 (VN)

Inc. VAT

£343.64

Vinous (94)

(72% shiraz and 28% cabernet sauvignon, from vines that are reportedly between 30 and 130 years old; 100% new oak, almost all of it French): Glass-staining purple. Highly perfumed, expansive bouquet offers blackberry, cherry-cola, incense and dried violet, with slow-mounting minerality. On the palate, it's lively but concentrated as well, with incisive flavors of dark fruit and floral pastille underscored by intense floral and mineral qualities. Stains the tongue and finishes with excellent clarity and juiciness.

More Info

South Australia
2
93 (VN)

Inc. VAT

£281.09

Vinous (93)

Deep, shimmering ruby. Aromas of ripe blackberry, blueberry, cherry-cola and espresso, along with building floral, spice and cola notes. Offers concentrated, spice-tinged dark fruit preserve and violet pastille flavors that show impressive energy for their heft. Round, well-judged tannins add shape to a very long, smoky finish that repeats the blue fruit and floral notes.

More Info

South Australia
1
97 (WA)

Inc. VAT

£439.24

Wine Advocate (97)

For the 2018 Anaperenna Shiraz-Cabernet Sauvignon, Glaetzer blended in 18% Cabernet Sauvignon to give the wine increased fragrance and length. The nose is smoky, slightly herbal and marked by sweet cedar- and vanilla-tinged oak, but it also offers great cassis and blackberry fruit. Full-bodied, rich and concentrated, the flavors are kept nicely in check by fine-grained tannins. This wine has it all: terrific intensity, complexity, length and texture.

More Info

South Australia
1
91-93 (WA)

Inc. VAT

£309.64

Wine Advocate (91-93)

Readers should think of it as a French Vacqueyras on steroids. From 60-year-old vines in the Ebenezer district of Barossa, the 2005 Shiraz Bishop sees mostly French oak. It reveals a dense ruby/purple hue, beautiful, attractive notes of pepper, spice box, blackberries, and currants, and amazing richness as well as surprising elegance and definition. It can be consumed over the next 10-15 years.

More Info

South Australia
1
95 (HWC)

Inc. VAT

£412.84

Halliday Wine Companion (95)

Deep purple-red; achieves lusciousness, length and intensity of flavour without resorting to excessive alcohol; great balance and mouthfeel; very good length and equally well-balanced oak. Unfiltered. Shiraz/Cabernet Sauvignon.

More Info
Product Name
Region
Qty
Score
Price

South Australia
1
93 (VN)

In Bond

£534.00

Vinous (93)

(from vines reportedly between 85 and 115 years of age) Inky ruby. Spicy blackberry, cherry and dark chocolate on the nose, with complicating notes of espresso and dried violet. Cool and restrained, with a suave, silky tone to the dark fruit flavors and gentle acids bringing freshness and energy. Nothing overdone here. There's impressive clarity and length to the blackberry and blackcurrant flavors. Really gorgeous.

More Info

South Australia
1
98 (WA)

In Bond

£605.00

Wine Advocate (98)

Still looking fresh and complete, Glaetzer's 2004 Amon Ra Shiraz is full-bodied, rich and dark-fruited, with black cherry and plum fruit forming the base, while grace notes of baking spices, mocha and cedar play about the edges. Creamy and velvety in texture, with a long finish, it remains at its peak and should continue to drink well for another decade or more.

More Info

South Australia
1
97 (WA)

In Bond

£398.00

Wine Advocate (97)

Deep purple-black in color, the 2010 Amon-Ra is very closed on the nose showing pure black fruits, chocolate and licorice with just a touch of loam. Full-bodied and densely packed, the voluptuous palate is framed by firm, fine tannins and a crisp acid line. It has a long, well-balanced finish. Drink it from 2014-2026+.

More Info

South Australia
1
97+ (WA)

In Bond

£363.00

Wine Advocate (97+)

Very deep purple-black in color, the 2012 Amon Ra reveals intense notes of blackcurrant cordial, blackberry compote and licorice with nuances of cloves, allspice, chocolate box and salami as well as a whiff of espresso. The 100% Shiraz palate offers a beast of a wine that is densely packed with black fruit and baking spice flavors and is supported with firm, grainy tannins and crisp acid through to a finish with excellent persistence. Drink it 2015 to 2025+.

More Info

South Australia
1
96 (WA)

In Bond

£335.00

Wine Advocate (96)

Dramatic, intense and powerful, the 2016 Amon Ra Shiraz recalls the 2004 in its youth, crammed with layers of fruit, complex, savory elements and rich, velvety tannins. It's full-bodied, characterized by notes of grilled meat, espresso, black olive, cassis, vanilla, baking spices and an undercurrent of loamy earth. Yes, it's unapologetically big and bold, the product of a warm, sunny climate and ripe grapes, but it does show a sense of decorum, restraint and elegance on the long finish.

More Info

South Australia
1
98 (WA)

In Bond

£364.00

Wine Advocate (98)

Certainly one of the best vintages of young Amon Ra I've ever tasted, the 2018 Amon Ra Shiraz is a stupendous effort. From old vines in the Ebenezer section of the northern Barossa, it starts off with a whirlwind of mocha, blackberry and dried spices, then actually gets more red-fruited as it sits in the glass. Full-bodied, rich and concentrated without being jammy or overdone, the wine finishes long and savory, framed by dusty tannins and mouthwatering black olives. Winemaker Ben Glaetzer compares 2018 to 2004 (which continues to drink well). Expect the 2018 to drink well young, but easily age through 2035, perhaps longer.

More Info

South Australia
2
96+ (WA)

In Bond

£320.00

Wine Advocate (96+)

The 2019 Amon Ra Shiraz is 100% Shiraz and 100% from the 2019 vintage, as Ben Glaetzer felt it—unlike many previous vintages—didn't need to be freshened with a small proportion of younger wine. From old vines in the Ebenezer district of the northern Barossa Valley, it offers classic notes of blackberries and spice, framed by hints of cedar and vanilla (it's aged in 100% new oak hogsheads, mostly French). It's full-bodied yet crisp, supple but tight and really long. Offering lovely dark fruit, hints of espresso and black olive, it finishes mouthwatering and firm. Give it some time in the cellar and drink it from 2025 – 2040.

More Info

South Australia
1
97 (WA)

In Bond

£270.00

Wine Advocate (97)

I've looked at this wine many times over the years, almost exclusively as an older/cellared wine. The impact it has made is strong, and so it is through this lens that I now view this 2020 Amon Ra Shiraz. This year's Amon-Ra is concentrated, dense and absolutely, utterly saturated with flavor. The fruit that spirals within the bounds of the firm tannins is fleshy and pure, and with the knowledge that the wine sails through the decade with noiseless grace, it is all the more impressive in its infancy now. A brilliant wine—all ductile and proud. Yes.

More Info

South Australia
4
94 (VN)

In Bond

£267.00

Vinous (94)

(72% shiraz and 28% cabernet sauvignon, from vines that are reportedly between 30 and 130 years old; 100% new oak, almost all of it French): Glass-staining purple. Highly perfumed, expansive bouquet offers blackberry, cherry-cola, incense and dried violet, with slow-mounting minerality. On the palate, it's lively but concentrated as well, with incisive flavors of dark fruit and floral pastille underscored by intense floral and mineral qualities. Stains the tongue and finishes with excellent clarity and juiciness.

More Info

South Australia
2
93 (VN)

In Bond

£215.00

Vinous (93)

Deep, shimmering ruby. Aromas of ripe blackberry, blueberry, cherry-cola and espresso, along with building floral, spice and cola notes. Offers concentrated, spice-tinged dark fruit preserve and violet pastille flavors that show impressive energy for their heft. Round, well-judged tannins add shape to a very long, smoky finish that repeats the blue fruit and floral notes.

More Info

South Australia
1
97 (WA)

In Bond

£350.00

Wine Advocate (97)

For the 2018 Anaperenna Shiraz-Cabernet Sauvignon, Glaetzer blended in 18% Cabernet Sauvignon to give the wine increased fragrance and length. The nose is smoky, slightly herbal and marked by sweet cedar- and vanilla-tinged oak, but it also offers great cassis and blackberry fruit. Full-bodied, rich and concentrated, the flavors are kept nicely in check by fine-grained tannins. This wine has it all: terrific intensity, complexity, length and texture.

More Info

South Australia
1
91-93 (WA)

In Bond

£242.00

Wine Advocate (91-93)

Readers should think of it as a French Vacqueyras on steroids. From 60-year-old vines in the Ebenezer district of Barossa, the 2005 Shiraz Bishop sees mostly French oak. It reveals a dense ruby/purple hue, beautiful, attractive notes of pepper, spice box, blackberries, and currants, and amazing richness as well as surprising elegance and definition. It can be consumed over the next 10-15 years.

More Info

South Australia
1
95 (HWC)

In Bond

£328.00

Halliday Wine Companion (95)

Deep purple-red; achieves lusciousness, length and intensity of flavour without resorting to excessive alcohol; great balance and mouthfeel; very good length and equally well-balanced oak. Unfiltered. Shiraz/Cabernet Sauvignon.

More Info
Name
Price Low
Price High
Year (Old)
Year (New)