Grattamacco
About Grattamacco
Whilst the famous Tenuta San Guido, producer of legendary Sassicaia and first iconic estate established in Bolgheri, is a name know across the world by those with even a passing interest in fine wine, Grattamacco is an altogether more hidden gem.
A true champion of the hallowed terroir that is coastal Bolgheri, Grattamacco is perched atop a hill facing the Tyrrhenian Sea and was founded by adventurous entrepreneur Piermario Meletti Cavallari in 1977. Far from an investment-driven by the head, the establishing of Grattamacco was undoubtedly a leap of faith into what current winemaker Lucca Marrone describes as "the wild west" of viticulture.
Five long, hard years it took before the estate's derelict buildings and neglected farmland were in a fit enough state to release Grattamacco's first-ever vintage in 1982, a full three years ahead of the mighty Ornellaia's debut. In something of a further leap of faith, and ultimately a testament to Cavallari's belief in Bolgheri as a force to be reckoned with in fine wine, Grattamacco was the very first producer to label its top wine as "Bolgheri" rather than the ubiquitous (in the 1980s) "Super Tuscan".
Laying the foundations, by all rights, of our modern understanding of everything from soil typography to microclimate and weather patterns thanks to the radical study commissioned by Grattamacco at the University of Milan, this is a wine of astounding importance and should be on the radar of all true lovers of Italian fine wine.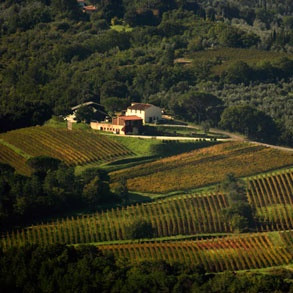 Name
Price Low
Price High
Year (Old)
Year (New)
Prices:
Product Name
Region
Qty
Score
Price

Tuscany
1
-

Inc. VAT

£596.44

Tuscany
4
-

Inc. VAT

£222.29

Tuscany
1
-

Inc. VAT

£263.29

Tuscany
1
94 (WA)

Inc. VAT

£1,123.24

Wine Advocate (94)

The flagship 2008 Bolgheri Superiore Grattamacco is beautifully delineated and articulate in this vintage. Sweet red cherries, flowers, spices and licorice are some of the notes that emerge from the glass. This is a decidedly bright, elegant Grattamacco that impresses for its fabulous overall balance and understated, classy personality. Firm, yet well integrated tannins and insistent minerality suggest the wine will drink well for many years, although to tell the truth, it is pretty delicious today. Grattamacco is Cabernet Sauvignon, Merlot and Sangiovese. Anticipated maturity: 2013-2028.

More Info

Tuscany
18
93 (WA)

Inc. VAT

£307.24

Wine Advocate (93)

Here is another one of those vintage-defying wines to emerge from a very challenging growing season with lots of rain and below average temperatures. The 2014 Bolgheri Superiore Grattamacco benefits from extreme fruit selection and careful management in the winery. This is a blend of Cabernet Sauvignon, Merlot and Sangiovese from one of the most celebrated estates on the Tuscan Coast. The bouquet is full and generous. It peels back with thick intensity revealing luscious tones of blackberry fruit with spice, leather and tobacco. There is structural firmness here but the tannins are well integrated within the fleshiness of the wine.

More Info

Tuscany
3
97 (WA)

Inc. VAT

£218.00

Wine Advocate (97)

The 2015 Bolgheri Superiore Grattamacco is big, bold and absolutely stunning. This blend of 65% Cabernet Sauvignon, 20% Merlot and 15% Sangiovese is dark and luscious, with overlapping melodies of tobacco, spice, dark fruit and grilled herb. There is so much depth and power. This vintage is a gem for your cellar, and the wine should award a long aging trajectory for those who have the patience to wait. Some 50,000 bottles were made.

More Info

Tuscany
1
97 (WA)

Inc. VAT

£658.84

Wine Advocate (97)

The 2015 Bolgheri Superiore Grattamacco is big, bold and absolutely stunning. This blend of 65% Cabernet Sauvignon, 20% Merlot and 15% Sangiovese is dark and luscious, with overlapping melodies of tobacco, spice, dark fruit and grilled herb. There is so much depth and power. This vintage is a gem for your cellar, and the wine should award a long aging trajectory for those who have the patience to wait. Some 50,000 bottles were made.

More Info

Tuscany
2
97 (DC)

Inc. VAT

£439.24

Decanter (97)

Grattamacco is one of the highest estates in Bolgheri, located just beneath the village of Castagneto Carducci. It has a distinctive contribution of 15% Sangiovese to the blend, along with the Cabernet Sauvignon and Merlot. This indigenous grape gives the wine a particular freshness and drinkability, rejuvenating the tension of the classic Bordeaux varieties. In 2016, Grattamacco has exceeded itself, with aromas of elegant, youthful red currant fruits integrated with citrus notes and cedar wood. On the palate the wine is perfectly balanced, and more immediately drinkable than some of the other top samples. It has delicious tension and ripeness, with a mediterranean character and a hint of kiwi on the finish.

More Info

Tuscany
1
96 (DC)

Inc. VAT

£200.81

Decanter (96)

The contribution of Sangiovese (15%) in the blend of Grattamacco makes it a distinctive Bolgheri Superiore. If on the nose Cabernet Sauvignon and Merlot are prevailing with cassis fruit, cedar and kiwi, full of balsamic depth, the indigenous grape pushes the fragrance of the wine with chewy wild fruit flavours. An exceptional expression in the hot vintage. Complex and layered, without any foursquare character, this organic wine is waiting for extra complexity over its liquorice finish.

More Info

Tuscany
4
96 (DC)

Inc. VAT

£546.04

Decanter (96)

The contribution of Sangiovese (15%) in the blend of Grattamacco makes it a distinctive Bolgheri Superiore. If on the nose Cabernet Sauvignon and Merlot are prevailing with cassis fruit, cedar and kiwi, full of balsamic depth, the indigenous grape pushes the fragrance of the wine with chewy wild fruit flavours. An exceptional expression in the hot vintage. Complex and layered, without any foursquare character, this organic wine is waiting for extra complexity over its liquorice finish.

More Info

Tuscany
1
96 (VN)

Inc. VAT

£529.24

Vinous (96)

The 2018 Grattamacco is the most elegant, refined and satisfying wine I have ever tasted from Grattamacco. There is a level of finesse here that is simply unreal. Bright and translucent, with tons of detail, the 2018 oozes with pedigree. Lavender, spice, mint, tobacco and dried flowers add an attractive upper register.

More Info

Tuscany
2
98 (JD)

Inc. VAT

£223.61

Jeb Dunnuck (98)

Reserved layers and depth slowly begin to emerge from the 2019 Grattamacco, so it is going to need time in cellar to open and show itself. As it opens in the glass, it reveals attractive dark mineral earth, kirsch, black pepper spice, and balsamic. It is concentrated and compact at this stage, with savory richness, and it displays full and balanced structure, ripe and present tannins, and notes of cassis, cedar, and pine resin. It reveals rich complexity without ever feeling murky, and its energetic tension takes this wine to the next level. Drink 2025-2050.

More Info

Tuscany
2
98 (JD)

Inc. VAT

£446.03

Jeb Dunnuck (98)

Reserved layers and depth slowly begin to emerge from the 2019 Grattamacco, so it is going to need time in cellar to open and show itself. As it opens in the glass, it reveals attractive dark mineral earth, kirsch, black pepper spice, and balsamic. It is concentrated and compact at this stage, with savory richness, and it displays full and balanced structure, ripe and present tannins, and notes of cassis, cedar, and pine resin. It reveals rich complexity without ever feeling murky, and its energetic tension takes this wine to the next level. Drink 2025-2050.

More Info

Tuscany
1
98 (JD)

Inc. VAT

£448.84

Jeb Dunnuck (98)

Reserved layers and depth slowly begin to emerge from the 2019 Grattamacco, so it is going to need time in cellar to open and show itself. As it opens in the glass, it reveals attractive dark mineral earth, kirsch, black pepper spice, and balsamic. It is concentrated and compact at this stage, with savory richness, and it displays full and balanced structure, ripe and present tannins, and notes of cassis, cedar, and pine resin. It reveals rich complexity without ever feeling murky, and its energetic tension takes this wine to the next level. Drink 2025-2050.

More Info

Tuscany
8
97 (VN)

Inc. VAT

£481.24

Vinous (97)

A stellar wine, the 2020 Grattamacco is dark, vibrant and nuanced to the core. Black fruit, lavender, spice, leather, menthol and dried herbs infuse the 2020 with tons of character and complexity. Deep yet also wonderfully translucent, the 2020 is one of the most finessed Grattamaccos I can remember tasting. There's incredible depth and resonance here, not to mention tons of personality.

More Info

Tuscany
2
-

Inc. VAT

£596.69

Tuscany
1
93 (VN)

Inc. VAT

£337.24

Vinous (93)

The 2017 Bolgheri Superiore L'Alberello is gracious, silky and wonderfully nuanced. In 2017, this blend of Cabernet Sauvignon, Cabernet Franc and Petit Verdot is all class. Crushed rose petal, mint, sweet red berry and cinnamon all grace this mid-weight, beautifully perfumed Bolgheri red. This is an especially bright, lifted wine for the year.

More Info

Tuscany
1
97 (JS)

Inc. VAT

£393.64

James Suckling (97)

Lots of redcurrants and roses on the nose, following through to a medium to full body with firm, silky tannins that run the length of the wine. Firm and polished with excellent length. From organically grown grapes. Give this three or four years to soften. Try after 2025.

More Info

Tuscany
1
-

Inc. VAT

£397.49

Tuscany
3
-

Inc. VAT

£415.49

Tuscany
2
-

Inc. VAT

£220.84

Tuscany
4
-

Inc. VAT

£270.29
Product Name
Region
Qty
Score
Price

Tuscany
1
-

In Bond

£481.00

Tuscany
4
-

In Bond

£166.00

Tuscany
1
-

In Bond

£213.00

Tuscany
1
94 (WA)

In Bond

£920.00

Wine Advocate (94)

The flagship 2008 Bolgheri Superiore Grattamacco is beautifully delineated and articulate in this vintage. Sweet red cherries, flowers, spices and licorice are some of the notes that emerge from the glass. This is a decidedly bright, elegant Grattamacco that impresses for its fabulous overall balance and understated, classy personality. Firm, yet well integrated tannins and insistent minerality suggest the wine will drink well for many years, although to tell the truth, it is pretty delicious today. Grattamacco is Cabernet Sauvignon, Merlot and Sangiovese. Anticipated maturity: 2013-2028.

More Info

Tuscany
18
93 (WA)

In Bond

£240.00

Wine Advocate (93)

Here is another one of those vintage-defying wines to emerge from a very challenging growing season with lots of rain and below average temperatures. The 2014 Bolgheri Superiore Grattamacco benefits from extreme fruit selection and careful management in the winery. This is a blend of Cabernet Sauvignon, Merlot and Sangiovese from one of the most celebrated estates on the Tuscan Coast. The bouquet is full and generous. It peels back with thick intensity revealing luscious tones of blackberry fruit with spice, leather and tobacco. There is structural firmness here but the tannins are well integrated within the fleshiness of the wine.

More Info

Tuscany
3
97 (WA)

In Bond

£179.00

Wine Advocate (97)

The 2015 Bolgheri Superiore Grattamacco is big, bold and absolutely stunning. This blend of 65% Cabernet Sauvignon, 20% Merlot and 15% Sangiovese is dark and luscious, with overlapping melodies of tobacco, spice, dark fruit and grilled herb. There is so much depth and power. This vintage is a gem for your cellar, and the wine should award a long aging trajectory for those who have the patience to wait. Some 50,000 bottles were made.

More Info

Tuscany
1
97 (WA)

In Bond

£533.00

Wine Advocate (97)

The 2015 Bolgheri Superiore Grattamacco is big, bold and absolutely stunning. This blend of 65% Cabernet Sauvignon, 20% Merlot and 15% Sangiovese is dark and luscious, with overlapping melodies of tobacco, spice, dark fruit and grilled herb. There is so much depth and power. This vintage is a gem for your cellar, and the wine should award a long aging trajectory for those who have the patience to wait. Some 50,000 bottles were made.

More Info

Tuscany
2
97 (DC)

In Bond

£350.00

Decanter (97)

Grattamacco is one of the highest estates in Bolgheri, located just beneath the village of Castagneto Carducci. It has a distinctive contribution of 15% Sangiovese to the blend, along with the Cabernet Sauvignon and Merlot. This indigenous grape gives the wine a particular freshness and drinkability, rejuvenating the tension of the classic Bordeaux varieties. In 2016, Grattamacco has exceeded itself, with aromas of elegant, youthful red currant fruits integrated with citrus notes and cedar wood. On the palate the wine is perfectly balanced, and more immediately drinkable than some of the other top samples. It has delicious tension and ripeness, with a mediterranean character and a hint of kiwi on the finish.

More Info

Tuscany
1
96 (DC)

In Bond

£162.00

Decanter (96)

The contribution of Sangiovese (15%) in the blend of Grattamacco makes it a distinctive Bolgheri Superiore. If on the nose Cabernet Sauvignon and Merlot are prevailing with cassis fruit, cedar and kiwi, full of balsamic depth, the indigenous grape pushes the fragrance of the wine with chewy wild fruit flavours. An exceptional expression in the hot vintage. Complex and layered, without any foursquare character, this organic wine is waiting for extra complexity over its liquorice finish.

More Info

Tuscany
4
96 (DC)

In Bond

£439.00

Decanter (96)

The contribution of Sangiovese (15%) in the blend of Grattamacco makes it a distinctive Bolgheri Superiore. If on the nose Cabernet Sauvignon and Merlot are prevailing with cassis fruit, cedar and kiwi, full of balsamic depth, the indigenous grape pushes the fragrance of the wine with chewy wild fruit flavours. An exceptional expression in the hot vintage. Complex and layered, without any foursquare character, this organic wine is waiting for extra complexity over its liquorice finish.

More Info

Tuscany
1
96 (VN)

In Bond

£425.00

Vinous (96)

The 2018 Grattamacco is the most elegant, refined and satisfying wine I have ever tasted from Grattamacco. There is a level of finesse here that is simply unreal. Bright and translucent, with tons of detail, the 2018 oozes with pedigree. Lavender, spice, mint, tobacco and dried flowers add an attractive upper register.

More Info

Tuscany
2
98 (JD)

In Bond

£181.00

Jeb Dunnuck (98)

Reserved layers and depth slowly begin to emerge from the 2019 Grattamacco, so it is going to need time in cellar to open and show itself. As it opens in the glass, it reveals attractive dark mineral earth, kirsch, black pepper spice, and balsamic. It is concentrated and compact at this stage, with savory richness, and it displays full and balanced structure, ripe and present tannins, and notes of cassis, cedar, and pine resin. It reveals rich complexity without ever feeling murky, and its energetic tension takes this wine to the next level. Drink 2025-2050.

More Info

Tuscany
2
98 (JD)

In Bond

£361.00

Jeb Dunnuck (98)

Reserved layers and depth slowly begin to emerge from the 2019 Grattamacco, so it is going to need time in cellar to open and show itself. As it opens in the glass, it reveals attractive dark mineral earth, kirsch, black pepper spice, and balsamic. It is concentrated and compact at this stage, with savory richness, and it displays full and balanced structure, ripe and present tannins, and notes of cassis, cedar, and pine resin. It reveals rich complexity without ever feeling murky, and its energetic tension takes this wine to the next level. Drink 2025-2050.

More Info

Tuscany
1
98 (JD)

In Bond

£358.00

Jeb Dunnuck (98)

Reserved layers and depth slowly begin to emerge from the 2019 Grattamacco, so it is going to need time in cellar to open and show itself. As it opens in the glass, it reveals attractive dark mineral earth, kirsch, black pepper spice, and balsamic. It is concentrated and compact at this stage, with savory richness, and it displays full and balanced structure, ripe and present tannins, and notes of cassis, cedar, and pine resin. It reveals rich complexity without ever feeling murky, and its energetic tension takes this wine to the next level. Drink 2025-2050.

More Info

Tuscany
8
97 (VN)

In Bond

£385.00

Vinous (97)

A stellar wine, the 2020 Grattamacco is dark, vibrant and nuanced to the core. Black fruit, lavender, spice, leather, menthol and dried herbs infuse the 2020 with tons of character and complexity. Deep yet also wonderfully translucent, the 2020 is one of the most finessed Grattamaccos I can remember tasting. There's incredible depth and resonance here, not to mention tons of personality.

More Info

Tuscany
2
-

In Bond

£478.00

Tuscany
1
93 (VN)

In Bond

£265.00

Vinous (93)

The 2017 Bolgheri Superiore L'Alberello is gracious, silky and wonderfully nuanced. In 2017, this blend of Cabernet Sauvignon, Cabernet Franc and Petit Verdot is all class. Crushed rose petal, mint, sweet red berry and cinnamon all grace this mid-weight, beautifully perfumed Bolgheri red. This is an especially bright, lifted wine for the year.

More Info

Tuscany
1
97 (JS)

In Bond

£312.00

James Suckling (97)

Lots of redcurrants and roses on the nose, following through to a medium to full body with firm, silky tannins that run the length of the wine. Firm and polished with excellent length. From organically grown grapes. Give this three or four years to soften. Try after 2025.

More Info

Tuscany
1
-

In Bond

£312.00

Tuscany
3
-

In Bond

£327.00

Tuscany
2
-

In Bond

£168.00

Tuscany
4
-

In Bond

£206.00
Name
Price Low
Price High
Year (Old)
Year (New)