Château Gruaud-Larose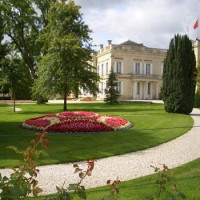 About Château Gruaud-Larose
Château Gruaud Larose in Saint Julien is one of the largest single block vineyards in Bordeaux. It was purchased by Jacques Merlaut in 1997. Under the Taillan Group he owns numerous Bordeaux vineyards such as Château Haut-Bages-Libéral and Château Chasse-Spleen.
With vineyards that haven't changed since the creation of the estate in 1781, they sit at the highest point of elevation on the Saint-Julien plateau, just to the west of Château Beychevelle. Although yet to be certified, Gruaud Larose has begun farming 100% of their vineyards following only biodynamic principles, starting with the 2019 vintage, and they are currently in the last year before organic certification.
The 82-hectare vineyard of Château Gruaud-Larose is planted with approximately 61% Cabernet Sauvignon, 29% Merlot and the rest Cabernet Franc and Petit Verdot. Some of the parcels of vines are in close proximity to Château Talbot and Château Branaire-Ducru. Since the 2019 vintage, the estate has adopted organic viticulture and biodynamic practices that will undoubtedly take Château Gruaud Larose to new heights.
Prices:
Year
Wine
Region
Format
Qty
Score
Price
Wishlist

Gruaud Larose 1952 (1x75cl)

Inc. VAT: £667.20

1952
Bordeaux
1x75cl
1
-
Inc. VAT: £667.20

Gruaud Larose 1984 (1x75cl)

Inc. VAT: £210.00

1984
Bordeaux
1x75cl
5
-
Inc. VAT: £210.00

Gruaud Larose 1993 (1x75cl)

Inc. VAT: £186.00

1993
Bordeaux
1x75cl
1
88 (VN)

Read Review/Description

Inc. VAT: £186.00

Gruaud Larose 1994 (12x75cl)

Inc. VAT: £1,208.14

1994
Bordeaux
12x75cl
1
-
Inc. VAT: £1,208.14

Gruaud Larose 1994 (1x75cl)

Inc. VAT: £174.00

1994
Bordeaux
1x75cl
2
-
Inc. VAT: £174.00

Gruaud Larose 1996 (12x75cl)

Inc. VAT: £1,445.74

1996
Bordeaux
12x75cl
2
91+ (VN)

Read Review/Description

Inc. VAT: £1,445.74

Gruaud Larose 2000 (12x75cl)

Inc. VAT: £1,968.00

2000
Bordeaux
12x75cl
1
95-100 (WS)

Read Review/Description

Inc. VAT: £1,968.00

Gruaud Larose 2000 (1x75cl)

Inc. VAT: £255.60

2000
Bordeaux
1x75cl
9
95-100 (WS)

Read Review/Description

Inc. VAT: £255.60

Gruaud Larose 2004 (12x75cl)

Inc. VAT: £1,067.74

2004
Bordeaux
12x75cl
1
91 (WSM)

Read Review/Description

Inc. VAT: £1,067.74

Gruaud Larose 2006 (12x75cl)

Inc. VAT: £1,026.94

2006
Bordeaux
12x75cl
1
91 (WE)

Read Review/Description

Inc. VAT: £1,026.94

Gruaud Larose 2006 (6x150cl)

Inc. VAT: £1,026.94

2006
Bordeaux
6x150cl
1
91 (WE)

Read Review/Description

Inc. VAT: £1,026.94

Gruaud Larose 2009 (12x75cl)

Inc. VAT: £1,341.34

2009
Bordeaux
12x75cl
1
94-97 (WS)

Read Review/Description

Inc. VAT: £1,341.34

Gruaud Larose 2015 (11x75cl)

Inc. VAT: £778.26

2015
Bordeaux
11x75cl
1
94 (DC)

Read Review/Description

Inc. VAT: £778.26

Gruaud Larose 2015 (12x75cl)

Inc. VAT: £1,026.94

2015
Bordeaux
12x75cl
1
94 (DC)

Read Review/Description

Inc. VAT: £1,026.94

Gruaud Larose 2015 (6x75cl)

Inc. VAT: £721.67

2015
Bordeaux
6x75cl
2
94 (DC)

Read Review/Description

Inc. VAT: £721.67

Gruaud Larose 2016 (6x75cl)

Inc. VAT: £605.27

2016
Bordeaux
6x75cl
1
95-96 (JS)

Read Review/Description

Inc. VAT: £605.27

Gruaud Larose 2018 (12x75cl)

Inc. VAT: £930.94

2018
Bordeaux
12x75cl
3
95-97 (WA)

Read Review/Description

Inc. VAT: £930.94

Gruaud Larose 2018 (6x75cl)

Inc. VAT: £527.27

2018
Bordeaux
6x75cl
1
95-97 (WA)

Read Review/Description

Inc. VAT: £527.27

Gruaud Larose 2019 (6x75cl)

Inc. VAT: £550.07

2019
Bordeaux
6x75cl
4
96 (DC)

Read Review/Description

Inc. VAT: £550.07

Gruaud Larose 2020 (6x75cl)

Inc. VAT: £544.67

2020
Bordeaux
6x75cl
1
95 (DC)

Read Review/Description

Inc. VAT: £544.67

Gruaud Larose 2021 (6x75cl)

Inc. VAT: £557.27

2021
Bordeaux
6x75cl
1
95-97+ (TDB)

Read Review/Description

Inc. VAT: £557.27

Sarget De Gruaud Larose 1983 (1x75cl)

Inc. VAT: £88.80

1983
Bordeaux
1x75cl
1
-
Inc. VAT: £88.80

Sarget De Gruaud Larose 2009 (12x75cl)

Inc. VAT: £496.54

2009
Bordeaux
12x75cl
3
94 (WE)

Read Review/Description

Inc. VAT: £496.54

Sarget de Gruaud Larose 2010 (12x75cl)

Inc. VAT: £616.54

2010
Bordeaux
12x75cl
1
95 (WE)

Read Review/Description

Inc. VAT: £616.54

Sarget De Gruaud Larose 2018 (12x75cl)

Inc. VAT: £417.34

2018
Bordeaux
12x75cl
1
91-92 (JS)

Read Review/Description

Inc. VAT: £417.34
Year
Wine
Region
Format
Qty
Score
Price
Wishlist

Gruaud Larose 1952 (1x75cl)

Inc. VAT: £667.20

1952
Bordeaux
1x75cl
1
-
Inc. VAT: £667.20

Gruaud Larose 1984 (1x75cl)

Inc. VAT: £210.00

1984
Bordeaux
1x75cl
5
-
Inc. VAT: £210.00

Gruaud Larose 1993 (1x75cl)

Inc. VAT: £186.00

1993
Bordeaux
1x75cl
1
88 (VN)

Read Review/Description

Inc. VAT: £186.00

Gruaud Larose 1994 (12x75cl)

In Bond: £980.00

1994
Bordeaux
12x75cl
1
-
In Bond: £980.00

Gruaud Larose 1994 (1x75cl)

Inc. VAT: £174.00

1994
Bordeaux
1x75cl
2
-
Inc. VAT: £174.00

Gruaud Larose 1996 (12x75cl)

In Bond: £1,178.00

1996
Bordeaux
12x75cl
2
91+ (VN)

Read Review/Description

In Bond: £1,178.00

Gruaud Larose 2000 (12x75cl)

Inc. VAT: £1,968.00

2000
Bordeaux
12x75cl
1
95-100 (WS)

Read Review/Description

Inc. VAT: £1,968.00

Gruaud Larose 2000 (1x75cl)

Inc. VAT: £255.60

2000
Bordeaux
1x75cl
9
95-100 (WS)

Read Review/Description

Inc. VAT: £255.60

Gruaud Larose 2004 (12x75cl)

In Bond: £863.00

2004
Bordeaux
12x75cl
1
91 (WSM)

Read Review/Description

In Bond: £863.00

Gruaud Larose 2006 (12x75cl)

In Bond: £829.00

2006
Bordeaux
12x75cl
1
91 (WE)

Read Review/Description

In Bond: £829.00

Gruaud Larose 2006 (6x150cl)

In Bond: £829.00

2006
Bordeaux
6x150cl
1
91 (WE)

Read Review/Description

In Bond: £829.00

Gruaud Larose 2009 (12x75cl)

In Bond: £1,091.00

2009
Bordeaux
12x75cl
1
94-97 (WS)

Read Review/Description

In Bond: £1,091.00

Gruaud Larose 2015 (11x75cl)

In Bond: £624.00

2015
Bordeaux
11x75cl
1
94 (DC)

Read Review/Description

In Bond: £624.00

Gruaud Larose 2015 (12x75cl)

In Bond: £829.00

2015
Bordeaux
12x75cl
1
94 (DC)

Read Review/Description

In Bond: £829.00

Gruaud Larose 2015 (6x75cl)

In Bond: £588.00

2015
Bordeaux
6x75cl
2
94 (DC)

Read Review/Description

In Bond: £588.00

Gruaud Larose 2016 (6x75cl)

In Bond: £491.00

2016
Bordeaux
6x75cl
1
95-96 (JS)

Read Review/Description

In Bond: £491.00

Gruaud Larose 2018 (12x75cl)

In Bond: £749.00

2018
Bordeaux
12x75cl
3
95-97 (WA)

Read Review/Description

In Bond: £749.00

Gruaud Larose 2018 (6x75cl)

In Bond: £426.00

2018
Bordeaux
6x75cl
1
95-97 (WA)

Read Review/Description

In Bond: £426.00

Gruaud Larose 2019 (6x75cl)

In Bond: £445.00

2019
Bordeaux
6x75cl
4
96 (DC)

Read Review/Description

In Bond: £445.00

Gruaud Larose 2020 (6x75cl)

In Bond: £440.50

2020
Bordeaux
6x75cl
1
95 (DC)

Read Review/Description

In Bond: £440.50

Gruaud Larose 2021 (6x75cl)

In Bond: £451.00

2021
Bordeaux
6x75cl
1
95-97+ (TDB)

Read Review/Description

In Bond: £451.00

Sarget De Gruaud Larose 1983 (1x75cl)

Inc. VAT: £88.80

1983
Bordeaux
1x75cl
1
-
Inc. VAT: £88.80

Sarget De Gruaud Larose 2009 (12x75cl)

In Bond: £387.00

2009
Bordeaux
12x75cl
3
94 (WE)

Read Review/Description

In Bond: £387.00

Sarget de Gruaud Larose 2010 (12x75cl)

In Bond: £487.00

2010
Bordeaux
12x75cl
1
95 (WE)

Read Review/Description

In Bond: £487.00

Sarget De Gruaud Larose 2018 (12x75cl)

In Bond: £321.00

2018
Bordeaux
12x75cl
1
91-92 (JS)

Read Review/Description

In Bond: £321.00