Inglenook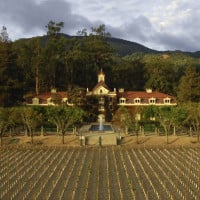 About Inglenook
One of the most storied and revered estates in America, Inglenook can trace its ancestry across the globe as far back as 1842. Surviving plague, prohibition and bankrupt owners, it is today a simply sensational New World producer crafting some of the finest classically structured Cabernet Sauvignon in the world.
The modern era that shedding a glimmer of light for Inglenook came in 1975, one of the greatest film directors of the 20th century. Francis Ford Coppola, who had already made The Godfather and The Godfather Part II at the time, came to Napa in search of a holiday home with his wife. Purchasing the old house of the former owner, Gustave Niebaum, which the house was not included in the sale of the Inglenook brand, the Coppolas subsequently founded the Niebaum-Coppola Estate Winery with the promise that they would do everything in their power to one day restore Inglenook's reputation.
The wines of Niebaum-Coppola Estate went from strength to strength, only growing in reputation with the appointment of the legendary André Tchelistcheff as a consultant in 1982. Having a hand in two of the Californian wines which triumphed at the Judgement of Paris, his tenure went more than a little way towards the promised restoration of the Inglenook reputation.
After 30 years, the success of Niebaum-Coppola meant it was now an unstoppable force in Napa with enough muscle to finally purchase the remaining land which constituted the original Inglenook estate, including the mythical and revolutionary château.
Finally, a mere 10 years ago, Francis Ford Coppola fulfilled his decades-long promise and purchased the brand and trademark of the Inglenook name – the land, spirit and name are once again whole after so many years. Far from content with this monumental achievement, Paul Bascaules was poached from the mighty Château Margaux in 2011. After five years as general manager of Inglenook, the lure of being appointed MD back at Margaux proved irresistible. However, a testament to the pull of Inglenook, Bascaules decides to split his time and schedule to remain, Director of Winemaking of the Californian titan,