Domaine Jamet
About Domaine Jamet
Domaine Jamet is a producer in the northern Rhône known for its classical Côte-Rôtie wines. With vineyards situaed near Côte Brune and the Côte Blonde, their plantings are nearly all Syrah, with small amounts of Marsanne, Viognier and Roussanne.
The Domaine was founded by Joseph Jamet, who in 1950 acquired a tiny plot of land and began selling fruit to négociants. Domaine Jamet began bottling its own wines in 1976 and, following Joseph's retirement, his sons Jean-Luc and Jean-Paul took over the family business. In 2013, the brothers agreed to split their parcels between them. Today, Domaine Jamet managed by husband and wife Jean-Paul and Corinne Jamet, along with their son, Loïc, who joined in 2015.
In addition to vineyards inherited from the father of Jean-Paul Jamet, they have also acquired additional 20ha of vineyards in Condrieu. A family estate producing a boutique portfolio, their wines are truly collectables among oenophiles.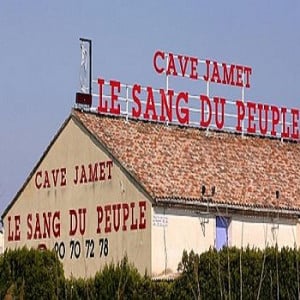 Name
Price Low
Price High
Year (Old)
Year (New)
Prices:
Product Name
Region
Qty
Score
Price

Rhone
1
94 (VN)

Inc. VAT

£461.09

Vinous (94)

Translucent, green-hued yellow. Assertive orchard and pit fruit and orange peel scents are complemented by building honey and fennel flourishes. Concentrated and energetic on the palate, offering intense white peach, pear and tangerine flavors that become spicier as the wine opens up. A floral quality appears on the seamless finish, which shows a hint of smokiness and excellent persistence. This wine was raised in a 75/25 combination of unlined 500-liter amphoras and neutral demi-muids.

More Info

Rhone
1
96 (WA)

Inc. VAT

£1,568.00

Wine Advocate (96)

From a scorching-hot year and compared to the 1999 and the 2009 by Jamet, the jaw-droppingly good 1989 Cote Rotie is more muscular and savory than the more sweetly fruited 1990. Offering up tons of asphalt, beef blood, smoked earth and spice, as well as a core of gamy Syrah fruit, it's fabulously textured, full-bodied, structured and has a killer finish. A big, bruiser style of Cote Rotie, it has another decade of prime drinking, and will hold for even longer.

More Info

Rhone
1
-

Inc. VAT

£2,248.40

Rhone
1
97 (WA)

Inc. VAT

£569.60

Wine Advocate (97)

One of the all-time greats from this estate is the still inky colored 1999 Cote Rotie. From a hot year that had many vignerons struggling with vinification issues, Jean-Paul compared 1999 to 2009 more than once. Sensationally rich, concentrated and full-bodied, it reveals a classic bouquet of pepper, smoked herbs, black currants and licorice. One sexy Cote Rotie that's just hard to resist, it's drinking perfectly today but will evolve nicely for another decade or more.

More Info

Rhone
4
93 (WA)

Inc. VAT

£473.60

Wine Advocate (93)

A forward, sexy-style Cote Rotie that shows more oomph than most in the vintage, Jamet's 2000 Cote Rotie offers the hallmark complexity of the estate with its perfumed raspberry, game, flowers, olives and peppery bouquet. This carries to a full-bodied, voluptuously textured, seamless wine that has excellent purity, low acidity and tons of charm. Probably closest in style to the 1990, drink this character-filled beauty over the coming 5-7 years.

More Info

Rhone
1
95 (VN)

Inc. VAT

£4,236.58

Vinous (95)

Bright ruby. Compelling aromas of candied red berries, sandalwood, fresh violet and lavender and pipe tobacco. Finely etched red and dark berry flavors are wonderfully concentrated and fresh, with impressive back-end lift and energy. Becomes livelier with air, finishing with outstanding clarity and focus. I underestimated this wine last year, just before it was bottled.

More Info

Rhone
2
95 (WA)

Inc. VAT

£1,340.44

Wine Advocate (95)

Looking at the 2011s from bottle, the straight Cote Rotie is a knockout effort that has soaring aromas of underbrush, herbed game, green coffee beans and white pepper to go with black cherry and blackberry-styled fruit. Medium to full-bodied, textured and layered, with fantastic precision and focus in the vintage, it should continue to shine through 2026.

More Info

Rhone
1
96 (WA)

Inc. VAT

£1,513.24

Wine Advocate (96)

The 2012 Cote Rotie is smoking good and should be up with the top wines from this estate. Inky colored, full-bodied and beautifully concentrated, it offers classic pepper, violets, bacon fat, olive and sweet cassis-like fruits. Opening up with time in the glass, it has the approachable, supple feel of the vintage, yet has more than enough mid-palate depth and fine tannin to keep it drinking beautifully for another two decades.

More Info

Rhone
1
95-96 (JS)

Inc. VAT

£914.44

James Suckling (95-96)

Plenty of violets, pepper and deep-set spices are all part of the equation here, and this is a very complex Côte Rôtie that has a wealth of darkly stony notes, coal smoke and dark chocolate. Just superb! The palate's succulent and swathed in plush, fine tannins that envelop black- and red-plum flavors. Plenty of volume, great elegance and a lot of detail. A vintage when experienced makers could still shine, and the sorting in the vineyard was clearly a large part of this. Classy wine with so much on offer. Best from 2020 for a decade or more. Tasted in tank shortly before bottling.

More Info

Rhone
1
97 (VN)

Inc. VAT

£1,843.24

Vinous (97)

Lurid violet color. Assertive blackberry, licorice pastille, smoky bacon and potpourri scents are complemented by a strong mineral overlay. Seamless and broad in the mouth, offering deeply concentrated black and blue fruit liqueur, cola and floral pastille flavors and a strong jolt of exotic spices. Finishes with repeating mineral, smoke and dark fruit character, with noticeable but well-knit tannins and superb tenacity.

More Info

Rhone
1
97 (VN)

Inc. VAT

£1,360.84

Vinous (97)

Lurid violet color. Assertive blackberry, licorice pastille, smoky bacon and potpourri scents are complemented by a strong mineral overlay. Seamless and broad in the mouth, offering deeply concentrated black and blue fruit liqueur, cola and floral pastille flavors and a strong jolt of exotic spices. Finishes with repeating mineral, smoke and dark fruit character, with noticeable but well-knit tannins and superb tenacity.

More Info

Rhone
3
96 (VN)

Inc. VAT

£2,316.07

Vinous (96)

Deep, lurid purple. Assertive, highly perfumed aromas of fresh blackberry, cherry, Moroccan spices and violet pick up olive and licorice nuances with air. Juicy, energetic and appealingly sweet, offering palate-staining red/blue fruit preserve, spicecake and violet pastille flavors that become deeper as the wine opens up. The floral and mineral notes repeat with gusto on an impressively long, focused finish that features youthfully firm tannins and a touch of bitter chocolate.

More Info

Rhone
1
96 (VN)

Inc. VAT

£1,273.24

Vinous (96)

Deep, lurid purple. Assertive, highly perfumed aromas of fresh blackberry, cherry, Moroccan spices and violet pick up olive and licorice nuances with air. Juicy, energetic and appealingly sweet, offering palate-staining red/blue fruit preserve, spicecake and violet pastille flavors that become deeper as the wine opens up. The floral and mineral notes repeat with gusto on an impressively long, focused finish that features youthfully firm tannins and a touch of bitter chocolate.

More Info

Rhone
2
97 (DC)

Inc. VAT

£2,251.27

Decanter (97)

Elegant, perfumed, floral nose. This is generous, fresh and beguilingly complex already. It's dark and brooding but brimming with fruits, spices, flowers, a touch of smoke and graphite with a remarkably mineral, salty finish. Serious, but beautiful.

More Info

Rhone
1
97 (DC)

Inc. VAT

£1,003.24

Decanter (97)

Elegant, perfumed, floral nose. This is generous, fresh and beguilingly complex already. It's dark and brooding but brimming with fruits, spices, flowers, a touch of smoke and graphite with a remarkably mineral, salty finish. Serious, but beautiful.

More Info

Rhone
1
96 (DC)

Inc. VAT

£1,756.87

Decanter (96)

Liqueur-fruited, incredibly dense and opulent. The alcohol is quite high and the fruit very dark, underscored by big, slightly blocky and tight tannins. Rich, warming and generous style; very much a solaire vintage.

More Info

Rhone
2
96 (DC)

Inc. VAT

£1,003.22

Decanter (96)

Liqueur-fruited, incredibly dense and opulent. The alcohol is quite high and the fruit very dark, underscored by big, slightly blocky and tight tannins. Rich, warming and generous style; very much a solaire vintage.

More Info

Rhone
2
98 (DC)

Inc. VAT

£2,438.47

Decanter (98)

Jean-Paul Jamet said '2019 gave wines in the style that I like to make'. A step up from the 2018 vintage, the 2019 is more vibrant and intense. A blend of 25 parcels, amounting to 17ha, almost exclusively on schist soils. No destemming. A tasting of nine different barrels across a variety of lieux-dits suggest that the 2019 Côte-Rôtie is very special indeed. This is vibrant and intense, but not as sunny as the 2018 in style - sugars and phenolics progressed at the same gradual rate in 2019, making for a more harmonious and balanced wine. You feel the hot vintage in the wine, but it's represented more as power and intensity than hot alcohol. Vivid and highly impressive.

More Info

Rhone
1
98 (DC)

Inc. VAT

£1,125.64

Decanter (98)

Jean-Paul Jamet said '2019 gave wines in the style that I like to make'. A step up from the 2018 vintage, the 2019 is more vibrant and intense. A blend of 25 parcels, amounting to 17ha, almost exclusively on schist soils. No destemming. A tasting of nine different barrels across a variety of lieux-dits suggest that the 2019 Côte-Rôtie is very special indeed. This is vibrant and intense, but not as sunny as the 2018 in style - sugars and phenolics progressed at the same gradual rate in 2019, making for a more harmonious and balanced wine. You feel the hot vintage in the wine, but it's represented more as power and intensity than hot alcohol. Vivid and highly impressive.

More Info

Rhone
1
97 (VN)

Inc. VAT

£2,106.58

Vinous (97)

Opaque ruby. Vibrant blackberry, cherry, incense, Moroccan spice, potpourri and smoky mineral qualities on the expansive, seductively perfumed nose. Offers vibrant black and blue fruit, spicecake, olive and floral pastille flavors that show bright detail and energetic mineral lift. The floral and spice notes recur strongly on the youthfully gripping finish, which features mounting tannins and lingering smokiness.

More Info

Rhone
1
97 (VN)

Inc. VAT

£935.09

Vinous (97)

Opaque ruby. Vibrant blackberry, cherry, incense, Moroccan spice, potpourri and smoky mineral qualities on the expansive, seductively perfumed nose. Offers vibrant black and blue fruit, spicecake, olive and floral pastille flavors that show bright detail and energetic mineral lift. The floral and spice notes recur strongly on the youthfully gripping finish, which features mounting tannins and lingering smokiness.

More Info

Rhone
1
-

Inc. VAT

£1,081.20

Rhone
1
98-100 (WA)

Inc. VAT

£3,619.24

Wine Advocate (98-100)

Lovers of Côte Rôtie shouldn't bother waiting for reviews of this bottling—just try to get as much as you can every year. The 2017 Cote Rotie Cote Brune should be bottled by the time you read this, but at the time of my visit, it was still in barrel. Aromatically, this has it all—violets, stems, cracked pepper, amazing fruit. It's full-bodied, dense and absolutely packed, yet it comes across as silky, lithe and engaging, with tremendous length and complexity on the finish. Always a thrill to taste out of barrel, it does firm up after bottling, so try to resist the urge to pop a cork before 2025 or so.

More Info

Rhone
1
98-100 (WA)

Inc. VAT

£3,803.09

Wine Advocate (98-100)

Year after year, this is one of the top wines in the appellation. Jamet's 2018 Cote Rotie Cote Brune combines intense violet notes with mixed berries in a full-bodied wine that boasts incredible concentration yet never seems overly rich or heavy. Briny, fresh, silky and long, it's another tour de force from the talented Jamet family.

More Info

Rhone
1
96+ (WA)

Inc. VAT

£615.64

Wine Advocate (96+)

Significantly more closed and muscular than it appeared from barrel, the 2015 Cote Rotie is a long-term proposition. It's not showing a lot of charm or elegance at this juncture, but it's massively rich and ripe, with plenty of weight on the palate, chewy tannins and a long, long finish. Like I wrote last year, it might start to drink well at age 10, although it might need even longer.

More Info

Rhone
1
93-96 (WA)

Inc. VAT

£421.24

Wine Advocate (93-96)

The 2017 Cote Rotie was still in separate lots when I visited, yet I came away with remarkably similar impressions from the Gerine (fragrant charming and silky) and le Plomb (taut, intense and structural) as I did last year. A number of other lots will go into the final assemblage (Chavaroche, Fongeant, Lezardes and several more, probably including La Landonne). There's more cracked pepper and violets on the nose of the 2017 than the 2018 and also a touch more crispness and tension on the palate.

More Info

Rhone
1
91 (VN)

Inc. VAT

£458.47

Vinous (91)

Bright purple. Textbook Syrah aromas of dark berries, olive, cracked pepper and smoky bacon carry a subtle floral topnote. Silky and sweet on the palate, offering juicy blackberry and cherry flavors and a touch of candied violet. Finishes on a spicy floral note; smooth tannins shape the clinging finish.

More Info

Rhone
1
91 (VN)

Inc. VAT

£412.87

Vinous (91)

Deep, bright-rimmed ruby. Fresh dark berry and floral pastille aromas are complemented by hints of black pepper and licorice. Juicy and supple in style, offering energetic blackberry, bitter cherry and spicecake flavors that firm up on the back half. The long, smooth, subtly sweet finish features harmonious tannins and a touch of smokiness.

More Info

Rhone
1
92 (VN)

Inc. VAT

£487.27

Vinous (92)

Opaque violet color. Aromas of ripe, smoke-tinged dark berries and fresh flowers are sharpened by building mineral and spice notes. Spicy and broad on the palate, offering juicy blackcurrant, cherry and violet pastille flavors with subtle olive and cracked pepper flourishes. Tightens up with air and finishes spicy and long, displaying fine clarity, even tannins and repeating florality.

More Info

Rhone
1
-

Inc. VAT

£1,661.54
Product Name
Region
Qty
Score
Price

Rhone
1
94 (VN)

In Bond

£365.00

Vinous (94)

Translucent, green-hued yellow. Assertive orchard and pit fruit and orange peel scents are complemented by building honey and fennel flourishes. Concentrated and energetic on the palate, offering intense white peach, pear and tangerine flavors that become spicier as the wine opens up. A floral quality appears on the seamless finish, which shows a hint of smokiness and excellent persistence. This wine was raised in a 75/25 combination of unlined 500-liter amphoras and neutral demi-muids.

More Info

Rhone
1
96 (WA)

In Bond

£1,304.00

Wine Advocate (96)

From a scorching-hot year and compared to the 1999 and the 2009 by Jamet, the jaw-droppingly good 1989 Cote Rotie is more muscular and savory than the more sweetly fruited 1990. Offering up tons of asphalt, beef blood, smoked earth and spice, as well as a core of gamy Syrah fruit, it's fabulously textured, full-bodied, structured and has a killer finish. A big, bruiser style of Cote Rotie, it has another decade of prime drinking, and will hold for even longer.

More Info

Rhone
1
-

In Bond

£1,871.00

Rhone
1
97 (WA)

In Bond

£472.00

Wine Advocate (97)

One of the all-time greats from this estate is the still inky colored 1999 Cote Rotie. From a hot year that had many vignerons struggling with vinification issues, Jean-Paul compared 1999 to 2009 more than once. Sensationally rich, concentrated and full-bodied, it reveals a classic bouquet of pepper, smoked herbs, black currants and licorice. One sexy Cote Rotie that's just hard to resist, it's drinking perfectly today but will evolve nicely for another decade or more.

More Info

Rhone
4
93 (WA)

In Bond

£392.00

Wine Advocate (93)

A forward, sexy-style Cote Rotie that shows more oomph than most in the vintage, Jamet's 2000 Cote Rotie offers the hallmark complexity of the estate with its perfumed raspberry, game, flowers, olives and peppery bouquet. This carries to a full-bodied, voluptuously textured, seamless wine that has excellent purity, low acidity and tons of charm. Probably closest in style to the 1990, drink this character-filled beauty over the coming 5-7 years.

More Info

Rhone
1
95 (VN)

In Bond

£3,492.00

Vinous (95)

Bright ruby. Compelling aromas of candied red berries, sandalwood, fresh violet and lavender and pipe tobacco. Finely etched red and dark berry flavors are wonderfully concentrated and fresh, with impressive back-end lift and energy. Becomes livelier with air, finishing with outstanding clarity and focus. I underestimated this wine last year, just before it was bottled.

More Info

Rhone
2
95 (WA)

In Bond

£1,101.00

Wine Advocate (95)

Looking at the 2011s from bottle, the straight Cote Rotie is a knockout effort that has soaring aromas of underbrush, herbed game, green coffee beans and white pepper to go with black cherry and blackberry-styled fruit. Medium to full-bodied, textured and layered, with fantastic precision and focus in the vintage, it should continue to shine through 2026.

More Info

Rhone
1
96 (WA)

In Bond

£1,245.00

Wine Advocate (96)

The 2012 Cote Rotie is smoking good and should be up with the top wines from this estate. Inky colored, full-bodied and beautifully concentrated, it offers classic pepper, violets, bacon fat, olive and sweet cassis-like fruits. Opening up with time in the glass, it has the approachable, supple feel of the vintage, yet has more than enough mid-palate depth and fine tannin to keep it drinking beautifully for another two decades.

More Info

Rhone
1
95-96 (JS)

In Bond

£746.00

James Suckling (95-96)

Plenty of violets, pepper and deep-set spices are all part of the equation here, and this is a very complex Côte Rôtie that has a wealth of darkly stony notes, coal smoke and dark chocolate. Just superb! The palate's succulent and swathed in plush, fine tannins that envelop black- and red-plum flavors. Plenty of volume, great elegance and a lot of detail. A vintage when experienced makers could still shine, and the sorting in the vineyard was clearly a large part of this. Classy wine with so much on offer. Best from 2020 for a decade or more. Tasted in tank shortly before bottling.

More Info

Rhone
1
97 (VN)

In Bond

£1,520.00

Vinous (97)

Lurid violet color. Assertive blackberry, licorice pastille, smoky bacon and potpourri scents are complemented by a strong mineral overlay. Seamless and broad in the mouth, offering deeply concentrated black and blue fruit liqueur, cola and floral pastille flavors and a strong jolt of exotic spices. Finishes with repeating mineral, smoke and dark fruit character, with noticeable but well-knit tannins and superb tenacity.

More Info

Rhone
1
97 (VN)

In Bond

£1,118.00

Vinous (97)

Lurid violet color. Assertive blackberry, licorice pastille, smoky bacon and potpourri scents are complemented by a strong mineral overlay. Seamless and broad in the mouth, offering deeply concentrated black and blue fruit liqueur, cola and floral pastille flavors and a strong jolt of exotic spices. Finishes with repeating mineral, smoke and dark fruit character, with noticeable but well-knit tannins and superb tenacity.

More Info

Rhone
3
96 (VN)

In Bond

£1,898.00

Vinous (96)

Deep, lurid purple. Assertive, highly perfumed aromas of fresh blackberry, cherry, Moroccan spices and violet pick up olive and licorice nuances with air. Juicy, energetic and appealingly sweet, offering palate-staining red/blue fruit preserve, spicecake and violet pastille flavors that become deeper as the wine opens up. The floral and mineral notes repeat with gusto on an impressively long, focused finish that features youthfully firm tannins and a touch of bitter chocolate.

More Info

Rhone
1
96 (VN)

In Bond

£1,045.00

Vinous (96)

Deep, lurid purple. Assertive, highly perfumed aromas of fresh blackberry, cherry, Moroccan spices and violet pick up olive and licorice nuances with air. Juicy, energetic and appealingly sweet, offering palate-staining red/blue fruit preserve, spicecake and violet pastille flavors that become deeper as the wine opens up. The floral and mineral notes repeat with gusto on an impressively long, focused finish that features youthfully firm tannins and a touch of bitter chocolate.

More Info

Rhone
2
97 (DC)

In Bond

£1,844.00

Decanter (97)

Elegant, perfumed, floral nose. This is generous, fresh and beguilingly complex already. It's dark and brooding but brimming with fruits, spices, flowers, a touch of smoke and graphite with a remarkably mineral, salty finish. Serious, but beautiful.

More Info

Rhone
1
97 (DC)

In Bond

£820.00

Decanter (97)

Elegant, perfumed, floral nose. This is generous, fresh and beguilingly complex already. It's dark and brooding but brimming with fruits, spices, flowers, a touch of smoke and graphite with a remarkably mineral, salty finish. Serious, but beautiful.

More Info

Rhone
1
96 (DC)

In Bond

£1,432.00

Decanter (96)

Liqueur-fruited, incredibly dense and opulent. The alcohol is quite high and the fruit very dark, underscored by big, slightly blocky and tight tannins. Rich, warming and generous style; very much a solaire vintage.

More Info

Rhone
2
96 (DC)

In Bond

£819.99

Decanter (96)

Liqueur-fruited, incredibly dense and opulent. The alcohol is quite high and the fruit very dark, underscored by big, slightly blocky and tight tannins. Rich, warming and generous style; very much a solaire vintage.

More Info

Rhone
2
98 (DC)

In Bond

£2,000.00

Decanter (98)

Jean-Paul Jamet said '2019 gave wines in the style that I like to make'. A step up from the 2018 vintage, the 2019 is more vibrant and intense. A blend of 25 parcels, amounting to 17ha, almost exclusively on schist soils. No destemming. A tasting of nine different barrels across a variety of lieux-dits suggest that the 2019 Côte-Rôtie is very special indeed. This is vibrant and intense, but not as sunny as the 2018 in style - sugars and phenolics progressed at the same gradual rate in 2019, making for a more harmonious and balanced wine. You feel the hot vintage in the wine, but it's represented more as power and intensity than hot alcohol. Vivid and highly impressive.

More Info

Rhone
1
98 (DC)

In Bond

£922.00

Decanter (98)

Jean-Paul Jamet said '2019 gave wines in the style that I like to make'. A step up from the 2018 vintage, the 2019 is more vibrant and intense. A blend of 25 parcels, amounting to 17ha, almost exclusively on schist soils. No destemming. A tasting of nine different barrels across a variety of lieux-dits suggest that the 2019 Côte-Rôtie is very special indeed. This is vibrant and intense, but not as sunny as the 2018 in style - sugars and phenolics progressed at the same gradual rate in 2019, making for a more harmonious and balanced wine. You feel the hot vintage in the wine, but it's represented more as power and intensity than hot alcohol. Vivid and highly impressive.

More Info

Rhone
1
97 (VN)

In Bond

£1,717.00

Vinous (97)

Opaque ruby. Vibrant blackberry, cherry, incense, Moroccan spice, potpourri and smoky mineral qualities on the expansive, seductively perfumed nose. Offers vibrant black and blue fruit, spicecake, olive and floral pastille flavors that show bright detail and energetic mineral lift. The floral and spice notes recur strongly on the youthfully gripping finish, which features mounting tannins and lingering smokiness.

More Info

Rhone
1
97 (VN)

In Bond

£760.00

Vinous (97)

Opaque ruby. Vibrant blackberry, cherry, incense, Moroccan spice, potpourri and smoky mineral qualities on the expansive, seductively perfumed nose. Offers vibrant black and blue fruit, spicecake, olive and floral pastille flavors that show bright detail and energetic mineral lift. The floral and spice notes recur strongly on the youthfully gripping finish, which features mounting tannins and lingering smokiness.

More Info

Rhone
1
-

Inc. VAT

£1,081.20

Rhone
1
98-100 (WA)

In Bond

£3,000.00

Wine Advocate (98-100)

Lovers of Côte Rôtie shouldn't bother waiting for reviews of this bottling—just try to get as much as you can every year. The 2017 Cote Rotie Cote Brune should be bottled by the time you read this, but at the time of my visit, it was still in barrel. Aromatically, this has it all—violets, stems, cracked pepper, amazing fruit. It's full-bodied, dense and absolutely packed, yet it comes across as silky, lithe and engaging, with tremendous length and complexity on the finish. Always a thrill to taste out of barrel, it does firm up after bottling, so try to resist the urge to pop a cork before 2025 or so.

More Info

Rhone
1
98-100 (WA)

In Bond

£3,150.00

Wine Advocate (98-100)

Year after year, this is one of the top wines in the appellation. Jamet's 2018 Cote Rotie Cote Brune combines intense violet notes with mixed berries in a full-bodied wine that boasts incredible concentration yet never seems overly rich or heavy. Briny, fresh, silky and long, it's another tour de force from the talented Jamet family.

More Info

Rhone
1
96+ (WA)

In Bond

£497.00

Wine Advocate (96+)

Significantly more closed and muscular than it appeared from barrel, the 2015 Cote Rotie is a long-term proposition. It's not showing a lot of charm or elegance at this juncture, but it's massively rich and ripe, with plenty of weight on the palate, chewy tannins and a long, long finish. Like I wrote last year, it might start to drink well at age 10, although it might need even longer.

More Info

Rhone
1
93-96 (WA)

In Bond

£335.00

Wine Advocate (93-96)

The 2017 Cote Rotie was still in separate lots when I visited, yet I came away with remarkably similar impressions from the Gerine (fragrant charming and silky) and le Plomb (taut, intense and structural) as I did last year. A number of other lots will go into the final assemblage (Chavaroche, Fongeant, Lezardes and several more, probably including La Landonne). There's more cracked pepper and violets on the nose of the 2017 than the 2018 and also a touch more crispness and tension on the palate.

More Info

Rhone
1
91 (VN)

In Bond

£350.00

Vinous (91)

Bright purple. Textbook Syrah aromas of dark berries, olive, cracked pepper and smoky bacon carry a subtle floral topnote. Silky and sweet on the palate, offering juicy blackberry and cherry flavors and a touch of candied violet. Finishes on a spicy floral note; smooth tannins shape the clinging finish.

More Info

Rhone
1
91 (VN)

In Bond

£312.00

Vinous (91)

Deep, bright-rimmed ruby. Fresh dark berry and floral pastille aromas are complemented by hints of black pepper and licorice. Juicy and supple in style, offering energetic blackberry, bitter cherry and spicecake flavors that firm up on the back half. The long, smooth, subtly sweet finish features harmonious tannins and a touch of smokiness.

More Info

Rhone
1
92 (VN)

In Bond

£374.00

Vinous (92)

Opaque violet color. Aromas of ripe, smoke-tinged dark berries and fresh flowers are sharpened by building mineral and spice notes. Spicy and broad on the palate, offering juicy blackcurrant, cherry and violet pastille flavors with subtle olive and cracked pepper flourishes. Tightens up with air and finishes spicy and long, displaying fine clarity, even tannins and repeating florality.

More Info

Rhone
1
-

In Bond

£1,375.00