Jean Stodden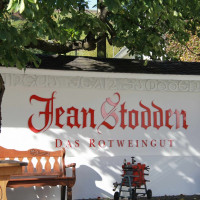 About Jean Stodden
Jean Stodden (which is run by Alexander Stodden), is in Ahr - Germany's most northerly wine-producing region. Stodden is now one of the top producers in this region.
The winery was established in 1900 and Alexander is the 5th generation family member to run the estate (at the helm since 2006). Prior to Alexander's ascension, the wines were good but were made in a more tannic and austere style. Alexander has taken them in a more elegant direction, softening the edges with tweaks to the fermentation process. His changes are largely responsible for the critical acclaim he gets today from Stephan Reinhardt and Michel Schmidt.
The estate is tiny and complex, only 7 ha but with vines spread over 65 different plots. Almost all of it is Pinot Noir.
Stodden looks set to continue its march to the very premier level of German red wine-making, and we are thrilled to champion their wines.
Prices:
Year
Wine
Region
Format
Qty
Score
Price
Wishlist

Jean Stodden Spatburgunder 2019 (6x75cl)

Inc. VAT: £148.07

2019
Ahr
6x75cl
1
-
Inc. VAT: £148.07
Year
Wine
Region
Format
Qty
Score
Price
Wishlist

Jean Stodden Spatburgunder 2019 (6x75cl)

In Bond: £110.00

2019
Ahr
6x75cl
1
-
In Bond: £110.00