John Duval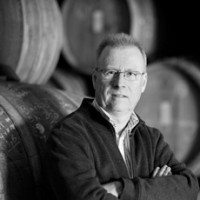 About John Duval
John Duval is an internationally acclaimed winemaker who formerly headed the winemaking team at Australia's most legendary estate, Penfolds. Responsible for producing the iconic Penfolds Grange, as well as new cuvées such Bin 407 and 'RWT' Shiraz during his tenure, Duval is one of the single most influential winemakers over the last century.
Experiencing his first vintage at Australia's greatest estate in 1974, Duval spent the following 12 years learning from founder Max Schubert and head winemaker Don Ditter. 1986 saw John Duval become only the third person responsible for one of the world's greatest wines in Penfolds Grange.
Duval's mastery in winemaking led him to establish his own winery, John Duval Wines, in 2003. With a focus on old vine Shiraz and other Rhône varietals, he makes small volumes of magical wines from the Barossa Valley. Since 2016, John Duval has been joined by his son, Tim. The father-and-son partnership continues the obsessive experimentation and introduction of new and exciting cuvées to the market.
Prices:
Year
Wine
Region
Format
Qty
Score
Price
Wishlist

John Duval Annexus Mataro 2017 (6x75cl)

Inc. VAT: £256.07

2017
South Australia
6x75cl
1
97 (JH)

Read Review/Description

Inc. VAT: £256.07

John Duval Eligo Shiraz 2016 (6x75cl)

Inc. VAT: £486.47

2016
South Australia
6x75cl
1
98 (HWC)

Read Review/Description

Inc. VAT: £486.47

John Duval Entity Shiraz 2017 (6x75cl)

Inc. VAT: £358.07

2017
South Australia
6x75cl
1
99 (JH)

Read Review/Description

Inc. VAT: £358.07
Year
Wine
Region
Format
Qty
Score
Price
Wishlist

John Duval Annexus Mataro 2017 (6x75cl)

In Bond: £200.00

2017
South Australia
6x75cl
1
97 (JH)

Read Review/Description

In Bond: £200.00

John Duval Eligo Shiraz 2016 (6x75cl)

In Bond: £392.00

2016
South Australia
6x75cl
1
98 (HWC)

Read Review/Description

In Bond: £392.00

John Duval Entity Shiraz 2017 (6x75cl)

In Bond: £285.00

2017
South Australia
6x75cl
1
99 (JH)

Read Review/Description

In Bond: £285.00