Kapcsandy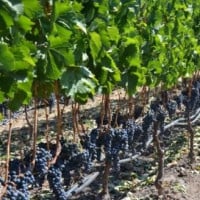 The Kapcsandy Family bought the old Beringer estate in Yountville,
"a town that is becoming the epicurean center for Napa Valley"
(
Wine Advocate
), in 2000, and over the past decade has risen to the highest echelons of the Napa Valley fine wine scene. Lou Kapcsandy, of Hungarian descent, completely replanted the vineyards neighbouring the illustrious Screaming Eagle with the finest Bordeaux clones. Bringing in Bordelais legend and third generation winemaker from Latour, Denis Malbec, Lou left no stone unturned in his quest to make ultra-fine Napa wine. The estate makes world-class cuvées of Cabernet Sauvignon and Bordeaux varietal-based wines from just 20 acres. The Estate Cuvee is composed of equal amounts of Cabernet Sauvignon and Merlot blended with Cabernet Franc and Petit Verdot; Roberta's Reserve, named after Lou's wife Bobbi, is a Merlot-based Pomerol-styled wine; the Cabernet Sauvignon Grand Vin State Lane Vineyard is a predominantly Cabernet Sauvignon based wine in the style of the northern Medoc. Production is tiny, but quality is unrivalled.
Prices:
Year
Wine
Region
Format
Qty
Score
Price
Wishlist

Kapcsandy Cabernet Sauvignon Grand Vin State Lane 2015 (3x75cl)

Inc. VAT: £1,302.83

2015
California
3x75cl
3
100 (JD)

Read Review/Description

Inc. VAT: £1,302.83

Kapcsandy Estate Cuvee State Lane Vineyard 2015 (3x75cl)

Inc. VAT: £618.83

2015
California
3x75cl
3
-
Inc. VAT: £618.83

Kapcsandy Roberta's Reserve State Lane Vineyard 2013 (3x75cl)

Inc. VAT: £1,706.03

2013
California
3x75cl
2
100 (WA)

Read Review/Description

Inc. VAT: £1,706.03
Year
Wine
Region
Format
Qty
Score
Price
Wishlist

Kapcsandy Cabernet Sauvignon Grand Vin State Lane 2015 (3x75cl)

In Bond: £1,079.00

2015
California
3x75cl
3
100 (JD)

Read Review/Description

In Bond: £1,079.00

Kapcsandy Estate Cuvee State Lane Vineyard 2015 (3x75cl)

In Bond: £509.00

2015
California
3x75cl
3
-
In Bond: £509.00

Kapcsandy Roberta's Reserve State Lane Vineyard 2013 (3x75cl)

In Bond: £1,415.00

2013
California
3x75cl
2
100 (WA)

Read Review/Description

In Bond: £1,415.00