Kapcsándy
About Kapcsándy
The Kapcsándy family purchased the old Beringer estate in Yountville, "a town that is becoming the epicurean center for Napa Valley" according to the Wine Advocate, in 2000 and over the past decade, Kapcsándy Family Winery has risen to the highest echelons of the Napa Valley fine wine scene.
Lou Kapcsándy, of Hungarian descent, completely replanted the vineyards neighbouring the illustrious Screaming Eagle with the finest Bordeaux clones. Bringing in Bordelais legend and third generation winemaker from the mighty Château Latour, Denis Malbec, Lou left no stone unturned in his quest to make ultra-fine Napa wine.
"What the Kapcsandys have done with the fruit from that vineyard with assistance from their consultant, the Pauillac-born Denis Malbec, is nothing short of remarkable. Moreover, they have done it in less than a decade, which proves that fortunes can be made quickly, provided there are three ingredients – incredibly hard work, lots of talent, and a super terroir. These can indeed propel an estate to the stratosphere in less than a decade"
Robert M. Parker Jr.
Today, the estate makes world-class cuvées of Cabernet Sauvignon, Merlot and Cabernet Franc from a miniscule 20 acres. The production is absolutely tiny, but the quality is unrivalled making Kapcsándy one of the first names springing to mind when Napa lovers are asked which cult producer they'd love to own.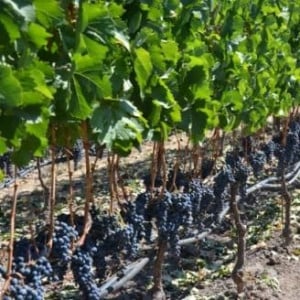 Name
Price Low
Price High
Year (Old)
Year (New)
Prices:
Product Name
Region
Qty
Score
Price

California
2
98+ (VN)

Inc. VAT

£1,643.54

Vinous (98+)

The 2012 Cabernet Sauvignon Grand Vin is a real stunner. Despite an overall impression of femininity and understatement, the 2012 Cabernet Sauvignon Grand Vin is simply dazzling. Sweet, floral and open-knit, the 2012 is nevertheless holding quite a bit back in potential. When I visited Kapcsándy during the 2012 harvest the enthusiasm was very high. This wine shows why. The blend is 99% Cabernet Sauvignon and 1% Merlot.

More Info

California
1
100 (WA)

Inc. VAT

£1,023.62

Wine Advocate (100)

Little can be added to the greatness of the 2013 Cabernet Sauvignon Grand Vin, a blend of 87% Cabernet Sauvignon, 12% Merlot and 1% Petit Verdot. The wine (600 cases) is truly stunning in its dense, crème de cassis and blackberry-scented nose with a hint of barbecue smoke and forest floor. Tasting like a ripe vintage of Château Latour from Pauillac, the wine has amazing richness and a savory, expansive mouthfeel, but tiptoes across the palate like a ballerina. A wine of magnificent richness and intensity, but vibrancy, purity and overall equilibrium, this is a staggeringly great wine and another tribute to the Kapcsándy family's extraordinary professionalism and meticulous attention to detail in their vineyard.

More Info

California
3
98 (VN)

Inc. VAT

£439.45

Vinous (98)

A powerful, tightly-wound wine, the 2014 Cabernet Sauvignon Grand Vin is likely to require the better part of the next decade to come into its own. The most backward and brooding of these wines, the Grand Vin is also quite primary and closed in on itself. Still, the energy, drive and focus of the best vintages is very much in evidence. Today, the 2014 is dense, seamless and utterly impeccable, with no hard edges, beautifully integrated oak (100% new) and exceptional balance.

More Info

California
3
100 (JD)

Inc. VAT

£591.20

Jeb Dunnuck (100)

A blend of 92% Cabernet Sauvignon and 8% Merlot, the 2015 Cabernet Sauvignon Grand Vin State Lane Vineyard is pure perfection and undeniably one of the greatest wines in this terrific vintage. With a Château Latour like stature and depth, full-bodied richness, and incredible notes of blue fruits, crushed violets, tobacco, forest floor, and huge minerality, this tight, backward, concentrated 2015 is for those with patience and cold cellar, but it's a legendary wine in the making. Bravo!

More Info

California
1
100 (JD)

Inc. VAT

£1,156.82

Jeb Dunnuck (100)

A blend of 92% Cabernet Sauvignon and 8% Merlot, the 2015 Cabernet Sauvignon Grand Vin State Lane Vineyard is pure perfection and undeniably one of the greatest wines in this terrific vintage. With a Château Latour like stature and depth, full-bodied richness, and incredible notes of blue fruits, crushed violets, tobacco, forest floor, and huge minerality, this tight, backward, concentrated 2015 is for those with patience and cold cellar, but it's a legendary wine in the making. Bravo!

More Info

California
1
100 (WA)

Inc. VAT

£1,358.42

Wine Advocate (100)

A blend of 98% Cabernet Sauvignon and 2% Cabernet Franc aged in 90% new French oak, the 2016 Cabernet Sauvignon Grand Vin State Lane Vineyard is deep garnet-purple colored with a lovely crème de cassis core backed-up by the most amazing perfume of lilacs, oolong tea, camphor and dark chocolate plus gentle wafts of aniseed and red currants. Medium-bodied with fantastic vibrancy and intensity, the palate practically rings with spine-tingling energy. It slowly builds in the mouth to reveal layers of red and black fruits supported by a very finely grained frame and seamless freshness, leading to a drop dead gorgeous, perfumed lift on the long finish. Sex in a glass. 425 cases produced.

More Info

California
1
100 (JD)

Inc. VAT

£1,563.62

Jeb Dunnuck (100)

Only the second time it's been 100% Cabernet Sauvignon, the 2018 Cabernet Sauvignon Grand Vin sports a deep purple color as well as a Latour-like bouquet of crème de cassis, scorched earth, violets, graphite, camphor, and lead pencil. Rich, powerful and concentrated, with incredible elegance and purity as well as building structure, this magical effort needs 7-8 years of bottle age and will live for 50 years or more.

More Info

California
1
100 (WA)

Inc. VAT

£1,329.62

Wine Advocate (100)

Deep purple-black, the 2019 Cabernet Sauvignon Grand Vin State Lane Vineyard rockets out of the glass with intense notes of blackcurrant cordial, plum preserves and blueberry pie, plus hints of Chinese five spice, dusty soil, menthol, tar and black truffles, with a waft of roses. Medium to full-bodied, the palate is an exercise in poise, delivering layer upon layer of vibrant black and blue fruits with a rock-solid backbone of super ripe, grainy tannins and bold freshness, finishing long and just plain delicious. Pure, seemingly effortless, seamless perfection. Made from 100% Cabernet Sauvignon, aged in 80% new French oak, the alcohol is a relatively modest 14.3%. 300 cases were made.

More Info

California
1
96 (VN)

Inc. VAT

£551.60

Vinous (96)

Bright medium ruby. Alluring aromas of dark berries, licorice, lavender and violet. Wonderfully dense, spicy wine with an exhilarating sugar/acid balance giving definition to its dark berry, mineral and floral flavors. Offers outstanding thickness and depth of texture without any undue weight. Really echoes and rises on the long back end, with the noble tannins thoroughly integrated with the wine's fruit. This makes the Roberta's seem a bit ungiving, but I suspect that that wine will yet gain in pliancy. One of the handful of superstars of its vintage, from fruit picked between October 14 and 17, or almost a full month later than the Roberta's Merlot (September 18). (14.5% alcohol; 98% new French and 2% new Hungarian oak)

More Info

California
1
95+ (VN)

Inc. VAT

£1,394.98

Vinous (95+)

The 2011 Estate Cuvee is a drop-dead gorgeous beauty. Sweet tobacco, wild flowers, mint, licorice, fennel and mint all meld together in a perfumed, gracious wine graced with stunning elegance and refinement. The 2011 is less obvious than either the 2010 or 2012, but it is more fragrant and perfumed. Clean, saline notes support the striking finish. The blend is 56% Merlot, 36% Cabernet Sauvignon, 5% Petit Verdot and 3% Cabernet Franc.

More Info

California
12
88 (VN)

Inc. VAT

£522.02

Vinous (88)

Kápcsandy's 2015 Estate Cuvée is perplexing. Neither bottle I tasted was impressive nor close to what I tasted from barrel. Sweet dried cherry, mint, dried flowers, cedar and tobacco are some of the signatures. Light in color, body and structure, the 2015 appears to be built for near term drinking. Quite frankly, I expected more.

More Info

California
1
98+ (VN)

Inc. VAT

£7,533.67

Vinous (98+)

The 2012 Cabernet Sauvignon Grand Vin is a real stunner. Despite an overall impression of femininity and understatement, the 2012 Cabernet Sauvignon Grand Vin is simply dazzling. Sweet, floral and open-knit, the 2012 is nevertheless holding quite a bit back in potential. When I visited Kapcsándy during the 2012 harvest the enthusiasm was very high. This wine shows why. The blend is 99% Cabernet Sauvignon and 1% Merlot.

More Info

California
2
97+ (VN)

Inc. VAT

£591.20

Vinous (97+)

The 2014 Rapszodia, Kapcsándy's Cabernet Franc/Merlot blend, is once again utterly compelling. Cabernet Franc aromatics soar from the glass as this majestic, stunningly beautiful wine shows off its pedigree. Vivid, nuanced and finely sculpted, the 2014 hits all the right notes as the flavors and textures build into the huge, enveloping finish. This is the most impressive showing yet from the 2014. Here, too, interplay of richness and energy makes for a captivating wine.

More Info

California
1
100 (VN)

Inc. VAT

£1,345.22

Vinous (100)

The 2019 Rapszodia, Kapcsándy's 100% Cabernet Franc, is one of the wines of the vintage. It marries sublime varietal intensity with off the charts textural richness and pure power. Rose petal, mint, crushed raspberry, blood orange and lavender are some of the notes that open with a bit of time. But more than that, the 2019 is an utterly brilliant wine that fully captures the potential of Franc here. It is a stunning, towering wine by any measure. My only regret is that Lou Kapcsándy did not live to see the accolades the 2019 Rapszodia is sure to garner. What a wine!

More Info

California
1
98 (JS)

Inc. VAT

£1,371.62

James Suckling (98)

This is a superb merlot with black olive, blueberry, iodine, and oyster shell. Full body, tight tannins. Chocolate, walnut, and bramble berry. Superb finish. A beauty. Try now but give it four to five years of bottle age.

More Info

California
1
100 (VN)

Inc. VAT

£1,014.00

Vinous (100)

The 2013 Roberta's Reserve is just as compelling it has always been. Dark, powerful and exotic, the 2013 Roberta's tastes like it has barely budged since I tasted it last year. Intense dark fruit, chocolate, smoke, licorice and tobacco are front and center. Exceptionally polished and towering in its structure, the 2013 will drink well for many, many years. The tannins soften a bit with time in the glass, but the 2013 remains a young wine in need of cellaring.

More Info

California
3
96+ (VN)

Inc. VAT

£583.45

Vinous (96+)

The 2014 Roberta's Reserve comes across as quite soft and sensual in this vintage, with less of the drive that is such a signature of the other wines here. This is the only 2014 at Kapcsándy that has not grown meaningfully since I last tasted it. Then again, Merlot is a quirky grape, as it often goes through unpredictable periods of being closed, especially in the early going. Today, my impression is that the 2014 will drink well with minimal cellaring, but it has less structure than some of the surrounding vintages as well as the other 2014s. This is an especially laid back, almost translucent wine from Kapcsándy. It will be interesting to see what the future brings. A dollop (3%) of Cabernet Franc rounds out the blend.

More Info

California
3
98 (WA)

Inc. VAT

£591.85

Wine Advocate (98)

Made from 100% Merlot, the 2015 Merlot Roberta's Reserve has a deep garnet-purple color and gorgeous nose of black plums, warm blueberries and mocha with touches of anise, red roses and spice box. Medium to full-bodied and densely packed with layers of blue and black fruits and perfumed notions, it has a firm yet plush backbone to support and a very long, layered finish.

More Info
Product Name
Region
Qty
Score
Price

California
2
98+ (VN)

In Bond

£1,360.00

Vinous (98+)

The 2012 Cabernet Sauvignon Grand Vin is a real stunner. Despite an overall impression of femininity and understatement, the 2012 Cabernet Sauvignon Grand Vin is simply dazzling. Sweet, floral and open-knit, the 2012 is nevertheless holding quite a bit back in potential. When I visited Kapcsándy during the 2012 harvest the enthusiasm was very high. This wine shows why. The blend is 99% Cabernet Sauvignon and 1% Merlot.

More Info

California
1
100 (WA)

In Bond

£845.00

Wine Advocate (100)

Little can be added to the greatness of the 2013 Cabernet Sauvignon Grand Vin, a blend of 87% Cabernet Sauvignon, 12% Merlot and 1% Petit Verdot. The wine (600 cases) is truly stunning in its dense, crème de cassis and blackberry-scented nose with a hint of barbecue smoke and forest floor. Tasting like a ripe vintage of Château Latour from Pauillac, the wine has amazing richness and a savory, expansive mouthfeel, but tiptoes across the palate like a ballerina. A wine of magnificent richness and intensity, but vibrancy, purity and overall equilibrium, this is a staggeringly great wine and another tribute to the Kapcsándy family's extraordinary professionalism and meticulous attention to detail in their vineyard.

More Info

California
3
98 (VN)

In Bond

£363.00

Vinous (98)

A powerful, tightly-wound wine, the 2014 Cabernet Sauvignon Grand Vin is likely to require the better part of the next decade to come into its own. The most backward and brooding of these wines, the Grand Vin is also quite primary and closed in on itself. Still, the energy, drive and focus of the best vintages is very much in evidence. Today, the 2014 is dense, seamless and utterly impeccable, with no hard edges, beautifully integrated oak (100% new) and exceptional balance.

More Info

California
3
100 (JD)

In Bond

£490.00

Jeb Dunnuck (100)

A blend of 92% Cabernet Sauvignon and 8% Merlot, the 2015 Cabernet Sauvignon Grand Vin State Lane Vineyard is pure perfection and undeniably one of the greatest wines in this terrific vintage. With a Château Latour like stature and depth, full-bodied richness, and incredible notes of blue fruits, crushed violets, tobacco, forest floor, and huge minerality, this tight, backward, concentrated 2015 is for those with patience and cold cellar, but it's a legendary wine in the making. Bravo!

More Info

California
1
100 (JD)

In Bond

£956.00

Jeb Dunnuck (100)

A blend of 92% Cabernet Sauvignon and 8% Merlot, the 2015 Cabernet Sauvignon Grand Vin State Lane Vineyard is pure perfection and undeniably one of the greatest wines in this terrific vintage. With a Château Latour like stature and depth, full-bodied richness, and incredible notes of blue fruits, crushed violets, tobacco, forest floor, and huge minerality, this tight, backward, concentrated 2015 is for those with patience and cold cellar, but it's a legendary wine in the making. Bravo!

More Info

California
1
100 (WA)

In Bond

£1,124.00

Wine Advocate (100)

A blend of 98% Cabernet Sauvignon and 2% Cabernet Franc aged in 90% new French oak, the 2016 Cabernet Sauvignon Grand Vin State Lane Vineyard is deep garnet-purple colored with a lovely crème de cassis core backed-up by the most amazing perfume of lilacs, oolong tea, camphor and dark chocolate plus gentle wafts of aniseed and red currants. Medium-bodied with fantastic vibrancy and intensity, the palate practically rings with spine-tingling energy. It slowly builds in the mouth to reveal layers of red and black fruits supported by a very finely grained frame and seamless freshness, leading to a drop dead gorgeous, perfumed lift on the long finish. Sex in a glass. 425 cases produced.

More Info

California
1
100 (JD)

In Bond

£1,295.00

Jeb Dunnuck (100)

Only the second time it's been 100% Cabernet Sauvignon, the 2018 Cabernet Sauvignon Grand Vin sports a deep purple color as well as a Latour-like bouquet of crème de cassis, scorched earth, violets, graphite, camphor, and lead pencil. Rich, powerful and concentrated, with incredible elegance and purity as well as building structure, this magical effort needs 7-8 years of bottle age and will live for 50 years or more.

More Info

California
1
100 (WA)

In Bond

£1,100.00

Wine Advocate (100)

Deep purple-black, the 2019 Cabernet Sauvignon Grand Vin State Lane Vineyard rockets out of the glass with intense notes of blackcurrant cordial, plum preserves and blueberry pie, plus hints of Chinese five spice, dusty soil, menthol, tar and black truffles, with a waft of roses. Medium to full-bodied, the palate is an exercise in poise, delivering layer upon layer of vibrant black and blue fruits with a rock-solid backbone of super ripe, grainy tannins and bold freshness, finishing long and just plain delicious. Pure, seemingly effortless, seamless perfection. Made from 100% Cabernet Sauvignon, aged in 80% new French oak, the alcohol is a relatively modest 14.3%. 300 cases were made.

More Info

California
1
96 (VN)

In Bond

£457.00

Vinous (96)

Bright medium ruby. Alluring aromas of dark berries, licorice, lavender and violet. Wonderfully dense, spicy wine with an exhilarating sugar/acid balance giving definition to its dark berry, mineral and floral flavors. Offers outstanding thickness and depth of texture without any undue weight. Really echoes and rises on the long back end, with the noble tannins thoroughly integrated with the wine's fruit. This makes the Roberta's seem a bit ungiving, but I suspect that that wine will yet gain in pliancy. One of the handful of superstars of its vintage, from fruit picked between October 14 and 17, or almost a full month later than the Roberta's Merlot (September 18). (14.5% alcohol; 98% new French and 2% new Hungarian oak)

More Info

California
1
95+ (VN)

In Bond

£1,124.00

Vinous (95+)

The 2011 Estate Cuvee is a drop-dead gorgeous beauty. Sweet tobacco, wild flowers, mint, licorice, fennel and mint all meld together in a perfumed, gracious wine graced with stunning elegance and refinement. The 2011 is less obvious than either the 2010 or 2012, but it is more fragrant and perfumed. Clean, saline notes support the striking finish. The blend is 56% Merlot, 36% Cabernet Sauvignon, 5% Petit Verdot and 3% Cabernet Franc.

More Info

California
12
88 (VN)

In Bond

£427.00

Vinous (88)

Kápcsandy's 2015 Estate Cuvée is perplexing. Neither bottle I tasted was impressive nor close to what I tasted from barrel. Sweet dried cherry, mint, dried flowers, cedar and tobacco are some of the signatures. Light in color, body and structure, the 2015 appears to be built for near term drinking. Quite frankly, I expected more.

More Info

California
1
98+ (VN)

In Bond

£6,246.00

Vinous (98+)

The 2012 Cabernet Sauvignon Grand Vin is a real stunner. Despite an overall impression of femininity and understatement, the 2012 Cabernet Sauvignon Grand Vin is simply dazzling. Sweet, floral and open-knit, the 2012 is nevertheless holding quite a bit back in potential. When I visited Kapcsándy during the 2012 harvest the enthusiasm was very high. This wine shows why. The blend is 99% Cabernet Sauvignon and 1% Merlot.

More Info

California
2
97+ (VN)

In Bond

£490.00

Vinous (97+)

The 2014 Rapszodia, Kapcsándy's Cabernet Franc/Merlot blend, is once again utterly compelling. Cabernet Franc aromatics soar from the glass as this majestic, stunningly beautiful wine shows off its pedigree. Vivid, nuanced and finely sculpted, the 2014 hits all the right notes as the flavors and textures build into the huge, enveloping finish. This is the most impressive showing yet from the 2014. Here, too, interplay of richness and energy makes for a captivating wine.

More Info

California
1
100 (VN)

In Bond

£1,113.00

Vinous (100)

The 2019 Rapszodia, Kapcsándy's 100% Cabernet Franc, is one of the wines of the vintage. It marries sublime varietal intensity with off the charts textural richness and pure power. Rose petal, mint, crushed raspberry, blood orange and lavender are some of the notes that open with a bit of time. But more than that, the 2019 is an utterly brilliant wine that fully captures the potential of Franc here. It is a stunning, towering wine by any measure. My only regret is that Lou Kapcsándy did not live to see the accolades the 2019 Rapszodia is sure to garner. What a wine!

More Info

California
1
98 (JS)

In Bond

£1,135.00

James Suckling (98)

This is a superb merlot with black olive, blueberry, iodine, and oyster shell. Full body, tight tannins. Chocolate, walnut, and bramble berry. Superb finish. A beauty. Try now but give it four to five years of bottle age.

More Info

California
1
100 (VN)

Inc. VAT

£1,014.00

Vinous (100)

The 2013 Roberta's Reserve is just as compelling it has always been. Dark, powerful and exotic, the 2013 Roberta's tastes like it has barely budged since I tasted it last year. Intense dark fruit, chocolate, smoke, licorice and tobacco are front and center. Exceptionally polished and towering in its structure, the 2013 will drink well for many, many years. The tannins soften a bit with time in the glass, but the 2013 remains a young wine in need of cellaring.

More Info

California
3
96+ (VN)

In Bond

£483.00

Vinous (96+)

The 2014 Roberta's Reserve comes across as quite soft and sensual in this vintage, with less of the drive that is such a signature of the other wines here. This is the only 2014 at Kapcsándy that has not grown meaningfully since I last tasted it. Then again, Merlot is a quirky grape, as it often goes through unpredictable periods of being closed, especially in the early going. Today, my impression is that the 2014 will drink well with minimal cellaring, but it has less structure than some of the surrounding vintages as well as the other 2014s. This is an especially laid back, almost translucent wine from Kapcsándy. It will be interesting to see what the future brings. A dollop (3%) of Cabernet Franc rounds out the blend.

More Info

California
3
98 (WA)

In Bond

£490.00

Wine Advocate (98)

Made from 100% Merlot, the 2015 Merlot Roberta's Reserve has a deep garnet-purple color and gorgeous nose of black plums, warm blueberries and mocha with touches of anise, red roses and spice box. Medium to full-bodied and densely packed with layers of blue and black fruits and perfumed notions, it has a firm yet plush backbone to support and a very long, layered finish.

More Info
Name
Price Low
Price High
Year (Old)
Year (New)