Kay Brothers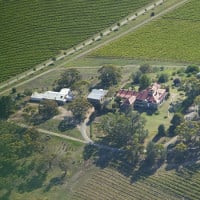 The Kay brothers founded the Amery winery in 1890. The oldest family-owned winery in McLaren Vale still producing traditional red wine, they have kept a detailed diary for every year since with many daily insights, recording the conditions and meticulous hard work on their path to success.

Kay Brothers was established in 1890 by brothers Herbert and Frederick Kay. Both brothers went on to hold important positions in the Australian wine industry.

The winery continues to use its gravity facility, as well as a basket press that was first installed in 1928. But it moves with the times as well. The roof of the winery now boasts solar panels they are trialling a single block of vines with biodynamic farming practices.
Prices:
Year
Wine
Region
Format
Qty
Score
Price
Wishlist

Kay Brothers Hillside Shiraz 2002 (6x75cl)

Inc. VAT: £179.27

2002
South Australia
6x75cl
1
95 (WA)

Read Review/Description

Inc. VAT: £179.27

Kay Brothers Hillside Shiraz 2005 (6x75cl)

Inc. VAT: £367.67

2005
South Australia
6x75cl
1
96 (WA)

Read Review/Description

Inc. VAT: £367.67
Year
Wine
Region
Format
Qty
Score
Price
Wishlist

Kay Brothers Hillside Shiraz 2002 (6x75cl)

In Bond: £136.00

2002
South Australia
6x75cl
1
95 (WA)

Read Review/Description

In Bond: £136.00

Kay Brothers Hillside Shiraz 2005 (6x75cl)

In Bond: £293.00

2005
South Australia
6x75cl
1
96 (WA)

Read Review/Description

In Bond: £293.00