La Dominique
About La Dominique
La Dominique has an interesting history that starts in the 1700s - with the property taking its name from the Caribbean island upon which the first owner earned a fortune: Dominique.
Since 1969, La Dominique has been owned by the Fayat family, and things really started to happen when Jean-Luc Thunevin came on board to consult in 2007. The vineyard is predominantly Merlot, with Cabernet Franc and Sauvignon playing supporting roles. In all, 23 hectares are classified as Saint-Émilion Grand Cru Classé. The terroir is deep gravel over clay with some sand in the soil. The vineyard is planted on sloping hillsides, which rise up to a height of 44 metres.
The terroir is similar to Château Cheval Blanc, and many critics have noted the same refined style of the wine at both estates. La Dominique also boasts some old vines – some planted back in 1967, and 5 hectares are now farmed biodynamically.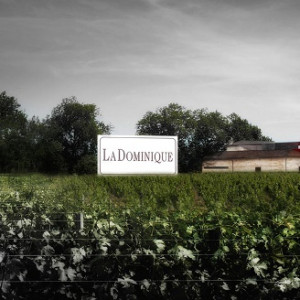 Name
Price Low
Price High
Year (Old)
Year (New)
Prices:
Product Name
Region
Qty
Score
Price

Bordeaux
1
91 (VN (NM))

Inc. VAT

£998.47

Vinous - Neal Martin (91)

The 1998 La Dominique replicates the fine performance it showed from magnum two weeks earlier. The bouquet offers blackberry, raspberry coulis, sage and truffle on the nose, a touch of mint developing with time. The palate is medium-bodied with fine grain tannins, still fresh and cohesive with black fruit, tobacco, a touch of dark chocolate with a finish you might easily mistake for a Pomerol. There is just a note of dryness and linearity on the finish, at least in the bottle, but larger formats should still give lots of pleasure. Tasted at the vertical tasting at La Dominique.

More Info

Bordeaux
1
94-95 (JS)

Inc. VAT

£411.64

James Suckling (94-95)

This is super powerful, with amazing density and richness. Goes on for minutes. Full, yet reserved and focused. Best ever.

More Info

Bordeaux
1
92 (JS)

Inc. VAT

£705.67

James Suckling (92)

This is really polished and silky with beautiful blueberry, chocolate and walnut character. It's full-bodies with integrated tannins and a long, long finish. A triumph for the vintage.

More Info

Bordeaux
1
96 (JS)

Inc. VAT

£751.78

James Suckling (96)

Attractive ripe dark berries and some darker chocolate, no to mention sweet earth and violets. The palate has impressive density and depth, not to mention great length and weight. Mulberry and dark-cherry flavors hold fresh. Best from 2022.

More Info

Bordeaux
1
96 (VN (AG))

Inc. VAT

£577.87

Vinous - Antonio Galloni (96)

The 2020 La Dominique is every bit as impressive as it was from barrel. Dark and sumptuous in the glass, the 2020 is racy and wonderfully sleek right out of the gate. Dark cherry, gravel, spice, dried flowers and espresso lend shades of darkness to this deep, wonderfully plush La Dominique. Superb.

More Info

Bordeaux
1
96 (VN (AG))

Inc. VAT

£304.24

Vinous - Antonio Galloni (96)

The 2020 La Dominique is every bit as impressive as it was from barrel. Dark and sumptuous in the glass, the 2020 is racy and wonderfully sleek right out of the gate. Dark cherry, gravel, spice, dried flowers and espresso lend shades of darkness to this deep, wonderfully plush La Dominique. Superb.

More Info
Product Name
Region
Qty
Score
Price

Bordeaux
1
91 (VN (NM))

In Bond

£800.00

Vinous - Neal Martin (91)

The 1998 La Dominique replicates the fine performance it showed from magnum two weeks earlier. The bouquet offers blackberry, raspberry coulis, sage and truffle on the nose, a touch of mint developing with time. The palate is medium-bodied with fine grain tannins, still fresh and cohesive with black fruit, tobacco, a touch of dark chocolate with a finish you might easily mistake for a Pomerol. There is just a note of dryness and linearity on the finish, at least in the bottle, but larger formats should still give lots of pleasure. Tasted at the vertical tasting at La Dominique.

More Info

Bordeaux
1
94-95 (JS)

In Bond

£327.00

James Suckling (94-95)

This is super powerful, with amazing density and richness. Goes on for minutes. Full, yet reserved and focused. Best ever.

More Info

Bordeaux
1
92 (JS)

In Bond

£556.00

James Suckling (92)

This is really polished and silky with beautiful blueberry, chocolate and walnut character. It's full-bodies with integrated tannins and a long, long finish. A triumph for the vintage.

More Info

Bordeaux
1
96 (JS)

In Bond

£588.00

James Suckling (96)

Attractive ripe dark berries and some darker chocolate, no to mention sweet earth and violets. The palate has impressive density and depth, not to mention great length and weight. Mulberry and dark-cherry flavors hold fresh. Best from 2022.

More Info

Bordeaux
1
96 (VN (AG))

In Bond

£449.50

Vinous - Antonio Galloni (96)

The 2020 La Dominique is every bit as impressive as it was from barrel. Dark and sumptuous in the glass, the 2020 is racy and wonderfully sleek right out of the gate. Dark cherry, gravel, spice, dried flowers and espresso lend shades of darkness to this deep, wonderfully plush La Dominique. Superb.

More Info

Bordeaux
1
96 (VN (AG))

In Bond

£237.50

Vinous - Antonio Galloni (96)

The 2020 La Dominique is every bit as impressive as it was from barrel. Dark and sumptuous in the glass, the 2020 is racy and wonderfully sleek right out of the gate. Dark cherry, gravel, spice, dried flowers and espresso lend shades of darkness to this deep, wonderfully plush La Dominique. Superb.

More Info
Name
Price Low
Price High
Year (Old)
Year (New)