Château Larcis Ducasse
About Château Larcis Ducasse
For many years, Larcis Ducasse was considered one of the greatest wastes of exceptional terroir in France. Located on some of the finest soils in the entire region, the Côte Pavie section of St-Émilion, this historic property consistently seemed to underperform.
The turn of the millennium heralded a new age for the Château, with the arrival of the current winemaking team which is one of the most formidable on either bank. David Suire helms the commercial aspects of day-to-day operations, but the real stars in the vineyard/winery are Nicholas Thienpont (of Pavie Macquin) and Stéphanie Derenoncourt, one of Bordeaux's most in-demand "flying consultants".
This mercurial triumvirate wasted no time in implementing vast reforms and improvements in all aspects of Château Larcis Ducasse - drainage channels were dug to improve water levels, Cabernet Franc was replaced with Merlot in the most suitable plots and a radical program of replanting has been mapped out for the next 40 years. A naturally low-yielding area, the vines are split 83:17 Merlot to Cabernet Sauvignon and produce grapes of intense concentration and naturally low pH due to the soil - richness and acidity is a recipe for exquisite balance finally found regularly in Larcis Ducasse.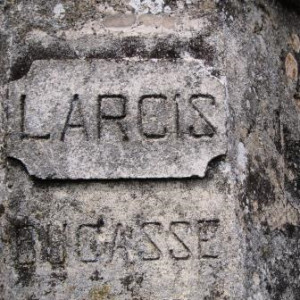 Prices:
Product Name
Region
Qty
Score
Price
Bordeaux
1
98-99 (JS)

Inc. VAT

£949.67

James Suckling (98-99)

Hard to believe this. It has a minerality and intensity like a great white wine with so much chalky character that it gives an oyster shell flavor. Full and racy. Shaking my head in intrigue. Wonderfully silky tannins.

More Info

Bordeaux
1
97 (VN (AG))

Inc. VAT

£1,240.07

Vinous - Antonio Galloni (97)

The 2016 Larcis Ducasse is absolutely gorgeous. Fresh, vibrant and alluring, with tremendous vibrancy, the 2016 has so much to offer. Expressive savory and blood orange notes add brightness to the red cherry and plum fruit, with beams of firm yet well-integrated tannins that give the wine its shape and energy. In 2016, Larcis brings together undeniable raciness and power in a complete package that is irresistibly beautiful. Give it a few years in bottle for the tannins to soften.

More Info

Bordeaux
1
96 (VN (AG))

Inc. VAT

£471.47

Vinous - Antonio Galloni (96)

The 2017 Larcis Ducasse is just as compelling from bottle as it was from barrel. Pliant and deep, with terrific fruit purity, Larcis possesses striking fruit purity and tons of resonance. Red cherry, blood orange, pomegranate, mint, spice, licorice and mocha infuse the 2017 with striking complexity as well as nuance. Readers will have a hard time keeping their hands off this gem. Larcis is never one of the most obvious wines in Saint-Émilion, but it is often among the most regal. Best of all, Larcis remains one of the best values anywhere in the world.

More Info

Bordeaux
1
100 (JD)

Inc. VAT

£1,793.14

Jeb Dunnuck (100)

The 2018 Château Larcis Ducasse checks in as 89% Merlot and 11% Cabernet Franc that comes from a gorgeous hillside terroir on the Côte Pavie, located between Château Pavie and Château Bellefont-Belcier. Aged 18 months in 60% new barrels, it offers a truly sensational bouquet of ripe blackcurrants, espresso roast, scorched earth, bloody meat, chocolate, iron, and bouquet garni. A massive, super-rich Saint-Emilion with a dense, concentrated, layered mouthfeel, it has building yet sweet tannins and incredible purity of fruit. Reminding me of the 2005 shortly after release, this heavenly juice offers astonishing richness and depth while staying flawlessly balanced and elegant. Sadly, there are less than 3,000 cases produced, but this monumental, legendary wine won't hit maturity for a good 8-10 years and will have 40-50 years of longevity if well stored. Hats off to Nicolas Thienpont and consultant Stéphane Derenoncourt for producing one of the wines of the vintage as well as one of the greatest young Bordeaux I've ever tasted.

More Info

Bordeaux
1
100 (JD)

Inc. VAT

£762.52

Jeb Dunnuck (100)

The 2018 Château Larcis Ducasse checks in as 89% Merlot and 11% Cabernet Franc that comes from a gorgeous hillside terroir on the Côte Pavie, located between Château Pavie and Château Bellefont-Belcier. Aged 18 months in 60% new barrels, it offers a truly sensational bouquet of ripe blackcurrants, espresso roast, scorched earth, bloody meat, chocolate, iron, and bouquet garni. A massive, super-rich Saint-Emilion with a dense, concentrated, layered mouthfeel, it has building yet sweet tannins and incredible purity of fruit. Reminding me of the 2005 shortly after release, this heavenly juice offers astonishing richness and depth while staying flawlessly balanced and elegant. Sadly, there are less than 3,000 cases produced, but this monumental, legendary wine won't hit maturity for a good 8-10 years and will have 40-50 years of longevity if well stored. Hats off to Nicolas Thienpont and consultant Stéphane Derenoncourt for producing one of the wines of the vintage as well as one of the greatest young Bordeaux I've ever tasted.

More Info

Bordeaux
2
100 (JD)

Inc. VAT

£830.22

Jeb Dunnuck (100)

The 2018 Château Larcis Ducasse checks in as 89% Merlot and 11% Cabernet Franc that comes from a gorgeous hillside terroir on the Côte Pavie, located between Château Pavie and Château Bellefont-Belcier. Aged 18 months in 60% new barrels, it offers a truly sensational bouquet of ripe blackcurrants, espresso roast, scorched earth, bloody meat, chocolate, iron, and bouquet garni. A massive, super-rich Saint-Emilion with a dense, concentrated, layered mouthfeel, it has building yet sweet tannins and incredible purity of fruit. Reminding me of the 2005 shortly after release, this heavenly juice offers astonishing richness and depth while staying flawlessly balanced and elegant. Sadly, there are less than 3,000 cases produced, but this monumental, legendary wine won't hit maturity for a good 8-10 years and will have 40-50 years of longevity if well stored. Hats off to Nicolas Thienpont and consultant Stéphane Derenoncourt for producing one of the wines of the vintage as well as one of the greatest young Bordeaux I've ever tasted.

More Info

Bordeaux
1
100 (JD)

Inc. VAT

£1,397.14

Jeb Dunnuck (100)

The 2018 Château Larcis Ducasse checks in as 89% Merlot and 11% Cabernet Franc that comes from a gorgeous hillside terroir on the Côte Pavie, located between Château Pavie and Château Bellefont-Belcier. Aged 18 months in 60% new barrels, it offers a truly sensational bouquet of ripe blackcurrants, espresso roast, scorched earth, bloody meat, chocolate, iron, and bouquet garni. A massive, super-rich Saint-Emilion with a dense, concentrated, layered mouthfeel, it has building yet sweet tannins and incredible purity of fruit. Reminding me of the 2005 shortly after release, this heavenly juice offers astonishing richness and depth while staying flawlessly balanced and elegant. Sadly, there are less than 3,000 cases produced, but this monumental, legendary wine won't hit maturity for a good 8-10 years and will have 40-50 years of longevity if well stored. Hats off to Nicolas Thienpont and consultant Stéphane Derenoncourt for producing one of the wines of the vintage as well as one of the greatest young Bordeaux I've ever tasted.

More Info

Bordeaux
3
100 (JD)

Inc. VAT

£507.47

Jeb Dunnuck (100)

The 2018 Château Larcis Ducasse checks in as 89% Merlot and 11% Cabernet Franc that comes from a gorgeous hillside terroir on the Côte Pavie, located between Château Pavie and Château Bellefont-Belcier. Aged 18 months in 60% new barrels, it offers a truly sensational bouquet of ripe blackcurrants, espresso roast, scorched earth, bloody meat, chocolate, iron, and bouquet garni. A massive, super-rich Saint-Emilion with a dense, concentrated, layered mouthfeel, it has building yet sweet tannins and incredible purity of fruit. Reminding me of the 2005 shortly after release, this heavenly juice offers astonishing richness and depth while staying flawlessly balanced and elegant. Sadly, there are less than 3,000 cases produced, but this monumental, legendary wine won't hit maturity for a good 8-10 years and will have 40-50 years of longevity if well stored. Hats off to Nicolas Thienpont and consultant Stéphane Derenoncourt for producing one of the wines of the vintage as well as one of the greatest young Bordeaux I've ever tasted.

More Info

Bordeaux
1
98-99 (JS)

Inc. VAT

£412.67

James Suckling (98-99)

A full-bodied red that's powerful, very rich and very deep. Floral and spicy with dried fruit, earth, tobacco and mushrooms. Dense center palate. Great depth. Traditional.

More Info

Bordeaux
2
96-99 (JD)

Inc. VAT

£515.87

Jeb Dunnuck (96-99)

A wine that's going to flirt with perfection is the 2020 Château Larcis Ducasse. It's a Saint-Emilion with an almost Pomerol-like depth and power paired with classic Saint-Emilion aromatics and minerality. Incredibly pure notes of black cherries, blackberries, white flowers, truffle, and leafy herb notes all emerge on the nose and it's full-bodied, with a layered, multi-dimensional texture, thrilling tannins, and a finish that won't quit. If you get a chance, buy it. The blend is 90% Merlot and 10% Cabernet Franc, aging in 55% new French oak.

More Info

Bordeaux
-
98-100 (JD)

Expected Price Range

£341 - £410

Jeb Dunnuck (98-100)

Tasted on multiple occasions and one of the legendary wines in the making from this vintage, the 2022 Château Larcis Ducasse clocks in as 86% Merlot and 14% Cabernet Franc that's still resting in 55% new French oak. A hypothetical blend of the 2005 and 2018, it's a deep, powerful, opulent Saint-Emilion offering an incredible array of black cherries, blackberries, smoked tobacco, chocolate, and graphite-driven aromas and flavors. With a rich, full-bodied, expansive mouthfeel, it has ultra-fine tannins, beautiful symmetry in its tannins, acidity, and fruit, no hard edges, and a killer finish. I was lucky enough to taste this on four separate occasions and I thought it had the potential to be a perfect wine every time.

More Info
Product Name
Region
Qty
Score
Price
Bordeaux
1
98-99 (JS)

In Bond

£778.00

James Suckling (98-99)

Hard to believe this. It has a minerality and intensity like a great white wine with so much chalky character that it gives an oyster shell flavor. Full and racy. Shaking my head in intrigue. Wonderfully silky tannins.

More Info

Bordeaux
1
97 (VN (AG))

In Bond

£1,020.00

Vinous - Antonio Galloni (97)

The 2016 Larcis Ducasse is absolutely gorgeous. Fresh, vibrant and alluring, with tremendous vibrancy, the 2016 has so much to offer. Expressive savory and blood orange notes add brightness to the red cherry and plum fruit, with beams of firm yet well-integrated tannins that give the wine its shape and energy. In 2016, Larcis brings together undeniable raciness and power in a complete package that is irresistibly beautiful. Give it a few years in bottle for the tannins to soften.

More Info

Bordeaux
1
96 (VN (AG))

In Bond

£379.50

Vinous - Antonio Galloni (96)

The 2017 Larcis Ducasse is just as compelling from bottle as it was from barrel. Pliant and deep, with terrific fruit purity, Larcis possesses striking fruit purity and tons of resonance. Red cherry, blood orange, pomegranate, mint, spice, licorice and mocha infuse the 2017 with striking complexity as well as nuance. Readers will have a hard time keeping their hands off this gem. Larcis is never one of the most obvious wines in Saint-Émilion, but it is often among the most regal. Best of all, Larcis remains one of the best values anywhere in the world.

More Info

Bordeaux
1
100 (JD)

In Bond

£1,467.50

Jeb Dunnuck (100)

The 2018 Château Larcis Ducasse checks in as 89% Merlot and 11% Cabernet Franc that comes from a gorgeous hillside terroir on the Côte Pavie, located between Château Pavie and Château Bellefont-Belcier. Aged 18 months in 60% new barrels, it offers a truly sensational bouquet of ripe blackcurrants, espresso roast, scorched earth, bloody meat, chocolate, iron, and bouquet garni. A massive, super-rich Saint-Emilion with a dense, concentrated, layered mouthfeel, it has building yet sweet tannins and incredible purity of fruit. Reminding me of the 2005 shortly after release, this heavenly juice offers astonishing richness and depth while staying flawlessly balanced and elegant. Sadly, there are less than 3,000 cases produced, but this monumental, legendary wine won't hit maturity for a good 8-10 years and will have 40-50 years of longevity if well stored. Hats off to Nicolas Thienpont and consultant Stéphane Derenoncourt for producing one of the wines of the vintage as well as one of the greatest young Bordeaux I've ever tasted.

More Info

Bordeaux
1
100 (JD)

In Bond

£626.50

Jeb Dunnuck (100)

The 2018 Château Larcis Ducasse checks in as 89% Merlot and 11% Cabernet Franc that comes from a gorgeous hillside terroir on the Côte Pavie, located between Château Pavie and Château Bellefont-Belcier. Aged 18 months in 60% new barrels, it offers a truly sensational bouquet of ripe blackcurrants, espresso roast, scorched earth, bloody meat, chocolate, iron, and bouquet garni. A massive, super-rich Saint-Emilion with a dense, concentrated, layered mouthfeel, it has building yet sweet tannins and incredible purity of fruit. Reminding me of the 2005 shortly after release, this heavenly juice offers astonishing richness and depth while staying flawlessly balanced and elegant. Sadly, there are less than 3,000 cases produced, but this monumental, legendary wine won't hit maturity for a good 8-10 years and will have 40-50 years of longevity if well stored. Hats off to Nicolas Thienpont and consultant Stéphane Derenoncourt for producing one of the wines of the vintage as well as one of the greatest young Bordeaux I've ever tasted.

More Info

Bordeaux
2
100 (JD)

In Bond

£674.00

Jeb Dunnuck (100)

The 2018 Château Larcis Ducasse checks in as 89% Merlot and 11% Cabernet Franc that comes from a gorgeous hillside terroir on the Côte Pavie, located between Château Pavie and Château Bellefont-Belcier. Aged 18 months in 60% new barrels, it offers a truly sensational bouquet of ripe blackcurrants, espresso roast, scorched earth, bloody meat, chocolate, iron, and bouquet garni. A massive, super-rich Saint-Emilion with a dense, concentrated, layered mouthfeel, it has building yet sweet tannins and incredible purity of fruit. Reminding me of the 2005 shortly after release, this heavenly juice offers astonishing richness and depth while staying flawlessly balanced and elegant. Sadly, there are less than 3,000 cases produced, but this monumental, legendary wine won't hit maturity for a good 8-10 years and will have 40-50 years of longevity if well stored. Hats off to Nicolas Thienpont and consultant Stéphane Derenoncourt for producing one of the wines of the vintage as well as one of the greatest young Bordeaux I've ever tasted.

More Info

Bordeaux
1
100 (JD)

In Bond

£1,137.50

Jeb Dunnuck (100)

The 2018 Château Larcis Ducasse checks in as 89% Merlot and 11% Cabernet Franc that comes from a gorgeous hillside terroir on the Côte Pavie, located between Château Pavie and Château Bellefont-Belcier. Aged 18 months in 60% new barrels, it offers a truly sensational bouquet of ripe blackcurrants, espresso roast, scorched earth, bloody meat, chocolate, iron, and bouquet garni. A massive, super-rich Saint-Emilion with a dense, concentrated, layered mouthfeel, it has building yet sweet tannins and incredible purity of fruit. Reminding me of the 2005 shortly after release, this heavenly juice offers astonishing richness and depth while staying flawlessly balanced and elegant. Sadly, there are less than 3,000 cases produced, but this monumental, legendary wine won't hit maturity for a good 8-10 years and will have 40-50 years of longevity if well stored. Hats off to Nicolas Thienpont and consultant Stéphane Derenoncourt for producing one of the wines of the vintage as well as one of the greatest young Bordeaux I've ever tasted.

More Info

Bordeaux
3
100 (JD)

In Bond

£409.50

Jeb Dunnuck (100)

The 2018 Château Larcis Ducasse checks in as 89% Merlot and 11% Cabernet Franc that comes from a gorgeous hillside terroir on the Côte Pavie, located between Château Pavie and Château Bellefont-Belcier. Aged 18 months in 60% new barrels, it offers a truly sensational bouquet of ripe blackcurrants, espresso roast, scorched earth, bloody meat, chocolate, iron, and bouquet garni. A massive, super-rich Saint-Emilion with a dense, concentrated, layered mouthfeel, it has building yet sweet tannins and incredible purity of fruit. Reminding me of the 2005 shortly after release, this heavenly juice offers astonishing richness and depth while staying flawlessly balanced and elegant. Sadly, there are less than 3,000 cases produced, but this monumental, legendary wine won't hit maturity for a good 8-10 years and will have 40-50 years of longevity if well stored. Hats off to Nicolas Thienpont and consultant Stéphane Derenoncourt for producing one of the wines of the vintage as well as one of the greatest young Bordeaux I've ever tasted.

More Info

Bordeaux
1
98-99 (JS)

In Bond

£330.50

James Suckling (98-99)

A full-bodied red that's powerful, very rich and very deep. Floral and spicy with dried fruit, earth, tobacco and mushrooms. Dense center palate. Great depth. Traditional.

More Info

Bordeaux
2
96-99 (JD)

In Bond

£416.50

Jeb Dunnuck (96-99)

A wine that's going to flirt with perfection is the 2020 Château Larcis Ducasse. It's a Saint-Emilion with an almost Pomerol-like depth and power paired with classic Saint-Emilion aromatics and minerality. Incredibly pure notes of black cherries, blackberries, white flowers, truffle, and leafy herb notes all emerge on the nose and it's full-bodied, with a layered, multi-dimensional texture, thrilling tannins, and a finish that won't quit. If you get a chance, buy it. The blend is 90% Merlot and 10% Cabernet Franc, aging in 55% new French oak.

More Info

Bordeaux
-
98-100 (JD)

Expected Price Range

£341 - £410

Jeb Dunnuck (98-100)

Tasted on multiple occasions and one of the legendary wines in the making from this vintage, the 2022 Château Larcis Ducasse clocks in as 86% Merlot and 14% Cabernet Franc that's still resting in 55% new French oak. A hypothetical blend of the 2005 and 2018, it's a deep, powerful, opulent Saint-Emilion offering an incredible array of black cherries, blackberries, smoked tobacco, chocolate, and graphite-driven aromas and flavors. With a rich, full-bodied, expansive mouthfeel, it has ultra-fine tannins, beautiful symmetry in its tannins, acidity, and fruit, no hard edges, and a killer finish. I was lucky enough to taste this on four separate occasions and I thought it had the potential to be a perfect wine every time.

More Info