Leclerc Briant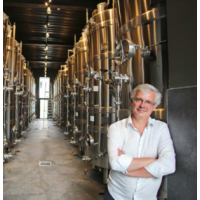 About Leclerc Briant
A particularly historic Champagne producer founded as long ago as 1872, the modern-day Leclerc Briant as we recognise it was expanded by founder Lucian Leclerc's great-grandson in 1955 with his marriage to Jacqueline Briant. With this important merger and the adoption of its new name, previously simply Leclerc Estate, the family-owned enterprise moved to its current premises in Epernay that very same year.
As early as the 1970s Lerclerc Briant was trailblazing a regime of organic viticulture and releasing highly unusual single-vineyard cuvées in a region famed for blending across large swathes of vines. Fast forward to the 21st century and these practices are increasingly common in Champagne, and yet Leclerc Briant continues to stand ahead of its peers with a number of (seemingly for the time) radical approaches.
Fully biodynamic under the watchful eye of world-authority of the practice and Chef du Cave Hervé Justin, the estate is also investigating the concepts of bioenergetics within the vines, studying the flow of energy through the soils and plants. Vineyards, and even plots within vineyards, are vinified separately and only the first press tete de cuvée is used.
Production could be significantly larger than the volumes eventually made by Leclerc Briant, but quality is at the absolute forefront of this estate's approach and as such every rare cuvée offered below is a no-brainer for collectors and lovers of fine grower Champagne.
Prices:
Year
Wine
Region
Format
Qty
Score
Price
Wishlist

Leclerc Briant Clos Trois Clochers Brut 2015 (6x75cl)

Inc. VAT: £1,077.78

2015
Champagne
6x75cl
1
-
Inc. VAT: £1,077.78

Leclerc Briant Extra Brut Millesime 2016 (6x75cl)

Inc. VAT: £535.38

2016
Champagne
6x75cl
3
-
Inc. VAT: £535.38
Year
Wine
Region
Format
Qty
Score
Price
Wishlist

Leclerc Briant Clos Trois Clochers Brut 2015 (6x75cl)

In Bond: £881.00

2015
Champagne
6x75cl
1
-
In Bond: £881.00

Leclerc Briant Extra Brut Millesime 2016 (6x75cl)

In Bond: £429.00

2016
Champagne
6x75cl
3
-
In Bond: £429.00