Memento Mori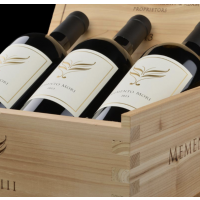 About Memento Mori
Founded by three close friends as recently as 2010, Memento Mori followed in the noble Napa Valley tradition of wasting no time in achieving tremendous critical acclaim and a zealous international following almost immediately.
Doing what Californian cult wineries do best, the talented team at Memento Mori, led by the redoubtable Sam Kaplan, source their minuscule levels of fruit from tiny parcels in the most breath-taking and hallowed terroirs across the region. From Beckstoffer Dr. Crane to Vine Hill Ranch, there is no mythical vineyard beyond the reach of this formidable label.
A combination of Kaplan's outstanding work and lavish praise from the world's foremost authorities on Napa now see Memento Mori held in the same regard as the grandest of Napa Cabernet Sauvignons.
Viniculture
Their prestige cuvée, Memento Mori Cabernet Sauvignon 2018, is a blend of grapes from across all the beautiful vineyards in Napa from which the winery source. The terroirs contained within these bottles include the iconic Beckstoffer Dr. Crane, Beckstoffer Las Piedras, Vine Hill Ranch, Weitz and Oakville Ranch.
Prices:
Year
Wine
Region
Format
Qty
Score
Price
Wishlist

Memento Mori Napa Cabernet Sauvignon 2018 (3x75cl)

Inc. VAT: £964.43

2018
California
3x75cl
2
99 (JD)

Read Review/Description

Inc. VAT: £964.43
Year
Wine
Region
Format
Qty
Score
Price
Wishlist

Memento Mori Napa Cabernet Sauvignon 2018 (3x75cl)

In Bond: £797.00

2018
California
3x75cl
2
99 (JD)

Read Review/Description

In Bond: £797.00