Méo-Camuzet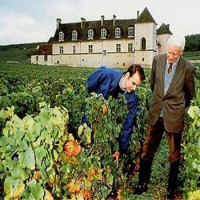 About Domaine Méo-Camuzet
Domaine Méo-Camuzet is one of Burgundy's big names. Until 1988 most of the holdings were leased out. Now Jean-Nicolas Méo and Christian Faurois are making some of Cote d'Or's best wine. Using organic farming on their great plots; they boast four Grand Cru and ten Premier Cru sites in Nuits St George and Vosne-Romanée.
Today, the fortunes of this magical Domaine and its standing as a winemaking entity could not be further removed from this period which, quite shockingly, actually saw a sizable share of its fruit sold to négociants! The proud master of over 2.5 hectares of Grands Crus and 8 of 1er, some of the most hallowed terroir in Nuits-St-Georges and Vosne-Romanée is owned and its fruit vinified by Méo-Camuzet.
Prior to the arrival of current stewards Jean-Nicholas Méo and Christian Faurois, two of the most monumental Burgundian personalities were fundamental in the history of Méo-Camuzet. The first being its namesake Etienne Camuzet, an important political figure in the early 20th century who, aside from purchasing the bulk of what we know as Domaine Méo-Camuzet holdings today including Château de Clos de Vougeot (later gifted to the Confrérie des Chevaliers du Tastevin), made numerous important decisions throughout the region with regards to what parcels could be included in Grand Cru classification.
The second, and quite possibly the single greatest Burgundian winemaker of the 20th century, was Henri Jayer. Specifically invited by the owners of Domaine Méo-Camuzet to tend to their vines since the 1940s due to his already formidable reputation, the masterful vigneron remained a sharecropper of the Domaine's holdings until 1988 when it moved to vinify its plots itself. Following the transformation of Domaine Méo-Camuzet into an almighty winemaking presence in its own right, Jayer remained a consultant and was utterly instrumental in its ascension to the very pinnacle of Burgundian fine wine.
Prices:
Year
Wine
Region
Format
Qty
Score
Price
Wishlist

Meo-Camuzet Clos de Vougeot Grand Cru Pres le Cellier 2017 (6x75cl)

Inc. VAT: £1,924.07

2017
Burgundy
6x75cl
1
-
Inc. VAT: £1,924.07

Meo-Camuzet Clos-de-Vougeot Grand Cru 1991 (5x75cl)

Inc. VAT: £4,556.59

1991
Burgundy
5x75cl
1
-
Inc. VAT: £4,556.59

Meo-Camuzet Clos-de-Vougeot Grand Cru 2019 (3x75cl)

Inc. VAT: £1,167.24

2019
Burgundy
3x75cl
2
95-97 (VN)

Read Review/Description

Inc. VAT: £1,167.24

Meo-Camuzet Clos-de-Vougeot Grand Cru 2019 (6x75cl)

Inc. VAT: £2,222.87

2019
Burgundy
6x75cl
1
95-97 (VN)

Read Review/Description

Inc. VAT: £2,222.87

Meo-Camuzet Corton Grand Cru Clos Rognet 2019 (6x75cl)

Inc. VAT: £2,611.67

2019
Burgundy
6x75cl
1
92-94 (VN)

Read Review/Description

Inc. VAT: £2,611.67

Meo-Camuzet Corton Grand Cru La Vigne Au Saint 2018 (3x75cl)

Inc. VAT: £848.04

2018
Burgundy
3x75cl
1
-
Inc. VAT: £848.04

Meo-Camuzet Corton Grand Cru Les Perrieres 2019 (3x75cl)

Inc. VAT: £1,270.44

2019
Burgundy
3x75cl
1
(VN)

Read Review/Description

Inc. VAT: £1,270.44

Meo-Camuzet Corton Grand Cru Les Perrieres 2019 (6x75cl)

Inc. VAT: £2,172.47

2019
Burgundy
6x75cl
1
(VN)

Read Review/Description

Inc. VAT: £2,172.47

Meo-Camuzet Corton-Charlemagne Grand Cru 2018 (3x75cl)

Inc. VAT: £1,037.64

2018
Burgundy
3x75cl
1
-
Inc. VAT: £1,037.64

Meo-Camuzet Echezeaux Grand Cru 2018 (3x75cl)

Inc. VAT: £2,288.04

2018
Burgundy
3x75cl
1
92-94 (VN)

Read Review/Description

Inc. VAT: £2,288.04

Meo-Camuzet Echezeaux Grand Cru 2019 (1x75cl)

Inc. VAT: £761.08

2019
Burgundy
1x75cl
1
(VN)

Read Review/Description

Inc. VAT: £761.08

Meo-Camuzet Fixin 1er Cru Clos du Chapitre 2016 (3x75cl)

Inc. VAT: £278.04

2016
Burgundy
3x75cl
1
88-90 (VN)

Read Review/Description

Inc. VAT: £278.04

Meo-Camuzet Fixin 1er Cru Clos du Chapitre 2018 (6x75cl)

Inc. VAT: £433.67

2018
Burgundy
6x75cl
1
-
Inc. VAT: £433.67

Meo-Camuzet Marsannay 2017 (12x75cl)

Inc. VAT: £634.54

2017
Burgundy
12x75cl
1
87-89 (BH)

Read Review/Description

Inc. VAT: £634.54

Meo-Camuzet Nuits-Saint-Georges 1er Cru Aux Boudots 2016 (6x75cl)

Inc. VAT: £1,780.07

2016
Burgundy
6x75cl
1
91-93 (WA)

Read Review/Description

Inc. VAT: £1,780.07

Meo-Camuzet Nuits-Saint-Georges 1er Cru Aux Boudots 2019 (6x75cl)

Inc. VAT: £1,565.27

2019
Burgundy
6x75cl
1
91-93 (VN)

Read Review/Description

Inc. VAT: £1,565.27

Meo-Camuzet Nuits-Saint-Georges 1er Cru Aux Murgers 2017 (3x150cl)

Inc. VAT: £1,394.87

2017
Burgundy
3x150cl
1
90-92 (VN)

Read Review/Description

Inc. VAT: £1,394.87

Meo-Camuzet Nuits-Saint-Georges 1er Cru Aux Murgers 2018 (6x75cl)

Inc. VAT: £1,124.87

2018
Burgundy
6x75cl
1
89-91 (VN)

Read Review/Description

Inc. VAT: £1,124.87

Meo-Camuzet Nuits-Saint-Georges 1er Cru Aux Murgers 2019 (3x75cl)

Inc. VAT: £795.24

2019
Burgundy
3x75cl
1
92-94 (VN)

Read Review/Description

Inc. VAT: £795.24

Meo-Camuzet Nuits-Saint-Georges 1er Cru Aux Murgers 2019 (6x75cl)

Inc. VAT: £1,565.27

2019
Burgundy
6x75cl
1
92-94 (VN)

Read Review/Description

Inc. VAT: £1,565.27

Meo-Camuzet Nuits-Saint-Georges 2019 (6x75cl)

Inc. VAT: £628.07

2019
Burgundy
6x75cl
1
89-91 (WA)

Read Review/Description

Inc. VAT: £628.07

Meo-Camuzet Nuits-Saint-Georges 2020 (6x75cl)

Inc. VAT: £628.07

2020
Burgundy
6x75cl
1
90-92 (JMO)

Read Review/Description

Inc. VAT: £628.07

Meo-Camuzet Richebourg Grand Cru 1987 (1x75cl)

Inc. VAT: £9,893.08

1987
Burgundy
1x75cl
1
-
Inc. VAT: £9,893.08

Meo-Camuzet Richebourg Grand Cru 1993 (1x300cl)

Inc. VAT: £21,964.72

1993
Burgundy
1x300cl
1
94 (WS)

Read Review/Description

Inc. VAT: £21,964.72

Meo-Camuzet Richebourg Grand Cru 2016 (1x75cl)

Inc. VAT: £2,601.88

2016
Burgundy
1x75cl
1
95-97 (VN)

Read Review/Description

Inc. VAT: £2,601.88

Meo-Camuzet Richebourg Grand Cru 2019 (1x75cl)

Inc. VAT: £2,589.88

2019
Burgundy
1x75cl
1
95-97 (VN)

Read Review/Description

Inc. VAT: £2,589.88

Meo-Camuzet Vosne-Romanee 1er Cru Au Cros Parantoux 2016 (2x75cl)

Inc. VAT: £5,106.55

2016
Burgundy
2x75cl
1
95-97 (VN)

Read Review/Description

Inc. VAT: £5,106.55

Meo-Camuzet Vosne-Romanee 1er Cru Au Cros Parantoux 2019 (1x75cl)

Inc. VAT: £3,497.08

2019
Burgundy
1x75cl
1
95-97 (VN)

Read Review/Description

Inc. VAT: £3,497.08

Meo-Camuzet Vosne-Romanee 1er Cru Aux Brulees 2016 (1x150cl)

Inc. VAT: £2,240.95

2016
Burgundy
1x150cl
1
95 (VN)

Read Review/Description

Inc. VAT: £2,240.95

Meo-Camuzet Vosne-Romanee 1er Cru Aux Brulees 2019 (1x150cl)

Inc. VAT: £2,246.95

2019
Burgundy
1x150cl
1
95-97 (VN)

Read Review/Description

Inc. VAT: £2,246.95
Year
Wine
Region
Format
Qty
Score
Price
Wishlist

Meo-Camuzet Clos de Vougeot Grand Cru Pres le Cellier 2017 (6x75cl)

In Bond: £1,590.00

2017
Burgundy
6x75cl
1
-
In Bond: £1,590.00

Meo-Camuzet Clos-de-Vougeot Grand Cru 1991 (5x75cl)

In Bond: £3,786.00

1991
Burgundy
5x75cl
1
-
In Bond: £3,786.00

Meo-Camuzet Clos-de-Vougeot Grand Cru 2019 (3x75cl)

In Bond: £966.00

2019
Burgundy
3x75cl
2
95-97 (VN)

Read Review/Description

In Bond: £966.00

Meo-Camuzet Clos-de-Vougeot Grand Cru 2019 (6x75cl)

In Bond: £1,839.00

2019
Burgundy
6x75cl
1
95-97 (VN)

Read Review/Description

In Bond: £1,839.00

Meo-Camuzet Corton Grand Cru Clos Rognet 2019 (6x75cl)

In Bond: £2,163.00

2019
Burgundy
6x75cl
1
92-94 (VN)

Read Review/Description

In Bond: £2,163.00

Meo-Camuzet Corton Grand Cru La Vigne Au Saint 2018 (3x75cl)

In Bond: £700.00

2018
Burgundy
3x75cl
1
-
In Bond: £700.00

Meo-Camuzet Corton Grand Cru Les Perrieres 2019 (3x75cl)

In Bond: £1,052.00

2019
Burgundy
3x75cl
1
(VN)

Read Review/Description

In Bond: £1,052.00

Meo-Camuzet Corton Grand Cru Les Perrieres 2019 (6x75cl)

In Bond: £1,797.00

2019
Burgundy
6x75cl
1
(VN)

Read Review/Description

In Bond: £1,797.00

Meo-Camuzet Corton-Charlemagne Grand Cru 2018 (3x75cl)

In Bond: £858.00

2018
Burgundy
3x75cl
1
-
In Bond: £858.00

Meo-Camuzet Echezeaux Grand Cru 2018 (3x75cl)

In Bond: £1,900.00

2018
Burgundy
3x75cl
1
92-94 (VN)

Read Review/Description

In Bond: £1,900.00

Meo-Camuzet Echezeaux Grand Cru 2019 (1x75cl)

In Bond: £632.00

2019
Burgundy
1x75cl
1
(VN)

Read Review/Description

In Bond: £632.00

Meo-Camuzet Fixin 1er Cru Clos du Chapitre 2016 (3x75cl)

In Bond: £225.00

2016
Burgundy
3x75cl
1
88-90 (VN)

Read Review/Description

In Bond: £225.00

Meo-Camuzet Fixin 1er Cru Clos du Chapitre 2018 (6x75cl)

In Bond: £348.00

2018
Burgundy
6x75cl
1
-
In Bond: £348.00

Meo-Camuzet Marsannay 2017 (12x75cl)

In Bond: £502.00

2017
Burgundy
12x75cl
1
87-89 (BH)

Read Review/Description

In Bond: £502.00

Meo-Camuzet Nuits-Saint-Georges 1er Cru Aux Boudots 2016 (6x75cl)

In Bond: £1,470.00

2016
Burgundy
6x75cl
1
91-93 (WA)

Read Review/Description

In Bond: £1,470.00

Meo-Camuzet Nuits-Saint-Georges 1er Cru Aux Boudots 2019 (6x75cl)

In Bond: £1,291.00

2019
Burgundy
6x75cl
1
91-93 (VN)

Read Review/Description

In Bond: £1,291.00

Meo-Camuzet Nuits-Saint-Georges 1er Cru Aux Murgers 2017 (3x150cl)

In Bond: £1,149.00

2017
Burgundy
3x150cl
1
90-92 (VN)

Read Review/Description

In Bond: £1,149.00

Meo-Camuzet Nuits-Saint-Georges 1er Cru Aux Murgers 2018 (6x75cl)

In Bond: £924.00

2018
Burgundy
6x75cl
1
89-91 (VN)

Read Review/Description

In Bond: £924.00

Meo-Camuzet Nuits-Saint-Georges 1er Cru Aux Murgers 2019 (3x75cl)

In Bond: £656.00

2019
Burgundy
3x75cl
1
92-94 (VN)

Read Review/Description

In Bond: £656.00

Meo-Camuzet Nuits-Saint-Georges 1er Cru Aux Murgers 2019 (6x75cl)

In Bond: £1,291.00

2019
Burgundy
6x75cl
1
92-94 (VN)

Read Review/Description

In Bond: £1,291.00

Meo-Camuzet Nuits-Saint-Georges 2019 (6x75cl)

In Bond: £510.00

2019
Burgundy
6x75cl
1
89-91 (WA)

Read Review/Description

In Bond: £510.00

Meo-Camuzet Nuits-Saint-Georges 2020 (6x75cl)

In Bond: £510.00

2020
Burgundy
6x75cl
1
90-92 (JMO)

Read Review/Description

In Bond: £510.00

Meo-Camuzet Richebourg Grand Cru 1987 (1x75cl)

In Bond: £8,242.00

1987
Burgundy
1x75cl
1
-
In Bond: £8,242.00

Meo-Camuzet Richebourg Grand Cru 1993 (1x300cl)

In Bond: £18,295.00

1993
Burgundy
1x300cl
1
94 (WS)

Read Review/Description

In Bond: £18,295.00

Meo-Camuzet Richebourg Grand Cru 2016 (1x75cl)

In Bond: £2,166.00

2016
Burgundy
1x75cl
1
95-97 (VN)

Read Review/Description

In Bond: £2,166.00

Meo-Camuzet Richebourg Grand Cru 2019 (1x75cl)

In Bond: £2,156.00

2019
Burgundy
1x75cl
1
95-97 (VN)

Read Review/Description

In Bond: £2,156.00

Meo-Camuzet Vosne-Romanee 1er Cru Au Cros Parantoux 2016 (2x75cl)

In Bond: £4,251.00

2016
Burgundy
2x75cl
1
95-97 (VN)

Read Review/Description

In Bond: £4,251.00

Meo-Camuzet Vosne-Romanee 1er Cru Au Cros Parantoux 2019 (1x75cl)

In Bond: £2,912.00

2019
Burgundy
1x75cl
1
95-97 (VN)

Read Review/Description

In Bond: £2,912.00

Meo-Camuzet Vosne-Romanee 1er Cru Aux Brulees 2016 (1x150cl)

In Bond: £1,863.00

2016
Burgundy
1x150cl
1
95 (VN)

Read Review/Description

In Bond: £1,863.00

Meo-Camuzet Vosne-Romanee 1er Cru Aux Brulees 2019 (1x150cl)

In Bond: £1,868.00

2019
Burgundy
1x150cl
1
95-97 (VN)

Read Review/Description

In Bond: £1,868.00